The Cosplayers of Comic Con
Ottawa Life's Festival City Series is back! We'll provide a unique look at some of your favourite events.
We'll go beyond the music with artist interviews, volunteer profiles, concert reviews and spotlights on
the tastes, sights and sounds of the festival season.

Your city! Your festivals!
Like a good sunscreen, Ottawa Life has you covered.
---
Photos by Andre Gagne
Though the celebrity Q&As and chance to load up on all the geeked out merch you can carry bring in the crowds, let's face it, the real stars of Comic Con are the cosplayers. Whether you slapped it together a few hours before out of shoe boxes and toilet paper rolls or are so detailed you look like you've just stepped off a movie screen or out of a video game, cosplayers are not only the stars of a con they're the heart of it.
Though wearing your fandom has gained in popularity in the last decade or so, the term cosplay was actually coined back in 1984 at the World Science Fiction Convention. It's been linked to cons ever since with every conceivable character and, in some instances, inanimate objects coming to life as they walk the convention floor or stand in line for photo ops with perplexed celebs.
Since day one, the Ottawa Comic Con has catered to the crowd that makes the EY Centre look like the biggest Halloween Party on the planet every May. There's a special area for cosplayers to change or hang out in when feeling overwhelmed by the hundreds who stop and ask for photos and, of course, there's the Masquerade, the grand showcase to display your creation. It's open to any age and any fandom!
The Con also brings in professional cosplayers like Ireland Reid in from around the world to mix in with locals for informative workshops. If you're just starting out or looking for that extra pizazz in your costume, there's something to learn by attending one of these sessions. Friday's The Business of Cosplay, held by Con Guest Indra Rojas, for example, was all about how one can build a career around living out your favourite fandoms. Other panels included tips on how to build your cosplay on a budget, getting a group together for a colossal costuming team up and how to Crossplay (transform from female to male or vice versa).
Richard Wong first bout a ticket to Comic Con because he wanted to meet Star Trek's Patrick Stewart. When he canceled, Wong still dressed up and went to the convention to discover a newfound love of cosplaying. Once a visitor he's now giving workshops on how he puts his creations together.
"Each costume brings with it a new challenge or skill to learn. The process of costuming never stagnates as long as you want to create," says Wong. "Most of all, I love seeing kids eyes light up when they see me in a cosplay of a character that they love. When people can live their escapism through you, it completes the illusion or fantasy that you are the character you set out to be."
Alina Sauve, professional makeup artist and cosplayer herself, co-hosted a Men in Cosplay discussion with Wong to encourage more males to break out the flash and dazzle. She was drawn into the fun of dressing up when working a photo booth one year at the Con to receive high school volunteer hours. What she saw amazed her and she had to come back to give it a try. The positive feedback from the always welcoming cosplays has had her returning year after year always fascinated by how it all just keeps growing.
"I feel like cosplay has gotten a lot bigger in the last ten years due to the movie and entertainment industry. There has been a lot more visual and personal aspects to go off and relate to, making it easier for people to connect to these "comic" characters. The last few generations are also so impulsive and creative that when they see something they want they have to have it. And then, when all these creative people pool together in cons like Ottawa Comiccon, it inspires everyone else to want to create too," she says.
The makeup artist side of her work often finds cosplayers approaching her to say how they have been intimidated working with face/body paint or various cosmetics when it came to creating their costume. She's always quick to help with some advice.
"Any cosplayer could benefit by the small use of powder and setting spray," says Sauve. "A lot of the time we sweat and look hot , especially in costume, so having a matte face really helps. My next tip would be to be confident, and try to stand out with your makeup. If you have a cosplay that could use it then do it! Don't be scared because you don't know how, all it takes is practice, and trying."
Ottawa Life has been walking the convention floor all weekend looking for some of the best cosplays and chatting with the players about their creations. Here are some of our favorites:
Jillian Campagnola
(Raikou, Pokémon Gold and Silver)

On how she got the costume:
"When I was following one of my favorite cosplayers, Alana Waffles,
she was making this costume and I was obsessed. I literally stalked her
while she made it on Instagram. Then she showed it off, did her photo
shoots and I just messaged her and asked if I could please buy this
costume off of her. I was in love with it. I could never make it on my own.
Thankfully she sold it to me."
On why cosplay is so popular:
"It kind of seems like people are really into things that are nostalgic these days.
You'll see remakes of movies, sequels to old movies. It's kind of a cool thing now.
Before it was something you might hide. Now everybody is into it. Nerdy is in!"
Willem
(Pengiun, Batman)
How he got his cosplay:
"Well my mom did most of it, really. She got me my coat, this scarf my white shirt and pocket watch."

Why the Penguin?
"I like things with canes and top hats and sticks. It's just my thing. I like to dress up. It's my favorite thing to do."
Gabriel Forbes and Sarah Leclerc
(Commander Shepard and Jack, Mass Effect)
On how they made the cosplay:
Gabriel Forbes: "Everything is handmade. It is made of E.V.A foam. It took a lot of patience but I didn't use many tools. I basically used a blade, a dremel and a heat gun. That's my arsenal."
Sarah Leclerc: "This cosplay is basically just sewing things. I bought the coat but I did cut it in half and remove the double layer inside and add the little studs. It was easy, to be honest with you. It's just seeing the reference for the character and figuring out what you're going to use to do it. It's less complicated than actually doing an armor, I'll be honest. He's a 3D graphic designer and he got the blueprints for the tattoos. He printed them lifesize."
Why choose Mass Effect?
Sarah Leclerc: "I think the first thing is that I look so much like the character. I am someone who likes to standout a lot. Jack is such a badass and I see myself so much in her character. I try to get a few references online and found that only four girls cosplayed her. I wanted to be as accurate as possible."
Walter DeSousa
(Imotekh the Stormlord, Warhammer 30k)
What did you need to do to make this mega cosplay?
"A lot of work and glue. It took over 150 hours over three months."
What kind of looks does such a massive cosplay receive?
"Mostly it's shock...like, what the hell am I looking at. Mostly it's because nobody knows who the character is."


Michael McEwen
(Twitch, League of Legends)
How he made it:
"Well most of it is E.V.A foam. My partner in crime
(Caleigh Baker, girlfriend) does all the sewing
and clothing."
Why this character?
"I play the game a lot. Most of the characters in the game
are pretty impossible to do, pretty un-hominoid. So this
one I was able to do it. I like making big props which is
another reason why I did it. I got to make this big crossbow."
Top three tips to new cosplayers:
"I would recommend YouTube tutorials. That's what get's me
through a lot of what I do. Another thing thing is patience.
Then mapping your time out correctly. I started mapping this
out a week after last weeks con."
Lawrence Larouche and Cynthia Martin
(Professor Wick and Beatrix Bekenthal, Steampunk)
On the popularity of Steampunk:
Lawrence Larouch: "It's the imagination. It's the idea of being able to put all these wonderful costumes together using up-cycling. Suddenly you go to a store and you see a different purpose for everything. All this on my body came from somewhere else: the Dollar Store or somewhere on a shelf. The idea of Steampunk is there is this kind of alternative history. You can create all these wonderful works of art, these machines, and none of them have to work. It all relies on your imagination. You can go anywhere with it."
Cynthia Martin: "I think a lot of media has picked up on Steampunk, too. It's in a lot of videos, a lot of films. It's really appealing to the public because there really is so much imagination."
How did they come up with Cynthia's cosplay:
"Well I was belly dancing so I was blending the tribal fusion of that with Steampunk and calling it Tribal Funk. It can be whatever you want, anything you can dream up by adding the gizmos and gadgets."
Richard Wong
(Pepé Le Pew, Looney Tunes)
On completing his cosplay:
"I basically sewed it all together. I had to pattern it out of a duct tape dummy of myself. On top of that I had to make the tail using craft foam. Once that was done I patterened it out with tape and put it on to fabric and sewed that together. It's quite a process. I'm glad it's done and I probably don't do this again. I started making it two weeks ago and I finished about two hours ago."
What draws him to new cosplay:
"The important thing to me is to get a character I would have fun being. From a cosplayer perspective there is always a new skill to learn. It's building on old skills with one or two new skills. I like to push my boundaries just a bit but not too far so that it's not achievable. I think that's a big problem with people just starting out. They may look at people who have been doing it for years, the big costumes, and they think they want that. Sure, that's an end game but you have to start off with something more simple."
Imogen Hayes
(Jinx, League of Legends)
How did you make this?
"I used a pair of my moms old pants and I cut them up a lot...oh, and a lot of duct tape."

Why did you choose Jinx?
"Well, I feel like I have a lot in common with Jinx. At my school they are constantly banning games and
I am always the person who is leading the rebellion against my teachers."

As one of the younger cosplayers in the
Masquerade this year, what was your experience like?
"That was my first time and I was really nervous. I would like to thank the people backstage for
putting free cookies out there so that helps. It's really nerve wracking. I was in the junior division so there
were a few other kids and we chatted together. That was fun."



Andrew Fortin
(Loyal Sons Space Marine, Warhammer 40k)

What do you need to make something this big?
"Planning. The best thing you can do is plan, plan, plan.
Start with a good plan and it will go easy. I started just
below the feet. I have ten inch lifts on this.

This is made out of E.V.A foam, the same kind of mats
you would get for your kids floor. You just mold them,
paint them and shape them and you can do pretty
much anything."
Cailey Shain
(Latex Sailor Outfit)
With so much to choose from, why create your own character?
"I love sewing and trying to figure out how to make things in my head. I think of something and just
see if I can work out how to make it. This outfit...I won a bunch of latex coupons from a certain site and put it together.
I always have liked this style of sailor pin-ups."
Melissa-Dawn Murdock
(Saber Gray the Dragon Queen)
So, this is a creation of your own design?
"I do original concept cosplays so it all comes out of this big old brain of mine. It basically can spark with any idea. Even something really small that I want to take to the next level. I never really know when to stop. It just becomes more magnetic and Mecca and gets out of hand and then you get this."
What advice would you have for new people starting out?
"Don't be afraid of anything or what anybody else thinks. It's art. It's your self expression. Just run with it and go for the sun!"
Tirzah Wood, Laura Harvey and Sabrina Ng
(D.Va, Mercy and Widowmaker, Overwatch)
How did you decide upon these three cosplays from Overwatch?
Sabrina Ng: "We really like the character design. It's really unique.
Everyone can have something different. Everyone looks so different.
I wanted to be purple."
Mahogany Harris
(Sejuani, League of Legends)
How did she make the cosplay?
"First thing is getting a lot of references. I've been checking the internet and playing the game so I can see how she moves. Start from there. After that it is working on the costume itself, gathering materials and starting to craft."
On why she enjoys cons?
"Pretty much coming to the con and showing off my hard work. This took me 8 months to make. Now with all these comic book movies being made people aren't ashamed anymore of being nerdy and having alternative interests. Comic Cons are now common place so why not dress up when coming here?"
Recommended Articles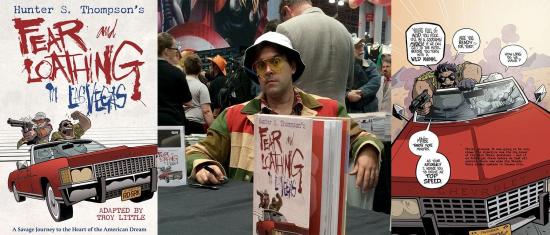 How did a self-published comic book artist land a gig rebooting a beloved 90s cartoon? How did said cartoon about three girls named Blossom, Bubbles and Buttercup lead to a Canadian being tasked with trying to put Thompson's wild, drug fueled romp through the American Dream into comic form? And just what was in his suitcase when an artist from P.E.I. and a red convertible hit the Las Vegas strip?
Read full story
When it comes to summing up the popular festival she created 14-years ago, Elaina Martin likes to keep it simple: "It means community."
Read full story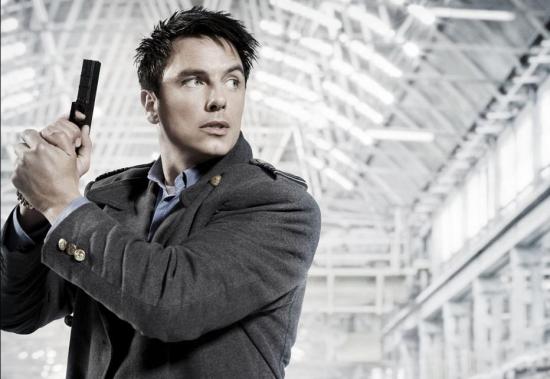 Doctor Who fans have been waiting seven years for Captain Jack to swagger back into the Tardis but it's only taken three to get him back to Ottawa Comic Con!
Read full story
Comments (0)
*Please take note that upon submitting your comment the team at OLM will need to verify it before it shows up below.