Sports
The underdog Sens come to life against the juggernaut Leafs, once again
The underdog Sens come to life against the juggernaut Leafs, once again
Joey Daccord dreamt of earning his first NHL win for a long time, it didn't come in a way he could've imagined.
Starting goaltender Matt Murray was supposed to start Sunday night's game. It wasn't until minutes before hitting the ice that Murray warned the backup Daccord that he didn't feel 100 per cent.
Moments later, after a couple warmup drills, Murray left the ice and was ruled out of the game with an upper-body injury.
Daccord had to fill in, and the task ahead of him wasn't light – backstop the struggling Senators to a victory against the high-flying Auston Matthews, Mitch Marner, and John Tavares-led Toronto Maple Leafs.
Somehow the then winless Daccord knew he would pull it off the moment he was given the nod. He made 33 saves on the way to a 4-3 Senators victory.
"In my head at that moment, I said 'I'm gonna win tonight,'" he said to Sportsnet's Kyle Bukauskas after the win. "Sometimes it's not a storybook situation, sometimes you just have to go and find a way."
"It's not how you draw it up, but I wouldn't change it for the world," he added moments later in a press conference with the Ottawa media.
In his post-game interview with Bukauskas, the pure emotions of a childhood dream coming true came to life.
"I don't even have words right now. I just want to thank my family for everything they've done for me - It's pretty special."

An emotional Joey Daccord joined @SNkylebukauskas to discuss his first career @NHL win in a game he wasn't supposed to start. What a moment. ???? #NHLonSNpic.twitter.com/LYPPDEzcZf

— Sportsnet (@Sportsnet) March 15, 2021
Hockey players are notorious for being boring in interviews and providing cliché answers, but you wouldn't know it after watching that from the 2015 seventh-round pick.
Daccord stole the show, but he wasn't the whole story on Sunday night.
The Senators got started with a quick 2-0 lead, with goals from Brady Tkachuk and Ryan Dzingel coming seven seconds apart in the first period.
After the Leafs scored to cut the lead in half, Drake Batherson found twine in the second to make it 3-1, largely thanks to some wizardry from 19-year-old sensation Tim Stützle:
Tim Stützle ???? Drake Batherson

Ottawa keeps it rollin on the power play????pic.twitter.com/hhXPTkCQex

— Hockey Night in Canada (@hockeynight) March 15, 2021
"It was unbelievable," said Batherson about the goal. "There's three sticks in the middle of the ice, I didn't expect him to get it on my tape, and next thing you know, backhand sauce, landed it right on my tape, I had the open cage and just fired it in.
"I just didn't even want to celebrate, I wanted him to celebrate because of how nice the pass was. It was an unbelievable play by him."
Batherson added another, and the Leafs had a late push to bring it within one, but the lowly Sens prevailed in the end.
Ottawa had lost six of their last eight – spiralling back into the horrendous early-season form. Then the Maple Leafs came to town for a battle of Ontario showdown, giving the Senators that extra bit of motivation to go out and get a win.
The last-place Sens are now 3-3 against the first-place Maple Leafs. As I've said before, the Sens get up for these rivalry ties.
Some concerning contracts for the Sens
Daccord's performances have been a welcomed sight, and he's showing signs that he could be a goalie of the future, but expecting him to consistently lead the Senators to wins might be asking for too much this season. He only has seven NHL appearances in his career.
Matt Murray, who signed a four-year contract with the average annual salary of $6.25 million, was supposed to be that consistent presence in the crease, but he's been the very opposite. He's gone back-and-forth in his last 12 appearances, following up good performances with poor performances and vice-versa. Overall, he has a .880 save percentage and a 3.84 goals-against-average. It's not all his fault, he hasn't had a ton of help, but that's not acceptable for the seventh highest-paid goalie in the NHL.
Ottawa's next biggest off-season addition was Evgeni Dadonov, who was signed to a three-year deal with the average annual value of $5 million, making him Ottawa's most expensive forward. So far, he has 11 points (nine goals, two assists) through 30 games, which is disappointing to say the least, and many of his nine goals have been flukey, save for the heroic overtime winner in the epic comeback against the Maple Leafs. He was brought in to help with Ottawa's power play, which has struggled the past few years, yet has one power-play point this season despite continuously appearing on the top unit.
Ottawa has a lot of cap space, so this isn't an immediate issue, but Murray's contract could especially become an issue in the future.
Despite the struggling season, Senators fans remain loud and proud
You've heard of Sens Army… and Pesky Sens… how about Sens Sickos?
The Senators have struggled this year, much like the last three years, but there's an increased sense of passion among the fans this season.
Maybe it's the exciting talent of Stützle, Batherson's breakout year, Tkachuk's growth as a leader, or the underdog wins against bitter rivals.
Whatever it is, the passion is on full display, and at the centre of it all is the "Sens Sickos" movement. A moniker die-hard Sens fans use to describe themselves as they remain devoted to such a struggling team. Click here for the origin story.
March 15, 2021
It began as a trend on Sens Twitter, a political cartoon edited by @brochenski, and took on a life of its own since after Sens fan James Mellish created a Sens Sickos theme song. The movement has since garnered national attention – several "Sickos" even attended Sunday night's game:
Yes ... ha ha ha ... YES! pic.twitter.com/dpRgwjPE3H

— Ottawa Senators (@Senators) March 14, 2021
For every Ottawa win, or every time an opposing team's coach gets fired at the hands of the Senators, the "Sickos" will be rejoicing.
Upcoming week:
Monday, March 15 vs Vancouver (7 p.m.)
Wednesday, March 17 vs Vancouver (7 p.m.)
It's only a two-game week for the Sens, who will be off from March 18-21. Both games come at home against the North Division's sixth-place Vancouver Canucks.
The Senators are winless in three meetings versus the Canucks. They should be due for a win or two.
Header image: via March 14/NHL.com
Recommended Articles
Last Thursday, Blackburn Hamlet's own Erik Gudbranson found twine with a wrist shot from the point – his first goal as a member of the hometown NHL team.
Read full story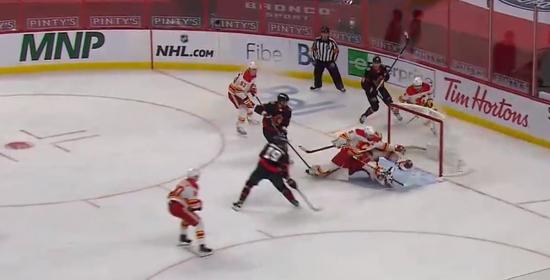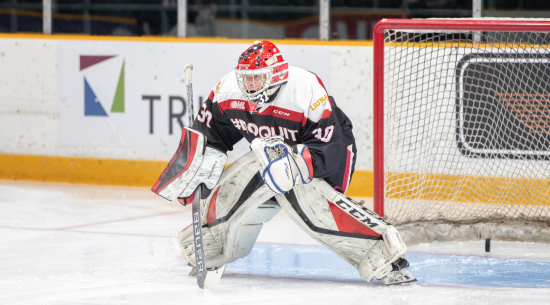 Andree has been a steady presence in goal all season long for the 67's. He has a tremendous starting record of 26-4-1-1 and sits fourth in the OHL with a goals against average of 2.56.
Read full story
Comments (0)
*Please take note that upon submitting your comment the team at OLM will need to verify it before it shows up below.