Business
These millennial business owners are feeding the capital in unique ways
These millennial business owners are feeding the capital in unique ways
Ottawa is becoming a city full of niche food-based businesses founded by millennials. From coffee with cats to cereal on the go, meet 9 young business owners all under the age of 30 who are supplying Ottawa citizens with uniquely delicious eats in the city. Many of their businesses developed out of childhood nostalgia and a pure passion for food.
Desean Gremli & Tolu Makinde: JAM Cereal
JAM Cereal is the new business that has taken Ottawa by storm for becoming the first cereal bar in the Nation's Capital. Desean, 24 and Tolu, 25 met through track and field about 10 years ago. Both studied business in post-secondary school and ended up working in banks just a couple years ago. Though the job was a great opportunity, they wanted more for themselves. Both men always knew growing up that they wanted to be their own bosses one day. In 2016, the two men were feeling nostalgic and reflected back on their mornings as children with cartoons and a big bowl of cereal. That's when they started to discuss the fact that there was no place in Ottawa to just grab a bowl of cereal, so they decided that they would make that place. The business offers many different kinds of cereal-based treats including milkshakes, ice cream sandwiches and just straight-up milk and cereal to grab-and-go. It's laid back and minimalist design opens the doors to all sorts of clientele, from kids to adults.
For cereal on the go visit JAM Cereal at 891 Bank St.
Liz Mok: Moo Shu Ice Cream & Kitchen
Ever heard of vegan black sesame ice cream? It exists at Moo Shu! Liz, 28, was born in Hong Kong and grew up in Vancouver. She moved to Ottawa to go to school for design and graduated in 2012. She worked for the government after graduation doing design work, before realizing she wanted to pursue something more fulfilling. At this time, she was also dabbling into making ice cream as a hobby. She decided to pursue it fulltime and started to sell her ice cream in Ottawa's farmers' markets in 2015. It became such a hit that her and her business partner, Chris Mack, opened up Moo Shu the following year. She chose to work with ice cream because it's something she has always enjoyed. Her Dad loved to take the family out for late-night ice cream runs back when she was a child. Liz enjoys the fact that ice cream allows her to be creative and play with a wide variety of ingredients and flavours. Moo Shu offers flavours like no other ice cream shop in the capital. Each flavour of ice cream is inspired by either her Asian heritage, what's in season with local produce or today's pop culture.
To try their limited-edition Game of Thrones themed ice cream, visit Moo Shu Ice Cream & Kitchen at 477 Bank St.
Alicja Buchowicz & Nicholas Rozman: Alicja Confections
Alicja, 25, and Nicholas, 26, first met in Winnipeg through a dating app and now they run a successful business together. Alicja was always creative while growing up, after graduating from high school, she wanted to attend an arts school but couldn't afford it. So, she worked in a stressful sales job before taking a position making sweets in one of her favourite childhood stores. In 2015, she started making her own bonbons and selling them online and at farmer's markets in Winnipeg. In 2016 when her now fiancé, Nicholas, wanted to move back to his hometown for law school, they came to Ottawa together. Nicholas was often the "numbers guy" of the business while also juggling school. Alicja continued to make chocolates and would sell them at trade shows and events in the area. The duo realized that business was taking off, and they opened their first store in December 2017. The store sells all kinds of delicious chocolates and is known for it's signature Postcard Chocolate, a sweet treat that can be easily mailed to loved ones. Alicja is happy to report that business is doing well at the two locations she now has and her chocolate bars are being sold at various stores throughout Canada. Although Alicja isn't an Ottawa native, she says she loves the city and owes much of her success to the support Ottawa shows her. Nicholas has graduated from law school and the two hope to grow Alicja Confections, including adding a head office in the Capital. They are also rolling out new features in-store this summer including frozen chocolate dipped fruit, fancy chocolate milk and gourmet cotton candy.
You can satisfy your sweet tooth by visiting Alicja Confections at 829 Bank St. or in the Rideau Centre.
Josee Cyr: Feline Café
Meet the owner of Ottawa's first and only coffee shop where customers get to enjoy their coffee amongst cats. Josee, 27, graduated with a degree in business and struggled to figure out what she was going to do next. She had a hard time finding a job that she enjoyed so she turned to travelling to gain some perspective. While in Thailand, she reflected on her main passions in life: food and coffee, business and her love for animals. She had visited other cat cafes before and decided she would start her own. Starting the business was easier said than done because it was such a new concept to Ottawa. But now, business is thriving, not only does she have a delicious vegan menu for people to enjoy, but there have been over 300 cat adoptions through her business. Her advice to anyone who is thinking about starting their own business is to be stubborn and never let little bumps in the road stop you from pursuing your dreams.
To have coffee with cats visit Feline Café at 1076 Wellington St.
Corey Sauve: Flapjack's Canadian Diner, Pudgyboy's & Ward 14
Corey, 27, is no stranger to entrepreneurship in this city. The Ottawa native created his first business when he was just 16. At 19 he started a nightclub promotions company and ended up buying into one of Ottawa's nightclubs at 21. When he got tired of that scene, he sold his shares back and decided to do something with his love for pancakes. When Corey was younger, his Dad would always make stacks of pancakes with tons of toppings for him and his cousins to chose from on Saturday mornings. So, Corey created Flapjack's Pancake Shack with his business partner, Max Anisman, back in 2013. They had 4 food trucks that attended events all over the city. Finally, they opened up a restaurant and rebranded to Flapjack's Canadian Diner which Corey says was the best move he ever made. The diner has a distinctly Canadian influence to it and is known for its "panwiches". After such success, Corey moved on to other restaurant endeavours including Ward 14, a bar that also serves as a consignment shop and most recently, Pudgboy's. Corey says Pudgyboy's has really taken off in its first few months of opening, better than any of his other businesses. The popularity and intrigue come from the fact that most of the menu features miniature food including mini burgers and mini donuts.
Indulge in a panwich at Flapjack's Canadian Diner, 354a Preston St.
To have a drink and go vintage shopping, check out Ward 14 at 139 Preston St.
Make your hands feel gigantic while holding something miniature at PudgyBoy's, 311 Bank St.
Marlo De Leo & Coco De Leo : DreamLand Café
The De Leo sisters have started one of the most original cafés in Ottawa because they're offering mainly fresh pasta on their menu. Marlo, 20, and Coco, 22, always joked about owning their own business when they were growing up, but it wasn't until about two years ago that they made it happen. Both women were never big fans of school but Coco had a major passion for food and even worked as a cook in restaurants. Growing up, they would eat authentic Italian pasta made by their Nona about four times a week. Marlo recalls her Nona always making these big batches of pasta sauce that would last her family the entire week. Naturally, when the girls finally decided they would open their own business, they turned to what they knew best… pasta. Marlo believes what makes DreamLand so special other than the fact that it's a pasta café is that they aim to offer an upscale service while still keeping a welcoming and homie environment. Her advice to any young person looking to start their own business is to surround yourself with positive and supportive people. Marlo recalls times where people have tried to take advantage of her and her sister because they are such young business women but the ones who truly care, will always have their backs. These ladies plan on continuing to offer fresh pasta and perfecting their business with no signs of slowing down.
Try Marlo's favourite dish on the menu, the creamy pesto pasta, at DreamLand Café on 262 Preston St.
Recommended Articles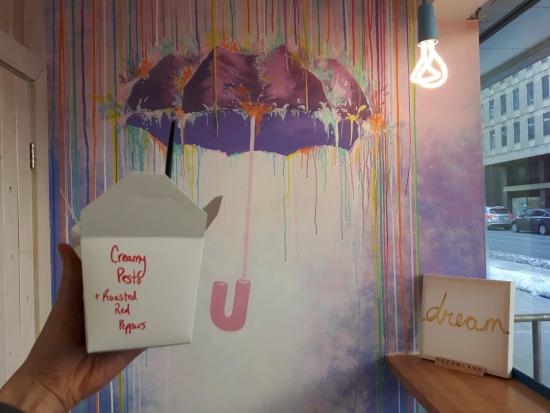 In May of last year, sisters Coco and Marlo De Leo opened the DreamLand Cafe, a fresh pasta joint located on Laurier Avenue that has since become a local breakfast and lunch spot favourite.
Read full story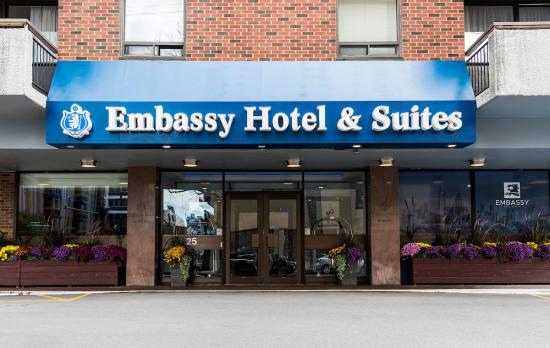 The $7 million upgrade to the Embassy means it now boasts remodeled, refurnished and revamped suites. Conveniently located in the downtown core, the Embassy Hotel & Suites is the ideal location for Ottawa visitors.
Read full story
Bowls are fully customizable – you can mix cereals and add various toppings like Reese's Pieces, crushed Smarties, fruits like banana and strawberry, coconut flakes and much, much more.
Read full story
Comments (0)
*Please take note that upon submitting your comment the team at OLM will need to verify it before it shows up below.