Top Stories
Award-winning cannabis company Superette announces 2020 program in support of Ottawa Food Bank
Award-winning cannabis company Superette announces 2020 program in support of Ottawa Food Bank
Superette CEO Mimi Lam along with Michael Maidment and Samantha Ingram from the Ottawa Food Bank announce a collaboration with the Ottawa Food Bank and TerraCycle x Tweed, this morning in Ottawa.
In April 2019, Superette opened its first retail cannabis store in the nation's capital. The company is off to a great start generating $7 million in sales in its first five months of operation, selling a combination of cannabis products in a retail-friendly, relaxed and professional environment. Superette continues to increase its clientele and has become a mainstay of the Wellington West and neighbouring communities.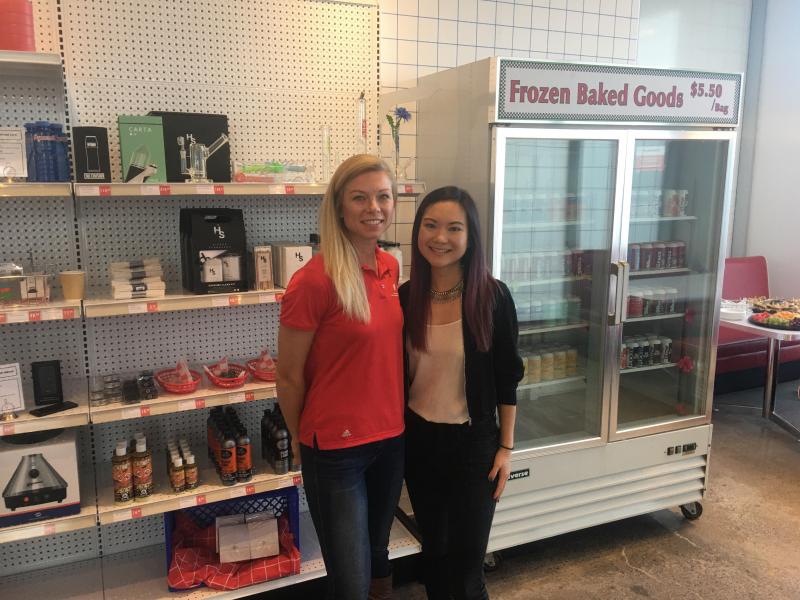 In 2020, Superette will match each unit of cannabis packaging returned to the Ottawa store with a donation of one non-perishable food item to the Ottawa Food Bank. Superette is committed to donating 5,000 non-perishable food items per month. In addition, team members at the Ottawa store will dedicate 100 hours of community service to the Ottawa Food Bank over the year. This initiative expands on Superette's on-going partnership with the Ottawa Food Bank.
Since August 2019, Superette has donated 680 food cans and completed 28 community service hours with the Ottawa Food Bank. "It is inspiring to see Superette, a relatively new organization in our city, eager to do so much to help the community," says Ottawa Food Bank's CEO, Michael Maidment. "We provide food to over 39,000 people every month. With their goal of donating 60,000 items in 2020, they have the potential to reach every client in our city.
Lam told Ottawa Life Magazine that she feels it is very important to, "Strive to be a leader in the cannabis industry by making a tangible, positive impact on the industry and local communities." She noted that wasteful packaging can be an unnecessary by-product of the cannabis industry and, "We hope to do our part to support sustainable production and retail practices in Canada. This will be the first of many CSR initiatives from Superette, in Ottawa and across Canada."
Aside from commercial success in a new market, Mimi Lam was recognized with the 2019 Womxn in Weed Trailblazer Award while Superette was the recipient of a 2019 Best Ottawa Business Award, hosted by the Ottawa Business Journal and The Ottawa Board of Trade. The company joins Farm Boy, Rideau Bakery, Shopify and Crank Software on this year's list of Ottawa's top businesses. Superette also received the Top Retail Store in Ottawa Award at the Sixth Annual Canadian Cannabis Awards (CCAs) during a black-tie gala held at the esteemed Fairmont Royal York Hotel in downtown Toronto.
In total, Superette won four awards at the CCAs, including:
• Top Retail Store — Single Location
• Startup of the Year
• Top Budtender, presented to Ellen McKay
• Womxn in Weed —Trailblazer, presented to Superette CEO Mimi Lam
---
Superette is a Canadian cannabis brand that creates unforgettable and immersive cannabis retail experiences. The Company currently has one operating concept store, licensed by Pure Alpha Holdings Ltd. in Ottawa, Canada. For more information, visit Superette's www.superetteshop.com or follow them on Facebook, Instagram, and Twitter.
The Ottawa Food Bank is the main emergency food provider in the National Capital Region. Through a network of 112 community food programs, the Ottawa Food Bank provides food for over 39,000 people per month – 37 per cent of whom are children. With a focus on fresh, and thanks to the community's support, on average 12 to 14 tons of food is distributed from their Michael Street warehouse every weekday. For more information regarding the Ottawa Food Bank and how you can help provide healthy, accessible, sustainable food for all, please visit www.ottawafoodbank.ca
Recommended Articles
When it comes to creating an extraordinary world of escape, there is nobody who does it better than...
Read full story
That Cst. Daniel Montsion of the Ottawa Police viciously beat an unarmed Somali man who died in front of horrified onlookers is not in dispute. He treated a number of eyewitnesses to a gruesome display of violence, assisted by Cst. Dave Weir. He did so with "brass knuckle" assault gloves, worn by an undetermined number of Ottawa cops with no vetting process in place, writes John Baglow, former vice-president of the Public Service Alliance of Canada.
Read full story
Communication between public health officials and frontline health care workers critical 'Fearbola...
Read full story
Comments (0)
*Please take note that upon submitting your comment the team at OLM will need to verify it before it shows up below.