Politics
Canada's China policy should begin with release of Meng Wanzhou
Canada's China policy should begin with release of Meng Wanzhou
ABOVE (CLOCKWISE FROM TOP LEFT): Michael Kovrig, Meng Wangzhou, Michael Spavor
---
Deal with the faults of others as gently as your own. — Chinese proverb
The continued stridency and vitriol of the Trudeau Liberal government towards China is counter productive and doing nothing to secure the release of Michael Kovrig and Michael Spavor. The two Canadians were arrested and detained in China on December 10, 2018, just nine days after Canada's controversial arrest of Chinese hi-tech executive Meng Wanzhou.
Canada had nearly five decades of strong and friendly bonds with China until the Trudeau government so carelessly damaged the relationship with its dilettante diplomacy. This callous behaviour has cost billions of dollars in losses to the Canadian economy and has damaged Canada's global standing as a country that forges its own path. Prime Minister Trudeau's obstinance and the ongoing charade of keeping Meng detained at the behest of U.S. President Donald Trump's 'America First' policy is not in our national interest.
The Liberal government has no coherent strategic, economic, or bi-lateral strategy in its dealings with Beijing. China is the world's most populous country with the second largest economy and a growing influence that is only going to get larger. Until the Meng arrest, we had been on friendly terms with the Chinese government — since first establishing diplomatic relations in 1970 (before the Americans). People to people relationships between our countries go back for well over 150 years. China is not our enemy, or even our adversary. We must get the relationship back on track.
Last year Canada exported $23 billion in goods to China and imported $74 billion. There are over 200,000 Chinese students studying in Canada, and over 1.5 million tourists travel between the two countries annually. 30,260 Chinese nationals were given permanent residency status in Canada in 2019 and there are currently over 300,000 Canadian citizens living in Hong Kong. As Chinese Ambassador Cong pointed out in an op-ed in the Toronto Star on June 19, Canada and China "share common views in maintaining multilateralism and free trade, supporting the United Nations, the World Trade Organization, and the World Health Organization, and responding to climate change and other major issues related to world peace and development". Given our history, it is not unreasonable to demand that the Trudeau government get their act together and at least try to articulate a Canada strategy for China. A good start would be the immediate release of Meng Wanzhou.
Meng is the chief financial officer of Shenzhen-based Huawei, the world's largest manufacturer of telecommunications equipment and second largest manufacturer of smartphones. There are now 500 million Huawei phones in active use across more than 170 countries. She was arrested at Vancouver's airport in December 2018 on an extradition treaty at the request of the U.S. government. She remains under house arrest in Vancouver.
Despite no charges being submitted when she was detained, within days of her arrest, U.S. President Donald Trump mused in a media scrum that, "Meng might be let go, if it is in America's interests to do so". Trump's comments reinforced the view that Canada had succumbed to American pressure and went along with the extradition arrest to appease the United States in the hope that it might help the Trudeau government curry favour with the Americans in the North American Free Trade Agreement (NAFTA) talks. The Americans bullied Canada into renegotiating NAFTA to favour America with threats and actions on multiple fronts, including the imposition of a unilateral 25 per cent tariff imposed on Canadian steel exports to the U.S., in 2018.
The Chinese government was upset with the arrest and called for Meng's immediate release claiming it was politically motivated. They perceived the arrest as a deep betrayal of trust in the five-decades-long relationship between Canada and China. Beijing viewed her detention as akin to a kidnapping by a foreign government of one of their most revered business executives, at the behest of the American Trump administration who are in a trade war with China. They claim Canada has been a willing pawn that allowed its extradition laws to be abused to allow for the politically motivated detention of Meng on behalf of the United States. The ongoing debacle has put Canada-China relations at their lowest point in six decades.
The U.S. Department of Justice took almost three months after the arrest to finally lay 13 criminal charges, including conspiracy, fraud, and obstruction, against both Huawei and Meng. Most of the charges were accusations that Meng and Huawei had lied to financial institutions as part of a scheme to circumvent U.S. sanctions on Iran and do business there through a subsidiary. The irony is that the Americans themselves violated the 2015 International Iran Nuclear Deal which was an agreement reached by seven countries after more than two years of tense negotiations. Trump unilaterally pulled the U.S. out of the deal upon becoming president. The nature of the U.S. charges against Meng provided the first clear evidence that this was about American realpolitik interests, not international law, or extradition treaties. Meng and Huawei deny all allegations and have been fighting the extradition order in court, though she lost a ruling in May 2020, where a judge decided that the process could continue for now.
Michael Kovrig and Michael Spavor were held for 18 months in prison in China before being charged on June 19, 2020 by the Chinese Supreme People's Procuratorate. Kovrig is charged with spying on state secrets and intelligence for other countries abroad and Spavor is charged with spying on national secrets and providing those secrets outside China. Both deny the allegations, but if convicted, they could spend life in prison. They remain in prison.
The Chinese have communicated to Canada in the most candid terms about what they feel must be done to make things right. The Trudeau government response has been the diplomatic version of a continuous childish temper tantrum. Instead of trying to work with Chinese to resolve the impasse, Prime Minister Trudeau, Deputy PM Chrystia Freeland and other officials have made derogatory remarks about China including continuing to postulate on numerous occasions that China's government and its legal system is inferior to the West. In January 2019, former Chinese Ambassador to Canada Lu Shay first responded to this narrative in a Hill Times op-ed by accusing Canada of "Western egotism and white supremacy."
The Trudeau Liberals, Conservative Opposition MPs and the Parliamentary Press Gallery in Ottawa went berserk, indignant that an ambassador would say such a thing about Canada. In the diplomatic community words and inferences really matter. Chinese diplomats are known for their quiet demeanour and propensity for listening rather than speaking. So, the blunt message from China (via Lu) should have caused the Trudeau government to step back and reflect on things from the Chinese perspective. Instead, the comments were met with more vitriol and anger towards China by Canadian leaders. What Lu (and China) were expressing has a ring of truth to it and makes sense when viewed from the Chinese context. Lu was challenging the narrative that the western system of liberal democracy and rule of law is the most superior form of governance in the world and that anything that does not aspire to be our system is inferior and therefore, people with different systems of government are inferior too. That, in and of itself is inherently racist. As Lu told Ottawa Life Magazine in a 2017 interview, " China is China and China does not desire to be the West". The Chinese have their own legal system that is different from the Western rule of law system. Whether we like it or not is completely inconsequential. It is their system.
Despite this, Trudeau and Freeland refused to budge on Meng, and did little to engage the Chinese for the release of Kovrig and Spavor. They continued a public campaign of criticizing China as 'a country with no rule of law', while claiming that Meng's arrest was proper and righteous. Trudeau has made the particularly audacious claim that his government cannot act in the Meng case because it would be interfering with 'the rule of law and independent judicial process'. This is false. In 1999, the Extradition Act was amended to include a specific provision that gives the federal minister of justice the power to stop an extradition at any point during the judicial phase. Under the current law, the minister of justice has the right to withdraw the authority to proceed and to end the extradition proceeding.
The Liberal government response to the Meng affair has been a failure. Trudeau's dilettante diplomacy and lack of any sense of urgency in resolving the matter has had serious economic consequences. The Chinese have halted the import of more than $5 billion of Canadian Agri-products including canola from Saskatchewan and Ontario which has adversely impacted the livelihoods of thousands of farmers, and beef and pork products from Alberta and Quebec.
In a harsh slap back to Prime Minister Justin Trudeau and his government over the mishandling of the Meng affair, a group of 19 high-profile Canadians sent him a letter dated June 23* saying that Justice Minister David Lametti should end the extradition proceedings for Meng Wanzhou 'to give Canada a chance to "re-define its strategic approach to China'. They note that Canada has the legal right to free Meng and end the extradition trial that could send her to the U.S. They also make the political link saying, "There is no question that the U.S. extradition request has put Canada in a difficult position. As prime minister, you face a difficult decision. Complying with the U.S. request has greatly antagonized China."
The 19 signatories say they believe that releasing Meng could lead to the Chinese freeing Michael Kovrig and Michael Spavor. "Removing the pressures of the extradition proceeding and the related imprisonment of the two Michaels will clear the way for Canada to freely decide and declare its position on all aspects of the Canada-China relationship."
This view seems to be shared by China. In his June 19th op-ed in the Toronto Star, Chinese Ambassador Cong said, "what is the way out for China-Canada relations? . . .The Chinese side never takes the initiative to stir up trouble and will never do anything to interfere in Canada's internal affairs or undermine China-Canada relations. As long as we uphold mutual respect, equality, and mutual benefit and strive to eliminate third-party interference, China-Canada relations can move forward in a healthy and stable manner, which is the fundamental way out for China-Canada relations."
In other words, release Meng and let's get back to business.
---
*The letter was signed by Arbour, Axworthy, Cannon, Broadbent, Segal, former ambassador to the U.S. Derek Burney, former associate deputy minister of Finance Wendy Dobson, former ambassador to Japan and Korea Leonard J. Edwards, former permanent representative to the UN and UN Security Council Yves Fortier, former foreign policy adviser Robert Fowler, former UN deputy secretary general Louise Frechette, Executive Director, World Refugee & Migration Council Fen Hampson, former ambassador to Germany and permanent representative to the UN and UN Security Council Paul Heinbecker, former ambassador to the U.S. Michael Kergin, former PMO foreign policy adviser Claude Laverdure, former journalist and broadcaster Don Newman, former president of the International Development Research Centre Maureen O'Neil, former foreign affairs and international development minister Andre Ouellet and former minister of justice and attorney general Allan Rock.
Recommended Articles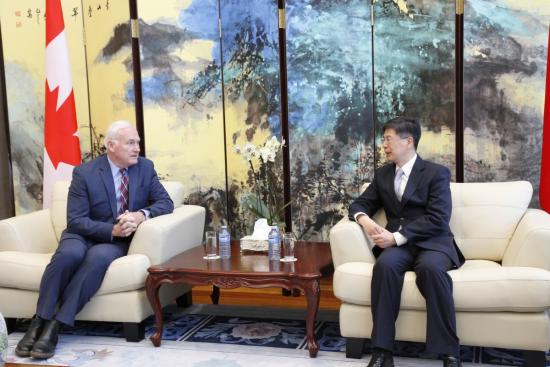 Ottawa Life Magazine Publisher & Managing Editor Dan Donovan sat down for an exclusive and wide-ranging interview with the new Chinese Ambassador to Canada, Cong Peiwu at the Chinese Embassy in Ottawa.
Read full story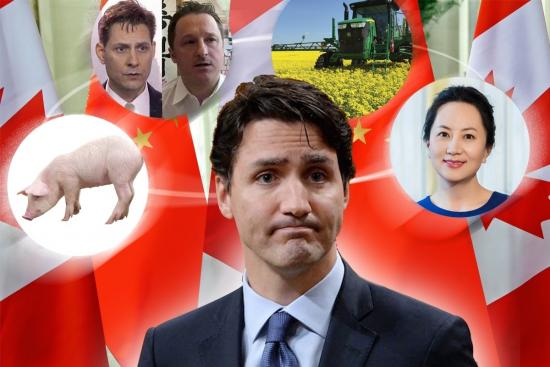 Send Chretien as Emissary to get Kovrig and Spavor in exchange for Meng Wanzhou.
Read full story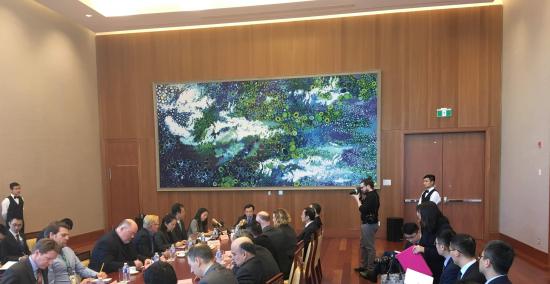 Chinese Ambassador to Canada, Lu Shaye, hosted a two hour press conference at the Chinese Embassy in Ottawa last week where he answered questions from members of Canada's national media on the ongoing diplomatic dispute between Canada and China.
Read full story
Comments (0)
*Please take note that upon submitting your comment the team at OLM will need to verify it before it shows up below.