Top Stories
Chaos in the capital could have been avoided say experts
Chaos in the capital could have been avoided say experts
Provincial inquiry should be called into Ottawa Police Service and Chief Peter Sloly's mishandling of the trucker convoy.
The national media are now asking OPS Chief Peter Sloly if he will resign over chaos that has besieged the capital for the past 12 days.
There appears to be a classic case of the Peter Principle playing out in real time in Ottawa. The principle, postulates that people are promoted to their level of incompetence and suggests that something is fundamentally misaligned in the promotion process.
The OPS have a $343 million budget and 1,500 police officers. OPS Chief Peter Sloly had lots of notice the trucker convoy was coming. He had access to police from regional municipalities plus the RCMP and OPP. The legitimate question that remains unanswered is, did the OPS create this mess on their own by mismanaging how to handle the protest from the beginning?
Incredibly, the Ottawa police chief and Ottawa Police Services did not use the multiple tools at their disposal to protect the capital and its downtown neighbourhoods.
Instead, they decided it was a good idea to allow 4- and 5-ton trucks to have full and unfettered access downtown Ottawa and the Parliamentary precinct.
When things got out of hand, Sloly then suggested the military could be used saying, "The longer this goes on, the more I am convinced there may not be a police solution to this demonstration." He even added, "I don't have a singular mandate in this city, this province or this country, to negotiate the end to any demonstration. There always needs to be an element outside of the police for any truly successful end to any demonstration, particularly one of this size."
When asked by reporters to clarify what he meant—i.e., did he mean politicians or the military?—Sloly responded, "I think you just listed most of them right there." Sloly did include asking for military help as an option, along with calling in the RCMP and requesting more provincial police.
On February 6th, former OPS Police Chief Charles Bordeleau said on CBC Cross Country Checkup that the police should be able to manage this situation.
Many other security experts have weighed in and said the same thing. Candyce Kelshall, president of the Canadian Association for Security and Intelligence Studies in Vancouver, told Post Media that, "If police look impotent, it emboldens protesters." She added, "Police are the only ones who can defuse the convoy protest peacefully."
Kelshall explained: "Protest is legal, but breaking any laws makes it illegal. If police look ineffective, that's the way they are perceived".
Any non-policing response to the demonstration would be "catastrophic," said Kelshall, who researches violent transnational movements. "The minute you say it's beyond policing, people will be ready to fight," she said. "It must be the police. They have the ability to get out there and start talking to people."
The problem should be handled as a "population-centric" problem, she said. Police have tools such as fines and warnings and the ability to order vehicles to be towed. More of these tools need to be used, but not in an aggressive way. Above all the law must be upheld, said Kelshall. "Protest is legal if it's legal. If it's illegal, you lose your moral authority."
On the other hand, if the military are introduced into the equation, then the response becomes "enemy-centric," Kelshall said. It will flip a switch in the more extremist parts of the movement and reinforce beliefs that the government is attacking its own citizens and is therefore not legitimate.
Jeffrey Monaghan, an assistant professor of criminology at Carleton University and expert on security governance, policing, and surveillance also spoke to Post Media and said, "Police should have treated the convoy the same way they treat Canada Day or Ottawa Race Weekend or any other event that draws crowds and used tools already at their disposal to prevent vehicle congestion downtown."
Monaghan goes on to say, "I'm befuddled how they allowed the trucks to enter the core. You don't need a PhD in criminology to know that police can cordon off traffic." He said, "The police have all kinds of mechanisms to turn the screws and re-shift how a protest is framed." The first mechanism is mobility restrictions for any additional vehicles that come in for the weekend.
But police can also stop protesters from bringing in fuel. "If people run out of diesel, you can offer them a tow," he said. "Let winter work its magic. Starve the protest of its resources." Police can also have checkpoints to prevent alcohol from entering the protest area. "This is not a complicated policing situation. It's all within regular police powers," says Monaghan.
For locals, the anarchy of the previous twelve days has been a complete disaster of planning, operations, security and is inexcusable. Especially since it comes just a short 6.5 years after the execution of Corporal Nathan Cirillo by a terrorist at the National War Memorial.
The scattered chaotic and unorganized police response of that day led to a multi-million-dollar review that made specific recommendations to improve future police planning and coordination.
Many of the report's recommendations were allegedly ignored by Chief Sloly and the OPS in their response to the convoy rally and occupation.
This includes the OPS responsibility for protecting the national cenotaph that was desecrated and urinated upon by protestors last week.
As residents of the city struggled with the onslaught of fumes, noise, and intensity of the protesters, it was learned that in the middle of the crisis when people were locked in their homes and being intimidated on the streets, OPS Chief Peter Sloly, who regularly complains about a lack of financial resources despite having a $343 million budget, allowed the OPS budget to be used to hire a PR and image firm costing taxpayers between $50,00 to $75,000 on a sole-sourced contract to manage the inept OPS messaging and response to the chaos.
That this comes as a surprise to many in the media and in the broader public is no surprise to Ottawa Life Magazine which has been writing about the deep-seeded misogyny and management problems at the OPS and the tepid and lax oversight of the OPS by the Ottawa Police Services Board (OPSB) for over a decade, including over the past 2.5 years with the temperamental Chief Peter Sloly at the helm.
Read Ottawa Life Magazine's story from March 2021 called Rapes and Lies—the cancerous misconduct at the Ottawa Police Service about the stupefying and gross incompetence of the OPSB in holding the OPS and its officers to account for dozens of cases of police misconduct and for an internal culture of misogyny.
OPS Chief Peter Sloly didn't like the story so he filed a defamation lawsuit against Ottawa Life Magazine (OLM) complaining that the article is defamatory and was part of a malicious, "bizarre campaign" to ruin his reputation. This, despite the fact that OLM has been writing about police misconduct for well over a decade.
Ottawa Life Magazine stands by the article and is moving forward to have it thrown out in court as a Strategic Lawsuit Against Public Participation (or SLAPPsuit), which is an intimidation lawsuit intended to censor, intimidate, and silence critics by burdening them with the cost of a legal defense until they abandon their criticism or opposition. The magazine and Carleton University Professor Davies are seeking damages against Sloly, an apology and all legal costs.
In a bizarre twist, Sloly filed the suit as a private citizen because he allegedly couldn't get support from the OPSB or the mayor to proceed with the lawsuit as OPS Chief.
Given the events of the past week, it seems pretty outrageous that Peter Sloly thinks an article in Ottawa Life Magazine is ruining his reputation. He needs only take a look in the mirror to see who is doing that.
Photos: Chief Sloly via Ottawa City Council. Background images by Jean-Marc Carisse
Recommended Articles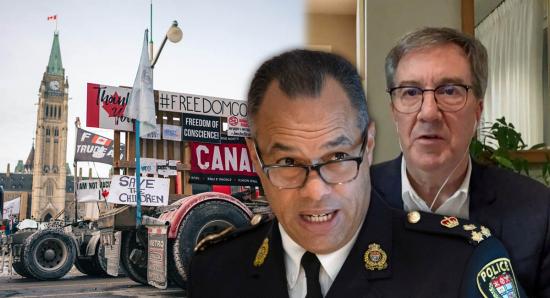 I'm angry at the supposed people in charge of running this city and protecting us.
Read full story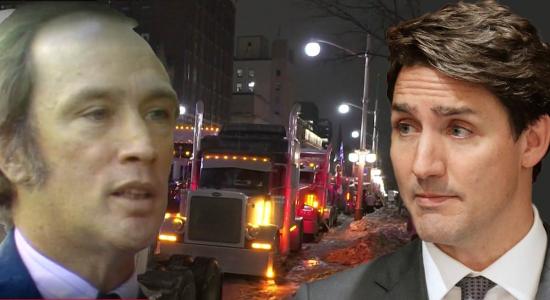 Prime Minister Justin Trudeau ran away from his responsibilities but if Pierre Elliot were in charge, the truckers wouldn't still be parked on Wellington Street.
Read full story
Are you tired of the pandemic? Yeah, me too. Everyone is. Two years later Omicron was the last straw. So many new infections that governments stopped counting or seriously testing.
Read full story
Comments (1)
*Please take note that upon submitting your comment the team at OLM will need to verify it before it shows up below.