Politics
Cry, for beloved Lebanon and Syria
Cry, for beloved Lebanon and Syria
ABOVE: Green Line, Beirut 1982 (PHOTO: James Case, flickr.com)
My grandmother used to say the world would end in the Middle East. ISIL had that in mind when it systematically massacred villages like hers because they embraced a building with a cross on it. Her village in the southern Beqaa Valley was in the news in 2006, as the elderly fled down the mountain and overland to safety amidst the volley of missiles launched by Israel and Hezbollah militia.
To get to the village, one has to take a taxi from nearby Chtoura, halfway between Damascus and Beirut in the middle of the valley. I asked a travel agent how to get to Kfar Mishki. He told me, "You want to get to Kfar Mishki? Get on a plane and fly to Ottawa!" the guy said without looking up, tossing his hand in typically dismissive Lebanese fashion. He knew the Ottawa diaspora was here for the summer. I ignored his joke and boarded a taxi, which I shared with a woman who was already seated in the back. "Marhaba," I greeted her. "Hi, how's it going?" she replied. Okay, I thought. "Where are you from," I asked, to which she nonchalantly replied, "We live just off of Prince of Wales Drive (in Ottawa)." I figured no one else in their right minds but ancestry seekers from Ottawa would travel here.
She was headed to Damascus to shop, and gave me some advice about borders along the short hop until she switched into a Syrian taxi. "The last time I went, I forgot my passport in the city, so I borrowed my sister's. The guys at the border are so dumb," she said. "He looked at the photo and I told him I dyed my hair and he let me pass." It's not a border so much as a checkpoint. The Syrian army's intervention in the Lebanese civil war made sure of that. Besides, it was all Syria at one time, the Syrians will tell you.
My brief companion gave me advice about another border, one that doesn't appear on the map. The road heading south towards the Golan Heights crosses into a sector controlled by Hezbollah militia, thus the constant offensive/defensive incursions by Israeli jets. "Hide your camera," she told me, "and don't look up once you're stopped. The driver will handle things." Off she went on her shopping day.
A few minutes later, my driver and I were stopped at a checkpoint encapsulated in razor wire and manned by a faceless man wearing dark glasses, wrapped from head to foot in robes and ammunition and bearing a semi-automatic weapon. I couldn't help but look up. In the background was a billboard depicting the Dome of the Rock in Jerusalem framed by a tilted missile on both sides ready for launch. It proclaimed "Death to Israel" in Arabic and English, considering tourists and the international media.
Once approved, we proceeded up to the top of the hill where the village is situated in the middle of the valley, 1,200 metres above sea level. The village's ideal, strategic setting means it must have been an inhabited site since humans first arrived from Africa in the Neolithic age. There is a view across to Mount Hebron, the sacred mountain of Lebanon, topped by snow and serving as a backdrop for St. Elias Orthodox Church, its namesake and most of its parishioners in Ottawa. Retirees have homes there and travel to and from Canada regularly to relax and pick grape leaves and chat and play cards. It's peaceful and quiet except for an occasional explosion in the distance. The day I was there a plume of smoke rose from the valley floor to the south. Someone, somebody said, must have tipped off the Israelis about Hezbollah activity. Nobody seemed concerned.
Kfar (meaning village) Mishki (meaning leather) is in the fertile Beqaa, with the great acropolis of Baalbek to the north, and the Golan Heights to the south. It would have been a tannery surrounded by plenty of rich agricultural land. Lebanon is generally lush, with fresh water flowing in the mountains and the valley, the only Arabic-speaking country to not have a desert. It's no wonder dry and dusty Syria wants Lebanon back.
There are also seaports that date back to the Canaanites whose coastal settlements still exist as Tyre, Sidon, Beirut, and Byblos. The Greeks called them Phoenicians. They created the world's first navy, a merchant marine that mapped the skies and sailed from Cornwall to the Ivory Coast, seeding cities like Carthage and Marseille along the way. An excavation in Byblos, where books were invented, reveals a sequence of cultures. Phoenician, Greek, Roman, Byzantine, Muslim, Ottoman. The list could include Hezbollah if one considered them culturally constructive.
Hezbollah symbolizes just how multifaceted the situation is in the region. It is both a Lebanese Shia Islamist political party and a militant group. Russia and Iran consider it to be a legitimate socio-political organization. The EU, Israel, most western nations and most members of the Arab League regard it as a terrorist organization. Iraq does not, nor does Lebanon itself, where Hezbollah holds the most parliamentary power. It receives military training, weapons, and financial support from Iran and Syria. Factional alliances in Lebanon are hyper-convoluted and unstable, with Hezbollah as the central agitator.
Not all of Syria's borders are as informal as the one it shares with what it considers its proxy state next door. When I first arrived from Jordan, an elaborate set of rules dictated who could enter. Do not expect to be admitted if there is any evidence that you have been to Israel. Savvy travellers have Israeli officials stamp a loose piece of paper that can be tossed. The border crossing north of Amman is in barren territory. A giant fence marks the first checkpoint. Get off the bus, walk through a building to be checked out, get back on the bus, and drive across several kilometres of no-mans land. Don't get your hopes up yet.
Arrive at the Syrian frontier, another soaring fence. Get off the bus, walk through a building to be checked in, but don't hold your breath. One western traveller in her 20s was seated on the floor crying for some unknown reason. I didn't ask. My Syrian visa was accepted and I boarded the bus for Damascus, where a hotel reservation was waiting. I had teamed up with another Canadian I had met in Amman. He was a scholar of the region so it made things easier.
My first impression of Syria was that there was not much to see, barren like the rest of the region. We passed what appeared to be a sprawling scrapyard, corrugated metal and bits and pieces of all sorts. Men and women, people of all ages occupied the site, milling about like it was a neighbourhood. I commented that workers lacking child or elder care had to bring infants and parents with them. My fellow Canadian, more enlightened than I could have possibly been, informed me that it was a refugee camp. "The old people, the grandparents, were the same age as the infants are now, when they were first incarcerated in those camps," he said. "Two maybe three generations have gotten married and had families of their own." Stateless family trees rooted in nothing.
Photos of the Assads, father and son, loomed over major Damascus intersections and plazas intimidating. The urban tone was lively with a sub-tone of foreboding. Marjeh Square was lined with restaurants that rival those of Paris minus the joie-de-vivre, a state of mind foreign to Syrians. Security forces in numbers typical of other MidEast countries were visible. A beer could be had with dinner, unlike dry Amman. Syria made all kinds of products it could not imported, like a super cheap brand of soft drink that could not be found anywhere else that I knew of, except perhaps Iraq, but I wasn't so curious as to want to find out. Older residents spoke French, a remnant from the post-Ottoman mandate. The only tourists were Russian and a couple of stray Americans who, by their account, were routinely chastised for their country's foreign policy. All this described in the past tense because Allah only knows what the situation is now.
Damascus is one of the world's oldest continually inhabited cities. Founded in the third millennium BC, Damascus grew as an important centre of commerce and culture, situated as it is at the crossroads of Asia and Africa. To the north lies Asia Minor and Europe. Excavations at Tell Ramad on the outskirts of the city tell that humans established settlements there as early as 8,000 to 10,000 BCE.
The time scale exhibited by the material culture housed in the National Museum of Damascus is astonishing. There are tiny cuneiform tablets on shelves behind glass. Treaties, contracts, communiques between monarchs, all recorded in the world's first proto-alphabet. When I saw them, some had tipped over and were covered in dust looking neglected. One depicts a royal decree issued by the Hittite King Tudhaliya IV to Initshoub King of Carchamish and his viceroy in Syria, carved in stone and stamped with the private seal of King Intitshoub, thus confirming the alliance between their kingdoms. It measures a mere 8.3 cm by 11.4 cm., but its tiny surface bears enormous historical significance in world heritage and the transition from the oral to literate epochs of media.
King Iku-Shamagan reigned over the second Mariote kingdom in this land c. 2500. He is known to us today by a statue discovered in 1952. There is an inscription over the right shoulder that conveys his name. Mari kings used the Akkadian language in their inscriptions, an extinct East Semitic language in the Afri-Asiatic language family that was spoken in ancient Mesopotamia during the third millennium BC.
Iku-Shamagan's statue was heavily damaged during the military conquest of the Empire of Akkad circa 2300 BCE. To put things in temporal perspective, Canadians barely acknowledged the War of 1812, in spite of government efforts to underscore its historical importance. It was perhaps too far in the past to be of interest. The statue was restored by the Louvre and returned to Damascus, where it may or may not still reside at the mercy of looters.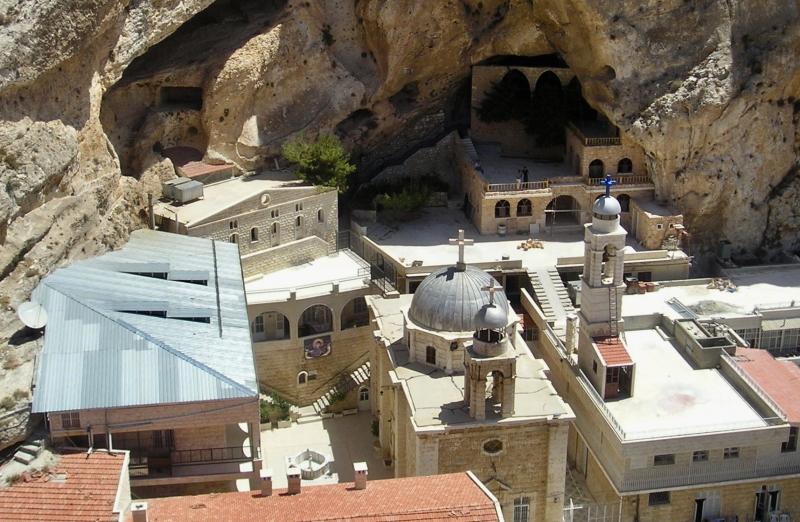 ABOVE: The Convent of Saint Theclain Maaloula, Siria
Northeast of Damascus is the Christian village of Maaloula, again with the present tense being in doubt as ISIL targeted this kind of place for merciless massacre. The day I went, June 6th 1995, was the day I thought I was going to die. It was a date that prodded my superstitious side since I had received a replacement birth certificate some twenty years earlier. Next to my birthday year of 1959 was the date of registration in which a typographical error inverted the last two digits. The certificate resembled the dates on a gravestone and it haunted me. I knew the date would come on this journey.
Maaloula seemed like a good place to meet my maker. The town's residents speak Aramaic, the Aramean language that originated in Syria near the end of the 2nd millennium BCE. Jesus spoke it. The Saint Sarkis Monastic Complex of Maaloula is one of the oldest surviving monasteries in Syria, and possesses two of the oldest icons in the world. It is administered by the Greek Orthodox Patriarchate of Antioch, my family's denomination, based in the coastal Syrian city where the word 'Christian' was first used.
The minibus I took on the 56 km ride to Maaloula wove in and out of the confines of the two-lane M5 highway that was in practice four lanes. Drivers are accustomed to the daredevil choreography of the road, but for someone who is not, the experience made the inadvertent date of death seem like a personal prophecy. This was going to be it, I thought. Not quite yet, as we arrived at the village with a pre-ISIL population of 2,762 according to the 2004 census.
Maaloula is nestled into a rugged mountainside with its monasteries and convents burrowed safely into the rocks looking about as ancient as imaginable. The Convent of St. Thecla is dedicated to a follower of St. Paul who was buried in the grotto that is accessible only by ladder from the roof of the main convent building. She is venerated by both Christians and Muslims for the miraculous waters attributed to her. A mother superior and seven nuns reside in the convent, the eldest of whom cares for the grotto church.
I scaled the ladder up the rock wall and stepped into the grotto. The sister of St. Thecla sat in a chair, solemn and serene, nodding without looking up as I entered. At the back of a cave is an icon of the saint with candles burning at its base. Pilgrims have forever been leaving written prayers in the rock, which I did, acutely aware of the date, still prepared to die before the day's end. Tears filled my eyes as I wondered if I'd ever see my loved ones again, and would I pass here in the land where they were born. It all made sense and I made peace with it. Tears filled my eyes, which the sister noticed, quietly nodding again, this time with a gentle, knowing smile. I descended the ladder and sat in the square where a young boy joined me. He was wearing an Ottawa Senators t-shirt. That evening, I stayed up to midnight waiting for the date to change to the 7th. It seemed like what might have been destined was nothing but a glitch, but the date's meaning has remained with me since I moved on the next day in what felt like a state of grace.
The ancient city of Hama on the Orontes River is famous for its norias, giant waterwheels that date from Byzantine times. They no longer serve a function other than aesthetic, moaning and squawking as they turn, creating an aural ambiance of quiet resolve and futility. It is a pleasant place to stroll about the gardens or dine and play backgammon by the river. Just don't expect to receive change from the waiter, as tipping authority is inverted. Pleasant as it is, Hama is haunted by ghosts and a unique brand of Syrian tension, no doubt greatly amplified by yet another war.
Settlements on the site of Hama were established in the Neolithic age and have been prosperous since the Bronze Age. Fertile soil and plenty of water mean a deep history of contestation. In modern times, hostilities were political and deadly, as residents know from personal family histories. Following Syrian independence from France in 1946, Akram al-Hawrani made Hama the base of his Arab Socialist Party, which, upon merging with the Ba'ath, gained power in 1963 ending control by powerful landowners. Political and sectarian insurgency led by the Muslim Brotherhood in Hama was brutally smacked down in 1964 by government troops.
Hama was the site of even greater government carnage in 1981 when President Bashar Al Assad's father, Hafez Al Assad, sent troops loyal to his Alawite minority sect to crush an Islamist uprising. A follow-up 27-day siege in 1982, led by the President's nephew General Rifaat Eli al-Assad, reduced much of Hama to rubble and left as many as 40,000 civilians dead, according to the Syrian Human Rights Committee.
I was walking in a restored Hama on a sunny June morning when a young man came running out of a store, chasing me and yelling "Canada, Canada, Canada!" having seen my backpack flag. I was invited into the store where I was asked for my home address and invited to dinner at his home, where his parents were gracious hosts. Hospitality was exchanged for information about how to immigrate to Canada. I explained that the process was far from simple, that the government was complex, and that providing the address of a resident would do little to open any doors. The family was resigned to the inevitability of a full-scale civil war, and I've thought of them often during the last 10 years.
It requires genius to decipher the 3-dimensional sectarian chess game that is Syria, Lebanon, and the Middle East more generally. I was in Beirut for a flight when I witnessed a scene that Anthony Burgess might have written had he been Lebanese.
I was sitting on a fourth floor balcony of a hotel on a quiet side street just below Hamra Street and Le Cinema de Montréal. A lot across the street had been cleared by a bomb a few years, the remaining wall was riddled with bullet holes. A couple of Mercedes Benz sedans pulled up and parked and several people emerged dressed in excellent attire, the women looking like they frequented French stores like Louis Vuitton which always reopen in Beirut after every calamity settles down. Folding tables and chairs were set up and laid out with tea and biscuits and architectural plans. A few moments passed when a young shirtless man paraded by shouting defiant slogans and waving a Palestinian flag. The planning meeting continued as though nothing was happening. Security police arrived quickly, pounced on the demonstrator and hurried him away.
The next morning I headed to the airport, a taxi booked to pick me up at 4 a.m. The electricity was out so I felt my way down four flights of stairs to the invisible street. I had not yet seen the district surrounding the Green Line. It's not on the walking tour. There were soaring tombs situated in the downtown. A high-rise Holiday Inn whose structure remained, windowless and punctured by shells, did nothing to prepare me for this ride. It was pre-dawn and the only lights were those of our headlamps. Rats scampered back and forth across the boulevard. Buildings large and small were pummelled and smashed into abandoned piles of cement, silhouettes against the blackness. Parked vehicles were everywhere making the streets look like a wrecking yard. There was nothing left to repair and rebuild. The apocalyptic carnage lined the entire route to the airport.
Twenty-five years later, Beirut was recovering. Fashionable stores, restaurants, and night clubs were open and flourishing once again and visitors were returning when a catastrophic explosion resulting from corruption and inept administration made Ottawa's housing crisis and emergency declaration seem satirical. Across the meaningless border, Bashar Al Assad is running for re-election with the backing of Russia and Iran. Opponents are required to have resided in Syria for the past 10 years, but most fled or were killed, making the requirement a guarantee for Assad. Chemical attacks, the decimation of Aleppo, hundreds of thousands of deaths and refugees are but points on the full circle that will turn Syria back to Assad.
The world's oldest written history has recorded eons of war and conquest, ruin upon ruin, kingdom upon toppled kingdom. Fake democracy and presidents fill the latest page.
Recommended Articles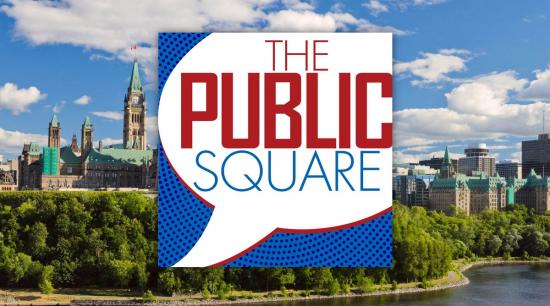 The Hon. Sergio Marchi's column, 'The Public Square', looks at current affairs and political issues impacting the capital and our country.
Read full story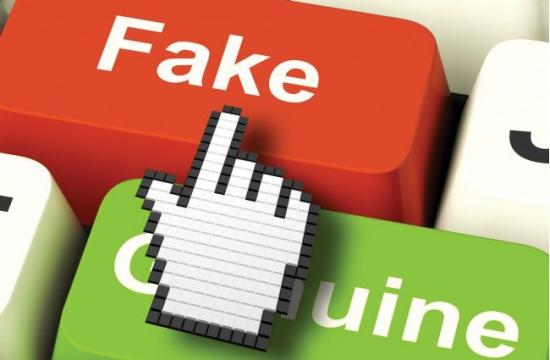 Canadian election studies have proven news and public affairs coverage, polls and debates as being the most important factors in campaigns, with a commercial value of many times the combined legal campaign spending limits of all parties and candidates.
Read full story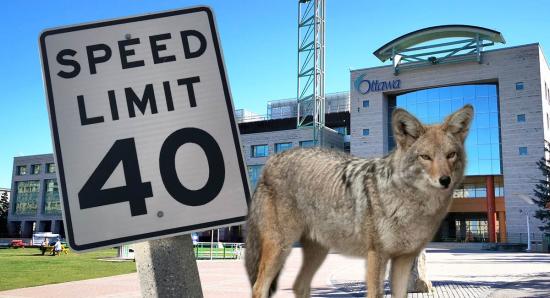 Ottawa City Council met for its last time before the municipal election.
Read full story
Comments (0)
*Please take note that upon submitting your comment the team at OLM will need to verify it before it shows up below.