Travel
Darling Door County: A peninsula of food & tradition
Darling Door County: A peninsula of food & tradition
Nicknamed the "Thumb of Wisconsin," Door County is a peninsula between Green Bay and Lake Michigan consisting of some of the sweetest little towns in America. It's an absolute hidden gem, Wisconsin's best kept secret! If you're a foodie and lover of the great outdoors, the county's scenic accommodations and abundance of restaurants, cheeseries, orchards and shops is the perfect little getaway.
Getting there
From Ottawa, the fastest way to get to Door County is to travel by air to Appleton, Wisconsin – a small city just outside the county where the Appleton International Airport (ATW) – and rent a car. Sturgeon Bay, the county seat of Door County, is just over an hour drive from ATW. Once in Sturgeon Bay, most of the neighbouring towns and villages, like Sister Bay, Ellison Bay and Egg Harbor, are within a 25 to 50 minute radius.
Alternatively, make it a road trip. From Ottawa, the drive into Door County is just over 14 hours via the Trans-Canada Highway. Stop in Sudbury, Ontario and Green Bay, Wisconsin to break up the trip and squeeze in some bonus sightseeing!
Beautiful & affordable accommodations
There are various privately-owned inns, motels and small resorts scattered across the county, but if you're travelling with a family and looking for something spacious and comfortable with some of the best views of Lake Michigan, stay at Glidden Lodge Beach Resort. This waterfront property (pictured above) is located in scenic Sturgeon Bay, the biggest town and county seat of Door County. This accommodation pairs modern amenities and utilities with nature. Nestled away from the town centre, the resort is surrounded by trees making it truly feel like a remote getaway.
Visitors have the choice between one, two and three bed units. With rates starting at $170 USD a night in the winter season, it is a good bang for your buck. I stayed in one of the beautiful and spacious two bed suites that included two spacious floors of living space complete with a full kitchen, living room and two bathrooms – one being a master with both a jacuzzi tub and shower. What really sealed the deal was the stunning morning view of Lake Michigan and hearing the waves at night. You feel like you're by an ocean rather than a lake!
Cheese & sweets in Sturgeon Bay
In Sturgeon Bay drop by Renard's Cheese a third-generation cheeserie, shop and deli that produces some of the most loved cheese in the state of Wisconsin. Renard's offers over 150 varieties of cheese, but their assortment of aged cheddars – ranging from one to 15 years aged – are especially popular. If you feel peckish while browsing the store, order something from their deli menu. All items are made fresh and will give you a different take on how to cook with their incredible assortment of cheeses. I personally recommend "Renard's Signature Grilled Cheese," a perfectly pressed sandwich of spinach, bacon, provolone and pesto, with a side of coleslaw.
Fun fact: did you know that, unlike here in Canada, cheese curds are yellow in Wisconsin? Grab a bag of those to go!
Looking for something sweet after all that savoury and salty cheese? Pick up some good, old-fashioned delicacies at Door County Candy! Located in the heart of Sturgeon Bay, about 10 minutes from Renard's Cheese, this precious shop makes you feel like you've fallen asleep and woken up in Candyland!
A Sturgeon Bay staple for over 20 years, Door County Candy is truly a family affair. When you enter the shop, expect to see owner Terry Ullman or one of his kids behind the counter whipping up their latest flavour of fudge – the sea salt caramel is to die for – or cooking up a batch of the shop's famous kettle corn. With rows and rows of homemade chocolates, taffy, flavoured popcorn, ice cream and so much more, the shop is such a gem and you won't want to leave without indulging in as many of the sweet treats as possible.
Scandinavian brunch in Sister Bay
For a fun brunch experience travel 45 minutes northeast of Sturgeon Bay to beautiful Sister Bay. Here you'll find the famous Al Johnson's. The Swedish restaurant and bar has been a Door County staple for almost 70 years, and for a very good reason: the restaurant's menu reflects the region's significant Scandanavian population and features items such as Swedish meatballs, Swedish pancakes, pickled herring, Pyttipanna and much more. I recommend the "Swedish Pancake Special", a serving of Swedish pancakes with a side of lingonberry jam, two eggs and your choice of meat (choose the meatballs). To drink, order a glass of lingonberry juice. It's a staple Swedish beverage made from lingonberries – a fruit that grows exclusively in the boreal forest and Arctic tundra across the Northern Hemisphere.
The inside of the restaurant is like a cozy, alpine cabin and the servers wear traditional Swedish attire which makes the experience super fun and authentic. Done your meal? Don't leave yet! Aside from the great food, Al Johnson's is known for the goats on their specially designed green roof. Yes, real live goats. The goats are out grazing on the roof daily from Spring through Fall, so look up and give them a wave on your way out . . . It doesn't get any more unique than this!
Savour tart cherries in Fish Creek
With Door County growing eight to 15-million pounds of tart cherries annually, and being the fourth largest producers of the fruit in America, you can't visit the area without getting a taste of these beautiful super fruits.
Lautenbach's Orchard Country Winery & Market, located in Fish Creek, is a prime spot to pick up various cherry products and get a good sense of just how dynamic this fruit is. You will find everything cherry here: wines, salsa, and my favourite, cherry juice – tart, perfectly quenching and antioxidant-rich. Lautenbach's also offers cherry picking and guided orchard tours for visitors who want to get up close and personal with this awesome fruit. After doing some shopping and taking the tour, don't forget to go out back and take part in the "Cherry Pit Spit", a game to see who can spit their cherry pit the furthest. Can you beat the state record of 48 feet?
Socialize over food in Ellison Bay
If you can squeeze it in, schedule in a cooking class at the Savory Spoon Cooking School in Ellison Bay. If you're travelling with family or a group of friends, this is a great bonding experience and something that you're sure to remember. Run by chef Janice Thomas, the cooking school is a beautiful, homey space that offers classes catering to various cooking styles and skill levels. Thomas' sweet and enthusiastic personality will have you feeling like a pro as she guides you through making a delicious meal with locally-sourced, high-quality ingredients. In just a couple hours, we produced a delicious lunch of cherry and pistachio crusted salmon, arugula salad, blue cheese flan, and a cherry and plum tatin for dessert.
To wrap up your Door County adventure, take part in an exciting fish boil! Fish boils are a culinary tradition in coastal Wisconsin and date back to the early days of Scandinavian settlement in the region. Fish boils were an efficient way to feed a large crowd and bring the community together. A fish boil, the meal, consists of white fish, potatoes, onions and salt all thrown into a boiling pot of water on an outdoor fire. The event is led by a "boil master" who takes their job seriously – knowing exactly when the water is hot enough and when to add the ingredients.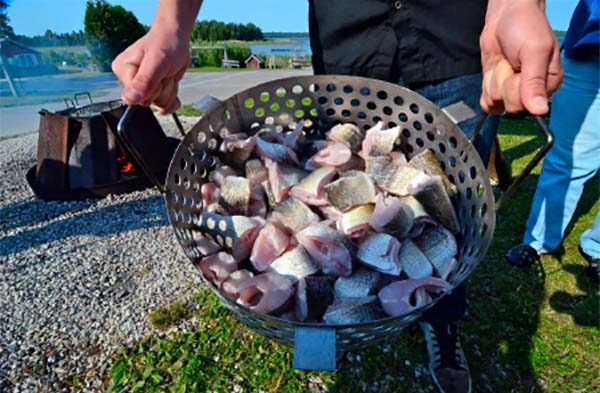 There are various places across the region to go for a fish boil, but Ellison Bay's Rowleys Bay Restaurant is one of the most popular. This family-owned resort/restaurant hosts fish boils four days a week from Spring to Fall. The boil takes place on their spacious front lawn where, after grabbing a drink at the bar, diners can gather around while a storyteller recounts the history of the region including the Scandinavians who settled there. The storytelling is followed by the the boil master adding the ingredients to the pot and activating the exciting "boil over" – when the water and oil in the pot spills over into the fire and creates a huge flame. Rowleys' fish boil experience includes a full-scale buffet, so along with the contents of the boil, you also have endless options of salads, pasta, chicken and more. It's family-friendly and fun!
Wondering where to plan your next trip? Consider darling Door County, you won't be disappointed!
Photos: Header image courtesy Glidden Lodge Beach Resort. Fish Boil photo, courtesy Rowleys Bay Restaruant. All other photos by Kat Walcott.
Recommended Articles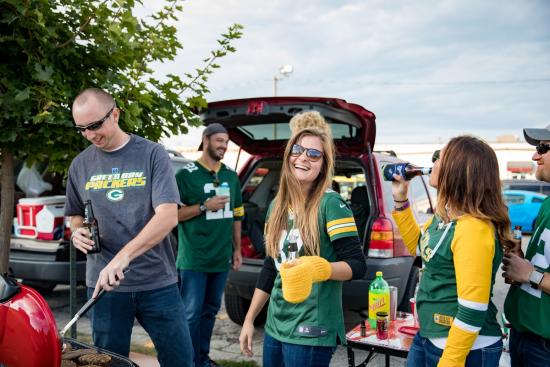 When you hear Green Bay, your thought likely turn to football but did you know that the team is also business owned by whole town who support it with wild enthusiasm
Read full story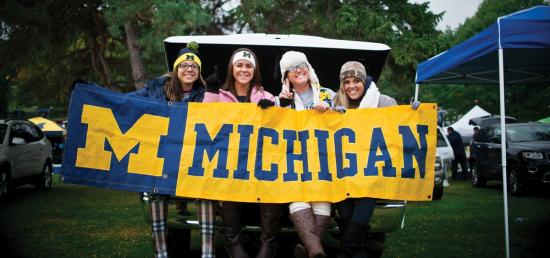 The 35-plus-year bedrock of the Ann Arbor food scene (said to have as many restaurants per capita as New York City) transcends the "restaurant group" business model.
Read full story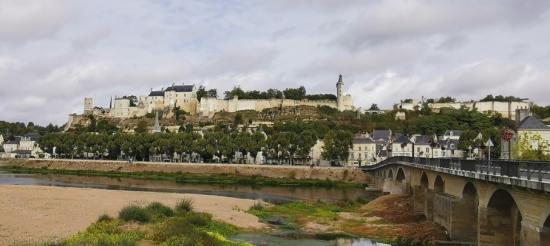 The regional wines are celebrated around the world, the food is simple but spectacular, and the vibe is laid back in this valley of medieval cities.
Read full story
Comments (0)
*Please take note that upon submitting your comment the team at OLM will need to verify it before it shows up below.