Restaurant
Enjoy Brunch Elevated at Copper Spirits and Sights
Enjoy Brunch Elevated at Copper Spirits and Sights
Photos by Ali Matthews
Brunch is a sacred space. Anyone can share a meal, but brunching is uniquely indulgent. The food is rich and comforting and the conversation is thoughtful and relaxed.
While Ottawa has an established brunch scene from the casual Art-Is-In Bakery, the familiar Stone Face Dolly's, to the formal Chateau Laurier buffet, a new player is shaking things up with a truly elevated brunch experience.
Copper Spirits and Sights is best known for its well, spirits and sights. Located on the 16th floor of the Andaz Hotel, it is Ottawa's tallest (highest?) rooftop bar and offers a unique view that spans from the By-Ward Market to a picture perfect sightline of Parliament Hill. However, the 'spirits' in the name represents its primary purpose, a bar with an artfully crafted cocktail menu.
While Copper Spirits and Sights is usually only open in the evening (and wee hours of the morning) it takes exception one Sunday every month, to make going out for brunch a spectacle.
On February 26th, I decided to see what all the hype was about by attending their monthly Beats + Brunch.
First, this brunch event is divided into two sittings, 11am and 1pm and as an early riser, 11am was perfect for me. After a quick elevator ride to the 16th floor, you are first greeted by sunshine from the windows facing Copper Spirits and Sights' famous rooftop patio. After a few steps, look up for some shining copper birds hanging from the ceiling and straight ahead for a huge expanse of windows showcasing Parliament Hill.
The bar itself is sleek and sophisticated with touches of its namesake accent-of-choice, copper, throughout. I was seated at a table for two in the middle of the restaurant. Every seat has a view. Either to look at the sleek bar or at a shining Parliament Hill.
The DJ is positioned near the entrance of the restaurant and spinning crowd pleasing beats at just the right level that you can still comfortable chat with your brunch partner(s) and not aggravate a hangover. The vibes are strong here.
There are two buffet stations that are so beautifully displayed that it feels rude to call them a buffet. One has yogurt parfaits, pastries, fruit and berries and the other featured charcuterie, cheese, donuts and muffins.
Once seated, we were warmly greeted and given a drinks menu. In classic brunch fashion, we consumed many of their unique mimosas (Prosecco! Lemon! Strawberry! Basil!) and plenty of other cocktails with refreshing twists.
We populated our plates with a selection of confections and no sooner did we sit down that we were introduced to the real stars of this brunch.
Servers went from table to table presenting Andaz Chef Stephen La Salle's delicious brunch favourites all in bite sized glory. We are talking loaded baked potatoes, shrimp and guacamole, omelets, and latkes. Banana and nutella roll ups, bagels with cream cheese and smoked salmon and more. Did I mention how perfectly bite-sized they were?
Among the delicious food and gorgeous views, the crowd also deserves mention. Polished is the perfect way to describe patrons that morning. The majority of the room appeared to be young professionals, but also a healthy mix of retirees and even a very well behaved tween. Everyone brought their fashion A-game creating quite the sophisticated scene.
Everyone was having a great time and before I knew it, people were lining up at the door for the second sitting.
Copper Sights and Spirits is not a large venue, but was sold out with over 100 people attending the February edition of Beats + Brunch. It was easy to see why. At only $30 plus tax and gratuity for the buffet and access to the best views and vibes in the city, Beats + Brunch is not only a steal, but the perfect way to spend a Sunday.
As only the second such event, the warm reception from Ottawa brunchers will hopefully result in a weekly expansion as the weather warms up.
It isn't too late to make your reservation for the next installment on Sunday, March 26th. Check out the Facebook event page and give them a ring. See you there!
Recommended Articles
Executive Chef Scott Lucano makes it his mission to offer the best meal to his patrons at the Garden Grille and Bar.
Read full story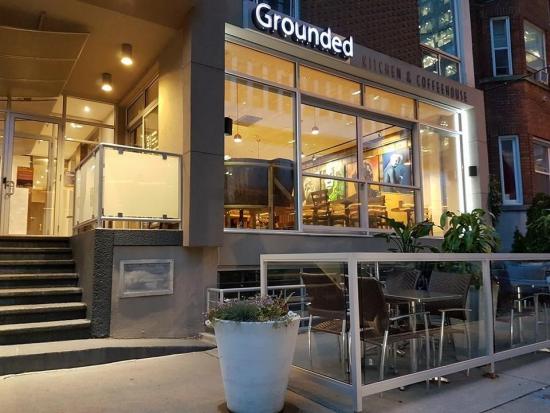 Starting any business puts a lot on the line, but restaurants and coffeehouses are another story altogether. Despite the fierce competition in the industry, opening an eatery is the dream for many, and is therefore worth the risk. Ottawa's Grounded Kitchen & Coffeehouse is one of the success stories, and an inspirational one at that.
Read full story
There is no doubt that, in the upcoming months leading up to Canada's 150th Celebration, that many Ottawa restaurants will attempt to rift on "Canadian" cuisine. However, I doubt as many will do it as successfully as Executive Chef Stephen La Salle and the staff at feast + revel in the Byward Market.
Read full story
Comments (0)
*Please take note that upon submitting your comment the team at OLM will need to verify it before it shows up below.