Travel
Fantastic Florida: Martin County, Miami, and The Palm Beaches offer something for all
Fantastic Florida: Martin County, Miami, and The Palm Beaches offer something for all
ABOVE: The waters of Miami Beach, Florida. (PHOTO: Visit Florida)
---
When you think of Florida, nostalgic childhood trips to Disney World likely come to mind. However, The Sunshine State has so much more on offer. Miami, Martin County, and The Palm Beaches represent some of the best of Florida, whether you're young, old, travelling solo, or with friends and family.
Sailing, stingrays, and more in Martin County
Martin County is a hidden gem. The county is located along the scenic Treasure Coast and is a prime spot for anyone who enjoys boating, fishing, and high-quality seafood.
Stuart, coined one of the "best small towns in the USA" by Country Living Magazine, is a city of just over 16,000 people and is the county seat of Martin County. It's an incredibly family-friendly, quaint but progressive city where the locals are welcoming and so kind.
ABOVE: The Marriott Hutchinson Island Beach Resort, Golf & Marina features a private beach, golf courses, pools, and more. (PHOTO: Marriott Hutchinson Island Beach Resort) The sailfish is the mascot of Stuart and can be spotted all over town. (PHOTO: Martin County Office of Tourism & Marketing)
I stayed at the lovely Marriott Hutchinson Island Beach Resort, Golf & Marina, and I highly recommend it, especially if you are travelling with friends or family. The rooms are spacious with large windows and an accessible balcony with stunning views of the beach.
Explore Stuart with the help of a local guide from The Flavor Excursion. You'll not only visit various cafes, bars, and eateries to sample the flavours of the city, but your "food tour" guide will also walk you through the fascinating history, including the town's significant role in the prohibition-era bootlegging industry. Starting at $75 for adults and $45 for children, the three-hour walking tour is a great way to get to know the city.
ABOVE: Captain Fred of Treasure Coast Sailing Adventures has been sharing his knowledge about the Treasure Coast since 2010. (RIGHT) The Florida Oceanographic Society focuses on conservation and education about Florida's aquatic wildlife. (PHOTOS: Kat Walcott)
Learn about Stuart and Martin County from a different angle by taking a scenic cruise. The Schooner Lily Sunset Experience by Treasure Coast Sailing Adventures, headed by the knowledgeable and entertaining Captain Fred, is a two-hour experience that departs from Shepard Park and sails up the St. Lucie River. This is an excellent opportunity to find out about the different wildlife that call the region home, the fishing culture, treasure hunting along the coast, and more while taking in the gorgeous views. Don't forget to snap some photos during the journey; the shots you'll get as the sun sets will be top-notch!
For a close-up experience with the county's wildlife, book a day at the Florida Oceanographic Coastal Center, located on Stuart's Hutchinson Island. The 57-acre educational and research facility houses hundreds of animal species to view and, in the case of the stingrays, directly interact with. Weekly, from Wednesday to Sunday, the centre hosts a special stingray program that includes an informative presentation followed by a feeding time where participants get to hand-feed the stingrays. It is a great activity for kids or for adults who are kids at heart.
While visiting Martin County, you'll likely bump into other Canadians. Originally from Montreal, I was delighted to meet not one but two fellow Montrealers during my stay. Sign up for a Sound Vibrational Healing class at the Elliott Museum, and you'll be led by expert sound healer and Montreal native Deena Mahill. The hour-long session gives you a new appreciation for relaxation and opens your mind to alternate ways of meditation and coping with anxiety. It's an experience that everyone should try.
Kai-Kai Farm is a top-rated venue in Martin County for a destination wedding or special events. The beautiful farm, located 35 minutes outside of Stuart in the small village of Indiantown, is owned by the wonderful couple, Carl Frost and Diane Cordeau — another fellow Montreal ex-pat.
Wrap up your stay in Martin County with a haunted walk in Port Salerno, just a 15-minute drive from Stuart. Whether you believe in the supernatural or not, Port Salerno Ghost Tours is a fascinating and fun experience. For just $20 USD, the post-sunset two-hour walk takes you to some of Port Salerno's most haunted spots. You'll be equipped with an EMF reader to track any ghostly activity around you while learning about the town's creepy history. Don't forget to snap some photos during the walk; you never know what your camera will pick up!
Picturesque Palm Beaches
The Palm Beaches is the collective name for over 30 cities and towns that line a 47-mile stretch of coast in southeastern Florida. It is one of the nicest regions to visit, where you'll find beaches, trendy shopping districts, and great public transportation.

ABOVE: Aloft Delray Beach is a 122-room chic, urban hotel located in the heart of Downtown Delray Beach. (PHOTO: Aloft Delray Beach (Marriott))
Stay at the Aloft Delray Beach, located in the small but adorable city of Delray Beach. The modern, urban loft-style hotel has 122 sleek, pet-friendly rooms and is within walking distance to the city's best shops and restaurants.
There are quite a few places you'll want to check out in Delray. The good news is that you don't need a car to get around. FreeBee is a south Florida-based company that provides free electric transportation throughout Downtown Delray. Use the FreeBee app to book a ride from anywhere you are, and a friendly driver will pick you up in one of FreeBee's adorable electric cars.
For a serene experience, consider spending a day at the Morikami Museum and Japanese Gardens. Created to promote and educate the public about Japanese culture and the significance Japanese immigrants played in the development of South Florida, the principal building features art exhibits and educational spaces inside and 16 acres of stunning green gardens outside. Follow the garden's winding trails and keep your eyes open for wild iguanas––they may be invasive in Florida, but here in the gardens, they look like beautiful mini dragons amongst the foliage. Take in the ponds full of koi and other wildlife too.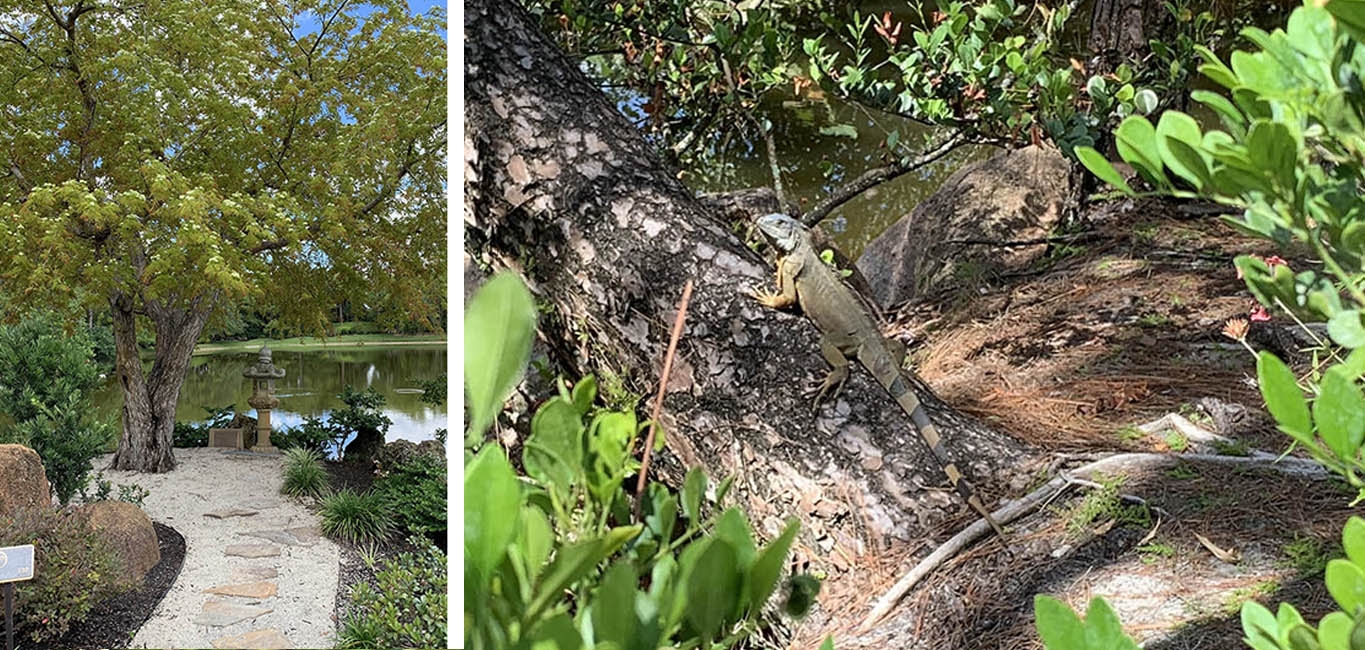 ABOVE: Morikami's Japanese gardens span 16 acres and feature winding trails, ponds, and various wildlife. (PHOTOS: Kat Walcott)
Get to know the food and cultural scene by heading to Delray Beach Market for lunch. The modern indoor food court is a great hub to get familiar with the local scene and support independent merchants and restaurants. Opened shortly before the COVID pandemic hit, the market was established to modernize Delray Beach, and it is definitely doing that. Its fun design, lighting, and overall vibe are fresh and exciting. Make sure to taste the Asian and Hawaiian eats at Tanuki, located on the eastern end of the market. Their crispy rice dishes are to die for!
For dinner, you've got to go to Lionfish, a popular Delray eatery and easily one of the best restaurants. The menu offers seafood and steakhouse classics with a modern twist. Lionfish focuses on ingredients and flavours that are distinctively coastal and fresh. Everything is exquisite, but I had to recommend the Tableside Hot Rocks Slice Wagyu as an appetizer and the Whole Steamed Florida Snapper for an entrée.

ABOVE: The Square is West Palm Beach's number one shopping and dining destination. (PHOTO: Indiehouse Films) Circuit is a free public transportation service that operates throughout Downtown West Palm Beach. (PHOTO: Kat Walcott)
Shopaholics won't want to miss the chance to spend a day at The Square in Downtown West Palm. The outdoor shopping complex and food destination offer a curated mix of over 50 retail stores and restaurants and open spaces for community events and art installations. Shops at The Square include global brands like Lululemon and Restoration Hardware, as well as local shops like inclusivity-focused children's bookstore Rohi's Readery and apparel and gift shop Life in Palm Beach, to name just a few. Check out The Square's event calendar before you visit to take advantage of live music, farmer's market, and more. Get to and from The Square, and explore other parts of West Palm by jumping on a Circuit. Similar to Delray's FreeBee, Circuit is an entirely free shuttle service that services downtown West Palm. Simply download the handy app to reserve your ride.

ABOVE: JW Marriott Marquis Miami in the heart of downtown Miami offers spacious, modern rooms with city and ocean views. (PHOTO: Credit: JW Marriott)
Modernity in Miami
Miami is considered one of the sexiest cities for a reason—with its hot weather and iconic beaches, you will want to wear your swimwear everywhere you go, just like the locals!
If you're all about shopping, nightlife, and rooftop bars, book your stay at the JW Marriot Marquis Miami, in the heart of Downtown Miami. The five-star property is quite reasonable–you can book a room for as low as $360 CAD during the off-season, and many of their bookings include breakfast. With its spacious rooms, stunning views, and all its amenities, including the exquisite Enliven Spa & Salon, complete fitness centre, and five on-site restaurants, the hotel is a vacation destination itself.

ABOVE: Pubbelly in Brickell City Centre is known for its delicious spin on sushi rolls and sashimi. (RIGHT) Sugar is EAST Miami's rooftop bar, complete with good drinks, food, and views. (PHOTO: Swire Properties)
Brickell City Centre is within walking distance of the Marriott and is a mall unlike any other. With its enclosed roof and open sides, the centre has the vibe of an indoor mega mall and an outdoor strip mall. The vast space takes up over five blocks of the recently redeveloped financial district of Downtown Miami. It is home to popular fast-fashion retailers like Zara and Victoria's Secret, cosmetic shops like Sephora and MAC Cosmetics, and high-end retailers like Saks Fifth Avenue and Coach, to name a few. Instead of a fast-food court, the centre is home to some of the best restaurants in Miami, including the beloved Pubbelly Sushi, a delicious Asian-Latin fusion spot with a great, lively atmosphere. Pick from an array of fresh ceviches, sushi, handrolls, various fish cooked in every way possible, and grilled classics like steak and chicken.
After dinner, head for drinks at EAST Miami's trendy rooftop lounge, Sugar. Expect great food, drink, music, and the city's best views.
A short drive north of downtown Miami is the young and trendy neighborhood of Wynwood––home to one of Miami's most famous art districts. Wynwood Walls, a mural installation conceived by urban planner Tony Goldman in 2009, lies in the heart of Wynwood and is a must-see for all street art fanatics. The installation features over 80,000 square feet of "walls," and many are recycled shipping containers that feature the works of graffiti and mural artists from around the world. Wynwood Walls is free to visit, making it a great budget-friendly alternative to visiting a traditional museum or art gallery.

ABOVE: New York-based Buff Monster is one of the many artists whose work adorns the Wyndwood Walls, Miami's most famous outdoor art district. (PHOTO: Nika Cramer) BAKAN is your spot for exquisite Mexican fare like tacos, various mole dishes, margaritas, and more. (PHOTO: BAKAN)
Get re-fueled after your art tour at BAKAN. The Mexican restaurant is a three-minute walk from Wynwood Walls and offers all the traditional Mexican fare made with the freshest and tastiest ingredients. I recommend the "Tacos de Short Rib" and any of their mole dishes. For a refreshing drink, the "BAKAN Clasica" margarita is to die for.
If you prefer the feeling of sand on your feet and more tropical vibes, Miami Beach may be more your speed. This island resort city, separated from mainland Miami by stunning Biscayne Bay, has picturesque views and holds so much rich and fascinating history.
ABOVE: Ocean Drive is world-famous for its preserved art deco buildings that date back to the 1930s. (RIGHT) Casa Casuarina, better known as the "Versace Mansion," was built in 1930. (PHOTO: Kat Walcott)
Book a walking tour with Miami Design Preservation League to learn about the city's architecture and design, including how it was one of the first cities in North America to adopt the art deco style. Ocean Drive, Miami Beach's main street and the heart of the Miami Beach Architectural District, is home to many of the city's original art deco-style buildings. Walking past them will make you feel like you've been transported back to the 1920s. Ocean Drive is also home to the infamous "Versace Mansion,"–– a stunning estate built in the Mediterranean style and the site where fashion designer Gianni Versace was assassinated in 1997.
In Miami Beach, stay at the Loews Miami Beach Hotel, located on Collins Avenue, less than a mile from Ocean Drive. The hotel mixes modernity with a touch of the city's signature art deco style and is an experience all of its own. Inside the hotel, enjoy the fully equipped gym, kids' centre, spa, or wellness lounge. The hotel's exterior property features multiple pools and swanky cabanas available to rent.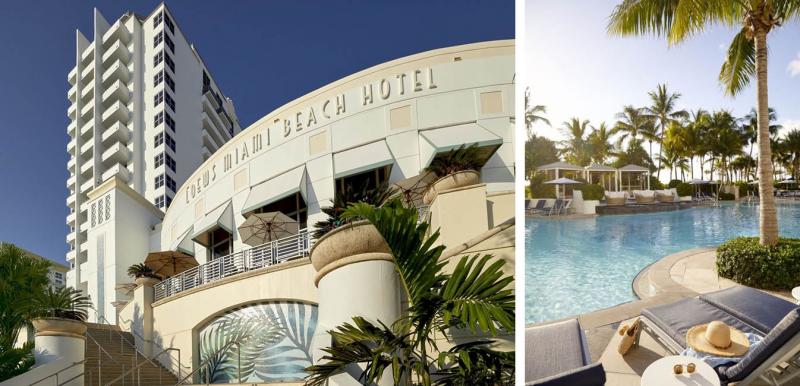 ABOVE: The facade of the Loews Miami Beach Hotel pays homage to Miami's art deco heritage. The hotel's gorgeous pools are available for guests with VIP cabanas at an additional cost. (PHOTOS: Loews Hotels)
Florida in a flash
Traveling to other parts of the Sunshine State and want to add more to your bucket list? Here are some more of my top picks of things to do in Florida.
Recommended Articles
We've all been cooped up over the past couple years, but with travel restrictions gone and pandemic mandates lifting, it's time to get your revenge.
Read full story
Türkiye's Culture Route Festivals in Istanbul & Ankara are a treasure trove of arts and culture
Read full story
Visit the picturesque and historical places that played a key role in the formation of the United States of America.
Read full story
Comments (0)
*Please take note that upon submitting your comment the team at OLM will need to verify it before it shows up below.