Sports
Few certainties in the Senators' picture
Few certainties in the Senators' picture
Anticipation, anticipation
Is makin' me late
Is keepin' me waitin'
Pretty cheesy lede, eh?
Point being, in Ottawa playing the anticipation game is a daily occurrence, whether you're a fan of the Senators or a finger-crossing rider on LRT.
Things are seemingly never a certainty around these parts.
And to that end, we've slapped together a list or three of what Ottawa ticket-buyers (. . . for the hockey here, folks. LRT business can be analyzed elsewhere, and it is, which is good. OK?) can take to the bank as a certainty; can be optimistic about (probabilities); or just don't have a clue about.
The season is somewhat winding down – especially here in Eastern Ontario – and the future is knocking at the door.
CERTAINTIES
Your core group is in good and trusty hands:
While there's not a lot of them, they're pretty solid citizens.
We're talking of Brady Tkachuk (duh), Thomas Chabot (duh, Part II), Connor Brown, Mark Borowiecki and Nick Paul.
Good honest players, and outside of Boro, on the fresh-face side of things.
Does Tkachuk get the captaincy as early as next season?
Wouldn't be surprised.
DJ Smith gets it:
The newest coach trusts and (generally) rewards skaters who bring the lunch pail and results to the job site (Colin White would be an exception).
Everyone knew going in that this was going to be a trying year as far as wins and losses. Smith is guiding the ship the right way and creating a hard-work-first atmosphere.
Pierre Dorion persistently sticks to his guns:
The team's ever-so-picked-apart general manager said "rebuild!" and he meant it.
We just hope for the Ottawa fanatic that the trade of J-G Pageau to the Islanders was the last weepy farewell.
Outside of the notion that we can't stand the idea of another mid-period tribute to yet another traded vet (Stone, Karlsson, Duchene, etc.), it's time to stockpile and hang on to whatever quality-veteran presence the organization owns.

PROBABILITIES
One of a number of junior-aged players will grace the NHL roster full-time in 2020-21:
Be it Alex Lafreniere, Tim Stutzle, Quintin Byfield, Marco Rossi or Jamie Drysdale, one of these hot prospects will likely wear the Senator logo next season.
Could be more than one.
Could be more than two.
Stay tuned.
Ottawa has found its netminder for the long term:
Yeah, yeah, it's a smallish sample but hasn't Marcus Hogberg done enough to give you some hope. Maybe more than 'some'?
The true test will start when there is more on the line, game to game, and the pressure mounts on the youngster.
Hogberg's angle work has been sensational. He's zipped past touted Filip Gustavsson as the club's top goalie prospect.
Help is on the way to shorten Chabot's minutes:
When you're playing more than half the game, fatigue's eventually going to play a role.
That's all well and good this season but for Ottawa to improve (greatly), it needs to give Thomas Chabot more time to rest between shifts.
Jacob Bernard-Docker, Erik Brannstrom, Christian Wolanin or Christian Jaros 'should' slide in next season.

WHO KNOWS?
Bye-bye Craig Anderson:
He'll be 39 in the spring and while Anderson's laid claim to the title of Senator-goalie-of-all-time, there's no more room at the inn.
Then again, maybe Anderson sticks it out as kind of a mentor for his younger co-horts.
Bobby Ryan is 'coming in hot!':
Hard not to root for Bobby.
We love his story and his return was nothing short of magic, and he has a life-long battle in front of him. He's clearly dropped some unnecessary weight and though he'll never be mistaken for Connor McDavid, Ryan's skating is stronger and he's a lot quicker on his toes.
Again, a small sample size here and it'll be interesting to watch a full year with Ryan in the fold.
Attendance will improve . . . right?:
Flip a coin.
Ottawa's shaky sports market has witnessed the demise of Triple-A baseball (a freaking shame) among other ventures.
The plunging trend would suggest bad days and empty seats ahead at the NHL level.
We'll see (as my father would say). Perhaps an influx of marquee prospects ends up drawing them back in.
Perhaps.
News, notes and notions: Colton Orr would approve. As TSN points out this past weekend, the Toronto Maple Leafs have racked up the third-most fighting majors in the NHL since early February. Leading the way? No surprise one is Kyle Clifford, the other is a surprise – Kasperi Kapanen who also has two scraps. Looks real good on Kapanen who's playing with vigour, drive and testicular fortitude . . . Speaking of good signs in T-O, Auston Matthews made a big hit behind the opposition net to create a goal last week in Florida. This is notable because, well, it likely hasn't happened before. Matthews is playing with the same zeal as Kapanen (and definitely put Zach Hyman in that camp too) . . . So then, Ottawa plays in San Jose next Saturday. Who's your side? Sens or Sharks? Worse-case scenario for Ottawa fans chained to hope at this summer's draft: The game goes to overtime or shootout . . . Same guys will be hoping for a continuation of an Islanders' slide to push the envelope a little further on draft day . . . Islanders and Pageau are here Thursday . . . Oh boy, another video tribute. What fun.

Senators – the week ahead:
Tuesday, March 3: Ottawa at Pittsburgh (7 pm)
Thursday, March 5: NY Islanders at Ottawa (7:30 pm)
Saturday, March 7: Ottawa at San Jose (7 pm)
Image 1 – Senators - Courtesy NHLI via Getty Images
Recommended Articles
If you thought NHL trade deadline day was ripe with activity for the Ottawa Senators, wait 'til June 26th in Montreal.
Read full story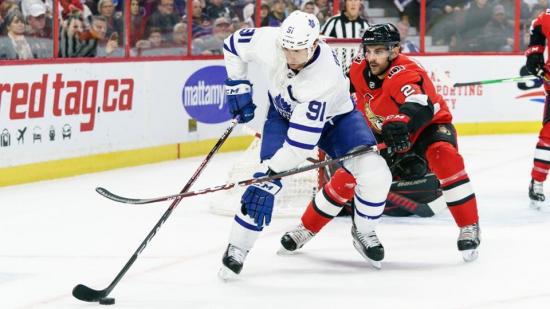 It's been a hectic past couple of weeks across the NHL with coach firings, player movement, injuries, some player growth and of course – the lead-up to the trade deadline.
Read full story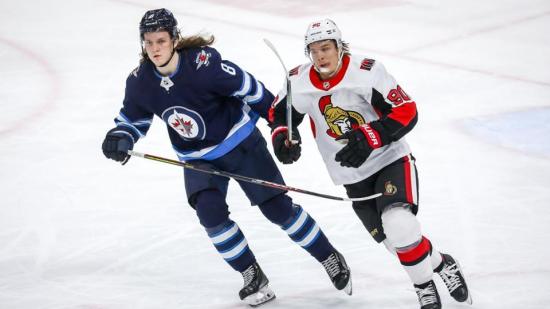 So, here's a question – would you hand over your hard-earned dollars to watch a young, mistake-prone yet energetic pro hockey team play in the world's toughest league?
Read full story
Comments (0)
*Please take note that upon submitting your comment the team at OLM will need to verify it before it shows up below.