Hamish Anderson Stays out of Trouble
Ottawa Life's Festival City Series is back! We'll provide a unique look at some of your favourite events.
We'll go beyond the music with artist interviews, volunteer profiles, concert reviews and spotlights on
the tastes, sights and sounds of the festival season.

Your city! Your festivals and events!
Like a good sunscreen, Ottawa Life has you covered.
---

RBC Bluesfest
Bluesville Stage
July 15, 6 p.m.
---
Australian blues-guitarist Hamish Anderson started his career young thanks to a jump-start from a late blues legend. On a tour in North America, he landed the final opening spot for B.B. King, and after some praise from Gary Clark Jr. he quickly found himself the talk of the blues scene. Catching a small break while sorting out a flat tire on his tour vehicle, we talked with Hamish about focusing on songs, his time with B.B. King and why he doesn't see himself as a gear-head.
Ottawa Life: For those who aren't as familiar, how does the blues rock scene look in Australia compared to North America?
Hamish Anderson: There's not a huge blues-rock scene in Melbourne, especially at the moment. But I really got into blues through my dad. His vinyl collection had Stones and Cream. I remember watching "Blues Brothers" as a kid, seeing that scene with John Lee Hooker and thinking he was the coolest looking old dude.
How did you manage to build your career at such a young age and how did things start to pick up?
I came over to L.A. for some showcase shows and touring around some other Australian bands. I met my manager and booking agent over here, and more and more work started happening over here. The first big break I got here was opening for B.B. King. Coming from Australia and having always loved his music, it was super surreal to be opening for him at the House of Blues in Chicago.
How did being his last opener make you feel in retrospect?
Definitely bittersweet. We were originally supposed to do seven shows with him and we only ended up doing two because he got sick. It was just amazing being able to watch him play and stand side stage. It was the honour of a life time.
Did your career start to snowball after that?
It was around that time that Gary Clark Jr. came out to one of my shows in New York and mentioned me in an interview being supportive. After that I got to open for Los Lobos and Stephen Stills. It's been just working away really hard in America since then.
Being known as a guitar player, do you consider yourself a real gear-head?
I'm the least gear-headed guitar player, I just go by what sounds good to me. I'm awful knowing stuff about amps or guitars, because for me if it sounds good and feels good, it doesn't matter if it's an old or new guitar. I use some pedals but I'm not one of those people with a huge pedal board, the tones in your fingers so if you can plug the guitar in without having any effects, that's the test of a great guitar.
How do you find keeping blues fresh these days with so many acts around and such a structure based foundation?
My favourite thing with the blues is when it's mixed with other genres. There's a lot of purists that think everything has to be 12-bar and you have to pay respect to the tradition, but it's really important to take it further. Right now blues has been redefined, where it used to just be bar music and 12-bar now you have artists like Gary Clark Jr, Alabama Shakes or Jack White, who I all consider to be people taking blues into the 21st century. I remember reading a quote from Jimi Hendrix where said he thought that all his songs were just blues songs played in modern day and that's what I try to do. It has some of that spirit and attitude.
Even though your lauded as a guitar player, you let your band fill in the sound and why do you think so many guitar player bands don't and why do you do it?
I abide to the less is more kind of thinking. I know when I go and watch a show, and there's guitar shredding in every song, it kind of loses my interest. The guitarists I really love and look up to where songwriters as well. There's amazing songs that have the bonus of amazing guitar playing. I think it's really important that the foundation of everything be a really great song, no one wants to hear a bad song with a great guitar solo in it. Playing as a trio we don't have a beefy organ coming into to fill in the sound and it really is about taking time and leaving space.
What did Jim Scott bring to your album Trouble?
The best thing with Jim is that he's a great sounding-board, and I respect what he's done so much. He's worked on some of my favourite Tom Petty albums, and Wilco, he really pushed me as a songwriter more than anything. Some of the first songs I gave him were too laid back or "Front porch" so he told me to not be afraid to do a straight-up rock song. He would tell me things about working with Tom Petty where they would have a song that sounded amazing but they would scrap it because they'd already done that and he didn't want to tread the same ground. It inspired me to do some songs that I would've never done on an EP and maybe wouldn't fit in. He encouraged me to not be afraid and make things fit into a box. Production-wise Jim and I work on the same wavelength, making it live, not redoing every vocal, if it feels good that's what matters.
Recommended Articles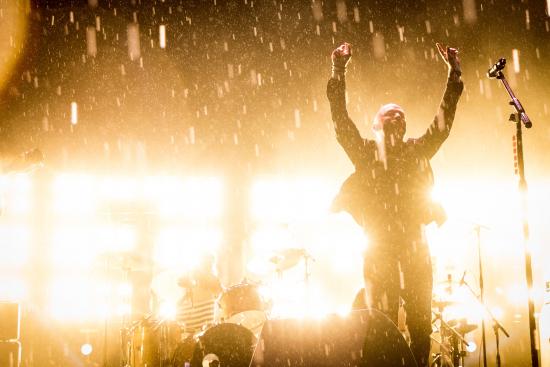 With clouds looming overhead, the forecast seemed to suggest the slightest peppering of rain at RBC Bluesfest tonight, but nothing to keep anybody home. What a difference a few hours would make.
Read full story
Quite the unique career behind him, Jack Semple has never done the expected.
Read full story
A sea of chaotic youth shook the Lebreton Flats fairgrounds Thursday.
Read full story
Comments (0)
*Please take note that upon submitting your comment the team at OLM will need to verify it before it shows up below.