Food & Wine
Local Ottawa cafés to explore this International Coffee Day
Local Ottawa cafés to explore this International Coffee Day
By Grace McGrenere
International Coffee Day is upon us, and what better way to celebrate than to grab a cup of joe at one (or many) of Ottawa's favourite local cafés. It's a great way to feed your caffeine addiction and support local business owners. Not sure where to go? Here is a list of a few of Ottawa's most cherished coffee shops and cafés that you should check out.
Little Victories Coffee Roasters
Long-time friends and business partners Jeremie Thompson and Andrew Bassett have one goal in mind when it comes to their business: to produce the best coffee. After spending some time working in Australia, a country known for its specialty coffee, Basset came back to Ottawa to open Little Victories Coffee Roasters with Thompson. The two owners have a quality-focused mindset when it comes to coffee. Bassett independently and ethically sources their coffee using direct trade whenever possible, and Thompson roasts it at their roasting facility. They take conscious steps towards the environment when producing and selling coffee, like delivering their wholesale coffee in re-useable branded pails. When walking into the café, visitors can expect a clear and minimalistic vibe. "We want to create this hub of coffee culture and community with the space," said Bassett. For coffee fanatics, Bassett suggests ordering the Magic, a drink almost exclusive to Melbourne, Australia, and a testament to his time spent there.
Photos: Analise Saavedra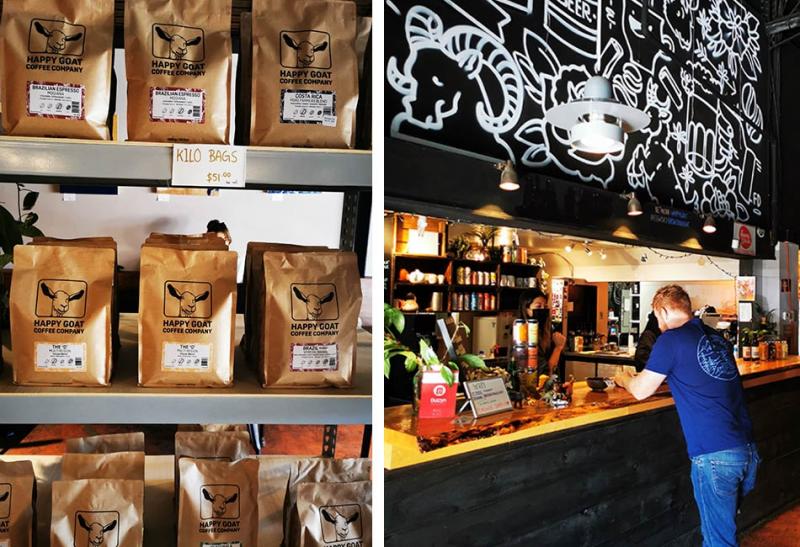 Happy Goat Coffee Company
If you live in Ottawa, then you have probably heard of Happy Goat Coffee Company. Pierre Richard, who shared his love for traditional, gourmet methods of roasting and brewing with Ottawa residents, founded the company. Happy Goat's head roaster Dr. Hans- J Langenbahn developed the Zero Waste Coffee Project, which entails that all by-products of the coffee making and sale process be reused, upscaled, and turned into new, waste-free products. Beyond brewing coffee, the company seeks to keep its cafes as inclusive, progressive, and respectful as possible for customers and employees, regardless of gender, race, religion, and sexual orientation. Caffeine fanatics can choose from a wide array of directly sourced coffee at one of Happy Goat's thirteen Ottawa locations.
Photos: Mila Bjelakovic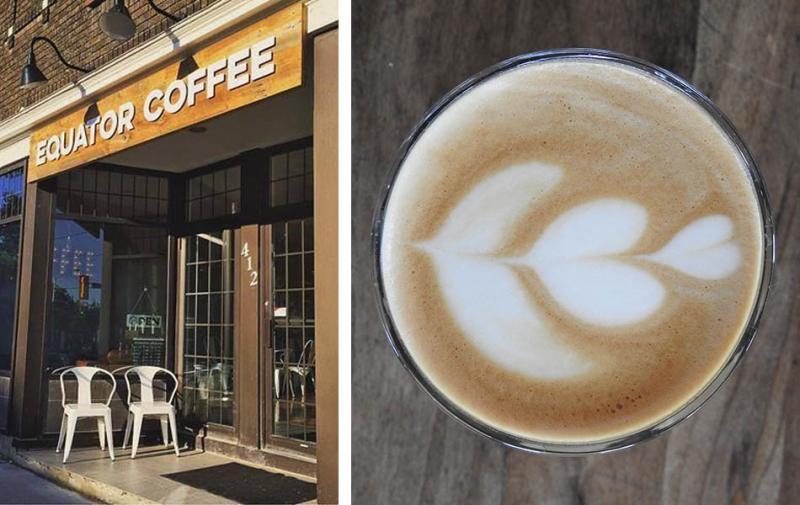 Equator Coffee Roasters
Craig and Amber Hall started Equator Coffee Roasters to make a local and global difference. Since their journey began in 1996, the couple has opened four café locations. The name Equator is derived from their goal to "equate" the benefit of drinking coffee. "Our cafés are a place where you can walk in and feel welcome. Like you are hanging out in your friend's kitchen," said Chris Petrie, General Manager of Equator Coffee Roaster's Cafés. The coffee roasting company is a member of Cooperative Coffees (Co-Op Coffees), a green coffee importing cooperative. Through Co-Op Coffees, Equator Coffee Roasters establishes fair and direct trade relationships with producers and farmers. As a Certified B Corporation, Equator Coffee Roasters meets the highest standards of social and environmental performance by committing to the ethical sourcing of coffee and performing community outreach. Visitors of one of the café locations can rest assured knowing their coffee is 100% organic.
Photos: Analise Saavedra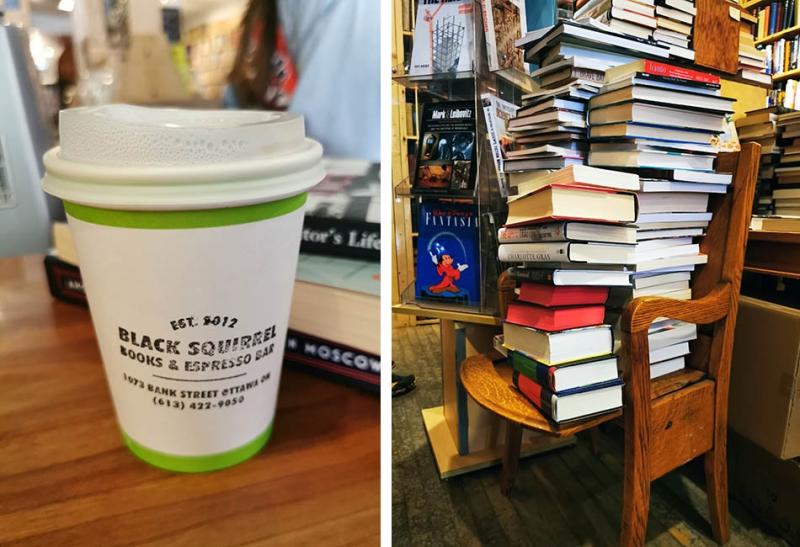 Black Squirrel Books and Espresso Bar
What do you get when you combine a bookstore with a café? A cozy afternoon at Black Squirrel Books and Espresso Bar. The popular Glebe café is locally owned by Steven Young and Vaughn MacDonald, who became passionate about selling books when they first started selling them on Amazon. Today, the café is where students, couples, locals, and book lovers can go to sift through dozens of curated book-filled shelves to find the perfect read and drink to accompany their visit. The café has also been known to host events like DJ dance parties and poetry readings.
Photos: Mila Bjelakovic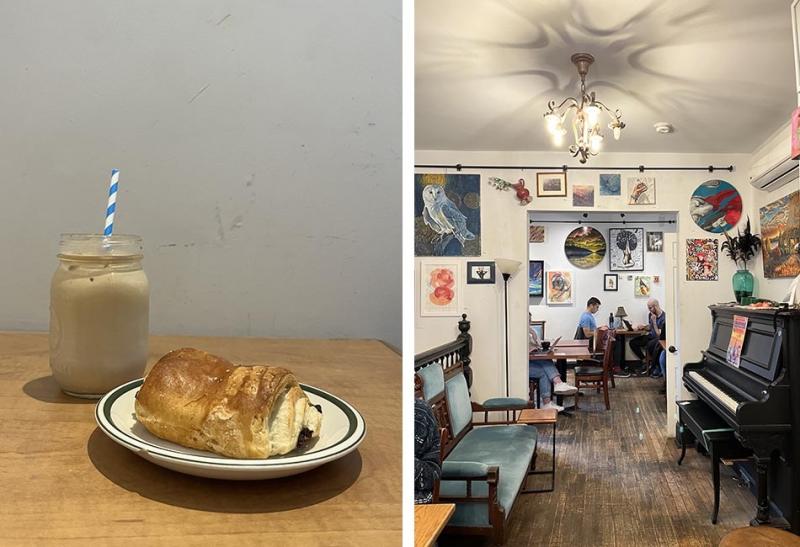 Art House Café
Picture this. You're sipping on a hand-crafted espresso. There is a scrumptious gluten-free brownie on your plate, and you're admiring the work of local artists donned across the walls surrounding you. If that sounds like your cup of tea or coffee, for that matter, then you need to go to the Art House Café. Established in 2017, The Art House Café is where the city and art meet. Inside the giant house on Sommerset Street are a café, gallery, and event space. With over 100 local artists covering the walls and inside the gift shop at any given time, those coming for a visit will surely find a piece that speaks to them. Day or night, customers can enjoy menu items crafted in-house using local ingredients and coffee from Happy Goat Coffee Company. Looking for something a bit stronger? Order a drink from the craft cocktail menu, which serves liberations that celebrates the art of mixology. The café hosts concerts and workshops to celebrate Ottawa's diverse voices and spark creativity within the community.
Photos: Analise Saavedra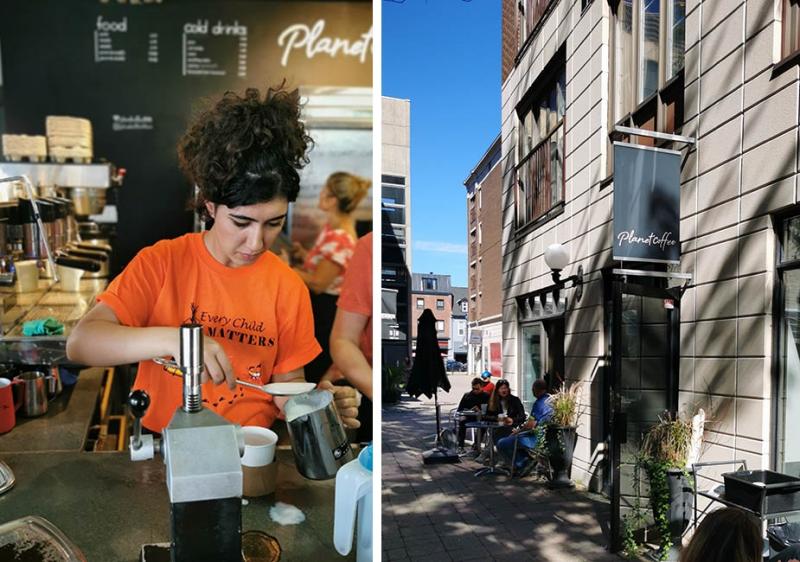 Planet Coffee
If you want to experience Ottawa coffee history, venture to Planet Coffee in the ByWard Market. The women-owned café opened in 1994 and is one of the first coffee bars in Ottawa. Owners and coffee-loving friends France Desfosses and Sheila McLaine have created an inviting atmosphere that stays true to its origins. "It is a community-oriented spot. We have had customers since the beginning," said Zoe Warren, Desfosses' daughter, and the manager of Planet Coffee. The café works with Fluid Coffee Roasters, who use solar-electric panels to roast the café's coffee. Fluid Coffee Roasters purchases its coffee beans from small-lot farmers. Baked goods are made in-house and serve as the perfect pairing to a caffeinated drink like the Maple Way Latte, a latte made with local maple syrup and inspired by the Milky Way.
Photos: K Temple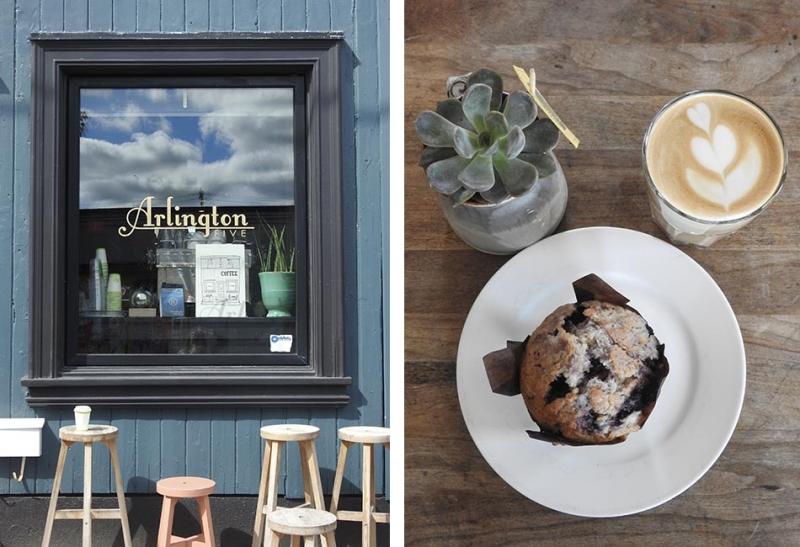 Arlington Five
After years of working in the restaurant industry, Jessie Duffy felt as though something was missing when it came to coffee environments. The hospitality she witnessed in restaurants was non-existent in cafés. That's why she co-opened Arlington Five in 2015 with former business partner Dominic Paul. "Hospitality is a currency for community. I want people to feel an immediate sense of belonging when they come in. I want it to feel like home," said Duffy. Since the pandemic, the café has taken on a new vibrancy, hosting art markets and becoming a community hub. Duffy directly sources her coffee with Lulo Coffee roasters. She is fixated on the values of sustainable livelihood, soil fertility, and holistic hospitality. "It is coffee that reminds you that coffee is a fruit. We work with beautiful anaerobic and honey-processed coffees that result in nuanced fruit-forward beans," said Duffy.
Photos: Analise Saavedra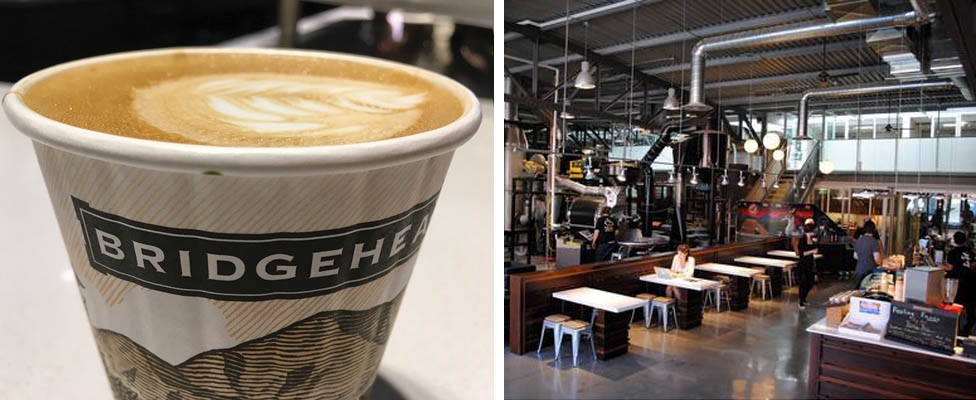 Bridgehead
Bridgehead Coffee is a convenient stop for quality coffee and tea with an assortment of food options. This socially responsible coffee company was the first in the nation to serve Fairtrade coffee. From its humble beginnings in the basements of Toronto churches to a multi-location Ottawa institution, Bridgehead has changed hands a few times, but the chain continues to specialize in quality grade beans; its goal is to connect the producer with the customer in a meaningful way. All food is made with ingredients sourced through their partnerships with numerous local farms, and their beans are roasted at their Anderson Street location. Check out their fall specials, like the pumpkin spice latte and cinnamon brown sugar coffee.
Photos: K Temple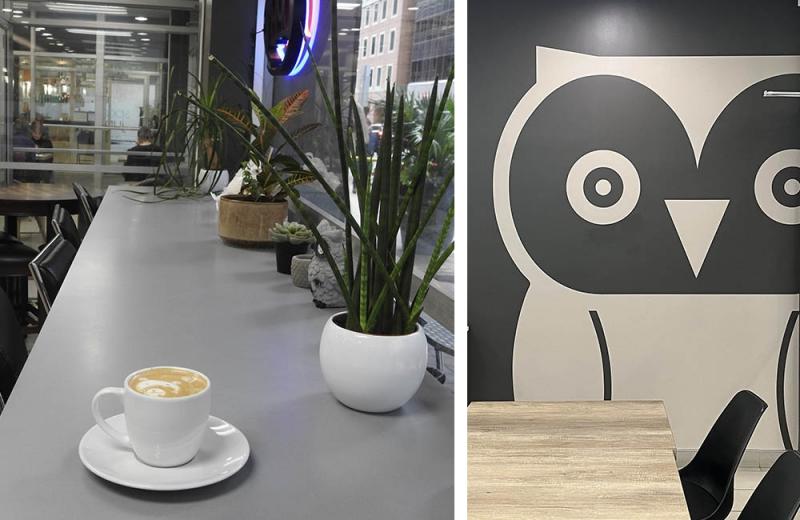 Morning Owl
Morning Owl is, without a doubt, Ottawa's cutest-themed cafe. With their variety of owl decor and adorable latte art, Morning Owl's franchisees create a warm and welcoming environment conducive to studying or having lunch with a friend. Morning Owl also has a variety of affordable muffins and sandwiches and unique latte flavours like peanut butter cup, coffee crunch, and Nutella.
Photos: Analise Saavedra
Recommended Articles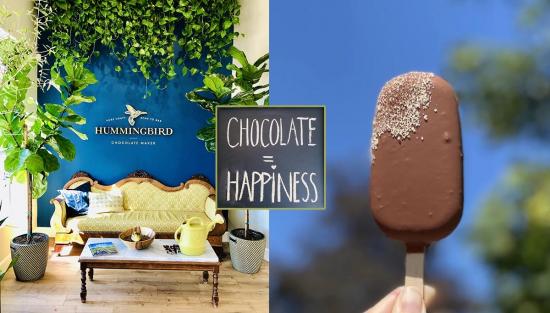 They say that money can't buy happiness. However, it can definitely buy chocolate, which will put a smile on your face!
Read full story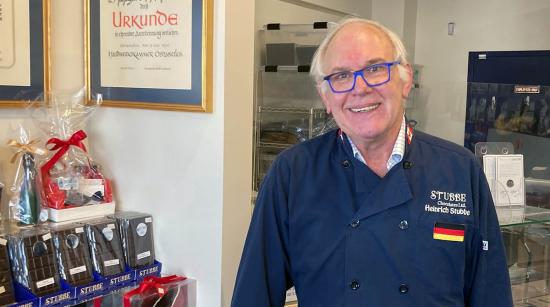 With Valentine's Day approaching, there will be chocolate everywhere but the real quality chocolate available from Stubbe Chocolates will put any box of Lindt or Ferrero to shame.
Read full story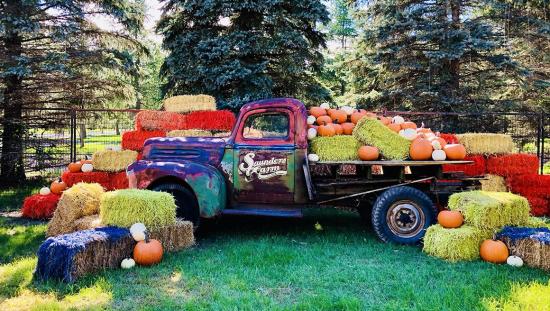 The CiderHouse is the oldest building at Saunders Farm, with a full and interesting history.
Read full story
Comments (0)
*Please take note that upon submitting your comment the team at OLM will need to verify it before it shows up below.