Travel
Maryland: A road trip to America's past . . . and future.
Maryland: A road trip to America's past . . . and future.
ABOVE (CLOCKWISE FROM TOP LEFT): The George Peabody Library, now part of Johns Hopkins University, opened in 1878 and features five floors of ornamental cast-iron balconies and a dramatic skylight. A great way to see "The Sailing Capital of America" is from the deck of a 74-foot schooner from Annapolis Sailing Cruises. The Monocacy National Battlefield in Frederick County was the site of one of the most strategic battles of the Civil War. (PHOTOS: OLM STAFF)
---
If you like adventure and being out on the open road, there's nothing better than taking a road trip to Maryland to visit the picturesque and historical places that played a key role in the formation of the United States of America. The good news is that all of this is just a pleasant day's drive from Ottawa.
You'll cross into the USA at the Thousand Islands, with its breathtaking vistas and scenic beauty, and then head straight south on the I-81 Interstate as it rambles and weaves through the spectacular rolling valleys of upper New York State.
Soon enough, you'll hit Scranton, Pennsylvania, famous home of the fictional Dunder Mifflin company in the sitcom, The Office. And trust me, as you are driving past and thinking about that . . . you will laugh. Stop along the way at one of the many comfort food joints that make America great. Stopping for lunch breaks up the drive and is energizing.
Before long, you'll bypass Harrisburg and will be on US 15 South which cuts through the lush greenery of the peaceful fields of Gettysburg, home to one of the most painful chapters in American history.
It was on these fields from July 1 to July 3, 1863, that approximately 51,000 soldiers were casualties in the Civil War's bloodiest battle. Union General George Meade and the Army of the Potomac were victorious at Gettysburg in crushing the spirit and resolve of the Confederacy army. The victory was followed by President Lincoln's Emancipation Proclamation, which recognized all humans as equal and changed the course of American history by abolishing slavery. Stop at Gettysburg. Visit the battlefields and the visitor centre. The momentous nature of what happened here will touch you. It is 'a moment' for sure.
ABOVE (CLOCKWISE FROM TOP LEFT): The beautiful, historic town of Frederick is known for its Civil War sites but has a thriving arts community, breweries, wineries, and great restaurants. The National Museum of Civil War Medicine shows visitors how the war advanced medical treatments, ultimately benefiting people worldwide. One of the informative signs you'll find on the Monacacy Battlefield self-driving tour. A beautiful canal cuts through the centre of downtown Frederick. (PHOTOS: OLM STAFF)
---
The lovely town of Frederick, Maryland, is only 35 minutes from Gettysburg. There are suburbs around the historic part of the town, so we checked in first at the Frederick Hilton Garden Inn, a 10-minute drive to the historic town centre. The Hilton is a perfect home base for your visit. It's close to the Civil War sites such as Antietam, Gettysburg, Monocacy, Harpers Ferry, the Historic Weinberg Centre, Frederick Fair Grounds, Antique Shopping, Hagerstown Prime Outlets, and Frederick's educational, business, and financial districts. It offers free parking, spacious modern rooms with all the amenities, complimentary Wi-Fi, a pool, and a recreation centre; plus, they serve up a hearty breakfast in the mornings and have a great bar for a nightcap.
The first thing that strikes you about Frederick is the manicured streets lined with beautiful trees and picture book homes and businesses adorned with American flags. Frederick's most famous citizen is Francis Scott Key, an American lawyer, author, and amateur poet best known for writing the lyrics for the American national anthem "The Star-Spangled Banner." The story is that Key observed the British bombardment of Fort McHenry in 1814 during the War of 1812 and was inspired by the sight of a lone U.S. flag still flying over Fort McHenry at daybreak, as reflected in the now-famous words: "And the rocket's red glare, the bombs bursting in air, gave proof through the night that our flag was still there." His poem (originally titled "The Defence of Fort McHenry") was later set to music and, in 1931, became America's national anthem.
Frederick is right out of a Norman Rockwell painting with its resplendent cafes, artisan shops, pubs, and exceptional restaurants. We loved the oh-so-casual hip Mexican vibe of Taco Daddy with its tasty treats and great margaritas. If you are a real foodie, you'll enjoy a gastronome experience at White Rabbit Gastropub on the main street. Other notable spots are Thacher & Rye (reservation recommended), Brewer's Alley Restaurant & Brewery, and the Up on Market Bistro. So many choices . . . not enough time. But we plan to return!
I've been lucky to have visited some of the most spectacular museums in the world but rarely have any of them touched me in the same way as the National Museum of Civil War Medicine. It is unique in that it is comprised of three sites: an outdoor classroom at the Pry Field Hospital on Antietam National Battlefield; Clara Barton's Missing Soldiers Office in Washington, DC and an exhibit-based experience in Frederick, Maryland.
Since opening in 1996, its goal has been to explore the successes and failures inherited from the Civil War, which took 750,000 lives and left 120,000 soldiers as amputees. Frederick was home to many Civil War mass casualties' hospitals and treatment centres and where the idea for battlefield medical stations was established along with the development of organized medical triage and evacuation units for injured soldiers.
Rules were set and obeyed by both sides that injured soldiers were designated non-combatants and given first aid. The Civil War was the dawn of the age of modern nursing, and there are detailed stories about the heroism and strength of nurses during this calamity — I learned that Harriet Tubman served as a nurse in the area during the war. On display are the medical tools and devices used from the era that detail war's true gruesome nature. Through outreach programs, school tours, lectures, living history, and general visitation to their sites, the museum conveys the importance of medical education and the consequences of war to be applied as these lessons in the modern world.
The Monocacy National Battlefield in Frederick is famous because it is known as the "Battle That Saved Washington." Monocacy occurred on July 9, 1864, between 18,000 Confederate forces under General Jubal Early and 5,800 Union forces under General Lew Wallace. It was the last battle attempt by the Confederacy to seize Washington, D.C., and move the war north. While not one of the largest battles of the Civil War, its strategic impact was huge. The defeat of the Confederate forces by the much smaller union army signaled the beginning of the end for the South and Robert E. Lee.
A 90-minute drive from Frederick is big, bold Baltimore, the largest city in Maryland. Located on the Chesapeake Bay, 'Charm City' is known for its famous Inner Harbor. It is a melting pot of cultures and neighbourhoods, ranging from modern-day metal and glass skyscrapers to historic brick row houses. Our first stop, the B&O Railroad Museum, is the birthplace of American railroading. It was here where the first stone of the railroad was laid, where America's first mile of commercial railroad was constructed, and where the Mt. Clare Shops made innumerable contributions to the development of the rail industry. Every locomotive, rail car, and historical object housed at the museum is connected to a crucial part of the history of American railroading.

ABOVE: (CLOCKWISE FROM TOP)There is so much to do in Baltimore's Inner Harbor that it is a destination unto itself. The B&O Railroad is more than just a stop on a Monopoly board. The museum has the oldest and most comprehensive railroad collection.
---
One of the highlights of our visit to Baltimore was staying at the completely refurbished Revival Baltimore hotel, a Joie de Vivre property located in the heart of Baltimore's historic Mount Vernon neighbourhood (location, location, location!). The friendly staff at the 107-room, 14-story boutique hotel constantly go out of their way to ensure you have a pleasant stay. It's hard not to be captured by the beautiful interior design, exceptional restaurant, and signature bars. The property embraces Mount Vernon's notable history of art and culture by featuring an extensive array of local artists and artisans. It also embodies Baltimore by highlighting local products, the city's history, and native cuisine.
One of the wonderful things about this hotel is you can explore Mount Vernon Place on foot. This neighbourhood has a lively cultural arts center with some of the most beautiful, well-preserved 19th-century architecture in the United States. Palatial homes face small parks surrounding the area's centerpiece, the Washington Monument, which has been a part of the skyline of Baltimore's historic Mount Vernon neighbourhood for over two hundred years.
ABOVE: (CLOCKWISE FROM TOP)American-born merchant and banker George Peabody is said to be the father of philanthropy. His bronze statue adorns a park in Baltimore's Mount Vernon neighbourhood. Dooby's restaurant in Mount Vernon is a great spot to pop in for a cappuccino or a light meal. At 178 feet, 8 inches, the Washington Monument in Baltimore, then the third-largest town in North America, is the first monument to honour the general and former president. (PHOTOS: OLM STAFF)
---
Designed by famed architect Robert Mills, the 178-foot-tall landmark is the first in the U.S. dedicated to President George Washington. The stunning exterior of the monument is complemented by the beautifully restored white marble interior, which houses a gallery, a stair tower, and a lookout. The George Peabody Library, widely recognized as one of the most beautiful library spaces in the world, is a block from the hotel.
The Mount Vernon Marketplace is a smorgasbord of delights and offers the finest, freshly prepared artisanal food with over fourteen purveyors offering everything from artisan sandwiches and charcuterie, fresh local oysters & seafood, noodles & dumplings, French crepes, Ethiopian cuisine & coffee, vegetarian bean burgers, vegan soups & falafel, cold-pressed juices & salad bar, Korean style bibimbap, and more. Be sure to visit Dooby's Korean restaurant for breakfast.
It is worthwhile to take the 30-minute walk from the Mount Vernon neighbourhood to Baltimore's famous Inner Harbor. It's a little touristy, but it's very modern and well done, and there are lots of shops, harbourside restaurants, and hotels. We had dinner at the popular Italian Disco eatery — a trendy pizza joint and bar with an old-school flavour and retro yet somehow modern feel. The popular spot is the brainchild of Italian Chef Julian Marucci, recognized as one of America's most talented chefs.
Other highlights of Charm City are the Baltimore Museum of Art's internationally renowned collection of 95,000 objects encompasses more than 1,000 works by Henri Matisse anchored by the famed Cone Collection of modern art, as well as one of America's finest holdings of prints, drawings, and photographs.
One of my favourite stops was lunch at R. House, a chef-driven food hall in Baltimore's Remington neighbourhood. This popular food enclave was created as an incubator for chefs to explore new concepts. There are ten permanent stalls, including a craft cocktail bar, plus space for pop-ups.
Other gems in the city include Wyman Park Dell, a scenic, 16-acre wooded hollow that offers paved walkways and grassy expanses just right for warm-ups and cool-downs. It's also fun to explore Baltimore Murals and Street Art. In almost every neighbourhood throughout the city, you are bound to encounter vivid art displays from local artists that pay tribute to key figures and social justice movements, including Ruth Bader Ginsburg, Breonna Taylor, and George Floyd. The "Wall of Pride: Back to the Future" mural features prominent Black figures of past and present, including Representative John Lewis, Colin Kaepernick, Marcus Garvey, Toni Morrison, and more. It's also time well spent to drop by The American Visionary Art Museum for outstanding original works of art created by intuitive, self-taught artists.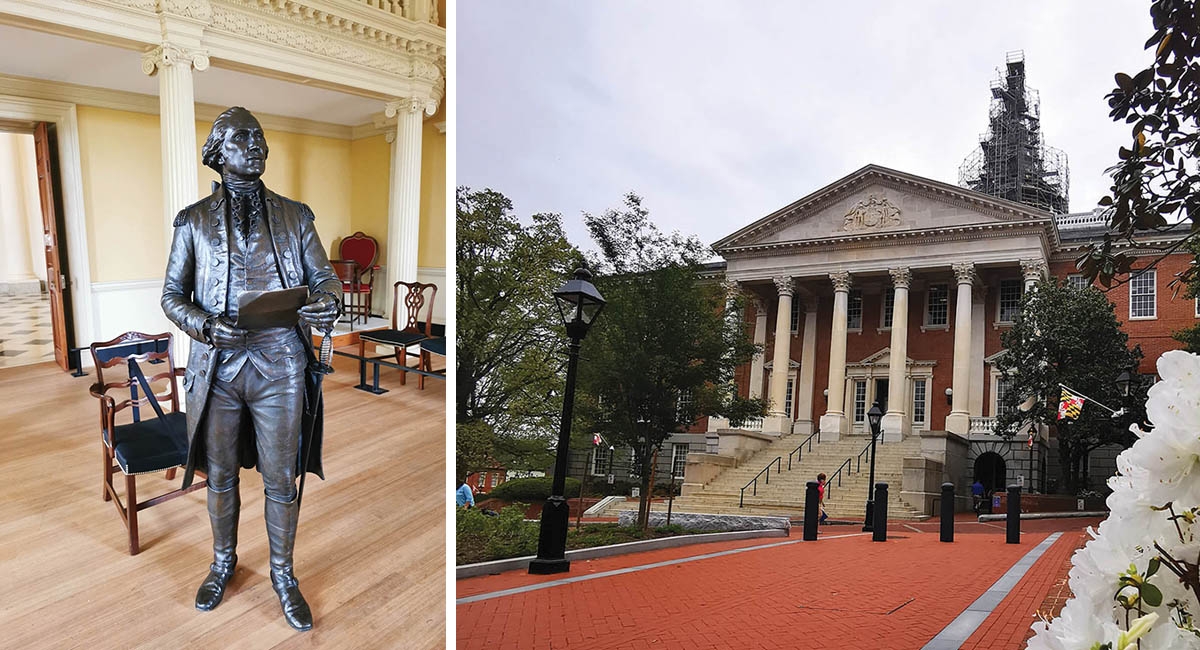 ABOVE (LEFT TO RIGHT): A Bronze statue of General George Washington in the Maryland State House resigned his Continental Army commission and handing command back to the civilian government. The Maryland State House is the oldest state capital in continuous use. It served as the U.S. capital from 1783-1784. (PHOTOS: OLM STAFF)
---
It takes less than an hour to drive from Baltimore to Maryland's capital city, Annapolis, on Chesapeake Bay. Stay at the Crowne Plaza, a couple of miles from historic Annapolis. They have great amenities, rooms, and service and are one exit from the historic Annapolis town centre. Drive into town, park your car in a public car lot a block from the main street, and walk around this beautiful town.
Annapolis was settled in 1649 by Puritan exiles from Virginia. Originally called Providence, then Anne Arundel Town, it was given the name Annapolis in 1694 in honour of Princess Anne, then the heir apparent to the British throne. Its historic district includes 18th-century brick houses and the domed 1700s Maryland State House. On Church Circle, the Romanesque-style St. Anne's Episcopal Church has Tiffany glass windows and a historic cemetery. The sprawling waterfront grounds of the United States Naval Academy feature beaux arts architecture, monuments, and a naval history museum. Annapolis seems like a place extracted from a picturesque storybook.
Annapolis is steeped in history. Just walking around gives you a sense of the puritan pride and the fierce devotion and belief Americans have in their country and democracy. It's fun to see the cadets from the Naval Academy in town dressed in their best whites for a night out. They are so very professional and polite. The military, specifically the navy, is part of the DNA of Annapolis. After all, it was here in December 1783 that, in one of America's great acts of statesmanship, General George Washington voluntarily resigned his military commission to the Confederation Congress at the State House in Annapolis, Maryland, to return to private life.
You can take a self-guided tour of the oldest state house in continuous legislative use during its 250th anniversary. This state house also served as America's National Capitol building from November 1783 to August 1784. It is also home to excellent examples of Tiffany glass that adorn the skylight in the Senate and Member's chambers.
Annapolis bills itself as "America's Sailing Capital," and it really is a sailor's paradise. Drop by the popular and casual Pusser's Caribbean Grille, which anchors the harbour with its festive atmosphere and dockside seating. They serve fresh seafood, local market ingredients, seasonal specialties, island-inspired cocktails, craft, domestic beers, and wines.
It's worth booking a sojourn with Annapolis Sailing Cruises on one of their two seventy-four-foot wooden schooners (Schooner Woodwind and Woodwind II) to sail around the front part of Annapolis harbour. They'll pick you up right on the dock at Pusser's. You'll get a sense of Chesapeake Bay, the town itself, and the adjacent U.S. Naval Academy. On top of that, there is nothing better than being out in the bay for sunset on a warm spring evening. After sunset, visit one of the many street cafes or go for ice cream at the Annapolis Ice Cream Company on the main drag.
Mornings are pleasant too. Drop by the Iron Rooster for one of their hearty breakfasts before heading to the Museum of Historic Annapolis. It is worth taking a tour of the new permanent exhibition, Annapolis: An American Story, which features an inspiring theater film experience and three floors of dynamic exhibits spotlighting the chronological, diverse history of Maryland's capital city across more than four hundred years. It shares dramatic stories of Annapolis and its diverse people – revolutionaries, visionaries, and others who helped shape the American story.
ABOVE (LEFT TO RIGHT):Built between 1901-06, Bancroft Hall houses 4,000 midshipmen in 1,700 rooms and has 7.7 kms of hallways. The impressive Rotunda at the entrance to Bancroft Hall, the largest college dormitory in the world.
---
The U.S. Naval Academy is a few minutes walk from the town centre. Be sure to take a tour of the academy to see where future officers are educated and trained. The "yard," as the lush grounds of the Academy are called, reflects the beauty of Beaux-Arts architecture and historical monuments commemorating naval events. As you walk around this scenic and historic academy, don't be flustered by all the student midshipmen running about doing their business or attending class. It is all quite impressive.
After a day and a half of touring Annapolis, we wanted to decompress and stopped at the local favourite watering hole, the Galway Bay Irish Pub/Restaurant — just up the street from the west gate of the naval academy and a five-minute walk to the State House. A hearty lunch set the stage for our last destination, Havre de Grace, a 90-minute drive away.
Chesapeake culture has been tied to the making of duck decoys for generations. Years ago, decoys were used simply to lure waterfowl, but today they are pieces of art carved using skills passed from master to apprentice. Havre de Grace is known as the duck decoy capital of the world. In January 2022, it was named as one of America's best small towns to visit by Smithsonian Magazine, noted for its gorgeous location at the mouth of the Chesapeake Bay, where it meets the Susquehanna River. We visited the Havre de Grace Maritime Museum, which highlights much of the Susquehanna River region's rich maritime heritage and history. It features two dozen permanent exhibits, including the museum's signature Beyond Jamestown: Life 400 Years Ago exhibit, which tells the tale of a 1608 regional visit by Captain John Smith. Other exhibits detail Chesapeake Bay fishing history, native waterfowl populations, and the local United States Coast Guard operations throughout the years.
Next up was the brilliant and quirky Havre de Grace Decoy Museum dedicated to preserving Chesapeake Bay's water-fowling culture and history. While waterfowl hunting is a way of life around many parts of the globe, the Havre de Grace Decoy Museum is home to one of the most impressive decorative and working decoys in existence. The museum gives insight into an important part of Chesapeake culture, as decoys have been used for centuries to lure waterfowl for hunters. You'll see firsthand the artistry in the intricately carved decoys from contemporary crafters and learn about this century-old art, which has been passed down from generation to generation between carving masters and apprentices.
ABOVE (CLOCKWISE FROM TOP LEFT): Havre de Grace is the duck decoy capital of the world. The Decoy Museum is a tribute to the cultural heritage of the decoy making. The Havre de Grace Colored School Museum and Cultural Center (HCSMCC) is housed in the original (1912) "colored school" and the only high school for Black children at the time in all of Maryland. Despite lacking funding for programming, Havre de Grace Colored School graduates became doctors and other professionals. Pictured above is the first high school graduating class (1932).Water Street Seafood is a local Havre de Grace favourite serving fresh oysters, crab, and more. The Havre de Grace Maritime Museum tells the story and displays the tools involved with making a living on the Chesapeake River.Newer content depicts the story of the Underground Railroad in the region. (PHOTOS: OLM STAFF)
---
Our last stop in town was my favourite. We visited the new Havre de Grace Colored School Museum and Cultural Center (HCSMCC). Their purpose is to celebrate the students, faculty, and community leaders who endeavoured to obtain quality education for African American children in Harford County. The museum is devoted to the documentation of African American life, history, and culture in Harford County, Maryland.
The 100-year-old Colored School provides a lens for those interested in African American culture to explore and revel in this history through exhibits and historical displays. Its purpose is to help Americans see how their stories, their histories, and their cultures are shaped and informed by national influences. The exhibits examine the cultural and civil context and many aspects of American life while displaying how American values like resiliency and optimism are reflected in African American history and culture. In keeping with its 100-year-old history, the former Colored School continues to serve as a gathering place for the community to hold meetings and unique events to remember, promote and preserve the rich history and legacy of the Havre de Grace Colored School.
Havre de Grace has several pubs, restaurants, and eateries, all within walking distance. We loved Water Street Seafood, located next to the beautiful Susquehanna River at the head of the Chesapeake Bay. The waterfront view, delicious food, and desserts are the best in comfort dining.
We had a leisurely lunch and enjoyed the smooth, scenic eight-hour drive home. Talk about a great road trip!
For more information, visit www.visitmaryland.org
Recommended Articles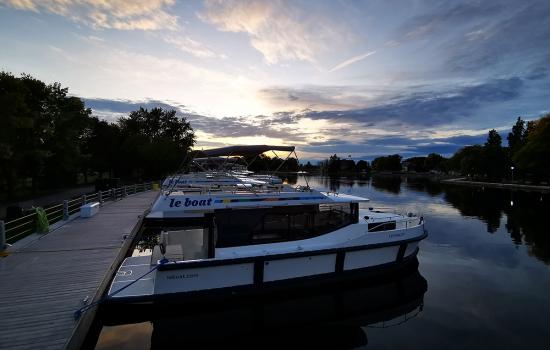 If you are looking for a summer vacation close to home, you can't go wrong with Le Boat.
Read full story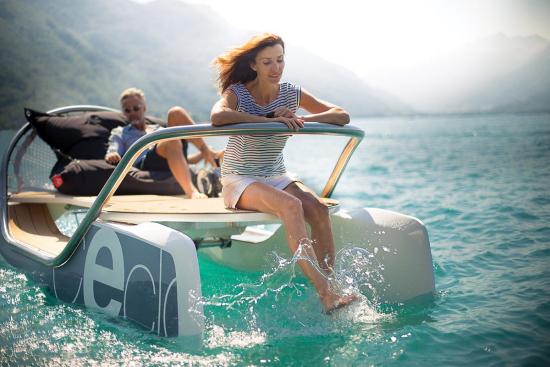 E-Catamaran boats are all as green as can be, very cleverly designed, and easy to operate.
Read full story
The very private patio is undoubtedly one of the best in the National Capital Region.
Read full story
Comments (0)
*Please take note that upon submitting your comment the team at OLM will need to verify it before it shows up below.