Travel
Montreal: Magnificent at any time of the year.
Montreal: Magnificent at any time of the year.
ABOVE: The skyline of Montreal with a view to Tower of Songs, a tribute to Leonard Cohen.(PHOTO: www.evablue)
Montreal's Leonard Cohen has long been one of my favourite singers and this son of Montreal was known for his unparalleled love of his hometown. In describing the city that remains Canada's greatest, he once said, "Some say that no one ever leaves Montreal, for that city, like Canada itself, is designed to preserve the past, a past that happened somewhere else."
Montreal is a gem. It is historic, refined, beautiful, friendly, classy, vibrant, cosmopolitan, and cultured. Montrealer's are surely the chiquest people in Canada and the streets of Montreal and Old Montreal have some of the best offerings in Canada when it comes to fashion, food, shopping, museums, sport, social activities, and recreational activities.
For years I have jumped at any opportunity to visit magnificent Montreal. Home of the Habs and the annual Formula 1 Grand Prix du Canada, Montreal is going through another period of transformation. A massive cross-town rapid transit project connecting either end of the island to the airport and downtown is scheduled to be completed in 2022 and Highway 20, from Ville Saint-Pierre to the Ville Marie Expressway, has been extensively upgraded in recent years and is now being enjoyed by locals and visitors alike.
It has never been easier to get around this great metropolis whether it is on the always impressive Montreal subway (le Metro), by bike on the hundreds of kilometres of bike paths, or on foot.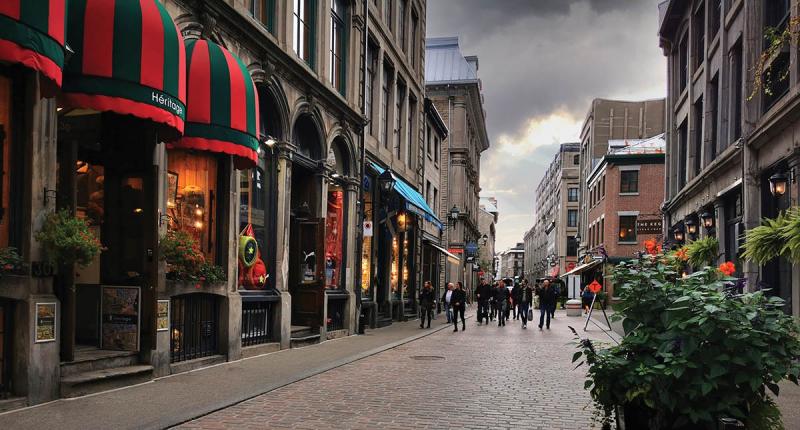 ABOVE: Even on a cloudy day, Rue St-Paul in Old Montreal looks charming.
As a winter city, Montreal has become one of the world leaders in underground city walkabouts with their famous RÉSO network that is under the heart of the city and links metro stations to shopping plazas for over 33 kms. Built in the 1960s, it now connects to over 1,000 retailers and restaurants, including links to Place des Arts and the Musée d'art Contemporain de Montréal, and brings together 60 residential and commercial complexes.
The RÉSO network starts at the McGill metro station running on an east-west axis to the Cours Mont-Royal. A second underground pathway runs between Gare Centrale, Place Bonaventure, and Place Ville-Marie and a third route takes you from Place des Arts to Complexe Desjardins, to Complexe Guy-Favreau, to Palais des Congrès, and Old Montreal. A bonus is that all visitors have free WiFi at the food courts in the system.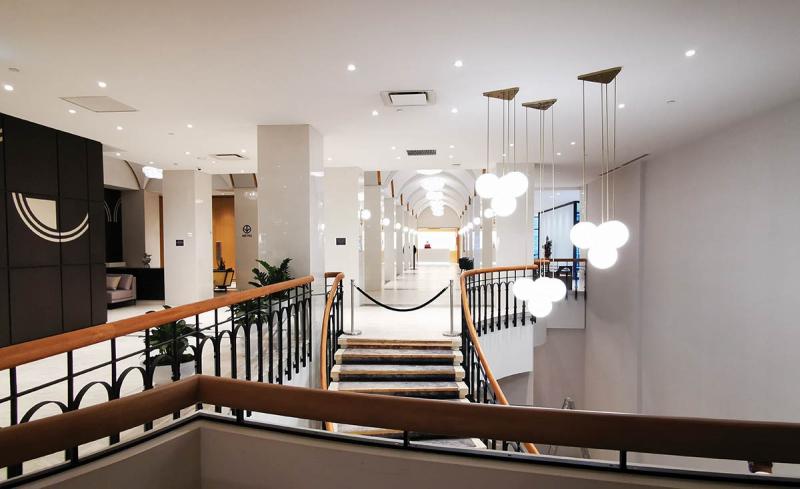 ABOVE: The chic lobby of Montreal Marriott Château Champlain.
Obviously, accommodation is important. It is best to start by booking a stay in one of the many exceptional hotels to be found in the heart of the city. You can't go wrong if you check into the Montreal Marriott Château Champlain on De La Gauchetière Street, between De La Cathédrale and Peel streets. It is right next to Canada Place and is within comfortable walking distance of Old Montreal and just blocks from Rue Ste Catherine. It remains one of Montréal's most iconic hotels and is easily noticeable because of its arch-shaped windows designed by Québec architects Jean-Paul Pothier and Roger D'Astous (who studied under celebrated American architect Frank Lloyd Wright). The windows complement the Romanesque arches of Windsor Station–the former Canadian Pacific train station across the street.
The hotel opened to host the world as part of Expo67. Back then, at 38 stories, it was the tallest hotel in Canada! Over the past two years, the hotel has undergone a significant retrofit that has completely transformed its interior, setting the stage for it to remain one of Montreal's destination hotels for another half-century.
We parked our car and walked or biked for the four days we were in Montreal. This is one of the best ways to get a feel for the city in all its glory. Whetheryou want to explore the city of Montreal or the surrounding area, an excellent way to see it all is to hire an RV or a motorcycle. Spend a day or two gaining a broad view of the environment before enjoying somefocused activities. If you do decide to travel make sure you partner with amotorcycle accident attorneyin case you run into any trouble on the roads.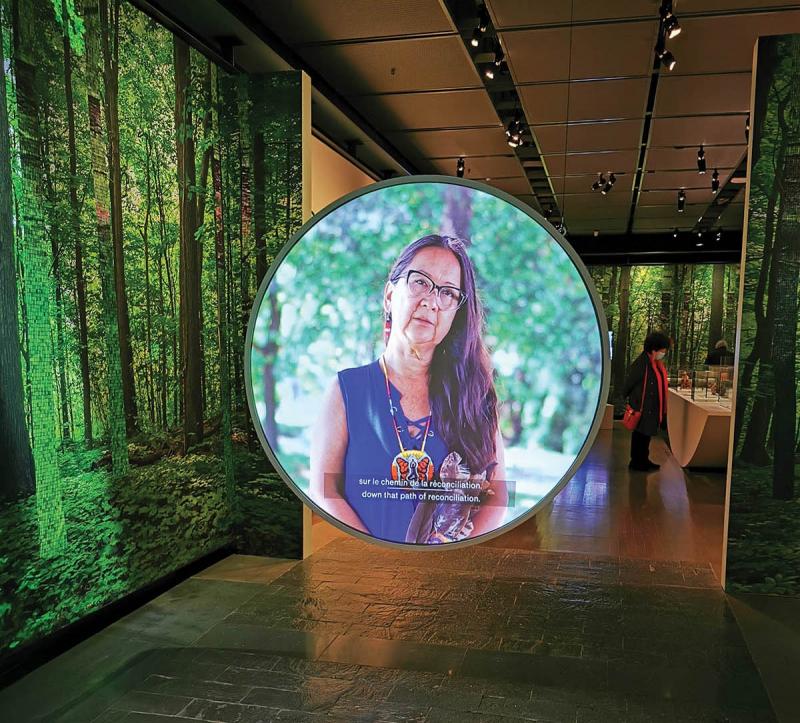 ABOVE: The entrance to the exhibition Indigenous Voices of Today: Knowledge, Trauma, Resilience that runs until January 9, 2022, at the McCord Museum.
First off was an afternoon visit to the McCord Museum (across from the main gates of McGill University) to see the exhibition Indigenous Voices of Today: Knowledge, Trauma, Resilience that bears witness to the still unrecognized knowledge of Indigenous peoples in Quebec and Canada, and the deep wounds they carry. The exhibit features one hundred carefully selected objects from the museum's Indigenous Cultures Collection and more than eighty powerful inspiring stories from members of the 11 Indigenous nations of Quebec. The second exhibit we visited, Chapleau, Profession: Cartoonist, highlights the drawings and cartoons of one of Canada's most storied political cartoonist and satirists. It doesn't disappoint. To celebrate its 100th anniversary, the museum is offering 100 days of free entry. Visit for free until January 19, 2022.
We spent one entire day in Montreal just cycling around the city. There is over 700 km of bike paths and the city has been ranked one of the most bike-friendly cities in North America by the Copenhagen Design Index. You can rent a bike, bring your own, or try out or try out Montreal's BIXI system which is linked to the city's public transit system and is meant for short commutes.
Since we were going for the day, we rented bicycles, helmets, and locks from Ça Roule bike shop in Old Montréal. The shop provides excellent bikes and service (highly recommend). It also offers twice-daily bike tours during the summer that are very popular, so make sure to book ahead.
ABOVE: Cycling through the beautiful Lafontaine Park on the east side of downtown. (PHOTO: © Freddy Arciniegas, @arcpixel,Tourisme Montréal)
Over the course of the day, we biked along the south shore of the St. Laurence then headed back into town along the Lachine Canal. We stopped at the Atwater Market to refuel and then zig-zagged through the downtown core until we hit Lafontaine Park. Then, we headed south through the hip St-Denis area, and Chinatown before making our way back to Old Montreal. A full day of cycling really gives you a sense of a city and is invigorating.
We returned in time to take the Montreal Ferris Wheel, La Grande Roue de Montreal, in the port of Old Montreal. It is cheesy, wonderful, and worth doing. Open year-round and 60-metres high, it is the largest observation wheel in Canada–equivalent to a 20-storey building. We were lucky because we had a cloudless day and with the 360-degree panorama you could see Montreal and far into the distance on all sides, including the Saint Lawrence to the south and Mont Royal to the north. If you are adventurous, pair your ferris wheel ride with the zip line experience next door!
We enjoyed a fabulous dinner in Old Montreal at Tavern Gaspar (89 Rue de la Commune E), located across the street from the harbour in a 19th-century warehouse. They serve comfort food and pub-style cooking along with great wines local beers and spirits. We lucky to go on a Wednesday when they had an exceptional live jazz/pop band playing. The ambiance, the food, the music . . . Ahh, Montreal.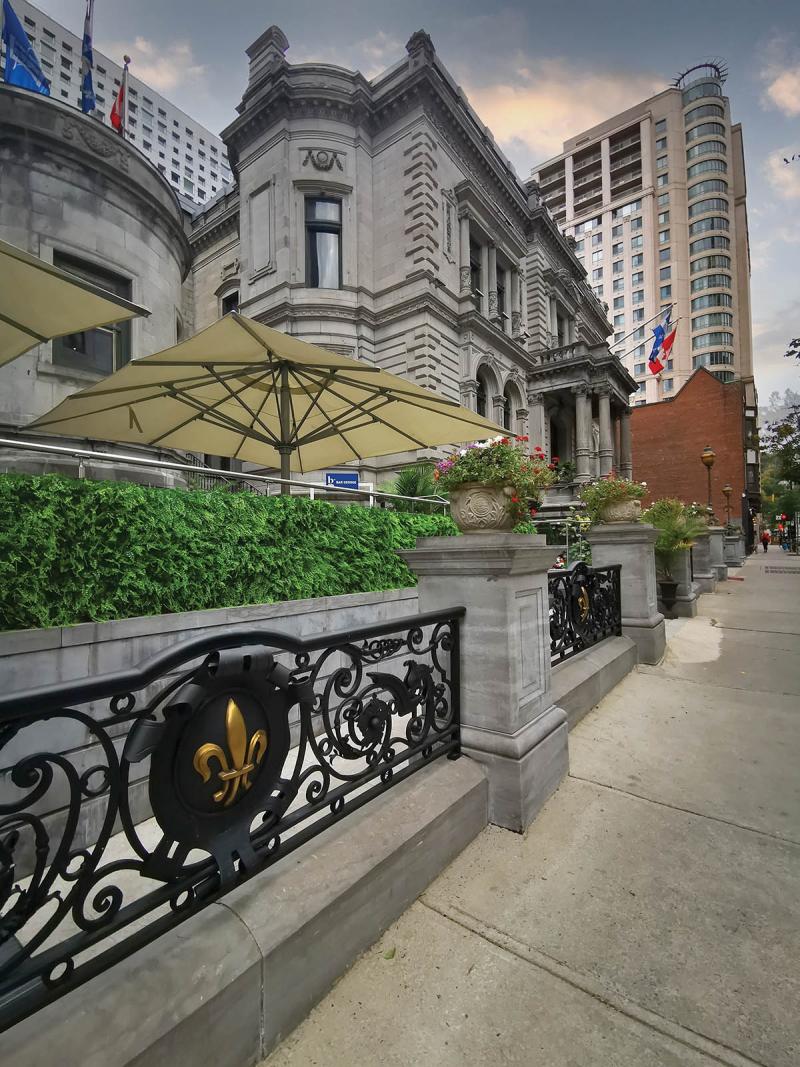 ABOVE: Once the home to George Stephen, the president of Bank of Montreal and the Canadian Pacific Railway, Le Mont Stephen is now a boutique luxury hotel. A seamless extension leads from the mansion to the modern 90-room hotel built behind the home—a national historic site.
A guided walking tour is a great way to get to know a city. We spent an afternoon with guide Françoise Baby discovering Montreal's Golden Square Mile, which was established in the late 18th century as a peaceful homestead not far from the old port. This section of Sherbrooke Street remains one of the city's most storied neighbourhoods. Many of Canada's most iconic business families of Scottish descent, including the McGill's, Eaton's, Ogilvie's, Redpath's, Smith's, Stephen's, built Victorian mansions in this one-mile area between the 1850s and early 20th century. They gave back to their new home by funding universities, hospitals, and more. The numerous architectural styles found here defined the creativity, wealth, and lifestyles of the Montrealer's who built much of Canada in the 19th and 20th centuries. Some say that 80 per cent of Canada's wealth was concentrated in this one area in the early part of the last century.
You will pass by buildings that feature Neo-Classical, Neo-Gothic, Romanesque, and Art Nouveau designs. Also referred to as Museum Quarter, the Golden Square Mile includes the McCord Museum, Montréal Museum of Fine Arts, and Redpath Museum. Today, this area is a nerve centre in Montreal. It is home to McGill University and the excitement of downtown, the main campus of Concordia University, and the many high-end fashions and luxury boutiques including, Holt Renfrew Ogilvy, Tiffany & Co., Swarovski, and Escada, among others.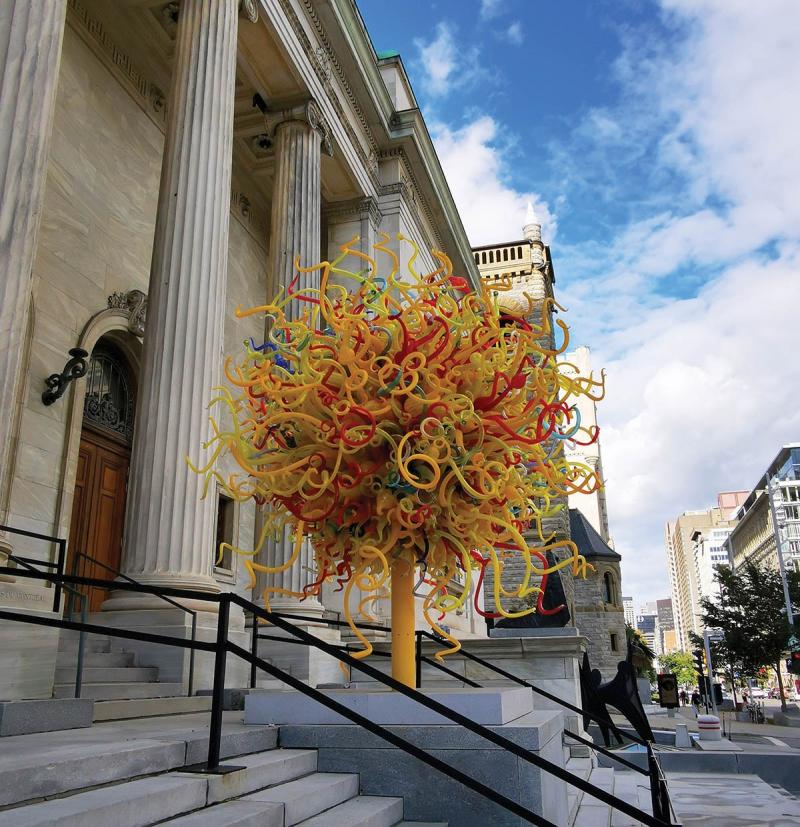 ABOVE: Dale Chihuly's glass-blown sculpture, The Sun, adorns the front steps of the Montreal Museum of Fine Arts' Michal and Renata Hornstein Pavilion.
After taking the tour we were sure to return the next day to visit Canada's oldest art museum, the world-famous Montreal Museum of Fine Arts. The front steps of the original museum building on the north side of Sherbrooke Street is adorned by a beautiful glass sculpture by American artist Dale Chihuly. The museum has a massive collection that includes 45,000 paintings, sculptures, and photographs and over 80 exhibitions that span five pavilions. The museum remains one of Canada's leading publishers of art books in French and English.
We took in the unveiling of Ragnar Kjartansson's Death is Elsewhere, a haunting yet meditative immersive video graphic by the Icelandic artist. Seven screens project a video of twin sisters singing with Bjork-like voices, each accompanied by musicians as they circle around you. The piece is both haunting and meditative. It forces the viewer to reflect on life.
When you visit make sure to take in the exhibit The World of Yousuf Karsh. One of the greatest portraitists of the 20th century, Karsh, who called Ottawa home for a large part of his career, famously captured Albert Einstein, Fidel Castro, Audrey Hepburn, Winston Churchill, Mackenzie King, Nelson Mandela, Eleanor Roosevelt, PE Trudeau, and the Kennedys. The late Karsh's wife recently donated the works to the museum.
ABOVE: When you visit the Montreal Museum of Fine Arts make sure to take in contemporary Icelandic artist Ragnar Kjartansson's Death is Elsewhere.
Step outside the museum and look south down the street and you'll see the Leonard Cohen mural – a tribute to the Montréal icon. The larger-than-life mural depicts Leonard Cohen gazing tenderly down upon Crescent Street sporting his signature fedora with his hand over his heart and, in the background, his highly symbolic Unified Heart icon.
Led by Montréal artist Gene Pendon and internationally renowned American street portrait artist El Mac, "Tower of Songs" took two muralists, 13 assistant artists, 240 cans of paint, and thousands of hours of work to replicate a photograph taken by Cohen's daughter, Lorca.
The immense 10,000 square-foot mural rising 21 stories above the city can easily be admired from the Mount Royal Lookout as well as from the glass court of the Montréal Museum of Fine Arts. In the evening, the mural lights up with soft lighting, but no less spectacular, just like the great Leonard.
Make the most of your next visit to Montreal by checking out www.mtl.org for great tips, ideas, and some great deals too!
Recommended Articles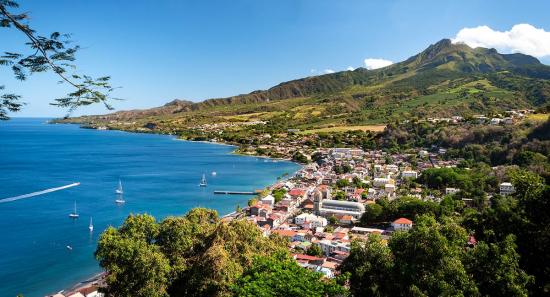 The skies of Martinique have reopened for Canadian travellers.
Read full story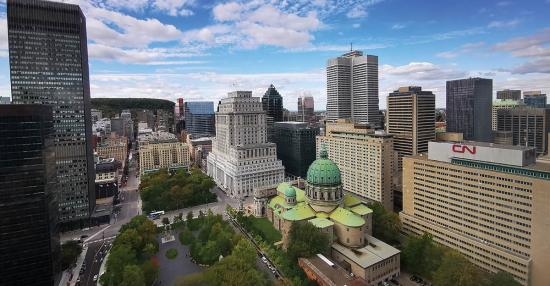 The hotel opened to host the world as part of Expo67. Back then, at 38 stories, it was the tallest hotel in Canada!
Read full story
After over 20-years writing about life in Ottawa, we think we have a pretty good idea of the best of what this city has to offer. Check, share and discuss #OLMBest every week!
Read full story
Comments (0)
*Please take note that upon submitting your comment the team at OLM will need to verify it before it shows up below.