Arts & Events
Parliament, Politics and Pets: The 2023 Cutest Pets on Parliament Hill
Parliament, Politics and Pets: The 2023 Cutest Pets on Parliament Hill
Breaking News! There is more tension than normal emanating from Parliament Hill. However, the good news is that it's clear everyone loves their pets.
With complete confidence in its ability to surpass the cuteness levels of the American Capitol Hill competition, the 2023 Cutest Pets on Parliament Hill is taking every politician's office by storm. This year's first annual so-called "Hottest Vote on the Hill" by Politico features three categories: dogs, cats, and other, all of which contain nine unique animals ready to be declared the cutest on Parliament Hill with your help.

The dog category features Matteo, Penelope, and Sprocket. Perhaps the most skilled of the doggos is Matteo, who is pleased to soon offer his services as a therapy dog which is necessary amidst today's political climate. Penelope is boosting Mennonite representation on Parliament Hill and is very proud of her Southwestern Ontario Heritage. Some say Sprocket might make a good politician as he likes to dive head-first into snow and chase snowflakes instead of solving the housing crisis.

Two of the cats could also allegedly be considered dogs. Mikey loves socializing, while Monsieur Rameau's top hobby is bringing the ball back. Like Justin Trudeau, Shohei Ohtani gets a lot of attention but has yet to reveal his talents (although Shohei is only 11 months old, whereas Mr. Trudeau has been Prime Minister for seven years).

The Cutest Other Pet Category is full of surprises. It's hard to say if pets have political affiliations, but we know that Caspian Marius could be the rabbit to unite all political parties, as it is impossible not to love him. Pablo is quite sophisticated for an axolotl as he drinks hot coffee daily. However, let's hope he does not get involved in the fashion world, as his favourite outfit is the Senate Speaker's black tricorn hat and robes. Yet another surprise in this category is Petunia, the chicken. Even if she doesn't win for cutest pet, it is very clear if Petunia was the head of the Animal Farm, she would be the cock of the walk.
Voting for these beloved nine pets closes June 5th at 9 am EST. Each animal can be voted for once a day, so make sure you harness the power of Canadian democracy and select your top three and vote regularly to ensure their victory!
To vote, select here and simply hit the Vote button for your favourite photo in each category. Happy voting, and may the cutest pet win!
Recommended Articles
This play is a delightful, vibrant and an incredibly entertaining piece of theatre that will, in fact, leave you thinking
Read full story
Don't miss this evening of music featuring 150 choristers, a 27-piece orchestra, and four talented soloists!
Read full story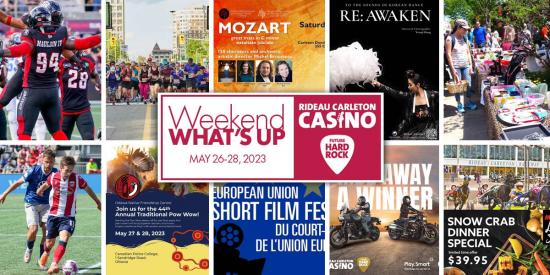 Comments (0)
*Please take note that upon submitting your comment the team at OLM will need to verify it before it shows up below.