Songwriter's Circle is Jewel of the Junos
Photos by Renee Doiron
---
It is no wonder the SOCAN and Yamaha sponsored Songwriters' Circle is referred to a the "Jewel of the Junos". The event, hosted by the legendary Bruce Cockburn, was held at the National Arts Centre yesterday afternoon ahead of the big show itself.
The setting was very intimate, with low lighting, and a number of chairs and guitars on stage and of course a baby grand reserved for a certain female singer-songwriter originally from the Peg. Each performer treated the audience to two songs interwoven with sometimes humerous and sometimes touching stories of how they came to be.
Canadian Hall of Famer Cockburn received a standing ovation as he walked out on stage and quickly kicked of the first set with his classics Lovers in a Dangerous Time and If I had a rocket launcher to the joy of the audience. The stories behind the songs were rooted in Cockburn's reflections, as he drove down the Queensway, of a world on the brink of disaster where the promise of the future carried the weight of doom during the Cold War.
Next up was guitar man Colin Linden who spoke of moving to Nashville and working with "rich guys who live on islands and need someone with troubles to remind them of what that feels like so that they can write songs". His rendition of the upbeat tune Remedy had the crowd tapping their toes and cheering for more.
Not to be outdone by her iconic predecessors, New-Brunswick's Acadian trash rock queen Lisa LeBlanc was certainly one of the highlights of the afternoon. She told a charming story of being enamored by Cajun culture during a visit to Louisiana, and coming home to write a song about a "Ti gars" (boy) who stole her heart. She got bored with the idea until a bandmate suggested that it would be better if the boy stole her car instead of her heart. The song and outstanding musicianship of Ms LeBlanc garnered the respect of her co-performers and the audience could not get enough of her.
The last performer of the first set was Wintersleep's frontman Paul Murphy. The Halifax native had a hard act to follow and quipped that his first song would be "kind of a slower song" to everyone's amusement. He joked that his haunting and somewhat prophetic song Amerika started off as a bad short story that he wrote after reading a Walt Whitman book that stirred something in him about the future of America.
The second set was just a strong beginning with the beautiful, talented classically trained pianist Chantal Kreviazuk at the piano explaining to the audience that her hit single Surrounded was written after one of the most defining moments in her life, when her friend Sam took his own life when she was eighteen. It was plain to see that she continues to feel this pain as she performs the song live and during this honest moment there was not a sound to be heard until her fingers started tapping the keys of the piano. Her musicianship, coupled with her
powerful vocals garnered her a standing ovation.
It was a tough act to follow for up-and-comer Daniel Caesar who was branded by Billboard as "a new artist that is bound to break out" but he was up to the task with his tales of the important women who have helped to shape his life. His smooth sultry vocals would later be praised by Kreviazuk who was happy to be sitting so close to that voice.
Finally the last performer of the evening was the confident and comedic Donovan Woods who made the crowd laugh at his jokes about a song being written after someone stole his shoes in Nashville, where they don't take their shoes off indoors, and then had them smiling at the lovely Cat's in the Cradle inspired Next Year.
It was certainly an event to rival its bigger brother that took place at the Canadian Tire Centre in Kanata and should not be missed the next time the Juno caravan rolls into town. Funds raised will be donated to the MusiCounts charity which has raised over ten million dollars and put musical instruments in the hands of kids who need them the most.
Recommended Articles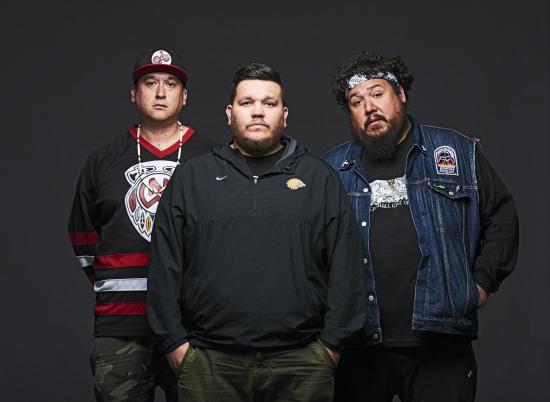 When art meets activism something amazing is bound to happen. When that includes an exultant dance party set to pulse pounding dubstep, house, and hip hop exploding out of traditional Indigenous Pow Wow beats filled with colour, culture and an overarching message of positivity you've got a euphoric seismic vibration otherwise known as A Tribe Called Red.
Read full story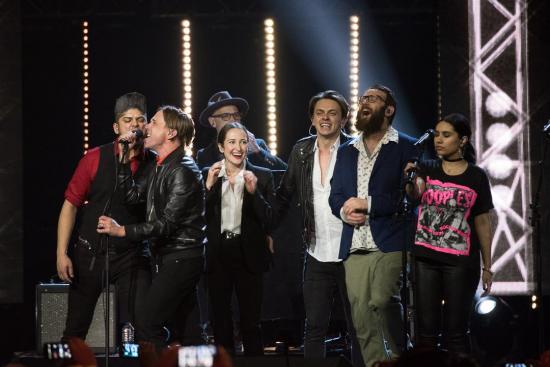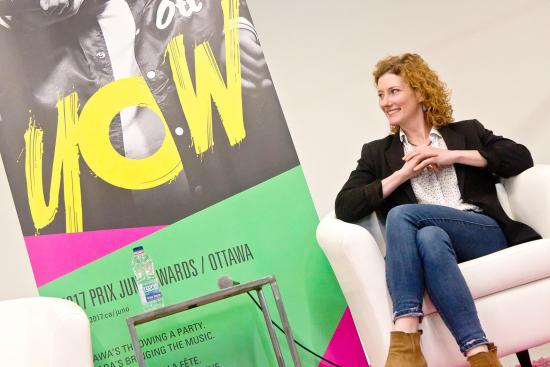 The 2017 JUNO Host Committee held a special event on Friday morning at the Innovation Centre at Bayview Yards, called "Ottawa as a Music City". If you're scratching your head wondering whether there should be a question mark at the end of that, you may not be alone.
Read full story
Comments (0)
*Please take note that upon submitting your comment the team at OLM will need to verify it before it shows up below.