Politics
Stupid is, as stupid does—Meet Ontario Finance Minister Rod Philips
Stupid is, as stupid does—Meet Ontario Finance Minister Rod Philips
Alright, the Christmas spirit is officially done. Let's get back to bitching.
December 29th brought Ontarians two extreme examples on the leadership scale spectrum. Both should be given serious scrutiny by Ontarians – especially those who played by the rules and missed out on spending the holidays with their families.
First, General (ret'd) Rick Hillier – who has been recruited by the Ford Government to administer the province's vaccine program – came out and admitted that it was an error to halt vaccinations for four days over Christmas. I mean if that is not the understatement the year, besides being completely moronic. It begs the obvious question, 'what were they thinking?'
But like all good leaders, Hillier, a former Chief of the Defence Staff (CDS) staff for the Canadian Armed Forces (CAF) during most of Canada's time in active combat in Afghanistan knows that it is critical for a leader to take responsibility for their mistakes. Not only does it send the right message to your team, when you're in a position of public responsibility, it goes a long way to telling the public they can trust you – that you are taking the job seriously and realize the consequences of your decisions.
Sure, some political opponents will score (cheap) points on leaders when they make apologies, but real people see the effort for what it is: genuine leadership from someone who treats their role with the seriousness it deserves. So good on Rick. He owned it quickly and moved on.
At the other end of the spectrum is Ontario Finance Minister Rod Philips. On the same day Hillier fell on his sword, Philips was challenged as to whether he had left the country after Queen's Park rose in December. Turns out, he had. Philips and his wife admit to having left not just the province but the country for a "previously scheduled" trip in early December. He and his office then refused to provide any additional comments as to where or why the couple traveled.
What a boneheaded move. Clearly Philips thinks the rules don't apply to him. Worse, he has shown a complete and utter disdain for his employer — the people of Ontario. Hypocrisy doesn't even come close to the many unprintable words that will be used to describe him by the millions of people in lockdown in Ontario this month.
Despite having broken rules himself and traveled to his cottage at least once or twice, Premier Doug Ford has been consistent in his message to Ontarians: if you don't have to, don't travel. In fact, later the same day the CBSA did a great job of trolling Philips (or at least I choose to believe that was the goal).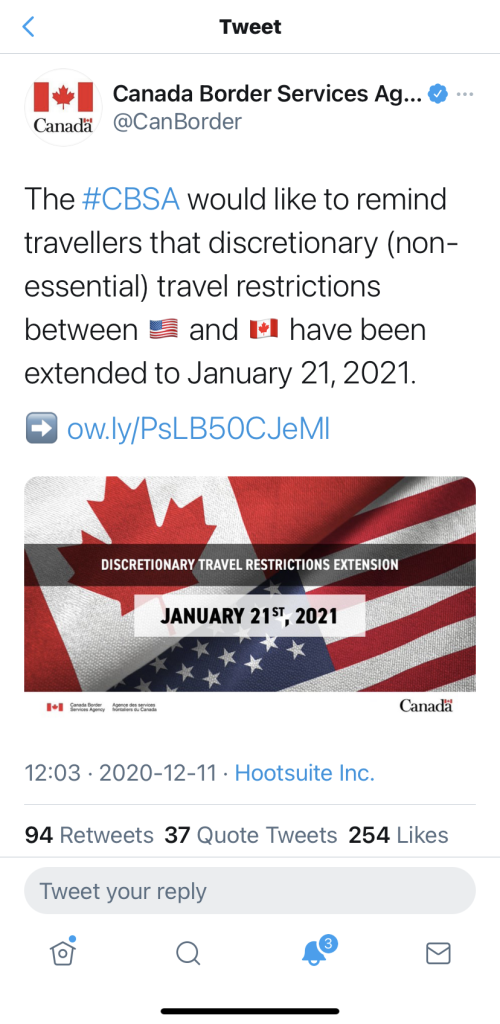 But apparently, these rules don't apply to Ontario's Finance Minister. If admitting mistakes is the hallmark of great leadership, thumbing your nose at rules that you are asking the people you govern to observe at significant cost to them and their lives just makes you an arse.
Everyone in Canada is suffering from COVID-19 fatigue. Everyone. No one enjoys being isolated. No one enjoys wearing a mask. No one wants to miss their holidays with their families.
For what it's worth, I haven't seen my son (he lives in Ottawa and I got stuck in Calgary when the pandemic started), my parents, my sisters, my niece, my nephews, or my friends in almost a year. Why? Because I'm a diabetic which increases my risk of dying from COVID-19 by 20%+.
As a result, Philips incredibly selfish decision to go on a little sojourn with the wife makes me furious. But that is me. All Ontarians however should at the very least be incredibly disappointed by this behaviour by the second-most senior minister in the government of the country's largest province.
In fact, I think this is a hanging offence. Man overboard. I'm sayin' Ford needs to fire his ass.
And that's not because of my own anger and frustration — at least not entirely.
While there is clearly light at the end of the tunnel with the start of vaccines being administered across the country, we are all still in this pandemic for months to come. In the best of scenarios, we will be reaching a meaningful mass of inoculated Canadians by summer – more likely fall.
If Ontario wants to avoid the sort of disastrous results we've seen in the United States, and frankly Alberta, people are going to have to respect guidance on masks, social distancing and – maybe – extended lock downs.
As we move into year two and Covid-fatigue intensifies, those measures will only work if people believe a) they are effective and b) we're all in this together. While we all know selfish dunderheads, who have thumbed their noses at restrictions, senior political leaders must be Caesar's wife: not just virtuous but seen to be virtuous.
Add to this the insanity that is folks like Randy Hillier, the poster child for the knuckle-dragging wing of the PCPO, showing off his 15-person Christmas dinner photo – the Premier need to put on his big boy pants and be the leader he seems to think he is. In other words, Ford has got to send a clear message and #FirePhilips. Now.
If not, he is tacitly condoning the behaviour and the Premier's power of persuasion with Ontarians will diminish exponentially.
Or maybe he can just ask Rick Hillier to do it for him. You know, a real leader.
Recommended Articles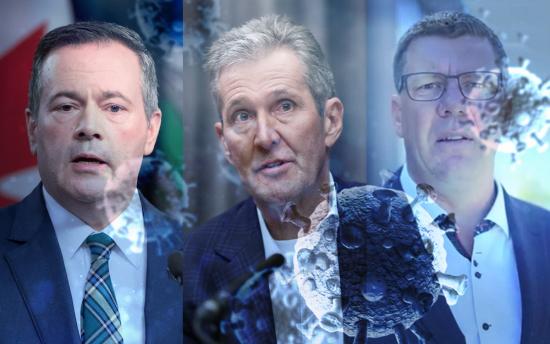 Look, I get I'm beating this drum pretty hard. But the data just keeps piling up.
Read full story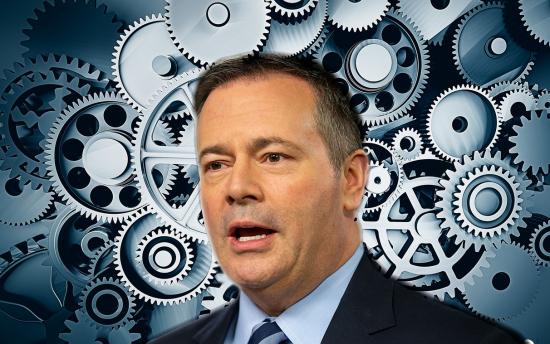 We have officially reached the point where I don't understand what's going on in Jason Kenney's head.
Read full story
In contrast to the ethics-challenged ROGC board members, The Barrow Gang Buskers formed a band to bring good vibes to Ottawa residents while raising money for charity.
Read full story
Comments (0)
*Please take note that upon submitting your comment the team at OLM will need to verify it before it shows up below.