Travel
The sounds of Nashville: a Music City mecca.
The sounds of Nashville: a Music City mecca.
Header photo: Chris Hollo. All other images: Dan Donovan
I've always wanted to go to Nashville. It remains the home of country music and a destination with a magical pull for up-and-coming songwriters and musicians from across North America. The city's musical roots can be traced back to the early 1800s when it became a hub for publishing and distributing gospel and country music. In the 20th century, Nashville's music scene expanded to include a wide range of genres, including blues, rock, and pop. Today, Nashville is known as "Music City," and its music scene attracts tourists from all over the world.
Nashville's rich history dates to before European settlers inhabited the area. Native American tribes, including the Cherokee and Chickasaw, originally inhabited the region. Named Nashville, after Francis Nash, a Continental Army officer who fought in the Revolutionary War, the capital city of Tennessee was founded in 1779 by James Robertson and a group of settlers, mainly from Scotland and Ireland, who were drawn to the area due to its fertile soil and abundance of natural resources. It quickly became a major cultural, trade, and economic hub in the Southeast.
ABOVE: Parthenon in Centennial Park is the only exact replica of the Parthenon in Athens, Greece. (RIGHT) The Carnton Plantation in historic Franklin, with its Greek Revival back porch, is a National Historic Landmark.
Today, Nashville remains a prosperous, historical place with a fantastic story, beautiful cultural landmarks, museums, recreational activities, incredible food, superior accommodation, great professional sports teams, and the most welcoming and hospitable people to be found anywhere.
Nashville gave the world bluegrass, fueled the early days of R&B, and continues to have a huge influence with an incredible pop music and rock scene. In fact, one of the most popular clubs in the city is the Twelve Thirty, owned by mega-star Justin Timberlake. Country music still thrives on Honky Tonk Row with numerous venues and bars operating that are owned by multiple Grammy winners and performers, including Blake Shelton, Jason Aldean, Garth Brooks, Miranda Lambert, Dierks Bentley, Florida Georgia Line, Luke Bryan, Kid Rock, and others. On any given day on Lower Broadway, you'll find live bands performing music from 10 a.m. till 3 a.m. with no cover charges.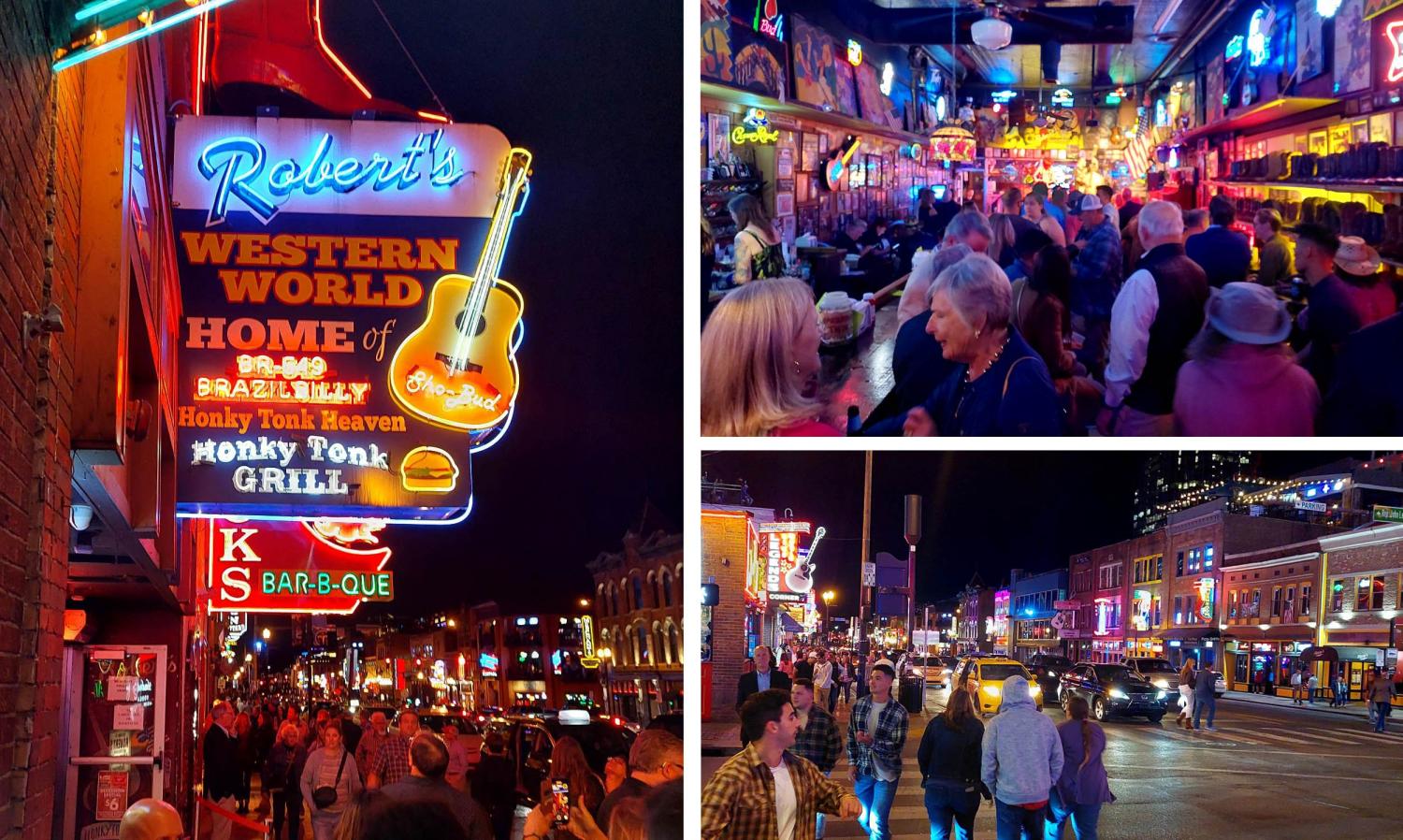 ABOVE: Country music still thrives on Honky Tonk Row. On any given day on Lower Broadway, you'll find dozens of live bands performing music from 10 a.m. till 3 a.m. with no cover charges.
In addition to its musical roots, Nashville is also home to several universities and colleges, including Vanderbilt University and Nashville State Community College. The city is a major player in the healthcare industry, with several hospitals, medical centers, and related businesses and R & D firms located in the area that have made the region one of the most prosperous in the U.S., attracting top talent from around the world.
Nashville is easy to navigate. There is public transit, cycling paths, and walking paths. A great way to begin your visit to Music City is with Mint Julip Tours. They offer a variety of custom tours for small and large groups alike. One of their best offerings is their distilleries tour. They host you in executive black buses featuring an expert whiskey tour guide. You'll get a whiskey 101 lesson during the 90-minute ride to a couple of distilleries. At the end, you'll know "why all bourbon is whiskey, but not all whiskey is bourbon," where the terms "roof" and "shot glass" originated, why most of the distilleries are in TN and KY, and even more trivia. The tour includes a lunch or dinner stop.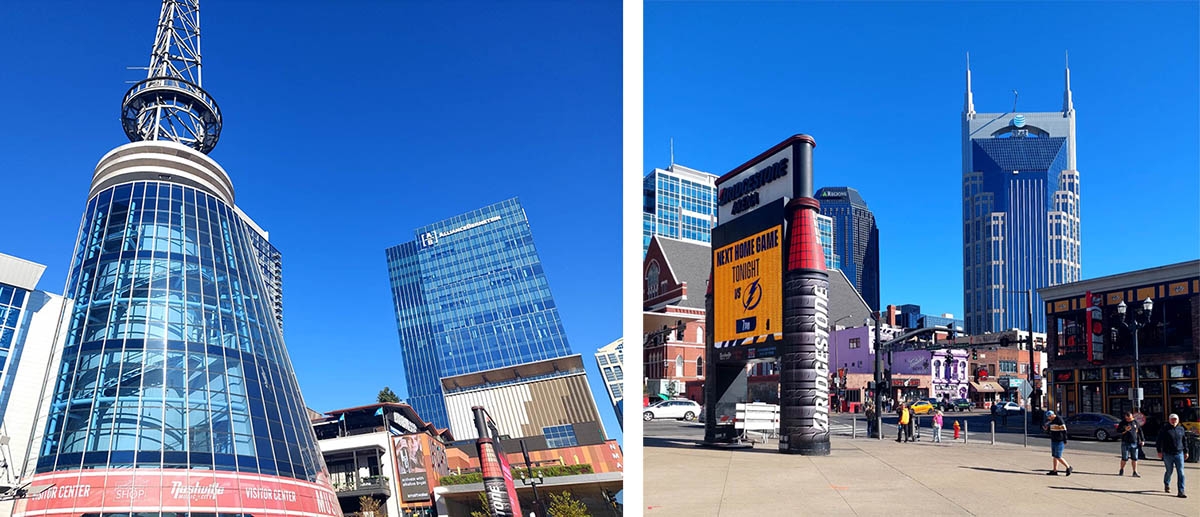 ABOVE: Drop into the Bridgestone Tower Visitor Center to learn more about where to go and what to do in Nashville. (RIGHT) Locals have nicknamed the At&T Building in the heart of Nashville the Batman Building. If Music City were a superhero, you bet it would be Batman—cool, iconic, and every fan's favourite!
The Cumberland River, which runs through Nashville, is an important economic and recreational resource for the city. The John Seigenthaler pedestrian bridge, which spans the river, is a popular spot for tourists and locals alike and allows you to see great views of the city. To learn more about where to go and what to do in Nashville, drop into the Bridgestone Tower Visitor Center, home to the NHL Nashville Predators, a place where you'll find a variety of exhibits, including information on the city's history, cultural attractions, and local events.
There are incredible hotels in Nashville that offer a range of amenities for travelers. The Noelle Nashville Hotel is in the heart of the city and is known for its historical significance. It features a variety of amenities, including a spa, fitness center, and rooftop bar. Located two blocks from the famous Ryman Auditorium and Honky Tonk Row, The Noelle makes touring Nashville easy. If driving, park it and walk. Everything is literally at your fingertips. The Hotel Fraye Nashville in midtown offers a variety of amenities, including a pool, fitness center, and a superb on-site restaurant.

ABOVE: The resplendent Four Seasons Hotel fits Nashville . . . like a cowboy hat fits a cowboy.
The new 235-room, forty-story art and light-filled Four Seasons Hotel Nashville with its panoramic city and river views celebrates local heritage and craftsmanship. It is within walking distance of the city's major sporting and entertainment venues and most legendary musical landmarks. They are collaborating with the city's music and arts communities for Songwriter City, which provides an opportunity to meet and spend time with industry professionals in an intimate setting. Guests are encouraged to experience "songwriters in the round," wherein a group of chart-topping writers talk – and play – through the artistic process. The hotel's Mimo Restaurant and Bar, named for Tennessee's state bird, the mockingbird, bills itself as a place 'Where Southern Italian Cuisine Meets Southern Hospitality.' This place just seems to be a natural fit for Nashville in the same way a comfortable cowboy hat fits a cowboy.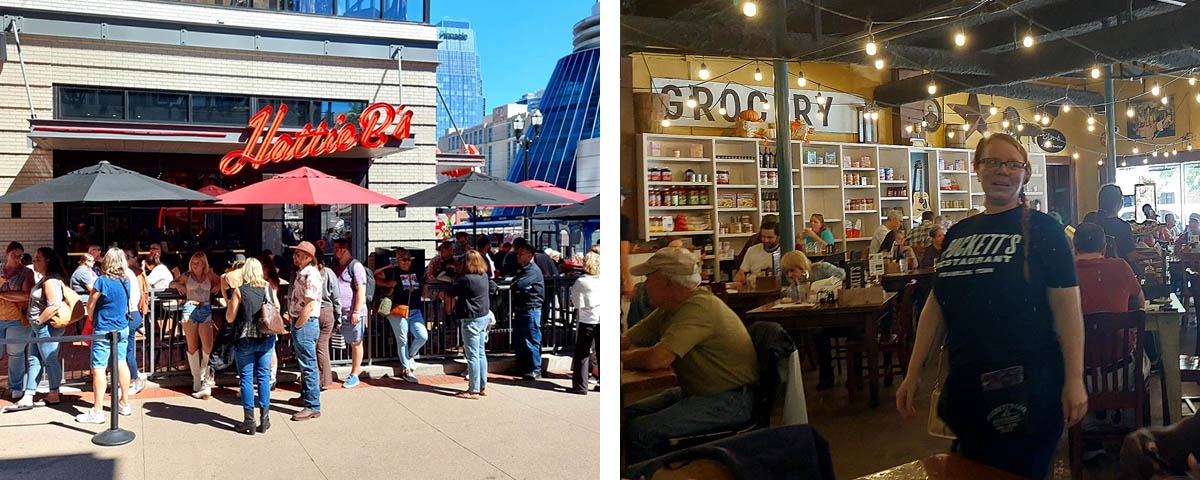 ABOVE: Whether it's Southern comfort food or the city's innovative gastronomy scene, Nashville is a foodie's delight!
Nashville is a foodie city with restaurants that offer a wide range of gastronomy for any appetite. Hattie B's is a popular spot known for its spicy Southern-style chicken. The Farmhouse Restaurant Nashville offers delectable and creative farm-to-table dishes paired with nice wines. Puckett'sin nearby Franklin is famous throughout the region for its Southern-style comfort food. The Assembly Food Hall is a popular food court in downtown Nashville that caters to the local breakfast and lunch crowd and tourists alike with its variety of American and international cuisine offerings.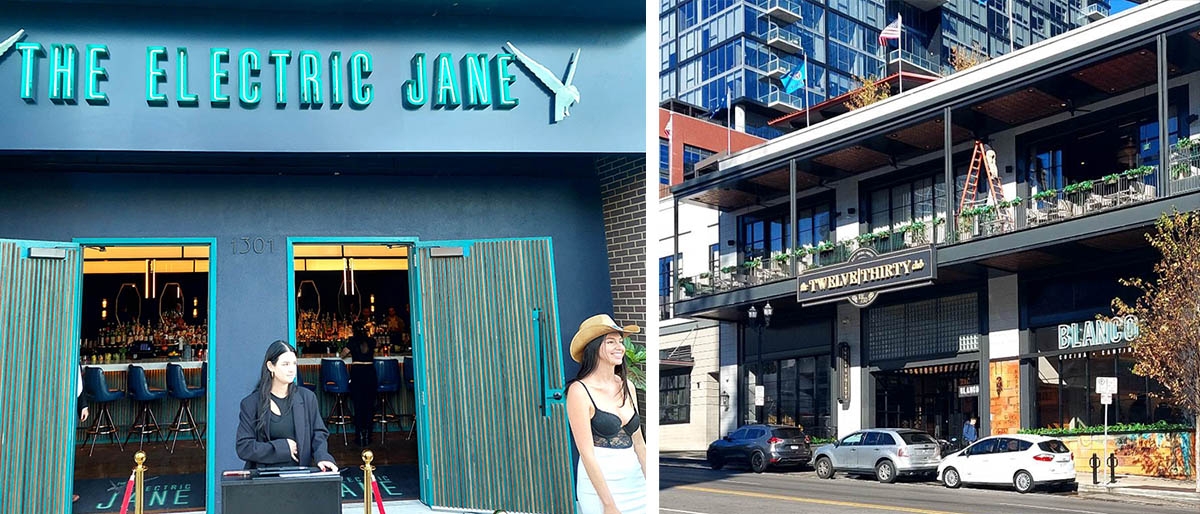 ABOVE: Both Electric Jane and Justin Timberlake's swanky supper club, The Twelve Thirty, are must-stops in Music City.
Supper club music venues are very popular in Nashville. Be sure to book an evening at Electric Jane and enjoy their spectacular cocktails, tapas plates, and incredible live music while sitting at a swanky white linen-clad table with exceptional service. Similarly, you can book a table at the popular Twelve Thirty Club and, like the Electric Jane, have dinner and dance all night to the grooviest tunes in Music City.
The Ryman Auditorium is a historic venue in downtown Nashville that has played host to some of the most famous musicians from America and abroad over the past century. It's referred to as the Mother Church of Country Music, the birthplace of bluegrass, and the original home of the Grand Ole Opry, where countless musical legends' careers were launched. The Ryman was initially called the Union Gospel Church and was built by Captain Thomas G. Ryman and opened in 1889. When Ryman died in 1904, it was renamed Ryman Auditorium in his honour. In 1943, it became the home to the Grand Ole Opry radio show, as country music stars like Minnie Pearl, Roy Acuff, Johnny Cash, Patsy Cline, and others performed live each Saturday night for more than 30 years from its famous stage into living rooms across the U.S. It was lovingly given the nickname 'The Mother Church.'
In the 1970s, it was decided that the Grand Ole Opry needed its own permanent home, which ended the show's decades-long run at the Ryman as the new Grand Ole Opry building (the Opry house) was constructed. The Ryman fell into disrepair over the years, and at one point, the building was close to demolition, but a group of concerned musicians and Nashville residents got together to save and gloriously revive the historic site. Today the restored Ryman is one of Nashville's most popular and active music venues while serving as a living museum and an icon of Music City. The Grand Ole Opry show is still held at Ryman Auditorium on select dates throughout the year.
If you are going to Nashville, you must visit both the Ryman Auditorium and the Grand Ole Opry. I attended on a Saturday night, and just by chance, Vince Gill was the feature act. He was superb. Could not have planned that better. Another surprise was the performance by Don Schlitz, one of the most successful and beloved country music songwriters of all time. He's penned 24 No. 1 songs that have been recorded by some of the genre's most celebrated artists, including Keith Whitley, the Judds, Alabama, Reba McEntire and others. Schlitz wrote Forever and Ever, Amen for Randy Travis and the Kenny Rogers hit The Gambler. Schlitz's on stage performance was both terrific and hilarious, and the audience loved the guy. Another treat was Tenille Nicole Townes, the Canadian country music singer from Grande Prairie, Alberta who charmed everyone with her tunes. The Opry presents one or more artists in each show, giving the audience a sample of each artist's musical style. The performances are exceptional, and it is a great night out.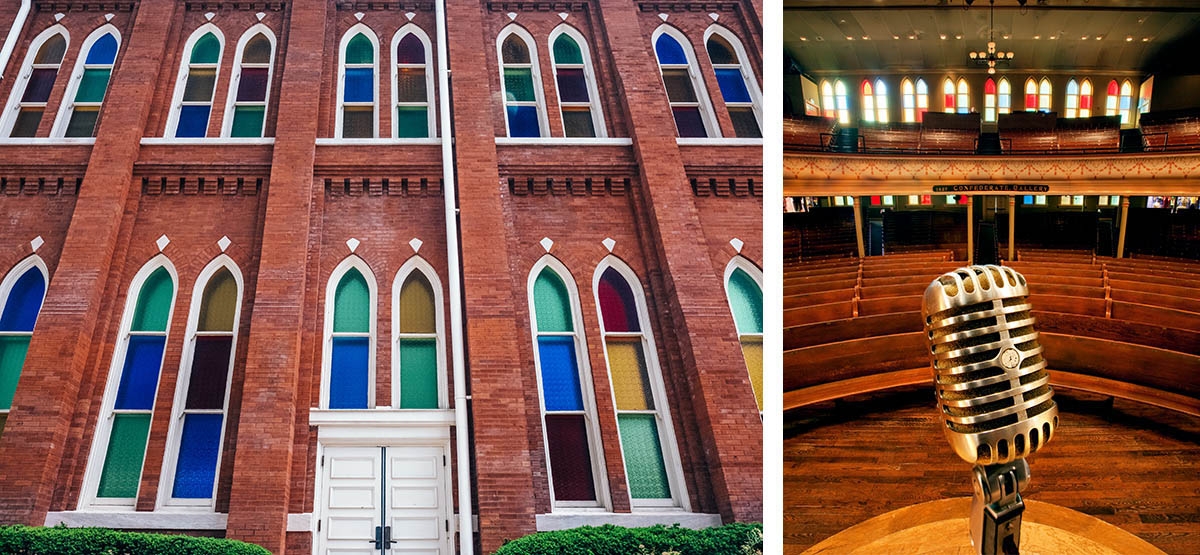 ABOVE: The Ryman Auditorium is a historic venue in downtown Nashville with a magical pull for up-and-coming songwriters and musicians.
For a more classical music experience in Music City check out the Nashville Symphony, which performs at the Schermerhorn Symphony Center. The musicians, building, and theatre are world-class and truly spectacular. Music Director Giancarlo Guerrero is a six-time Grammy award-winning conductor who champions the work of prominent American composers, presenting eleven world premieres and fifteen recordings of American music with the Nashville Symphony. Born in Nicaragua, Guerrero has led the Boston Symphony, Cleveland Orchestra, Queensland Symphony and others. A trip highlight for sure.
To really get a sense of the origins and path of music that has become the life of Nashville, there are several stops that really help you to connect with the magnificence of this incredible city. The Bluebird Cafe is a famous music venue—almost a mecca for singers and songwriters that has been around since 1982. Known for its intimate atmosphere, it has played host to some of the most prolific country music artists over the years. Many got their start at the Bluebird and many others go there to try to get it going. The venue features daily live music performances where songwriters go to showcase their work.
The National Museum of African American Music (NMAAM) is a new museum that opened in Nashville in January 2021. It tells the story of African American music from its roots in Africa to its impact on contemporary music today. The museum features multiple exhibits, including interactive displays, videos, and artifacts, as well as a performance space and educational programs. Some of the artists profiled in the museum include Ray Charles, Duke Ellington, Aretha Franklin, and more.
ABOVE: Nashville is paradise city for those who love music. Their world class music museums are a treasure trove.
The Musicians Hall of Fame & Museum was opened in 2006 and honours the musicians who have played on some of the most famous recordings in popular music history. It features interactive exhibits, artifacts, and memorabilia, as well as a performance space. Some of the artists profiled in the museum include Chet Atkins, Jerry Lee Lewis, and James Brown.
The Country Music Hall of Fame® and Museum is one of the most popular tourist destinations in Nashville. It opened in 1967 and is dedicated to preserving the history of country music. The museum features a wide variety of exhibits, including artifacts, interactive displays, videos, and more. Some of the famous artists profiled in the museum include Dolly Parton, Johnny Cash, Waylon Jennings, Tammy Wynette, The Eagles, Elvis, George Jones, Dwight Yoakam, Patsy Cline, and Garth Brooks.
ABOVE: In Nashville there is so much to do. Walk around and enjoy this oh so friendly and historic city: The Johnny Cash Museum, Glenn Campbell Museum, The Grand Ole Opry . . . and so much more.
The Patsy Cline Museum and Glen Campbell Museum & Rhinestone Stage are all specialty museums located in Nashville. Each of these museums is dedicated to preserving the legacies of these famous country music artists. They offer a variety of exhibits, artifacts, and memorabilia, and are popular stops for fans of the artists. All are worth a visit.
Nashville has some eclectic shops, and a local favourite is the Goo Goo Chocolate Shop & Dessert Bar that serves a variety of chocolate treats and desserts. They have a wide range of chocolate bars, truffles, and other treats to choose from. The Ernest Tubb Record Shop is one of the oldest and most famous record stores in Nashville and carries a wide selection of music, from classic country to contemporary hits. They have helpful and very knowledgeable staff. You can almost get a free history lesson of music in Nashville from these folks!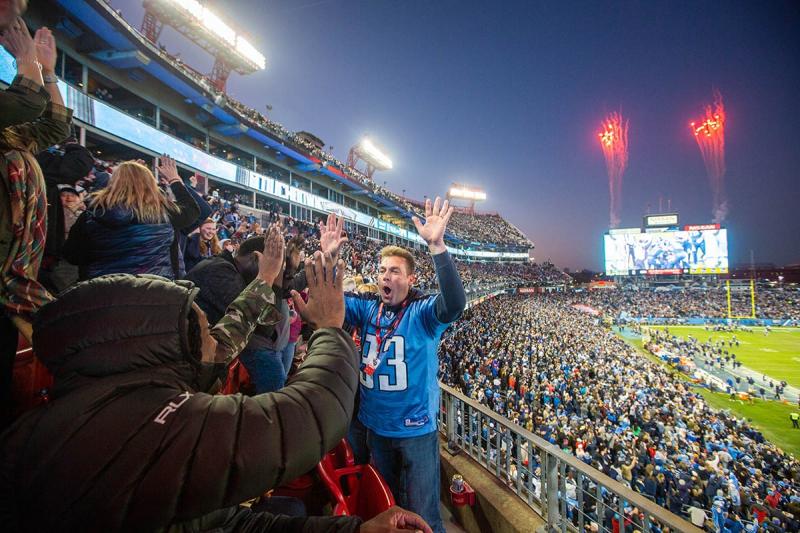 ABOVE: Get a ticket and get to the game! Nashville is home to the NHL Predators, NFL Titans, and Nashville SC. (PHOTO: visitmusiccity.com)
If you love sports, Nashville doesn't disappoint. The city has multiple professional sports teams including the NFL's Tennessee Titans the MLS Nashville SC soccer team and of course the Nashville Predators NHL ice hockey team.
If you are a history buff be sure to take a drive to Franklin, a beautiful storybook town located just 17 miles from Nashville that has been designated a Great American Main Street in part because of its 16-block historic district that preserves its southerly heritage. The town radiates a sophistication that's inspiring and inviting while brimming with history, music, shopping, and of the Southern hospitality that has made Tennessee famous. Franklin is listed on the National Register of Historic Places and has several historical sites and museums, including the Carter House which served as a headquarters for Confederate generals during the Battle of Franklin and was heavily damaged during the fighting. Today, the house is open to the public as a museum and offers tours and educational programs.
Nashville has so much to offer that one trip is not enough. You'll go . . . and I guarantee, you'll be going back!
For more information on Nashville, visit www.visitmusiccity.com
Recommended Articles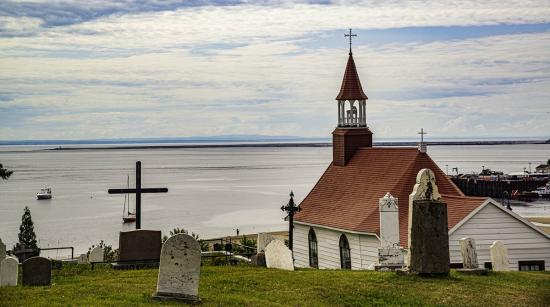 If you are guilty of spending too much time in the city, consider a trip to the Saguenay Fjord and the St. Lawrence Estuary — you won't believe you are in the same country!
Read full story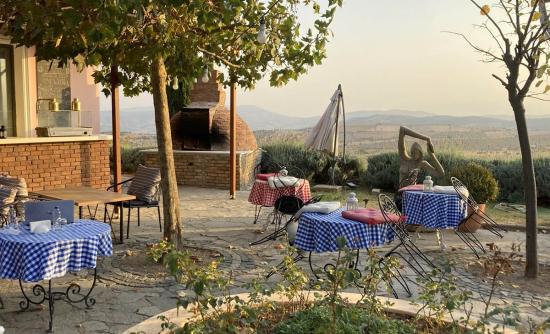 Turkiye has been a gastro destination since the Ottoman era, leaving influences from the Balkans to the Southern Middle East; in the next few decades, its wine will have the same global reach.
Read full story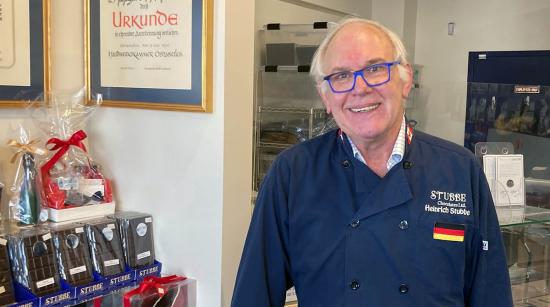 With Valentine's Day approaching, there will be chocolate everywhere but the real quality chocolate available from Stubbe Chocolates will put any box of Lindt or Ferrero to shame.
Read full story
Comments (0)
*Please take note that upon submitting your comment the team at OLM will need to verify it before it shows up below.