Tim Stützle has arrived
On Tuesday night, it looked like the week would tell the same old story for the Ottawa Senators.
The Edmonton Oilers took an early 4-0 lead over Ottawa, giving Senators fans an excuse to go to bed rather than stay up for the third period of a game that started at 10 p.m. ET. But those who stayed up saw a glimpse into the future, and surely did not regret the decision.
In the third period, Tim Stützle found his way. With about ten minutes left in the game, "Jimmy" had a dangerous shift where he generated multiple scoring opportunities, and from that point on his confidence appeared to increase every time he took to the ice, capping the night off with this:
A positive highlight to end the night.#GoSensGopic.twitter.com/pb5HEuNbHE

— Ottawa Senators (@Senators) February 3, 2021
The Senators lost 4-2, but considering the streak of lopsided losses, that goal was enough to give Senators fans some excitement again. And sure enough, the momentum carried into the next game against the red-hot Montreal Canadiens.
With under a minute left in the first period on Thursday night, Stützle exploded out of the Senators zone and made a stretch pass to Chris Tierney, who set up Thomas Chabot for a goal.
"The way he skates, the way he sees the ice and makes plays, it's one of a kind," said Chabot about Stützle. "He's a third overall pick, there's a reason why. He's so skilled, so fast."
Stützle DEFINITELY has his first NHL assist now!

Great shot too ????#GoSensGopic.twitter.com/7MIxxZbvOa

— Ottawa Senators (@Senators) February 5, 2021
Eighteen seconds later, Stützle scored one of his own. He later added another assist and Ottawa snapped an eight-game losing streak with a 3-2 win.
"For his age, it's unbelievable what he's doing out here," head coach D.J. Smith told reporters after the game. "He was exceptional tonight."
Stützle on the PP ????#GoSensGopic.twitter.com/zbt4coZiM5

— Ottawa Senators (@Senators) February 5, 2021
In last week's column, I said I wasn't sure if he should be kept in the NHL and have a year burned off his entry-level deal while struggling to find confidence on a losing team. Man, did he ever prove me wrong.
The last ten minutes of the third period felt like a turning point for him, he's acted as Ottawa's offensive spark ever since. He leads the team with four goals to his name and is tied for the rookie lead. It's safe to say that Timmy Süperstar has arrived.
"Every game, every shift I play, I feel more comfortable on the ice," he said, after playing the Canadiens on Feb. 4.
And he wasn't the only one to have a great performance last week.
Murray has his swagger back
Thursday night's game was also won behind a 36-save performance from Matt Murray. The Senators lost 2-1 versus the Canadiens on Saturday afternoon, but Murray registered 30 saves and gave the Senators a chance to win. He posted a .943 save percentage in the two games combined.
Ottawa couldn't get a save over the losing streak. It's safe to say Murray's consistency was a key part of the Senators shifting their play. We'll see if he can keep it going tonight as he starts for the third straight game and the Senators take on the Oilers' high-flying offence.
The Brannchise = released
Erik Brannstrom was finally brought up from the minors, and he looked great. Last season, Brannstrom didn't seem ready for the NHL, but this season he's proving that he belongs, and it's solving some of the defensive issues Ottawa was having.
"He was great tonight," said Smith on Thursday night. "It was a big difference back there … He broke us out, he had confidence, he was skating really well.
"To come in after no exhibition, against the best team in the league, I thought he was exceptional tonight."
In both games versus Montreal, he showed great poise with the puck and always looked to make the right pass to help the Senators breakout with ease. He also showed great confidence and passing ability running the Senators' second power play unit that generated several scoring chances on Saturday, including Ottawa's only goal in the game.
The Senators went 1-2 last week, yet there are so many positives to write about. This year was never about winning every game - the expectation was to at least be competitive as the team builds towards the future. Last week showed that it's still possible, especially when the young talent is given a chance to shine.
Elsewhere Around the NHL: COVID-19 Taking Effect
COVID-19 hasn't been an issue in the Canadian Division, yet, but the virus is wreaking havoc elsewhere in the league. Last week, 13 games were postponed, and five games have already been postponed this week. As of Feb 7. 46 players were on the NHL's COVID Protocol list, including 16 New Jersey Devils players. There's no sign of a stoppage of play coming to the Canadian Division, but this is certainly something to monitor.
The Week Ahead for the Sens
Monday, February 8 vs Edmonton (7 pm)
Tuesday, February 9 vs Edmonton (7 pm)
Thursday, February 11 at Winnipeg (8 pm)
Saturday, February 13 at Winnipeg (3 pm)
The Sens kick this week off with back-to-back home games against Edmonton. Let's see if they can do a better job of fending off the two-headed dragon of Connor McDavid and Leon Draisaitl this time around. Then, they hit the road and take on the Winnipeg Jets who are currently third in the Canadian Division, behind Toronto and Montreal.
Notes:
Defenceman Artem Zub has two assists through four games, and as advertised, is providing solid defensive play. Along with Brannstrom, Zub is a big part of why Ottawa's defence is looking better.
Forward Evgeni Dadonov was signed to a 3-year $15 million deal this off-season, and so far, he's not living up to it. The 31-year-old scored 25 goals or more in his last three seasons, but this season he has one fluky goal and two assists through twelve games. Head coach Smith is looking to spark his offence by putting him with Brady Tkachuk and Josh Norris on Ottawa's top line.
22-year-old Logan Brown was brought up to Ottawa's taxi-squad from the minors and should be the next young player to get a chance with the big club. Keep an eye on that this week.
While Stützle was having a 3-point game, former Sens Captain Jason Spezza was having a night of his own. The 37-year-old turned back the clock and scored a hattrick on Thursday night to help the Toronto Maple Leafs Defeat the Vancouver Canucks.
Recommended Articles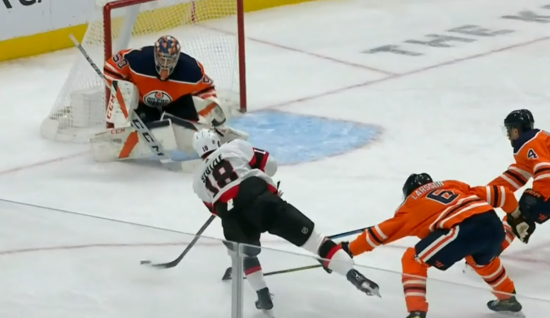 Well, where do I start? It's going to be a long season for the Ottawa Senators.
Read full story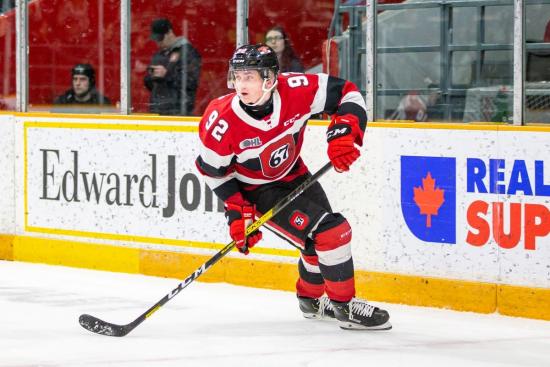 This year junior players dreaming of an NHL career are facing off against the unforeseen consequences of the pandemic.
Read full story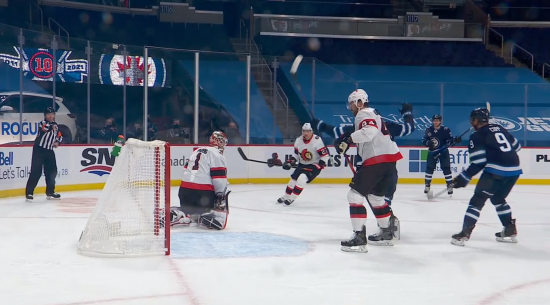 Last week was a tough one for the Ottawa Senators, losing all three games versus Winnipeg.
Read full story
Comments (0)
*Please take note that upon submitting your comment the team at OLM will need to verify it before it shows up below.