Travel
Toronto right now! Big sports, big culture, and ice-free sidewalks
Toronto right now! Big sports, big culture, and ice-free sidewalks
ABOVE: Every winter, the reflecting pools at Nathan Phillips Square becomes a skating rink for everyone to enjoy.(Photo: iStock)
---
Breaking news! There is no snow on Toronto sidewalks. There was no slush and no ice during the 11 days I spent exploring the city in February, and I never once had to wear clunky boots. Something about a lake effect. Whatever the reason, it makes Toronto the perfect destination for a winter getaway, and believe me, there is plenty to see and do. In fact, it's amazing how such a huge metropolis has so many attractions in such a compact area, and at the centre of it all is the Chelsea Hotel on Gerrard Street West.
There are many reasons why the Chelsea Hotel Toronto is perfect for Ottawa couples and families. It's spacious, bright, and currently undergoing a major upgrade. There is abundant, secure underground parking connected directly to the building. There's complimentary WiFi, a great fitness centre with an adult pool, a whirlpool, and separate saunas located on Deck 27, where the terrace provides a stunning view of the soaring downtown. A 130 ft "Corkscrew" waterslide swoops you into the Family Fun Zone's heated pool. The Kid Centre provides plenty of activities, and Club 33 Teen Lounge features old-school arcade games, two LCD flat-screen televisions, foosball, and a pool table. Guests can select from three in-house dining venues. Relax and enjoy a seasonal cocktail in the lobby's T|Bar, grab an on-the-go lunch and dinner, or fill up on a fantastic breakfast at Market Garden, where a vast courtyard surrounded by vintage brick buildings provides a pleasant, airy space in the middle of the Toronto bustle. And, there's an added bonus. The hotel's 'Show Your Key and Save' program offers guests discounts to many attractions in the city.

ABOVE: Chelsea Hotel Market Garden patio(Credit: Chelsea Hotel Toronto)
You couldn't ask for a better location, half a block from Yonge Street, two blocks from the Eaton Centre, and one block from College West, where the Yonge subway crosses streetcar lines at College, Dundas, Queen, and King. They all lead to great neighbourhoods that go on forever. Use your OC Transpo Presto pass or buy one from the TTC. It allows unlimited hop-on/hop-off travel and transfers for two hours per $3.25 fare. Uber is also an excellent option, with drivers arriving promptly and rides that cost only a few dollars for central destinations. The subway will zip you down to Union, where you can walk to Scotiabank Place, Ripley's Aquarium, the CN Tower, Rogers Centre, and the beauty and fun of the lakeshore. I made it down to 1 Yonge Street to enjoy a dazzling immersive experience by Disney.
There is nothing more kid-friendly than a Disney movie. When I attended the Disney Animation: Immersive Experience,the introductory displays, and two huge presentation rooms were filled with wide-eyed children and parents. The show itself is a historical anthology of Disney animation, beginning with a projection of Steamboat Willie (1928) situated over the entrance. It's one thing to see it on a small screen, but to watch it to scale is to discover how extraordinary it must have been to audiences almost a century ago.

ABOVE: Catch Disney Animation: Immersive Experience in Toronto until June 9, 2023.(© Disney)
The 50-minute main feature is preceded by a multi-room interactive experience designed by Emmy-winner and Tony-nominated designer David Korins and is dedicated to the history of Disney animation and its star animators. It is a lens into the process behind the magic and the technical and creative genius that has made Disney the undisputed master of the form. Ticket holders (and you must book in advance!) can take the time to absorb classroom-worthy information while waiting for the show to begin. There's no need to worry about lining up for the best seats because once you're inside the main venue, you'll find two spaces about twice the size of a high school gymnasium. The experience is identical in both. Sixty thousand six hundred frames of video, 600,000 cubic feet of projection, and 90,000,000 pixels!
VIP, Premium Plus, and Family Pack tickets come with perks like cushions, souvenirs, and concierge service, but by far, the coolest is the interactive wristband. While waiting for the feature to begin, the walls are covered in images, and the floor is coated with millions of swirling stars. As you move about, your wristband acts as a locator to the system and generates an effect that, and I won't spoil it for you, will amaze your kids!
Once you've adjusted to the scale, Disney's mastery of the art form becomes immediately evident in the new format. Watch carefully for a 'life-size' Mickey in wizard costume who welcomes you to the show, then sit back or wander about as a fantastical universe unfolds around you. The experience is structured around the greatest songs in the Disney catalog that take you into the Casita with Mirabel from Encanto to Pride Rock as Rafiki presents Simba at sunrise, all the way back to the timeless classics of yesteryear.
Along a more adult theme, The Art Gallery of Ontario is currently hosting Leonard Cohen: Everybody Knows, the first-of-its-kind exhibition to present the holdings of the Leonard Cohen Family Trust. Everybody Knows celebrates the many sides of the legendary Montreal singer/songwriter/poet and cultural icon. It's packed with archival materials, including musical instruments, notebooks, lyrics and letters, a Grammy, a Casio synth, alongside photographs, drawings, and digital art created by Cohen over his long career.
ABOVE: Leonard Cohen self-portrait [Photobooth], c.1980. Gelatin silver print, 5 x 20.5 cm. RIGHT Leonard Cohen's Hallelujah Notebook, 1983-1984. Notebook, Overall 23.5 × 19 cm.(© Leonard Cohen Family Trust)
What makes this archive suitable for a museum exhibition rather than merely a book is the experience of moving from one facet of Cohen's creative mind to the next. For example, the man had a fascination with mirrors and self-portraits. He was one of the first to use instant photography, the kind of square format images that popped out of cameras called Polaroids to develop right before the eyes. The small format framed on a wall requires the viewer to step up close. Next step along the wall, one finds a soaring blow-up of a strip of four images from a photo booth. Cohen behind a privacy curtain in some anonymous public space. Step way back to take it in.
Another fascination focussed on simple objects. Little crayon-and-ink daily practices on paper from the 1970s expressed his attachment to a can of paint thinner, a candlestick, a salt shaker, and a soda can—a glimpse of him in the everyday. Move a few steps from this intimacy and enter George Fok's Passing Through, a 2017 surround-cinema experience amidst which the audience time travels through a collage of memories, emotions, and performances. When Cohen was asked about his Buddhist studies, he replied, "It is a practice. I have a perfectly good religion." His concert footage from Tel Aviv is the perfect exit to this wonderful exhibit. Leonard Cohen: Everybody Knows continues at the AGO until April 10.
ABOVE: Leonard Cohen. Still Life, 1976-1980. ink crayon, Overall 22.1 × 30 cm. Art Gallery of Ontario. (© Leonard Cohen Family Trust)
The AGO deserves at least half a day for exploration. It is home to nearly 95,000 works ranging from cutting-edge contemporary art to European masterpieces, a huge collection by the Group of Seven, and a photography collection featuring works by artists such as Garry Winogrand and Diane Arbus. My personal favourite for many years is The Henry Moore Sculpture Centre.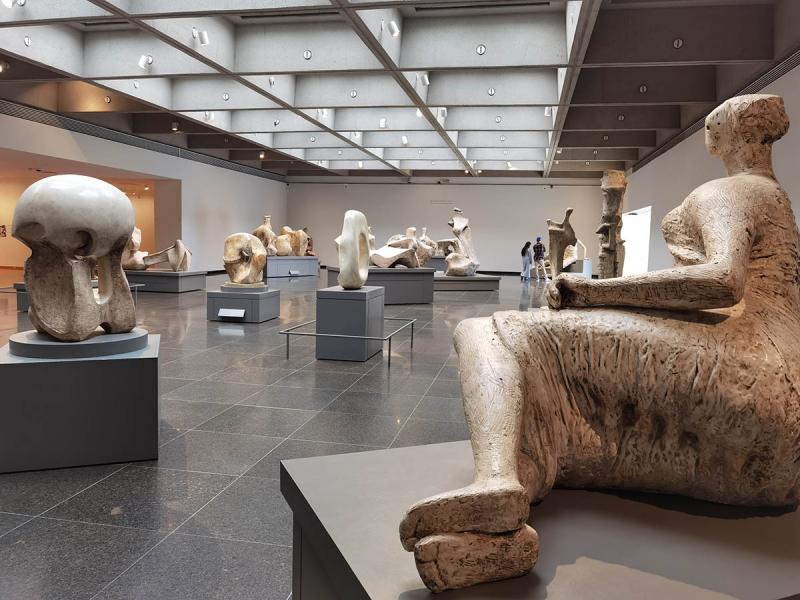 ABOVE: The Henry Moore Sculpture Centre.(Credit Michael Bussie?re)
Time to dine. Toronto is the world's most multicultural city, and that means a selection of diverse menus that you just can't find anywhere else. One great example of that culinary mashup is Patois,located at 794 Dundas Street West, just west of Bathurst Street. The term patois was originally used to describe non-standard regional French and, today, is proudly and widely used throughout the Caribbean to celebrate local identities. Jamaican patois blends together words from the many ethnocultural communities of the island, including Chinese. You can taste that blend in the fabulous food of this unique restaurant.
Chef Craig Wong is a third-generation Chinese-Jamaican who has applied the skills he learned cooking at Michelin three-starred French restaurants to the flavours he grew up tasting at home. The result is a fascinating menu. I had lunch at Patois on a sunny Saturday afternoon with my buddy John when the sidewalks were filled with people exploring a street whose character changes every few blocks. A friendly bartender offered greetings and explained the drink selection, from which I suggested he indulge his creativity. A delicious fruit blend arrived on ice and set the tone for the meal to come. I never thought I'd see culinary imagination expressed in a Jerk Chicken Chow Mein, or Brussels sprouts made so appealingly edible as in a Michiba Crispy version, or downed such a satisfying post-lunch Jamaican Ginger Beer.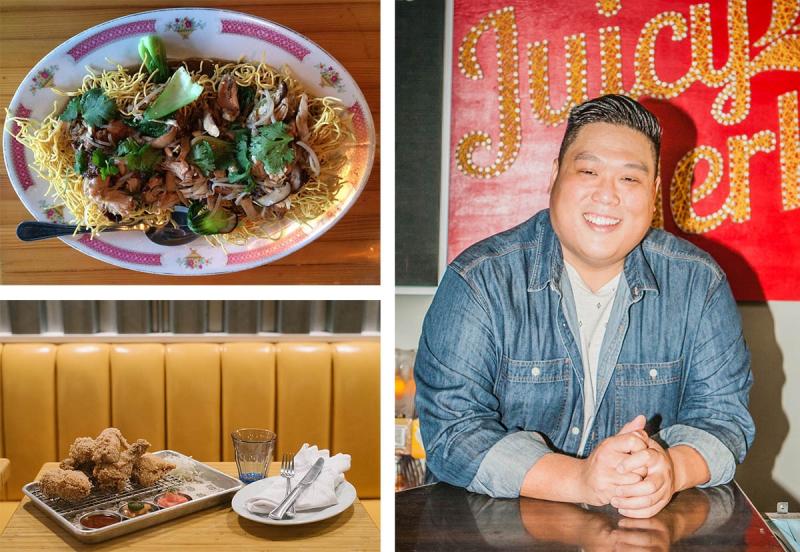 ABOVE: Patois Jerk Chicken Chow Mein(Credit: Barb Simkova); Patois Fried Chicken(Credit Barb Simkova);Patois Chef Craig Wong. (Credit Ian Brown)
There's no doubt about it. Toronto has nightlife. That's what having tens of thousands of people out and about after dark does, and its big-sports and big-entertainment downtown makes the city come alive. In the space of only three blocks, Toronto has Scotiabank Place, home to the NBA champion Raptors, the Maple Leafs, and…within plain view, the Rogers Centre. Go Jays! There are nights when 60+ thousand fans will pour out of both venues and fill the bars and streets for hours.
I attended a Raptors game on a Friday night with my pal photographer Fred Rutherford. We started across the street at Real Sports, where executive chef Jamie Robb has created a tasty menu based on local and seasonal ingredients. The big space is called Arena and features a super-sized HD screen, the biggest in Toronto at 39 feet, Pro-Line sports betting, and a 100-foot bar. The alternative is Resto, which is upscale, more intimate, and suitable for dining conversation. I ordered the steak frites, which was perfect, and Fred enjoyed clucking-big crispy wings. The menu has all the best selections of a sports bar but with added flair and ingredients: pizza, nachos, burgers, salads, and sides, all accompanied by a great bar. Real Sports also does post-game.
As I mentioned, the Raptors share a venue with the Leafs but believe you me, that's where the parallel ends because you just can't get crowd-pumping action onto the ice when the play stops in the way you can on a B-ball court. With every break, dozens of dancers, gymnasts, and other high-octane performers pour onto the floor and join an energetic host and a bad-ass purple dinosaur, all captured by a camera crew, ensuring the excitement never stops! And then there's the game, the invention of Almonte, Ontario native Dr. James Naismith. We too are The North! Yeah, we could lay claim to it being our game too, and we should, because it's a great sport that requires incredible stamina and agility, and one we can't see here in Ottawa just down the 417 from Almonte.
There was a time when the National Arts Centre was home to world-class opera. Festival Ottawa presented three full-scale productions every July that featured the greats of the opera stage, like Frederica von Stade, Marilyn Horne, and Jon Vickers. Southam Hall is, first and foremost, an opera house, but sadly it has not been used as such for decades. For those craving this most dramatic and breathtaking of musical forms, the Canadian Opera Company, based in the Four Seasons Centre at the corner of University Avenue and Queen Street West, produces the biggest season in the country.
My evening began at an absolutely exquisite restaurant located at 225 King Street West called Minami. It's hard to know where to begin. I could rant and rave about the delicious cocktails my guest and I had, or the mouthwatering tuna carpaccio we shared, or the sublime beef tenderloin I savoured in a state of near ecstasy. The staff was professional, relaxed, friendly, and very happy to see to our desires. It was the perfect overture to an opera with no overture of its own.

ABOVE: Minami interior(Credit Derek Shapton); Alberta beef tenderloin. (Credit Leslie Seto)
The Four Seasons Centre's soaring glass foyer looks out over a six-lane boulevard, giving the space a feel of urbanity and occasion. I attended the production of Richard Strauss' 1905 masterpiece Salomedirected by the Academy Award-nominated Atom Egoyan. It stars the COC Ensemble Studio graduate Ambur Braid as Salome, alongside Karita Mattila and Michael Schade. The Terrace, BC native was recently acclaimed for her tour de force performance in the title role at Frankfurt Opera. Being an Egoyan production, this Salome is an inventive blend of stage performance and screen insertion, with projected video components augmenting the drama and, in the case of the opera's famous and notorious dance episode, providing a spellbinding, larger-than-life rendition. The one-hour, forty-minute work, relatively brief in opera time, is presented without intermission and never once lost my appreciative attention.

ABOVE: Ambur Braid as Salome (front) and Karita Mattila as Herodias (back) in the Canadian Opera Company's production of Salome, 2023; A scene from the Canadian Opera Company's production of Salome, 2023. (Photos: Michael Cooper)
I look forward to returning for the start of the MLB home season, so if you'll indulge me one more time. . . "Let's go, Blue Jays!"
Recommended Articles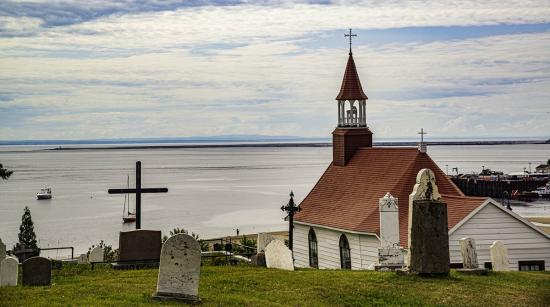 If you are guilty of spending too much time in the city, consider a trip to the Saguenay Fjord and the St. Lawrence Estuary — you won't believe you are in the same country!
Read full story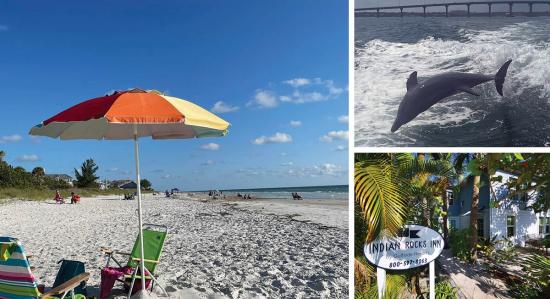 Seriously. After a few days, you just get into this Florida kind-of-groove where it's — dare I say it — always 5 o'clock somewhere.
Read full story
Visit the picturesque and historical places that played a key role in the formation of the United States of America.
Read full story
Comments (0)
*Please take note that upon submitting your comment the team at OLM will need to verify it before it shows up below.