Auto
A few favourites from this year's Autoshow
A few favourites from this year's Autoshow
Every year I attend Media Day at the Canadian International Auto Show (CIAS), and each time I'm charmed by a mixed bag of vehicles that span practical to posh to positively outrageous – and just about everything in between.
There are new rides you can now find at the local dealership, along with concept cars that will likely never see a showroom. But such 'flights of fancy' do signal a design direction that may emerge in a future production vehicle. Probably in a less exciting, less costly format – one the designers, engineers and bean counters can all agree on!
During this 2020 edition of CIAS, I found plenty to pique my automotive interest. Here is a sampling of these rides, in no particular order:
Car of the Year and Utility Vehicle of the Year
Mazda3 and Jaguar I-PACE took top honours this year in AJAC's overall car and utility categories, rising above a list of category winners that included Subaru Legacy and Outback, Porsche Cayenne and 911 Carrera, and Chrysler Pacifica Hybrid.
The fourth generation Mazda3 was completely redesigned for 2019, and definitely punches above its weight in terms of styling, and interior fit and finish. The car has been a perennial favourite at CCOTY, previously winning the overall title of Canadian Car of the Year in 2004, and taking category wins in 2004, 2007, 2010, 2013, 2014, and 2018.
The Jaguar I-PACE hasn't been around nearly as long, but has already established its winning ways. It was named Best Premium EV and overall Utility of the Year in both 2019 and 2020 – a first for any battery electric vehicle.
The I-PACE has a range of 377 km, and delivers approximately 400 hp to all four wheels, with a starting price of $89,800.
Land Rover Defender
Also from Jaguar Land Rover is the Defender – a square-jawed brute that epitomizes the go-anywhere, offroad prowess that is synonymous with the automaker. Although it does look more polished than its boxy predecessor, make no mistake, the new Defender is no poser.
The new architecture is based on a lightweight aluminium monocoque that is three times stiffer than traditional body-on-frame designs. It has an adjustable air suspension, computerized terrain management system, and will wade through roughly three feet of water. Approach, breakover and departure angles will satisfy any serious offroad enthusiast.
Starting at $65,300, it's a lot pricier than a Jeep Wrangler. But as you'd expect, Land Rover isn't after the same buyer.
Nissan Kicks Street Sport
Here's a crossover that probably won't be leaving the asphalt. Nissan put together the Kicks Street Sport concept for November's 2019 SEMA show in Las Vegas, bringing it here for it's Canadian debut at CIAS.
This Kicks began life as a perky and affordable compact CUV, but received a full makeover that included an oversize front air dam, side skirts, and rear roof spoiler. Fenders were widened to fit the Volk Racing wheels, and a custom suspension was built using a combination of NISMO/Ohlins coil-over shock absorbers.
A Garrett GT2255 turbocharger was bolted to the stock 1.6-litre four cylinder, as was a custom NISMO exhaust system. Adding Sparco SPX carbon bucket seats to the custom interior, along with a body wrap created a real head turner.
MINI JCW GP
Also on the small side is the most kick-ass MINI you may find at the local dealership. I say 'may' as only 59 are earmarked for the Canadian market.
Until now, the John Cooper Works – powered by a 2.0-litre turbocharged four cylinder (228 hp, 258 lb/ft of torque) was the most powerful MINI. The GP adds a whopping 73 more horses (making 301hp) along with an additional 93 lb/ft to launch this limited-edition variant from zero to 100 clicks in 5.2 seconds.
Other upgrades include high-performance exhaust, Torsen limited-slip differential, lowered sport-tuned chassis, 18-inch wheels and dinner plate-sized 360x30mm ventilated front discs.

Toyota GR Supra Track Concept
I had always liked the Toyota Supra, and was disappointed when the automaker dropped it from the Canadian market more than two decades ago. But it returned last year, and although this was one of Toyota's worst-kept secrets, who's complaining? Not many, obviously, as the GR Supra took top spot as AJAC's "Best Sports-Performance Car" for 2020.
The base car, starting just a tick under $65K, features a 335hp turbocharged inline six cylinder, with drive to the rear wheels and 50:50 weight distribution.
Appearing at this year's CIAS was an amped-up version dubbed the GR Supra Track Concept. It featured a pile of mods that included 19" wheels, upgraded suspension and front brakes, front and rear spoilers, racing harnesses, roll cage and performance exhaust system.
Toyota RAV4 Prime
In terms of performance, many of these compact SUVs are a snooze. Toyota's RAV4 was once an exception – and then it dropped the V6 option. Now Prime joins the lineup for 2021, and the automaker claims it's the most powerful and quickest RAV4 ever. Not to mention, the most fuel efficient.
This one's a plug-in hybrid (PHEV), and unlike most that offer 20-30 km battery-only range, the Prime can go roughly 60km without petrol. And with its combined high-capacity lithium-ion battery mated to a 2.5-litre Atkinson cycle four-cylinder engine, this fuel-sipper delivers a combined 302 hp – 83 more than the current hybrid, and 33 more than the previous V6 model.
Other plusses include a sport-tuned suspension, advanced AWD system, and driver-selectable trail mode.
2021 Cadillac Escalade
Need a little more SUV room? The Escalade delivers. All new for 2021 (with a planned launch in Q3 of this year), this feature-rich behemoth offers a few new bells and whistles for its fifth generation.
Let's start with the curved Organic Light Emitting Diode (OLED) screen – 38 inches from corner to corner, with twice the pixel density of a 4K TV.
The 36-speaker AKG Studio Reference audio system delivers 28 channels, and is mapped for 3D sound or plain old stereo. And the standard unit is no slouch, featuring 19 speakers (including subwoofer), powered by a 14-channel amp.
With its automated lane-change feature, Super Cruise takes driver assistance to another level. Just flick the turn signal and it will then scan the surroundings. If the coast is clear, the vehicle moves over.
Roominess has also improved. Surprisingly, the humungous Escalade it replaced had a space issue in the third row. Engineers have remedied this by adding 10.4 inches of leg room, along with 80 percent more cargo space, while lengthening the vehicle only seven inches. That brings it to 211 inches, and 227 inches for the extended version – almost enough for its own postal code.
Infiniti QS Inspiration
The Infiniti QS Inspiration made its national debut at CIAS. Unburdened by the need to accommodate an internal combustion engine, Infiniti presented a new spin on the sports sedan that features an elevated driving position and high-performance electrified all-wheel drive power. No need for the typical 'three-box' sedan layout.
Although it's just a design study, the QS Inspiration can be seen as the prelude to a future that will include more electrification in the Infiniti lineup.

Bugatti La Voiture Noire
This one was arguably the star of the show, and with a sale price of $16.1 million, you'd expect it would grab some attention. La Voiture Noire (translation: The Black Car), is a one-off supercar based on the Bugatti Chiron, powered by a 1,500-hp 16-cylinder engine.
Hey, if you can afford the car, you can afford the speeding tickets.
It was on display thanks to Bugatti Toronto and high-end retailer Grand Touring Automobiles. La Voiture Noire may be the most expensive new car on the planet, but it would still look good in my driveway.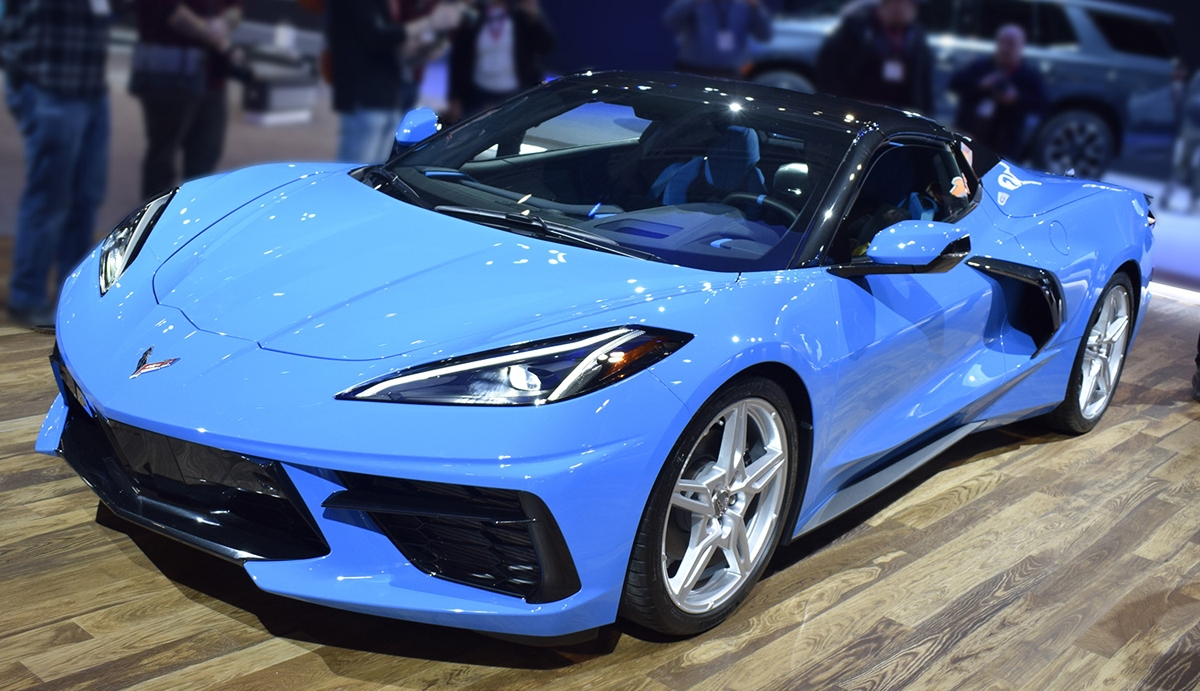 2020 Corvette Convertible
Okay, it's nice to dream about seven- and eight-figure hypercars, but you don't have to spend that kind of dough to turn heads. The Corvette Stingray convertible was able to do that with a few less digits.
Along with the Stingray coupe, this is the first mid-engine Corvette in the iconic vehicle's 66-year history. This drop-top version was engineered from the ground up as a convertible, and with clever engineering, maintains the same storage as its coupe sibling. Even with the retractable hardtop down, you're able to haul two sets of golf clubs in the trunk, along with an airline spec carry-on and laptop bag in the front compartment.
Power comes from a 6.2L small block V8, that delivers 495 hp and 470 lb/ft of torque when equipped with performance exhaust. These are the highest numbers yet for an entry Corvette, starting at just over $70K.
Whether you're vehicle shopping now or sometime in the future, CIAS is a great venue for gathering information and ideas – practical and otherwise. You may be in the market for a compact sedan or a family-friendly crossover, but you'll soon be wandering over to the sports cars and exotics.
Just don't kick the tires!
---
The Canadian International Autoshow (CIAS) is Canada's largest auto show, taking place annually at the Metro Toronto Convention Centre. This year's event runs February 14-23.
Recommended Articles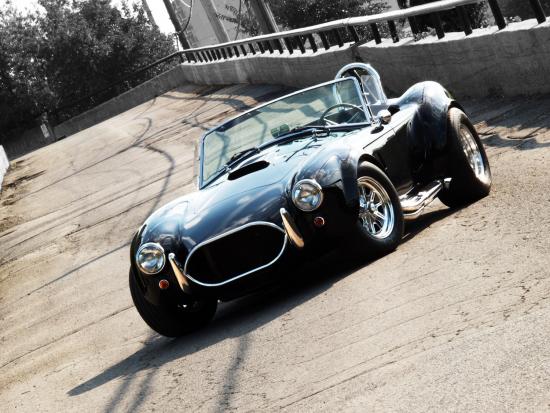 Think of a watermelon-sized engine stuffed into a mango-sized car and it should give you a good impression as to what the power of a Shelby Cobra is like: tough, raw and overpowered.
Read full story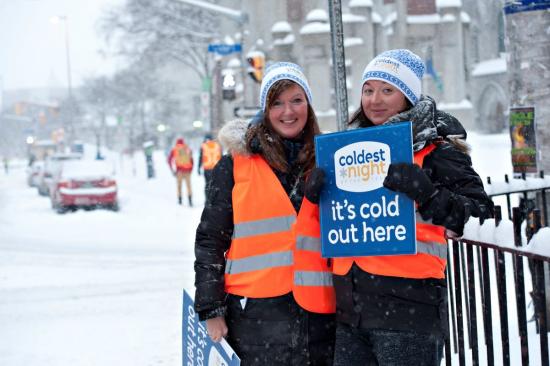 CNOY is a great opportunity to have fun with friends and family, and make a difference in the lives of people who need the programs and services of The Ottawa Mission
Read full story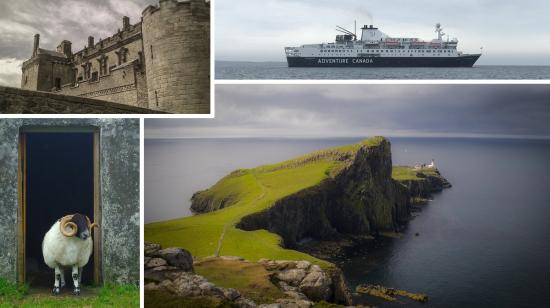 On this most wonderful trip, Adventure Canada will give you a new appreciation for the world and for the simple beauty and ingenuity of the many things we take for granted.
Read full story
Comments (0)
*Please take note that upon submitting your comment the team at OLM will need to verify it before it shows up below.