A Sweet Night of Candy at Alterna Savings Crackup!
Photos by Andre Gagne
It was a joke John Candy probably would have appreciated, breaking out his signature smile and boisterous laugh: his family fly in from sunny California for a tribute in his name only to face 20 centimeters of snow and the biggest blizzard of the year.
While the cars in the Infinity Convention Centre parking lot were quickly becoming mini snow capped mountains awaiting the disgruntled looks, brushes, scrapers and shovels of those in posh suits and evening gowns, the scene inside the centre was full of warmth, joy and laughter. It was the kind of response expected for a man that, though 22 years departed, still brings towering peaks of happiness to everyone he touches through his films and memory, elevations no powdery tempest outside the doorways to Infinity could ever hope to equal.
The tribute to Candy was part of a once-in-a-lifetime gala evening for the Alterna Savings Crackup festival which saw a gathering of the late comedians friends, fans, colleagues and family.
Host Patrick McKenna set the tone of the evening early by speaking on what Candy meant to Canadians as a whole.
"People knew his smile. They knew that presence. He's contributed so much to our culture," McKenna said.
Of course, that larger-than-life persona of John Candy could not be contained in a single space. The comedian's presence was not only felt in the room via costumes he wore and autographed images in the silent auction but busted out into the entire city where Mayor Jim Watson proclaimed it to be John Candy Day in Ottawa. A giant snow sculpture of the comedian also stands in The Glebe.
Taking in nearly $6,000, the silent auction contained items like the set jacket from the film Delirious, autograph posters and film stills from movies like The Great Outdoors as well as vintage Camp Candy comic books and the Uncle Buck press kit.
Candy's films were also featured on a menu that contained a Great Outdoors Salad complete with "Candy Bacon", a tasty Spaceballs soup and the maple syrup fused Uncle Buck's Cluck chicken dinner. Scattered about the tables were cut out film props and costumes to dress-up making for the ultimate in humorous selfies.
The biggest laughs of the night, however, were soaked in by Ron James who pulled no punches in some of his hilarious political jabs before giving his own emotional tribute.
"Let swagger be another man's folly. We're modest, we're accessible, we're the one's who'll buy the next round without anyone asking and have your back when the chips are down," James said of the Canadian attributes personified in Candy's own nature, highlighting some personal stories from working with a man who helped him in his early career.
"John's endorsement was the kind of endorsement I banked for the long haul and 35 years later I'm honored to tell his family thanks. I'm honored to make my living in this country in the company of such great compadres that I've had the good fortune to rub shoulders with…in a profession that doesn't suffer fools and a road that takes no prisoners. There's giants here tonight!"
Even Margaret Trudeau, ex-wife of former Prime Minister Pierre Trudeau and mother of Prime Minister Justin Trudeau, couldn't resist being part of the comedy, causing the room to bust out in mighty guffaws at her playful larks on plastic surgery. Trudeau also has a deeper connection to mental health causes Crackup hopes to address having spent years battling bipolar disorder. She's called her ordeal "a living hell" and spoke on the importance of addressing mental health issues in society as well as how much of comedy helps us in our lowest moments.
"Our sense of humor is really affected by our mental health and I just say if I can't laugh I will cry, and weep and sob," Trudeau told the crowd, ending her touching speech by sharing what Candy's films meant to her and her family.
"Thank you John Candy. I don't know how many snowy days where, when we couldn't go outside, we'd watch videos of Uncle Buck and Planes, Trains and Automobiles. John was a wonderful man. All Canadians loved John Candy."
Video clips played throughout the night of some of Candy's more iconic film moments and tributes were shown from fellow comedians Mary Walsh and Andrea Martin. SCTV alumni Robin Duke was also on hand to share her memories. Martin, who also worked with Candy for years at Second City and SCTV, remembered a man who's presence still looms large in her life.
"John did everything big. There wasn't anything he did that wasn't big," she said.
"He treated everybody the same. You could be the Queen of England or you could be a janitor and he treated you with the upmost respect. I think that's why he touched so many people. John really was the guy you thought he was, exactly that guy. He was a singular actor and a heartbreaking clown. My life is all the better because I knew him and worked with him."
John's children Jennifer and Chris were in attendance to accept the festival's Comedy Legends Award on behalf of their father, visibly touched by the outpouring of emotions and stories by those in attendance.
"I want to say thank you for this. Our family is honored and humbled. It means so much to us that you all love our dad. We love our dad and we love sharing him with everyone, here, Canada and in the world," said Jennifer.
The festival continues all week with highlights including performances by Ron James (February 17) and an All Star Comedy Night (February 18).
Recommended Articles
To the world upon which he left so much laughter and happiness, he was John Candy. To Jennifer and Chris, he was just dad.
Read full story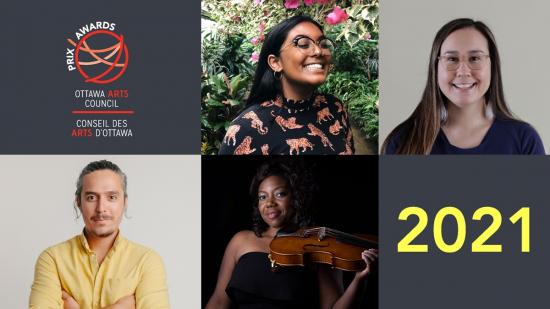 Meet the Ottawa Arts Council's 2021 Arts Awards recipients!
Read full story
Beyond Van Gogh opens in Ottawa today and is sure to excite and re-awaken your art-loving soul.
Read full story
Comments (0)
*Please take note that upon submitting your comment the team at OLM will need to verify it before it shows up below.