Travel
Add a LeBoat staycation to your 'Le Bucket List'
Add a LeBoat staycation to your 'Le Bucket List'
One of the unintended benefits of Covid-19 was that the pandemic made us look at the travel possibilities closer to home. One of the greatest trips in Canada, and certainly one that should be on everyone's bucket list, is taking a week-long sojourn on 'LeBoat' through the breathtaking, beautiful Rideau Canal locks and Rideau Lakes that runs from Ottawa all the way down to Kingston.
The Rideau Canal received a UNESCO World Heritage Site designation in 2007 and remains the best-preserved example of a slackwater canal in North America. It is the only canal dating from the great North American canal-building era of the earl 19th century that is still operational with most of its structures intact. Today, the Rideau Canal Waterway is a boater's paradise, attracting pleasure boats from across North America to travel its 202 kilometre length.
Entry points to the canal are at the north end, in Ottawa, and at the south end, in Kingston, where the river spills into Lake Ontario. The system consists of 47 locks in 24 lockstations that can be visited by car, bicycle, foot, or the very best way, on a boat, a 'LeBoat' to be precise.
The history of the Rideau Canal system is fascinating and its designation as a spectacular UN Heritage site belies its incredible and difficult beginnings in the 1830s when it was built as a military project by British forces in the event of an American invasion. In the early days of colonial settlement into "the Canadas", some of the largest construction projects were the building of canals to secure safe routes for the movement of people and the trade of goods. The 1820s saw major undertakings across the Great Lakes and St. Lawrence River regions including the Lachine Canal near Montréal, the Welland Canal to connect Lakes Erie and Ontario, and the Rideau Canal to connect Montreal with Kingston by way of the Ottawa, Rideau and Cataraqui Rivers.
Following the American Revolution, the United States had territorial ambitions to invade and take over Great Britain's Canadian colonies. To defend themselves against war with Americans, Upper Canada (now Ontario) along the St. Lawrence River from Montreal to Kingston was at risk from an American invasion. This river route was vital but was easily cut off because the southern shore was in American possession. The strategic weakness of this water route became evident during the War of 1812. After the war, a decision was made to build a canal and lock system that would follow the Ottawa River from Montreal to the mouth of the Rideau River, (present day Ottawa) and then travel south along the Rideau and through a series of small lakes to the Cataraqui River which empties into Lake Ontario at Kingston.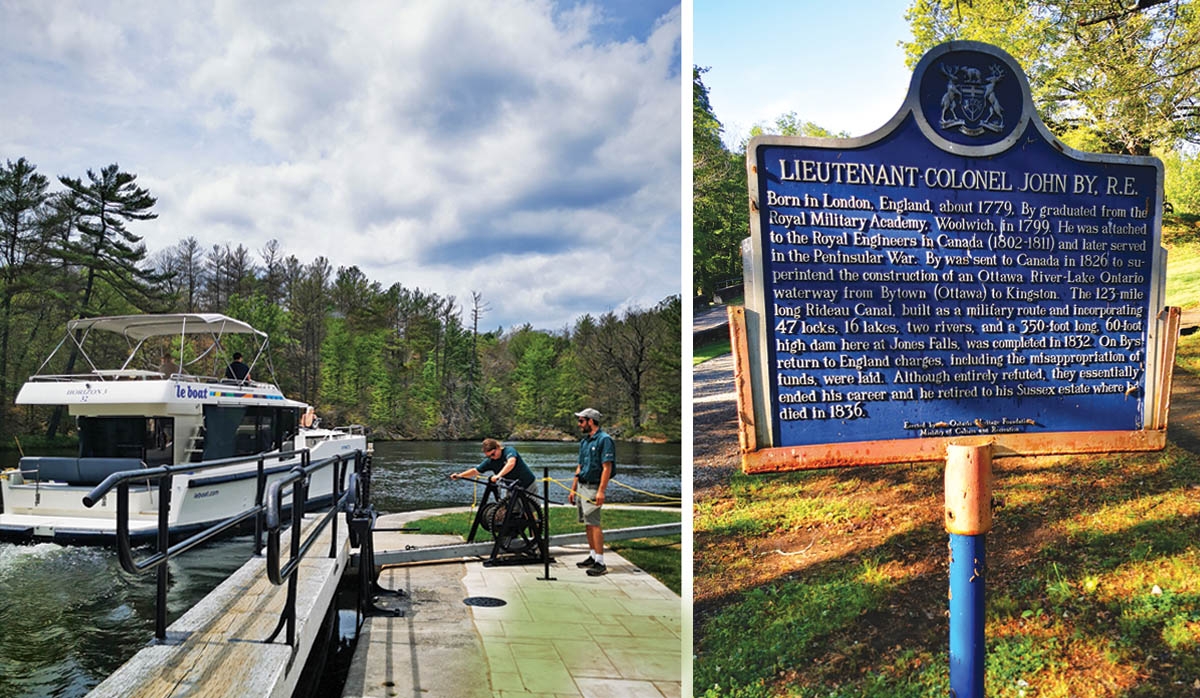 ABOVE: Leaving the middle lockstation at Jones Falls on our way back up the Rideau Canal system. Commemorative sign to Lieutenant-Colonel John By at Jones Falls. (PHOTOS: OLM STAFF)
The Duke of Wellington assigned Lieutenant-Colonel John By of the Royal Engineers to oversee the construction of the new canal. Until then, the only navigable way to get through this route was by canoe.
In 1826, Colonel By assembled his headquarters near the mouth of the Rideau River in present day Ottawa. The planning of locks and dams called for a design that would allow larger boats and steamships to comfortably travel through the canal from then Bytown to Kingston. Construction began in 1827. Most of the laborers were French-Canadians and immigrants from Ireland. There was a constant demand for new recruits as over 1000 labourers died from either malaria contracted from the swamps along the route or injury. Despite this, the project was completed in just under seven years and still stands as one of the great engineering feats of the 18th century.
The Rideau Canal opened in the summer of 1832 and covers 202 kilometers and includes defences in the form of fortified lockmaster houses and blockhouses located at various lock stations. After the opening, the canal became a commercial waterway as it was easier to navigate than the St. Lawrence. By 1849, the rapids of the St. Lawrence were reduced by the installation of locks. In the 1850s, the canal continued to be used as a local transportation route and was even expanded, connecting the town of Perth to the Rideau Canal through Tay Canal. Following the First World War, the Rideau Canal was no longer required for military or commercial purposes.
The waterways became an increasingly popular recreational and tourism route due to its natural beauty and the exceptional navigation offered to boats. Today, the Rideau Canal system is used for recreational purposes, including cruises, fishing, hunting and boating.
A LeBoat Rideau Canal adventure begins in Smiths Falls, at the company's headquarters and marina. Once you pick up your LeBoat you'll first have to decide if you want to venture through the Rideau Canal locks system north to Ottawa or head south through the locks via the Rideau Lakes system down to Kingston and back (or do both!).
With LeBoat you don't need to be a sailor or have any experience manoeuvering or driving a boat to comfortably and safely take an excursion. At first glance you might think that it is daunting but once onboard and behind the wheel you realize how simple it is to navigate a LeBoat and you quickly appreciate the exceptional design, navigation and other considerations and detail that went into making these boats so easy, accessible and enjoyable. There are two steering positions, one inside and another on the top deck, on each boat. There is a bow thruster and a stern thruster for easy manoeuvring. There is an easy-to-use rudder angle indicator and a GPS Speed sensor for ideal handling of the boat. LeBoat has a demister system for secured navigation from inside in case of rain and a safety box that is dummy proof and easy to use. Finally, there is a large bumper pad border that wraps around the boat. If you bump into the dock, lock or up against another boat the bumper pads protect the boat.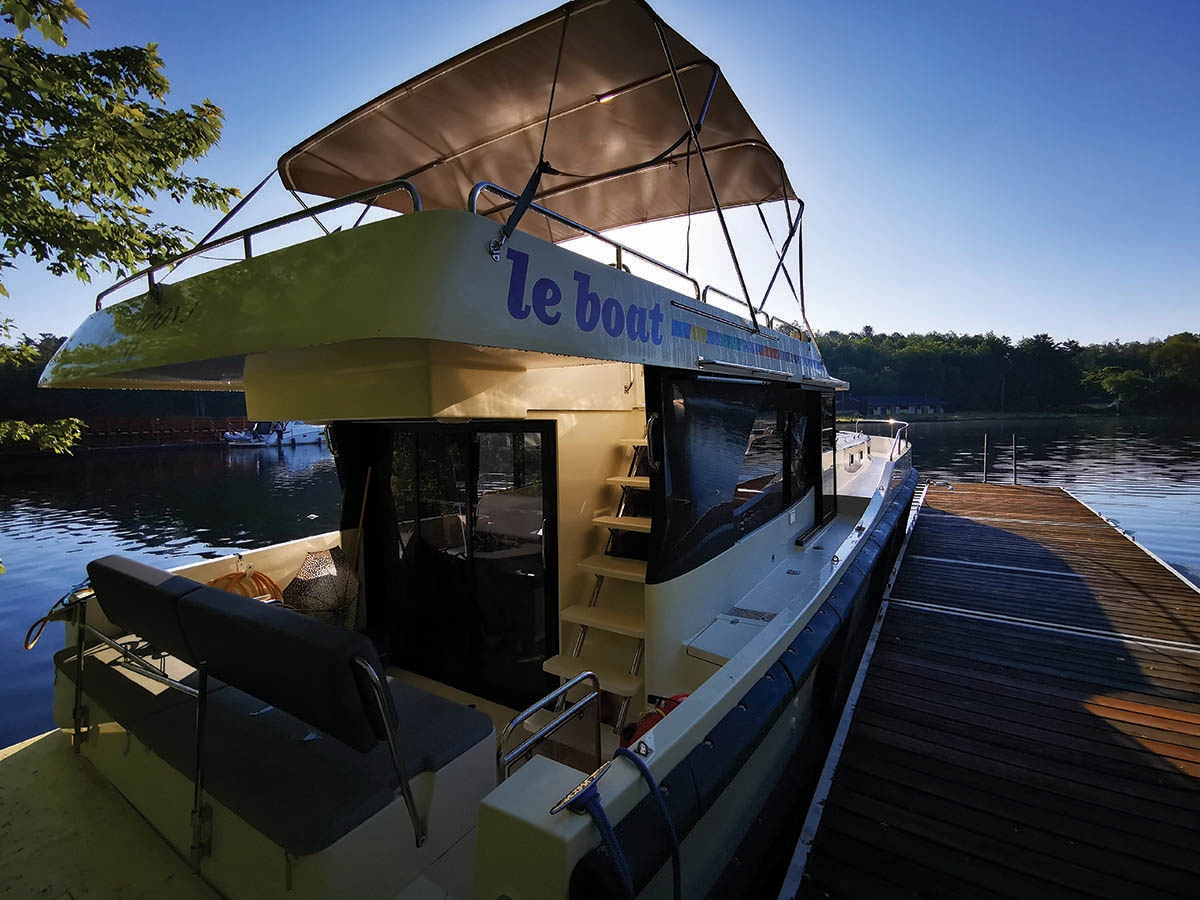 ABOVE: On the way to Kingston, we spent the night at the lower side Jones Falls. (PHOTO: OLM STAFF)
Before you head out, a LeBoat guide takes you through the entire process of operating the boat and all its features including the steering and navigating, safety features and other helpful things for your trip. You learn the lingo like the front of a boat is called the bow, while the rear of a boat is called the stern. When looking towards the bow, the left-hand side of the boat is the port side. And, starboard is the corresponding word for the right side of a boat.
LeBoat's friendly and professional guides stay with you through the first lockstation to ensure you have confidence going through a lock (it is really easy and fun!). Your friends or family are the shipmates who tie the lines off in each lock, and as the days progress everyone can take turns driving the boat or securing the lines.

LeBoat has several boat sizes depending on the number of people traveling with you. Each model has a slightly different cabin configuration to suit any party size up to twelve people.
We were on the Horizon 3, an exceptionally comfortable touring boat with a light and airy saloon and fully equipped kitchen with oversized sliding glass doors that open up to a rear seating area. The kitchen has a spacious table that comfortably seats six people. The lower bow has a large master bedroom with a full washroom and shower and there are two smaller bedrooms, one each on the port and starboard side, each with their own washrooms and shower. The boats have electrical outlets and ports for charging computers and phones. The onboard battery system recharges itself during the day as the boat is moving. You can also recharge at any time at dock stations for a small fee. (We were out for a week and did not need to recharge the battery once as it charged on its own when we were moving.)

The Horizon 3 features a spacious upper level sundeck with a bimini sun shade, a barbeque and a sunbathing area while the bow and stern are great to use as a jumping-off spots when you stop to swim. We had many wonderful meals 'up top' along the way. For inclement weather, the 'captain' (our captain was whoever was driving the boat at any given time) can move from the wheel on the upper deck and take the second wheel down below to navigate from the inside. I preferred navigating on the upper deck as there is a grand and freewheeling feeling you get being 'up top' overlooking the vastness and beauty of the Rideau Lakes as you move through this spectacular lake system on a warm sunny day.
There is ample storage in the stern if you bring bikes or fishing gear. On the lower back deck just above the water level of the boat there is a long, padded bench for sitting out and chilling. The boat goes slow enough that you can cast your line off the back and go trolling for bass, musky, pike, black crappie or sunfish.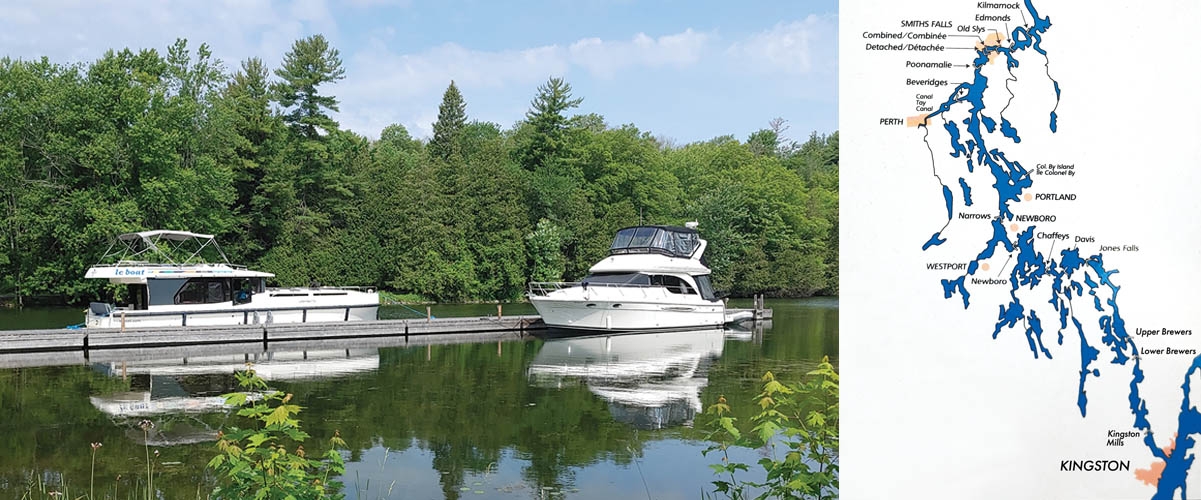 ABOVE: We joined another boat for the night at Upper Brewers locks. (RIGHT) A partial map of the Rideau Canal System. (PHOTOS: OLM STAFF)
The great thing about a week on LeBoat is that everything is self contained. You arrive with a week's worth of groceries and other amenities and then it's like you're in a 5-Star RV on the water. You can plan your entire trip in advance or take it as it comes, stopping at the interesting locks, towns and adventure spots along the way.
We knew we wanted to go through the locks down to Kingston and back with stops in Westport, Newboro, and Kingston. We did it all and we were not disappointed.
Parks Canada does an exceptional job of keeping historic the Rideau Canal locks in tip-top shape year round. The Canal appears and operates much as it did 189 years ago with limestone locks, hand-operated cranks, wooden lock master houses, and stone supply buildings. Each lock is unique in its history and the pleasant green-and-tan uniformed Parks Canada staff are always ready to offer visitors any assistance they can.
Most locks provide washrooms with showers, overnight mooring and picnic facilities, including tables, benches and barbecue grills. There are either annual pass fees or low daily fees charged to most boaters and paddlers at lockstations, but with LeBoat those fees are included in your trip. If you come upon a lock station that you like, just pull up and secure your boat and you are good to go or, in this case, stay.
We left Smith Falls on a sunny weekday morning and spent the first day under glorious blue skies as we made our way through several locks on the way to Westport. Once you are underway, navigation along the shoreline and through the Rideau lakes is easy and you'll feel free of encumbrances as you casually cruise along. It's just so glorious to be 'out there'. Barbecue, beers and music on the Horizon 3 deck made it easy to decompress and get into a relaxed vacay mode. On the first day (and most other days) we would stop at our leisure for a swim and to enjoy the very best of Canada's freshwater lakes.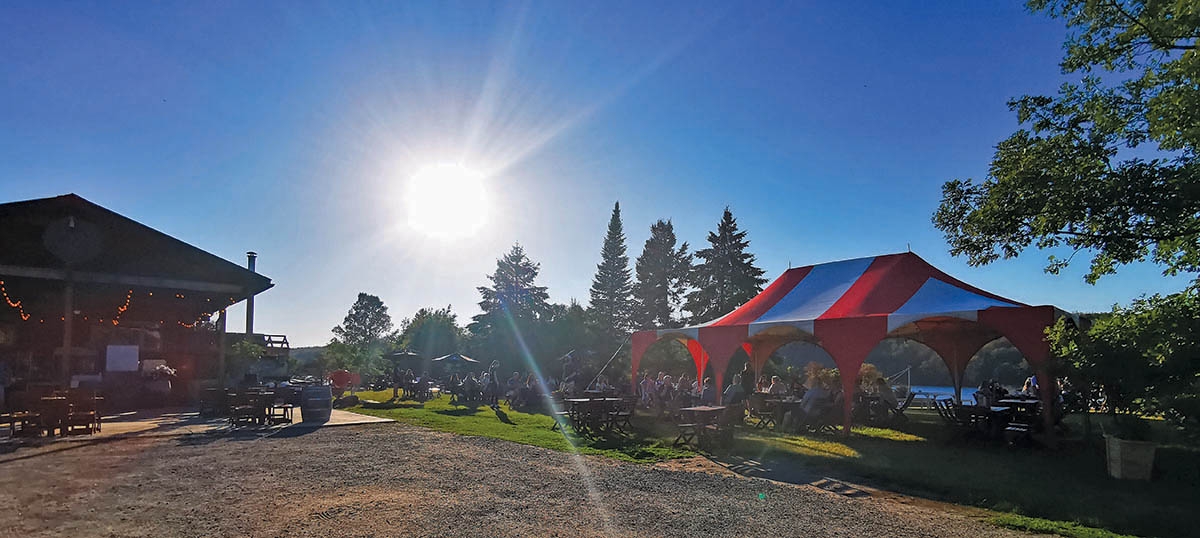 ABOVE: We stopped in Wesport for the night and enjoyed dinner at Scheuermann Vineyard and Winery. (PHOTO: OLM STAFF)
Our first night was in the quaint lakeside town of Westport where the town motto is 'Life is good'. Westport is 14.6 km away from Portland and connects Big Rideau Lake to Upper Rideau Lake. People visit to go hiking through the scenic Foley Mountain Conservation area, camp or swim at the local beaches. We pulled into the pier at around 4:45 p.m. and took a leisurely stroll, visiting the charming stores on the two main streets. Our destination was a 15-minute walk to the family owned Scheuermann Vineyard and Winery where we enjoyed their exceptional wine over dinner under a large canvas top that sat atop a hill on their property overlooking the water. A perfect end to a perfect day.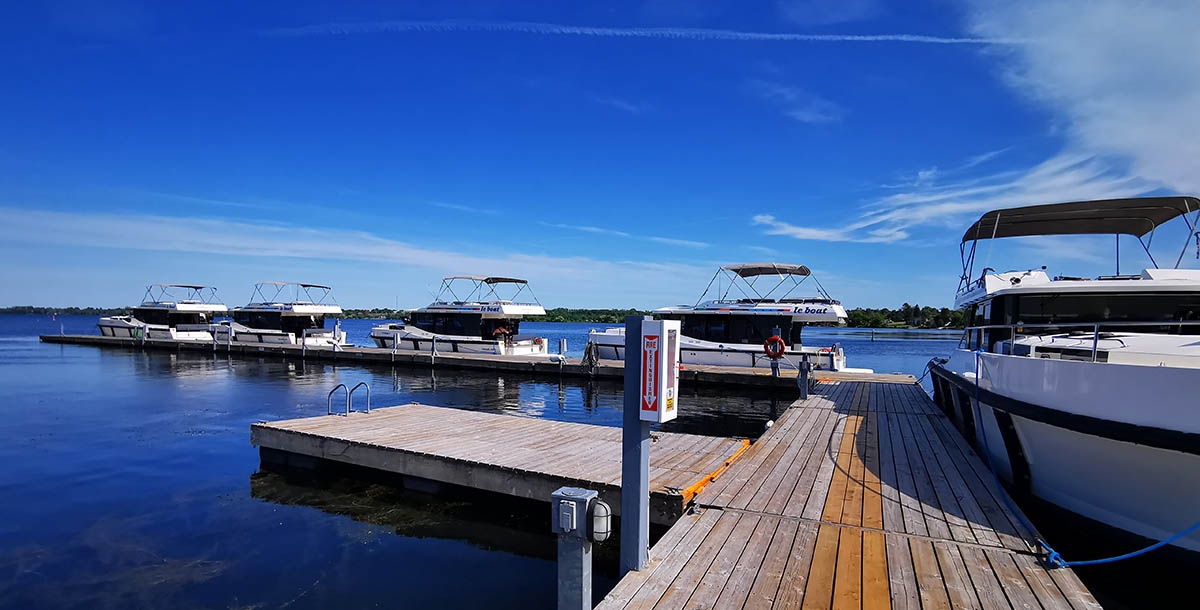 ABOVE: Wesport is a popular stop for LeBoat travellers. During busy peak periods, make sure to call ahead to reserve a berth for the night. (PHOTO: OLM STAFF)
There is an overnight mooring fee of $70 in Wesport. You can refill your boat with water, get a charge if required, or fuel but we did not require any of that. In fact, in our travels from Smith Falls to Kingston and back, we didn't need to stop for fuel once or charge up.
Two of our seven days were spent mostly on the move. We had a cooler rain day on the second day which we used to make time on the water as we headed towards Kingston. But even with an overcast sky and a little rain it was fun and an adventure as around every island and beyond each lock was new scenery and things to take in and discover. As we navigated past some of the small islands, the grand homes and cottages that pepper the shorelines and small islands of Big Rideau Lake, we continually passed properties with Canadian flags proudly jutting out from docks or on rocks. It was the definition of a Canadiana 'storybook'.
Throughout the trip there were onboard talks about the history of the area and we all marvelled at how such a spectacular and naturally beautiful water system could have had such perfectly engineered locks constructed almost 200 years ago. We enjoyed making meals onboard, drinking great wine and craft beers and playing board games at night or just sitting around up on the top deck talking, enjoying the summer nights under the stars.
Smith Falls
LeBoat's home base, Smiths Falls (Lock 29a) is the starting and ending point for exploring the canal. The base is located in a historic lockmaster's house. The town is the largest community between Kingston and Ottawa, and has a wide variety of shops and restaurants. There are lots of artisanal stores, relaxing coffee shops and local pubs restaurants within walking distance from the LeBoat pier. The Smiths Falls combined lock, 29a, offers overnight mooring, day use docking and washrooms.
Rideau Ferry
The town of Rideau Ferry is strongly associated with the Rideau Lakes and is the gateway between the Big and Lower Rideau Lakes. Portland is a delightful village on Big Rideau Lake on the way to the Westport. Shops for one-of-a-kind collectable antiques and souvenirs and old-fashioned cheese makers can be found here for shoppers. For recreational activity you can go horseback riding or golf along the Cataraqui all-season trail.
Newboro
Calling all fisherman at heart, Newboro Lake is home to a high population of largemouth bass just waiting to make your evening catch. Kilborn's department store since 1832 awaits all in search of a historical shopping experience, with many quaint restaurants lining the town for a quiet dinner stop. The Rideau canal lock 36, just 6.4 km from the previous mooring station, connects Upper Rideau Lake to Newboro Lake. This lockstation represents the Rideau's "home port" as it remains upstream for both Ottawa and Kingston to Newboro. We spent a night here and had a great dinner up top, under the stars, it was idyllic. There were several kayakers and canoeists who had stopped to camp near the lockstation along with two other Horizon LeBoat's.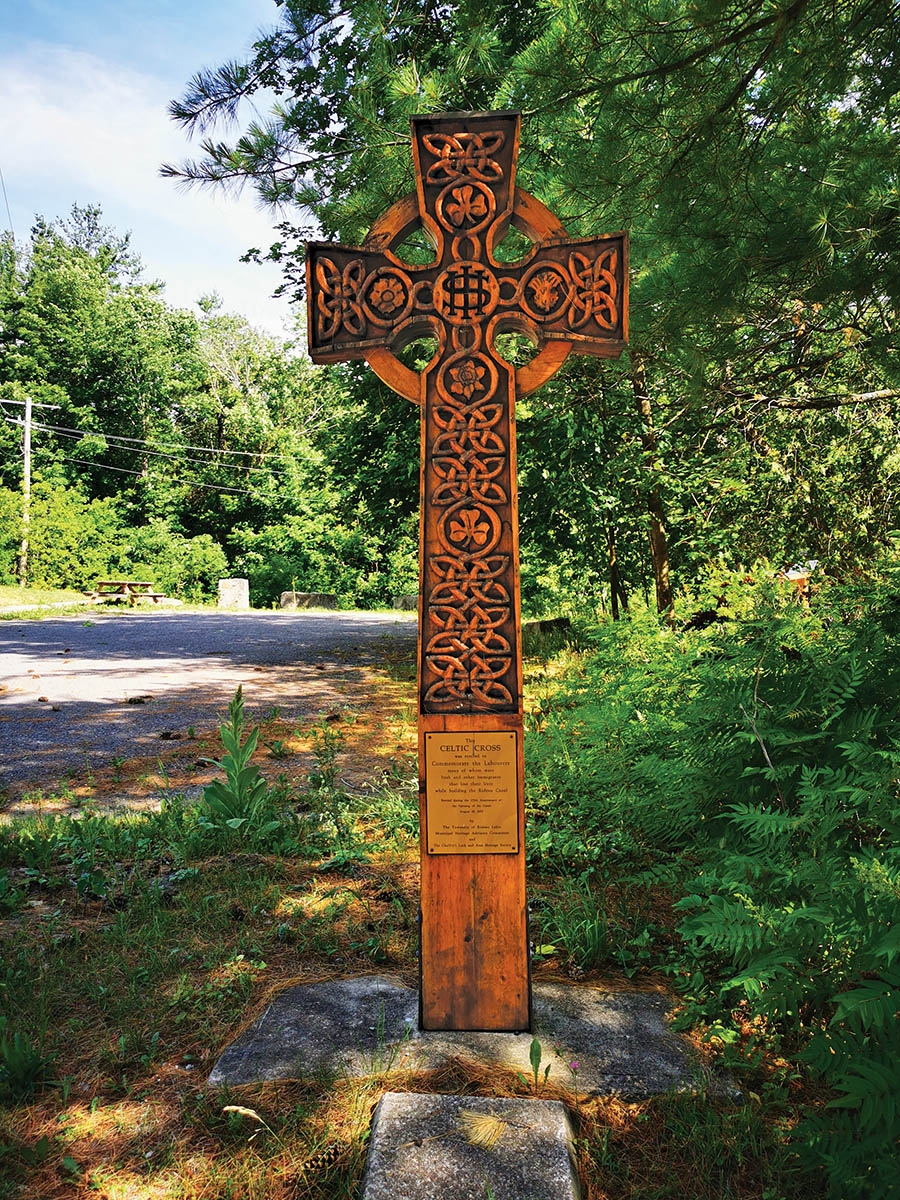 ABOVE: Memorial to the fallen worker, most of them Irish, who built the Rideau Canal. (PHOTO: OLM STAFF)
Chaffey's Lockstation
A sight to see, Chaffey's Lockstation, (Lock 37) can be found 17km from Newboro on the gorgeous, narrow strip of land between Opinicon Lake and Indian Lake. The heritage and history of this entire region has been carefully preserved by the Chaffey's Lock and Area Heritage Society since 1980. The Lockmaster's House Museum is a golden destination for lovers of Canadian history along their Rideau Canal journey. There is a local store that sells ice cream and wine and other amenities. It is nice to take an hour or two off the boat and walk around here. Lots of local lore and history.
ABOVE: Our Horizon 3 LeBoat heading into one of the three locks at Jones Falls—the biggest drop in the sytem. Parks Canada has placed pairs of red Muskoka chairs in different locations across the country to help visitors connect with nature in Canada's most unique and treasured places. (PHOTOS: OLM STAFF)
Jones Falls
The Jones Falls lockstation is one of the most scenic and tranquil lockstations on the journey and you will have a hard time believing you are still in the same province even though you are only a short 14 km trip from the previous lock. The flight of three locks (39-42), with a turning basin to separate them, achieves a lift higher than that of any other along the canal route. As we passed through this system there were lots of people, tourists and locals standing on the side of the lock enjoying the day and just watching our Horizon 3 LeBoat pass through. Many people inquired about the craft and asked if it was easy to navigate. We were happy to tell everyone how much we were loving our trip and encourage everyone to try a LeBoat excursion with friends or family.
Seeley's Bay
Seeley's Bay is just 14 km further down. Centennial Park is within walking distance from the mooring stations and features the commemorative Teepee of Granny Seeley who was a symbol of Indigenous-settler relations after running a major trading post in the 1800s.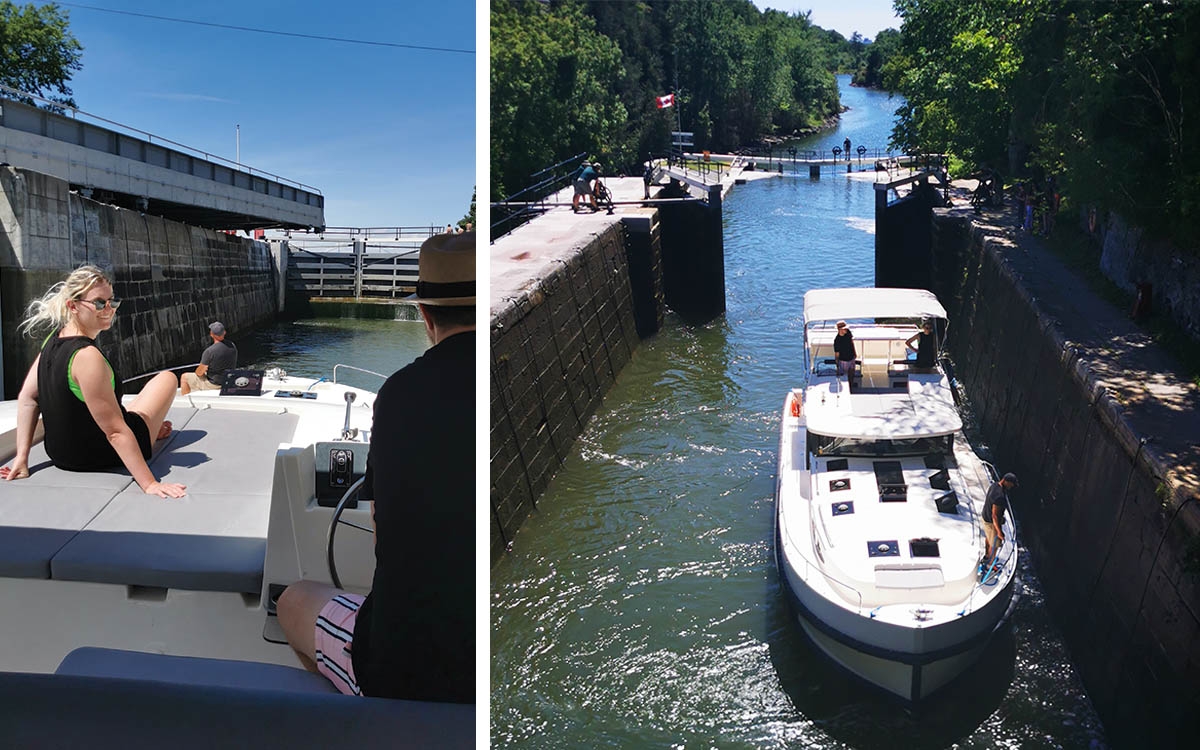 ABOVE: Heading into the last of three locks at Kingston Mills. (RIGHT) The middle locks at Kingston Mills with a view south. (PHOTOS: OLM STAFF)
Kingston Mills
Kingston Mills (Locks 46-49) is the home to the King's Mill, the Rideau's first mill built in 1784. Points of interest here include Robert Anglin's Visitor Centre and the Kingston Mills Falls below the Cataraqui River Dam. When you leave Kingston Mills you will find yourself navigating in and out of some narrow channels and larger bodies of water before hitting Kingston, renowned as the fresh-water sailing capital of North America. We considered overnighting here but, when a train passed overhead as we descended through the locks, we decided against it.
ABOVE: A view of Kingston from the top deck of our Horizon 3 LeBoat (PHOTO: M.STAPLES). (RIGHT) Breakfast in Kingston harbour with a view on the top deck of LeBoat. (PHOTO: OLM STAFF)
Kingston
I've driven on the 401 to Kingston dozens of times but it was fascinating to arrive in this historic city by boat, passing under bridges and navigating through marshes as we gently merged into Lake Ontario and navigated our way over to the Confederation Basin Marina in the heart of historic downtown Kingston. Located in front of City Hall, behind the Shoal Tower and across the water from Old Fort Henry, the marina is close to theatre, shopping, restaurants, museums and nightlife. It features 350 slip finger docks that can accommodate both power and sail boats to a maximum length of 100 feet.
We stayed here overnight and paid a small mooring fee of $75 to be in the harbour in the heart of the city. We enjoyed a home cooked meal and took in the city lights and energy from the upper deck of the boat. It was a Saturday night and the city was alive with locals and tourists who were out on the patio's (and all following Covid protocols). Kingston's historic buildings take one back into the 19th century. A spectacular city hall, the monumental Fort Henry military site, the striking gardens and Bellevue House National Historic Site are just some of the offerings. The Kingston Marina staff were exceptionally friendly and helpful and proved to be great Ambassadors for the area.
The next morning we ventured out and took an hour-long trip down the Kingston-Lake Ontario coastline and headed to Portsmouth Olympic Harbour. On the way there you pass Gord Edgar Downie Pier at Breakwater Park which features a large breakwater with a pier for lake swimming. It was a sunny Sunday morning and there were hundreds of people in the park and in the water. The lake was full of recreational boats and kayaks taking in the day.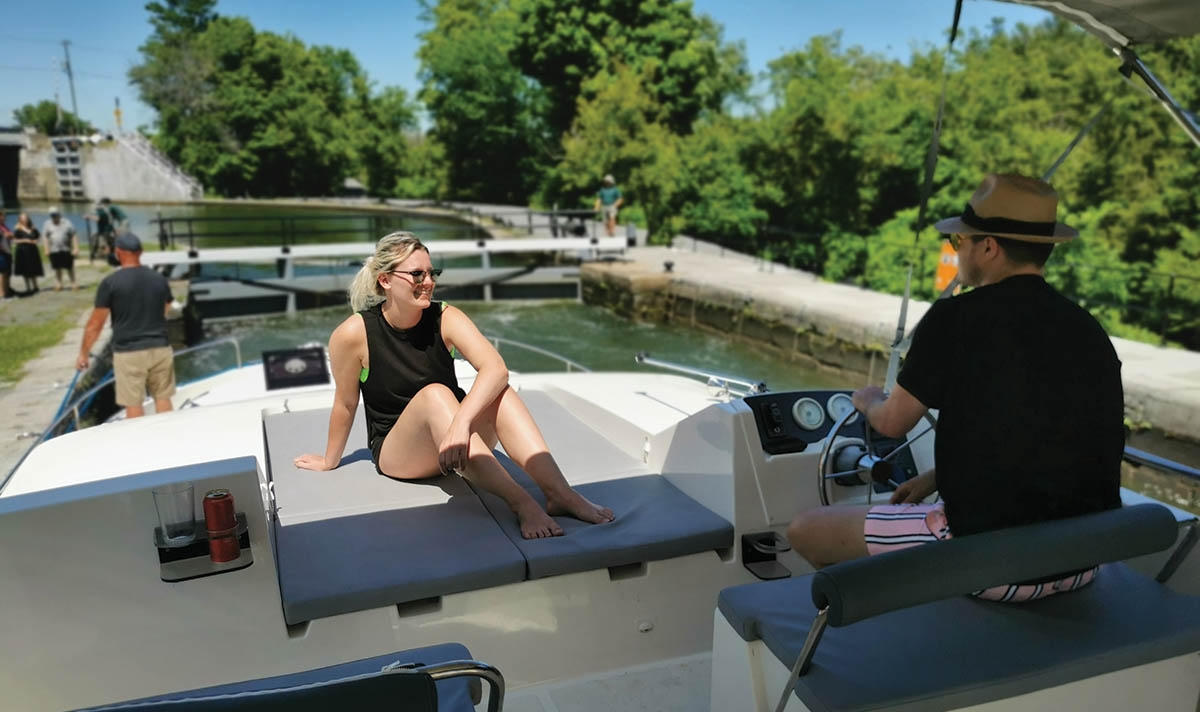 After a pump out and a top up of fresh water, we turned and headed back up the shoreline past the city centre and made our way back towards the Cataraqui River and into the lower portion of the Rideau Canal, on our way back home.
We would swim, eat, drink and play our way back to Smith Falls over the next couple of days.
The Rideau Canal system is usually open between May 20th and October 12th. It can be navigated in as little as three days by power boat, but this doesn't leave much time to enjoy the sights, sounds and history of one of Canada's greatest engineering marvels. That's why it's best with LeBoat.
I'm sure we will do the LeBoat Rideau Canal again. LeBoat also offers holidays where you can explore many of Europe's stunning lakes, rivers, canals and their surrounding villages from the unique perspective of your own LeBoat sundeck. Their vast network of bases across Europe cover over 170 varied cruising routes with over 40 different types of canal boats to choose from. Just choose your destination, and then enjoy the freedom to travel as slow as you want.

www.leboat.ca/en/boating-holidays

Recommended Articles
In this Covid-year, five days on the water brought me much closer to the land we call Canada.
Read full story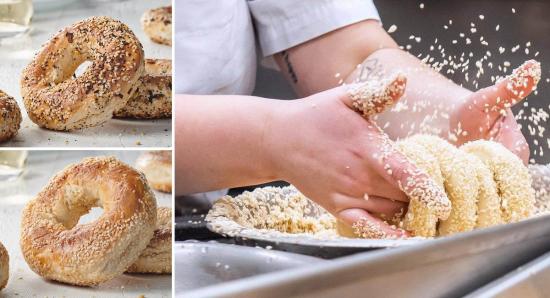 A local favourite for over 28 years, Kettlemans Bagel offers delicious hand-rolled bagels.
Read full story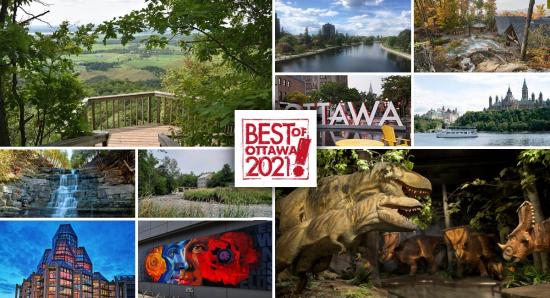 After over 20-years writing about life in Ottawa, we think we have a pretty good idea of the best of what this city has to offer. Check, share and discuss #OLMBest every week!
Read full story
Comments (0)
*Please take note that upon submitting your comment the team at OLM will need to verify it before it shows up below.