Business
Black Fly Beverage Company is all the buzz
Black Fly Beverage Company is all the buzz
Photo: Black Fly Beverage Company Co-founders Cathy Siskind-Kelly and Rob Kelly
---
Starting a business is one of the hardest things to do. Tapping into the beverage market is an even harder task. But not for Cathy Siskind-Kelly and Rob Kelly, co-founders of Black Fly Beverage Company and possibly one of the greatest Canadian entrepreneurial success stories in quite some time.
Since 2005, after receiving the first distillery license granted in Ontario in more than 100 years, Black Fly Beverages has launched 27 flavours of craft produced, significantly less sweet vodka, tequila, rum and gin mixed drinks that include flavours like Black Fly Vodka Cranberry, Tequila Margarita, Vodka Grapefruit and Long Island Iced Tea.
In a landscape of global companies, Black Fly, much like the Canadian-esque insect itself, swooped in undetected and took a large chunk of the market. The beverage company, having recently added a canning line, moved from a 6,000 to new 60,000 square foot plant increasing its output from 97 to 292 pallets (4 to 12 trucks) per day. The company is even getting mentions from none other than Prime Minister Justin Trudeau. During Mike Pence's first official visit to Canada, Trudeau recognized the importance for a new and improved NAFTA agreement, adding, "People like Cathy and Rob of Black Fly Beverage Company in London, Ontario, who sell their products not just across Canada but to customers in 11 U.S. states. They rely on access to the American market."
More natural, less sweet - that's the Black Fly motto! While rival products are made almost exclusively of fructose and artificial flavours, Black Fly beverages are made from a blend of pure juices, carbonated soda and are lightly sweetened with real cane sugar. As the original less sweet RTDs, Black Fly were up to 60% less sweet than competing large brands. Today Black Fly offers a lineup of authentic mixed drink options including a Lemon/Lime Vodka Soda Fizz and Grapefruit Gin Fizz in which the sweetness dropped to only 2 grams of sugar per 100 mL.
"In the Ready-To-Drink (RTD) category, retailers and customers are always excited about what new flavours and formats are available, so innovation really drives the success of brands in our category," explains co-founder Rob Kelly.
Black Fly co-founders Cathy and Rob have such a powerful understanding of what the consumer wants that beverages like their vodka cranberry, Black Fly's original flagship flavour that launched 14 years ago, grew by 23% in Ontario alone last year.
Black Fly's premium spirit beverages are innovative not only in ingredients and taste, but in design, packaging and fun and creative formats. This year the market is a buzz with Black Fly Tequila Shaker Shots; Black Fly's twist on a Tequila Popper that blends 17% tequila, lemon lime soda and a hint of salt. Most intriguing is that they are uniquely served up in big 50mL test-tube-style shots, intended to be shaken and enjoyed.
"We have diversified and expanded our business enormously and we continue to be very unique in the marketplace in that we have our own bottling and canning lines so we are innovating, developing, manufacturing, producing in addition to selling and marketing. With this knowledge and capability we have started co-packing for other brands and are the largest supplier of bulk spirits for RTD production in Canada," says Cathy.
With backgrounds in landscape and construction, Cathy credits naivety as a key motivator in her and Rob's decision to dive head first into an industry they knew nothing about.
"I think the fact that we didn't understand the challenges of the industry allowed us to actually take the plunge into the spirit side of beverage alcohol rather than craft brewing as originally planned, Especially challenging is launching this business in Ontario where the sale of spirits are entirely reliant on LCBO selection and meeting enormous quotas," says Cathy.
Against all odds Black Fly has not only survived but thrived. Rob credits, "… the passionate people that have driven the success of Black Fly. This includes every one of our 55 talented team members devoted to excellence on all levels and especially all the Canadian store staff, managers and our loyal customers who support Canadian and enjoy our beverages."
Black Fly Beverage Company is a truly Canadian choice introducing innovation to a market thirsty for quality drinks. To learn more about the company visit blackflybooze.com.
Recommended Articles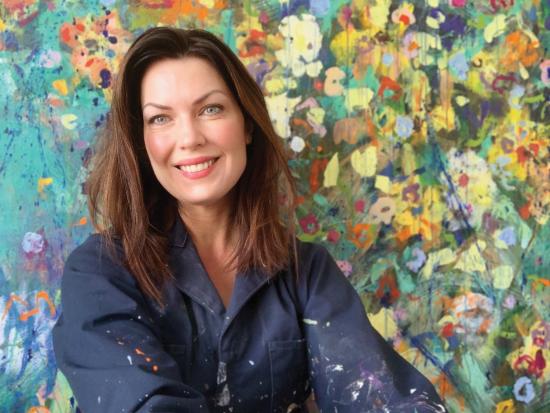 Painting has become a channel for Kirby's thoughts, emotions, and reflections on the human condition, something she explores in great depth as a nurse practitioner.
Read full story
Jonathan Rose and Sherrod Baltimore are starting defensive backs for the Ottawa Redblacks as well as tight-knit friends.
Read full story
Tequila Shaker Shots are the latest innovation from Black Fly Beverages.
Read full story
Comments (0)
*Please take note that upon submitting your comment the team at OLM will need to verify it before it shows up below.