Sports
Calling it: Bolts are done
Calling it: Bolts are done
And now, ladies and gentlemen, we have a series.
Or . . . do we?
Tampa's muscular 6-2 win Monday night against Colorado brought the defending champions back to within a game in the Stanley Cup finale, which now sits 2-1 for the Avs.
I really don't enjoy playing the prediction game (which eliminates me for being a mark for Hockey Night in Canada these days), but while the Tampa win was good for hockey (who truly wants to see a sweep in the final?), the Bolts are done.
Let's examine why. Outside of a couple of quick periods, Colorado's been the much, much better team, displaying a killer speed of play. The opposition has found it impossible to keep up – this is why Tampa had such difficulty eliminating Toronto those many weeks ago. But what the Leafs didn't have, and the Avalanche do is a durable, polished and sometimes spectacular blueline group. Good evening there, Cale Makar.
Monday's win was a determined one from the belt-holders; determined and fortunate. Fortunate to have the guy in goal they did.
But Tampa looks tired. Scratch that, Tampa looks exhausted. Spent.
Add to that – attrition. Already without a game Brayden Point, 26-points-in-20-games star Nikita Kucherov limped off after a tough hit in Monday's third period. All-world defenceman Victor Hedman also appears to be dealing with something. He looks plodding at times.
Exhibit No. 3 – and it's not like you haven't heard this one before – Tampa's been in the grinder for three consecutive seasons. See above regarding the physical taxing and toll but be mindful of the mental fatigue factor as well. The Lightning present as a team that needs a good, long nap.
If that third period Monday was any harbinger of what's to come where Colorado dominated, it's going to be lights out Tampa.
Hard not to buy into that theory.
THOUGHT, SEEN AND HEARD: Has there been a stronger deadline acquisition than Nick Paul? He's been exceptional with the Lightning. You win with these types of guys. Should have ponied up Ottawa . . . The St. Louis Blues were the only ones to tag an 'L' on Colorado this entire post-season. Yowzah. Check that yowzah as Tampa entered the realm of the few Monday night . . . Don't know why but I always get a chuckle watching Tampa's backup, a grey-haired Brian Elliott, jump onto the ice at the end of a Lightning game. This is a guy you'll never see a glimmer of unless Andrei Vasilevskiy loses all four limbs. Still, Elliott's got the best seat in the house. Must be nice . . . Elliott was the second to last player selected in that famed 2003 entry draft. By? Ottawa . . . Elliott's best season with the Senators was 2009-10 when he put up 29 wins . . . Another former Sen on Tampa is Freddie Claesson who's serving his time on the club's taxi squad . . . Bet you just couldn't wait to read 130 words on Brian Elliott and Freddie Claesson . . . Everyone pom-pomming for the Philadelphia Flyers is head over heels with the (head coach) John Tortorella hiring. Everyone else seems to be chuckling with raised eyebrows . . . Meantime, the hiring of Bruce Cassidy in Vegas is getting nothing but rave reviews . . . That firing of Cassidy in Boston appears to be a firing-just-for-the-sake-of-a-shakeup. It makes no sense . . . Does Andrew Brunette return in Florida? No answer here. What I do know is he was one of the best juniors to cover when he was bagging a billion goals or so for the Owen Sound Platers (62 goals/66 games in 1992-93). Classy kid . . . Accurate tweet from Minnesota journalist Ryan Stanzel: "There are a lot of NHL teams watching this Final realizing they in fact aren't "one or two players away" . . . Just two-and-a-half weeks until the draft, folks, in Montreal (July 7-8).
Photo: NHL.com
Recommended Articles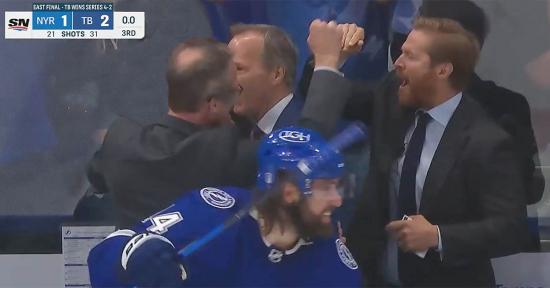 In a very great way, the salary cap was intended more for restriction than anything else. To be more precise – restrictive to any kind of dynasty.
Read full story
Whenever the final begins and whether it's the dark horse Rangers or those Stanley Cup two-timers from Tampa Bay, Colorado has to be considered an overwhelming favourite.
Read full story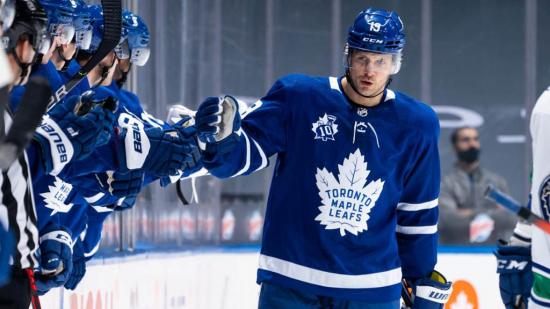 Here it is Ottawa, your absolute favourite subject . . . hello there, Toronto Maple Leafs.
Read full story
Comments (0)
*Please take note that upon submitting your comment the team at OLM will need to verify it before it shows up below.