CanadaDocks — Where fun on the water begins
The national capital region can boast about many things that make for a great standard of living. I'd say easy and quick access to lakes and rivers is at the top of the list. Name another major urban area where cottage country is only 30 minutes from the downtown core. The municipality of Val-des-Monts alone sports 220 lakes, starting just beyond the upper edge of Gatineau. Torontonians, eat your hearts out.
The national capital region can boast about many things that make for a great standard of living. I'd say easy and quick access to lakes and rivers is at the top of the list. Name another major urban area where cottage country is only 30 minutes from the downtown core. The municipality of Val-des-Monts alone sports 220 lakes, starting just beyond the upper edge of Gatineau. Torontonians, eat your hearts out.
For many local residents, cottage life is a year-round love affair with a quick commute into the city. Lakes like MacGregor, Grand, and Meech feel more like neighbourhoods with all of the amenities of suburbs minus the asphalt. Whether it's full-time, summer time, or a day visit, the dock is the gathering place for families and friends, and the heart of fun for any waterfront property. Slap some lumber and Styrofoam together, attach a car battery to an electric motor, and you've got a party barge. You'll find signs attached to hydro poles about some local guy who'll build one for you. Unfortunately, it will eventually fall apart and have to be dragged to the dump. If you're looking for a dock that's pre-made, easy to assemble, with a 25-year warranty, and delivered to your waterfront property, then that's where CanadaDocks comes in.
The company was founded in 2006 and produces the only formed aluminum, bolt-together, do-it-yourself dock kits on the market. The engineering is impressive and based on automotive manufacturing techniques. Strength is derived from forming each truss from a single sheet of marine-grade aluminum, which eliminates the weakness of welded joints. The process uses less material, making the dock sections lightweight, eco-friendly, and strong. Each dock kit is packed in easy to handle boxes for quick and convenient delivery.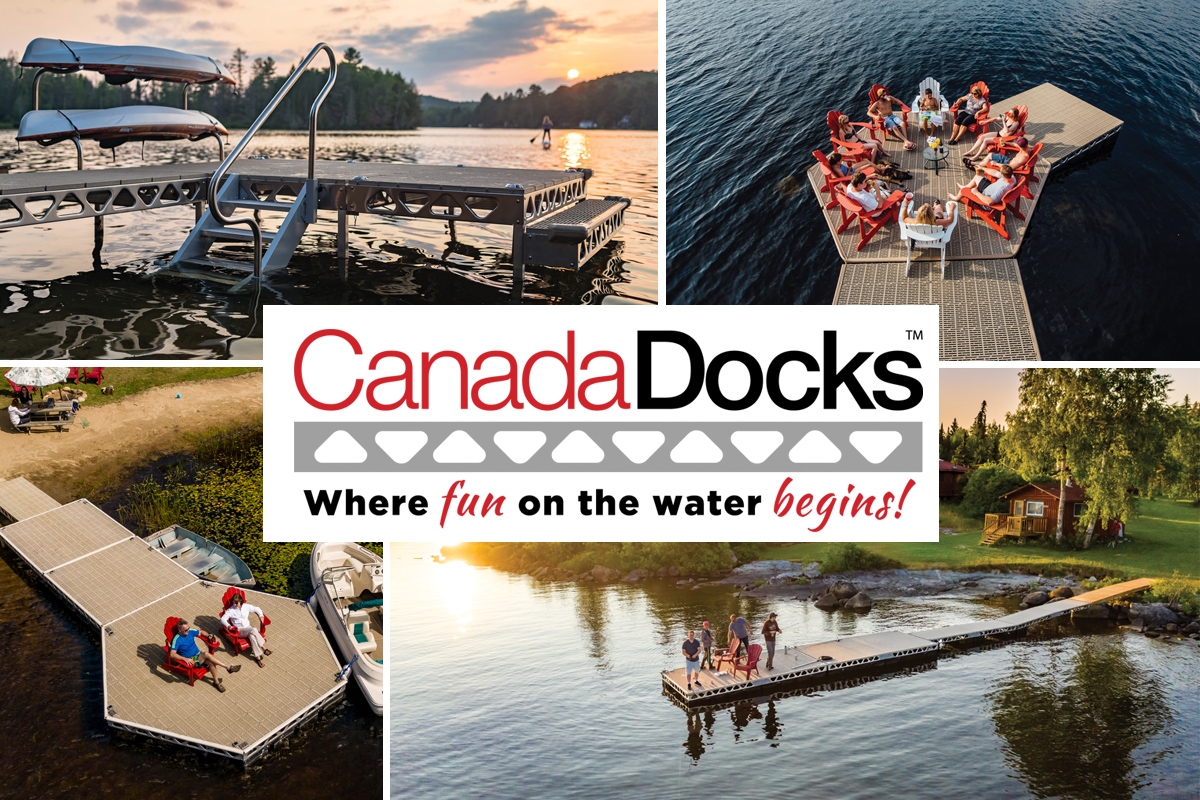 The CanadaDocks provides easy to read instructions with every product they make, there are even instructional videos and PDFs available on their website. A good thing, since nobody wants cottage time turned into an exercise in aggravation (that's what extended family is for). All you have to do is await delivery, gather together a basic toolkit, set aside a day and you'll have a lightweight, solid dock assembled, installed and ready for coolers and beer by happy hour. In the case of peculiar locations, an installation expert may be required and is readily available through local authorized dealers. There is even assistance with seasonal removal, which is recommended for docks on bodies of water that freeze over the standing sections. Don't let summer laziness stand in your way. CanadaDocks dealers with help with the build and installation, no matter what.
No two shorelines or lake bottoms are the same, so CanadaDocks offers a range of products that fit together like puzzle pieces. There's your classic standing dock with telescopic legs that adjust to create a level surface over uneven terrain. Leg extensions go deeper. There's the floating dock option, built upon a product known as Eagle floats; another seriously-engineered component that provides maximum buoyancy and durability while avoiding the pollutive effects of Styrofoam that disintegrates into little blue fragments as it bumps up against rocks. There are ramps to connect land to dock, and boat lifts for getting watercraft up and out of the way of repeated impacts in choppy water. Finally, there's a wide range of accessories to connect, anchor, illuminate, and access the final design. My personal favourite is the solar light safety ring station. Did I mention the CanadaDocks' product line is also super good looking? The best part is the docks will stay good looking for years to come due to the anodized aluminum, stainless steel hardware, and plastic composite decking, which creates the ultimate maintenance free dock. So, you can spend your time at the cottage, actually enjoying the cottage!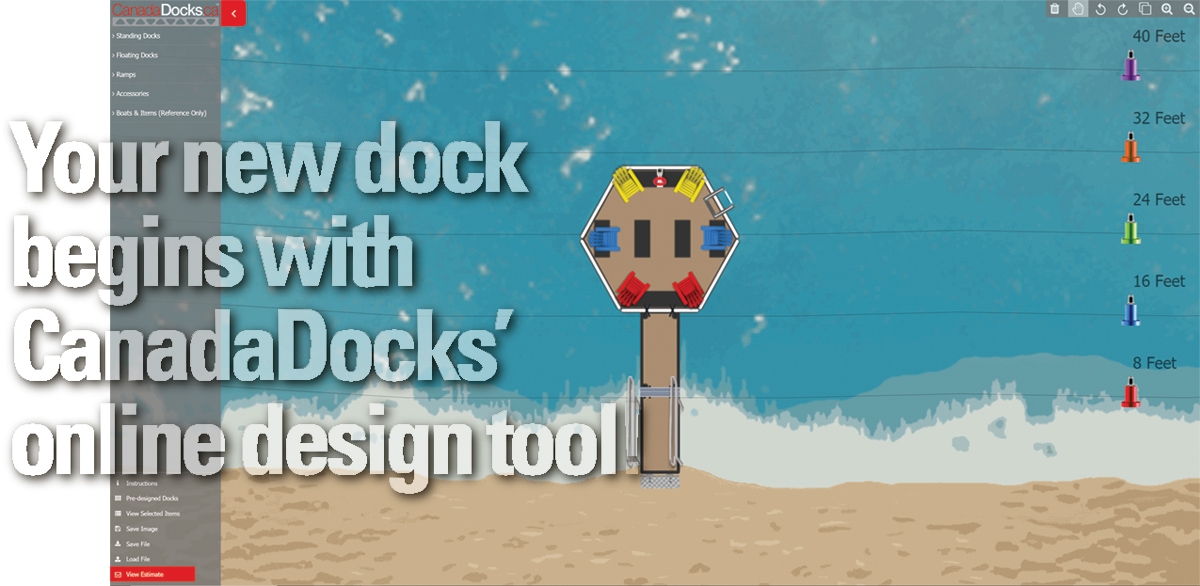 Your new dock begins with CanadaDocks' online design tool. I created a plan for my own shoreline in Val-des-Monts, which, coincidentally, needs a new dock. Like all waterfront, it's a bit complicated, so CanadaDocks' modular puzzle pieces will provide the right solution once you determine the requirements. Chez moi, the terrain leading to the water is level, but is interrupted by a shoreline of stacked rocks whose average size makes them impossible to move by hand. Once over and into the water, the bottom is sandy and gently slopes out. The goal is to make the transition from rock barrier to lake, and then to get the thing extended out enough to make a running cannonball into the depths. It'd also be nice to ladder in, or step onto the sandy, shallow spots to walk in with a floaty noodle. A large surface is essential for furniture, planters, and social distancing from that one sweaty guy who shows up empty-handed.
The online tool is built around a step-by-step tutorial, which is a good thing for someone like me for whom the term 'idiot-proof' was coined. Select the standing, floating, or mixed component option, and the fun begins (and it really is fun!). I selected the mixed dock type, which popped open a set of instructions that prepares you for the interactive visual designer to follow. Once inside, you can grasp and click together individual pieces or assemblages of pieces to make bigger assemblages. A panning feature lets you view your creation from different locations along the handy background, which depicts a shoreline with bench-marks at 8, 16, 24, and 32 feet.
Okay, so step one is over the rocks from shore to dock. I select a 4'x8' ramp, and somehow the intuitive tool then recommends a 4'x8' section of standing dock, which makes sense at this point because the gentle slope will not allow for a floating section so close to shore. I use a 4' transition ramp as the first step from land, making it easier to roll furniture or unruly guests on and off the thing. There is the option of stairs with a railing, but the elevation gain is not that great.
Now that I'm out on the water, it's time to build a large floating surface, and this is where CanadaDocks has a ton of choices to suit all needs. The longest piece in the catalogue measures 8'x48'! I don't need it, but a cedar-lined lake with a mulch-filled bottom and tall weeds would. There is a variety of squares and rectangles of different dimensions. I chose the 16' hexagon to accommodate a chair in each of the six angles. That leaves plenty of room for a table in the middle. The online tool recommends accessories for connecting the whole thing together, to which I add a couple of railings, a ladder, and the solar post with life ring. Once you're done, it will generate an estimate. My only question is: can I detach the hexagon and electric-motor it around the lake?
Like all great companies with an engaging online presence, CanadaDocks offers real-people support and sales through its network of dealers, four of whom are located in Eastern Ontario. The company provides financing up to $10,000 OAC that can be paid off in full at any time without penalty. The whole process is meant to be as easy as possible. All CanadaDocks frames come with a limited lifetime warranty; as they say: "We guarantee that our dock kits will last for generations giving you peace of mind when choosing a new dock for your waterfront property."
CanadaDocks' informative website is filled with lots of answers and a great photo gallery that will have you imagining and realizing an easy-breezy dock experience in no time. Summer is short, so get out there and make the most of it.
Recommended Articles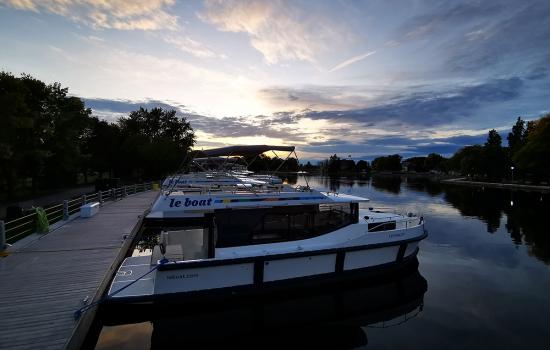 If you are looking for a summer vacation close to home, you can't go wrong with Le Boat.
Read full story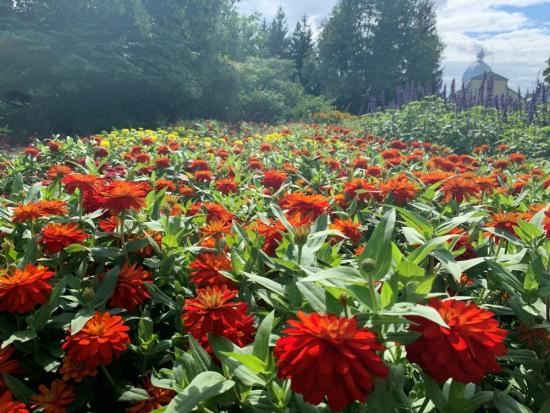 Get outside and enjoy Ottawa's lesser known public gardens with your family.
Read full story

There are many beautiful small towns waiting to be discovered by Ottawa residents who want to get out of the house.
Read full story
Comments (0)
*Please take note that upon submitting your comment the team at OLM will need to verify it before it shows up below.