Capital Comedy Review: More semi-finals, Jeremy Hotz and a Cornwall show
From left: Rynestone, Clint Gibbons, Mike Bombay, Kyle Mesdag and Jesse Reynolds
---
Like most people, I used to rely on traditional methods to sense the close of summer and the corresponding approach of autumn. Things like leaves changing and days getting shorter. More recently my summer has become measured in step with the Mike MacDonald Summer Comedy Competition at Yuk Yuk's and fall must be coming because we've just completed the semi-finals and we're about to crown a new champion.
So it was last Tuesday and Wednesday in the second round of semi-finals that we determined the competitors going to the wild card show, and those going straight to the finals. Both shows were hosted by local favourite comedy magician, Rynestone, who wowed both of the crowds with his act. Tuesday night's feature was the one and only Glen Foster, aka That Canadian Guy, who closed the show strong and then on Wednesday sweet baby Mitch Muirhead featured putting a nice cap on the semi-final rounds.
These shows, like the previous week, were certainly approaching professional calibre comedy. In the semi-finals, eight contestants perform. The top two by judge's vote go straight to the finals, and the next two, determined by audience vote go into a wild card round, which will end up being eight contestants again, one of whom will advance to the finals, leaving a total of nine finalists. This past week Abdullah Usman, Mark Hatfield, advanced to the Wild Card show, and Abdul, Rory Gardiner, Kyle Mesdag and Jesse Reynolds advanced directly to the final.
The finals of the Mike MacDonald Summer Comedy Competition go Wednesday August 28, the same day this is published. If there happen to be tickets left, snap them up soon, because this is going to be a really great show, and the winner walks away with $1000 and a pretty decent credit as well. Several competition winners have gone on to be touring professional comedians, while others have disappeared never to be heard from again. Who knows what will happen this year? Check it out.
The complete list of finalists includes Abdul, Rory, Kyle and Jesse, along with the winners from the previous week including Aaron Hill, Adam Adjokatcher, Michael Lifshitz and Christina Muehlberger and the lone winner of the Wild Card show, Dan Allaire.
That sounds like an action packed start to the week, yes, but Thursday was also something very special. Thursday night featured back-to-back sold out shows with the incredible Ottawa comedy icon, Jeremy Hotz. When your club has been open thirty five years, and produced some of the finest talent in the comedy world, sometimes these people come home to visit and while here they either drop in and perform for free, or just watch the show, or they have their own shows. In the case of Jeremy Hotz he did all of these things.
Jeremy has been in town for a few weeks. In that time, he has frequently dropped into the club where we let him go on any time he wants. Other times he would just come in to watch a show which is super cool. He'd come and stand with me and we'd discuss the show, or the comic or specific jokes. It is my experience that the very best comics also happen to be the kindest to club staff and in general. This is certainly true for Jeremy. Then, on Thursday he headlined two sold out shows at Yuk Yuk's Ottawa and he was incredible.
The early show was hosted by Josh Elijah who did very well getting the crowd going. Alex Tsakanikas and Rachelle Elie both preceded Jeremy, also doing a great job. Then Jeremy Hotz took the stage to thunderous applause, and immediately had the crowd howling. At the close of his set he received a standing ovation.
I got to do a spot on the late show, which was phenomenal. The energy in a crowd, who are anticipating a big deal act that they paid a premium for, can't really be compared. I performed for about ten minutes, doing pretty much all of my best jokes to an overwhelmingly positive crowd. It was amazing. Jeremy performed again to a standing ovation, and after the show, he hung out with his pup Shackleton, taking pictures with his fans. Truly this was one of my favourite nights in the club. A guy came up to me after the show to chat and asked, "Have you ever been on Just for Laughs?" which was amusing to me as I stood there washing glassware. (I have never been on JFL haha).
The next night, Friday, I was on a show away from the club, near Cornwall. I got to host a show for Derek Seguin, another of the best in the land, with Nigel Grinstead, a fabulous headliner in his own right, and opener Wardie Leppan. Outside shows are interesting. They pay better, but they also come with their own unique challenges. For instance, a show in a comedy club comes with club staff that is going to tell people to be quiet and properly run a comedy show.
When you get to do an outside show, often it seems like you're on your own with the crowd and at the mercy of a number of small challenges including stage, sound and lighting not necessarily optimized for comedy.
So it was that we found ourselves in front of a Cornwall crowd that had clearly been day drinking for two months. In spite of challenges, everyone did well. Short, succinct jokes with a strong punch went better than meandering, amusing stories, and for sure Derek and Nigel were super professional and able to handle all of the circumstances that arose and they both had the crowd applauding. By the end of the show, Derek had destroyed as usual and all was very well.
With that my week in Ottawa comedy came to a close.
Certainly last week was one of the best for a few reasons. Performing with Jeremy and Derek was a real thrill, and I'm super excited to find out who is going to win the competition this year. The finals are happening Wednesday the 28th. Come down to Yuk Yuk's on Elgin to find out who's going home with $1000 and a pretty good comedy credit.
Thank you for reading :)
Recommended Articles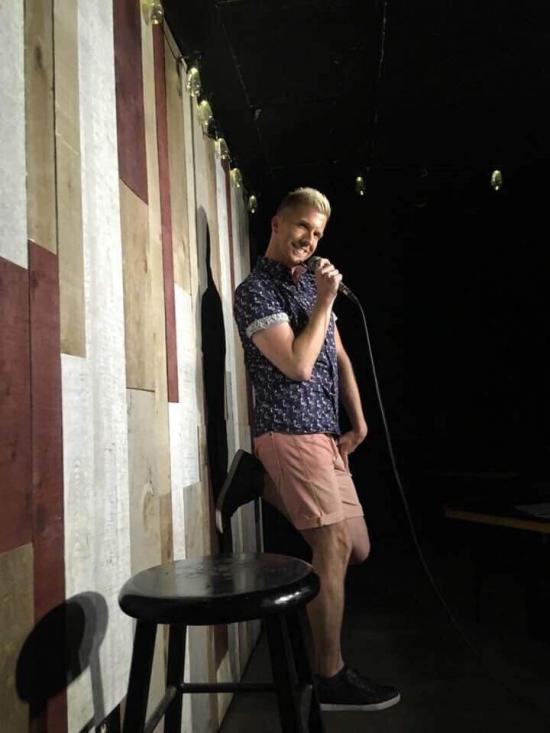 Join Ottawa's rainbow community at a handful of signature Capital Pride events this week!
Read full story
Ottawa is basically a world superpower city for the production of stand up comics.
Read full story
Comments (0)
*Please take note that upon submitting your comment the team at OLM will need to verify it before it shows up below.