Carving Space in The World's Human Landscape
Photo credit: Radhika Shastri
---
Gone are the days of the traditional stuffy art scene. Indigenous and ethnic-minority art is making its presence known across the art and fashion world in a big way. Art can be a powerful medium to bring people together, to share deeper messages about culture and, in many ways, transform people's lives. One woman is changing the way we look at Indigenous and ethnic-minority art through a new and innovative space.
Lineage Arts opened its doors at 196 Bank Street in April. A dream brought to life by owner Suny Jacob, the gallery is dedicated to displaying art from Indigenous and ethnic-minority artists around the world. A wide, open space with big windows, and breathtaking art pieces. The place is a quiet, comfortable, and fascinating haven from the busy downtown streets.
With a long and impressive career in advocacy, Suny has spent close to a decade in Nunavut empowering women and children who have experienced various forms of violence. When asked about her decision to move to Nunavut, she replies that her passion to support people who are marginalized, like she once was, pushed her to make the move.
Having spent significant time there, she has established a strong network with local Inuit artists. The gallery displays multiple artists from the community. "When you curate many different pieces, you see different representations of what Inuit art is" explains Suny.
For several months they will display Inuit and First Nations art. Throughout the year, the gallery will rotate through their collection to display art from other Indigenous and ethnic minority groups across the world. One of the challenges that the gallery faces at this stage is providing artists with the support they need to manage what are often difficult personal circumstances. The two components of the gallery, business and advocacy, are two mindsets that are not always easy to inhabit simultaneously. "We provide artists with certain things they really need in order to make art, but they need more than just materials," says Suny. "There are more personal issues in their lives than most people see from the outside. As a business we need to find ways to support these artists to get their career moving forward. This personal level, for us, is advocacy — how can we support them to improve their livelihoods?"
When artists come by the gallery, Suny puts her trust in their skill and provides them with the material they need to make their art. From a business perspective, she recognizes the risk she's taking by having faith in people. So far, her faith has been rewarded and the gallery is proving to be a safe and productive space.
Lineage Arts is well-named. The name is about heritage, where one comes from and their story. As Suny explains, the very concept of Lineage Arts is rooted in the idea that "if you're an artist and you've got a story that you can channel into your art (whatever you perceive it to be) then you've got a space here." The gallery has a generous definition of art. "You'll see pieces here that are jewelry, and that can be very controversial for some people — there seems to be this disagreement between people in fashion and art — is fashion art?"
For owner Suny, the two are not mutually exclusive. She recounts the story of a woman from the Algonquin nation while bringing forward a pair of beautiful earrings. Made from birch bark, the earrings are so delicate and perfect they almost look polished. The artist described birch bark as a powerful medicine and historical tool that cured the white man's scurvy upon his arrival on North American shores. "She took material that has great significance to her life and she made it into what she perceives to be art. This is where art comes from. Many art galleries put pictures and sculptures up and leave it at that. But if someone comes to us with something like this which is important to them, I value those pieces."
In describing her reasons for opening the gallery in Ottawa, Suny says "most of the time Ottawa was my gateway to get to and from Iqaluit. We also have a huge Inuit population here. I worked with many families during the last 9 years and I've seen many of them, all coming from very talented families, in need of support, coming here to Ottawa. A lot of them struggle with mental health and addictions. And so, due to many of their personal circumstances they end up on the street. Since this is our Capital, it's an ideal place to encourage a discussion about these topics."
Recognizing how an artist's personal life impacts their art is crucial to working with and accommodating an artist. "It's tough to continue your trade if you struggle with substance abuse or homelessness. Many people think 'they have homeless shelters', but no — homeless shelters are very rarely suitable healing environments. We need to figure out how best we can support them."
"Many of the artists we're working with are facing these huge challenges, which means that we are too," adds Suny.
Within a few weeks of opening their doors, the gallery organized a workshop to teach participants how to make sealskin flowers. If you're looking to get involved, to support individuals and cultural traditions from Indigenous and minority groups, then check out the workshops Lineage Arts hosts. Suny made sure to emphasize that the gallery is always looking for people to lead workshops, no experience needed. Just an idea! She also believes that these workshops are a great learning opportunity for people across cultures.
Art is a valuable tool for learning about cultures and people. "There are so many stereotypes about each culture; if you don't like the way your culture is being presented to the public, then feel free to use this space as a platform to change that perception. If you have ideas and you need support bringing them to life, then bring yourself over, we're here to support you through art and public engagement!"
The backbone of Lineage Arts is made up of history, culture, and memory. When people become a 'minority', whether through immigration, oppression, or historical neglect, must they lose their heritage? Must new generations forget the past and how do they move forward? This heroic artistic space is patiently asking these questions, and slowly but surely making its mark on Canada's human landscape.
Visit the gallery at 196 Bank Street or check out their website at www.lineagearts.ca.
Recommended Articles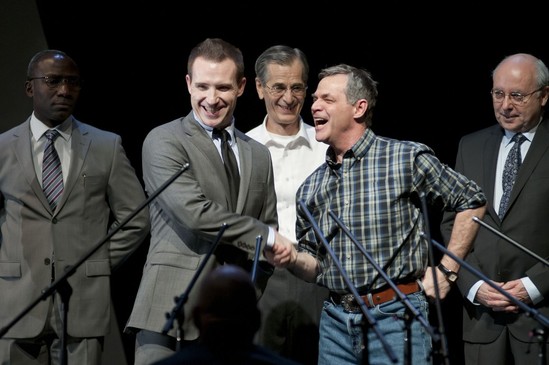 Photo courtesy of Andree Lanthier Take yourself back to post 9/11, to the time of George W. Bush'...
Read full story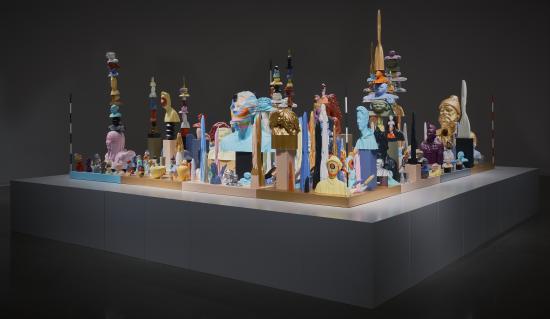 The conversation turned to the evolution of portraiture and what a 3D portrait of the nation could look like.
Read full story
Born and raised in Winnipeg, with an ancestry rooted in Britain and Switzerland, Lennard Taylor makes designs that belong at the Grand Palais catwalk. Every brushstroke blossoms into a work of art; every piece is individually crafted by the artist's hands.
Read full story
Comments (0)
*Please take note that upon submitting your comment the team at OLM will need to verify it before it shows up below.