Food & Wine
Chef Ana Martorell wants to bring the flavours of Mexico to the world
Chef Ana Martorell wants to bring the flavours of Mexico to the world
Photos by Alison Larabie Chase
---
When I meet Chef Ana Martorell, she is standing at the stove in the kitchen of the Mexican Ambassador's residence in Ottawa, lightly charring thin slices of avocado on a cast-iron grill in preparation for a dinner to be held that evening. Grilling avocado?
"It changes the flavour; people don't expect it," she tells me. "I'm a little bit crazy, but people like something new and different."
I wouldn't go as far as crazy, but passionate just about covers it. Chef Martorell, who lives in Mexico City, is on a self-described mission to bring the flavours of her country to the world. Last week, that mission brought her to Canada, to offer her take on modern Mexican cuisine at an annual Pacific Alliance gastronomic event hosted by the Speaker of the House of Commons. (Canada is currently negotiating associate membership in the Alliance, a trade pact between Chile, Colombia, Mexico, and Peru.) This was the fifth year for the food event, which is understandably popular among parliamentarians.
Martorell stayed on to cater a dinner for the Mexican Ambassador to Canada and a dozen lucky guests at the residence on Thursday evening, and I spent an enjoyable hour talking with and observing her in the kitchen.
Her new restaurant in Mexico City, Aida, opened just 15 days before she hopped on a plane to Canada, so you'd think she would be stressed out. But Martorell is cool as a cucumber, chatting with me while arranging slices of grilled avocado into flower shapes and topping each plate with a handful of softly grilled radish slices.
"We'll finish this with a sweet balsamic dressing," she says, turning her attention to the next course, a soup of pink molé. It's her own recipe, brought from Mexico along with a few other ingredients that couldn't be sourced locally. Its ingredients include chiles, beets, rose petals, white chocolate, and tomatoes, among many others. The word molé means sauce (hence, guacamole, or "avocado sauce"), and Mexican molés are incredibly complex concoctions that come in a variety of colours and flavours. Pink is a rarity, though Martorell hastens to add that she's not the only chef doing it.
She expertly stirs the thick, deep fuchsia paste into heavy cream and warms it to create a glossy, bright pink soup that resembles a strawberry milkshake. Then she pours it into a blender, sets it running, and takes off the lid to season the mixture as it blends. My jaw drops at the confidence it takes to nonchalantly run an open, nearly-full blender of hot soup. This is expert-level stuff.
When it's done, I'm offered a tiny spoon to dip into the mixture. It tastes of smoke, and earth, and vegetables, but certainly not strawberries. It's one of the most unusual things I've ever tried, and I love it.
"When I gave a cooking class on molés, I created a whole rainbow of them: pink, white, orange, green," Martorell says. She began teaching cooking classes out of her home in the evenings (a practice she continues to this day) after receiving her certification from Mexico's Cordon Bleu program. She soon branched out into catering for special events of various sizes, and then opened her first restaurant, Aromas, which she left last year to start Aida.
This is not the first time she's represented her country abroad: Last October, she traveled to Doha, Qatar, for a week of events under the title Flavours of Mexico.
"It was nice to see they loved Mexican food, but they didn't know what to expect. We have to show the world what we have. I think we haven't done that [in the past]," she says.
"My mission is to go out and show the world what we are made of," she says of her native country and its cuisine. "I consider it my duty to show that we have really great food, not just nachos. That's Tex-Mex… We are not sitting in our serapes and sombreros, eating nachos."
Fair point. Shows like Ugly Delicious and Chef's Table on Netflix have recently demonstrated that Mexican chefs like Enrique Olvera (Pujol) and Eduardo García (Maximo Bistrot) are revolutionizing what we think of as Mexican food.
Martorell, too, is a proponent of modern Mexican cuisine, using ancestral ingredients combined with new ones and in new ways to create something unique, yet still authentically Mexican. For the Pacific Alliance event, she covered crisp corn tortillas with melted chocolate and topped them with foie gras. When I left her in the Ambassador's kitchen, she was about to prepare Mexican chocolate soufflés baked in unglazed terra cotta pots "so the flavours of the clay can infuse into the dessert."
She believes that her calling is to bring awareness and appreciation of Mexican food not only to other countries, but also to her own. It's a challenge, but one she intends to rise to.
"First of all, Mexicans, they don't want [Mexican food]. If I can convince Mexicans to try great food, that we have
wonderful ingredients, ancestral sauces like molé, and that we can make something amazing…"
I ask her what the most important ingredients and flavours of Mexican food are. "Chiles, of course. They are a part of us. All of our food has strong flavours, we use a lot of spice. Corn, too, in all its presentations. I love to cook with corn." She adds that there are many regional cuisines in Mexico, as there are in many countries.
"You have to go to Mexico to understand our cuisine. We have many different states – Oaxaca, Yucatán, Puebla – you have to visit all the states. But if you can't, then we [as chefs] have to do more to show people Mexican gastronomy. We have to entice people to go, and then to open real Mexican restaurants in their country. I think convincing people we have great food will convince them to visit Mexico."
Martorell calls Mexico City "the biggest gastronomic city after New York. We have great chefs and restaurants; it's our job to show it off."
"I can't travel with a beach, but I can bring food! I'm proud of my country. I always say yes to invitations like this one. It's so important to do this. The faces of people when they try the food makes it worth it."
Canadians visiting Mexico's coastlines, take note: consider venturing away from the beach and seeing what new and exciting flavours you can discover. As for me, Chef Martorell, consider your mission accomplished: I'm a believer. Book me on the next flight.
At home, make your own Mexican feast with Mahatma Rice. Mahatma's website offer a wide variety of recipes from mahatmarice.com/recipes/traditional-mexican-rice/ to Rice Tomales, Huevos Rancheros Enchiladas, and even Rice pudding.
Recommended Articles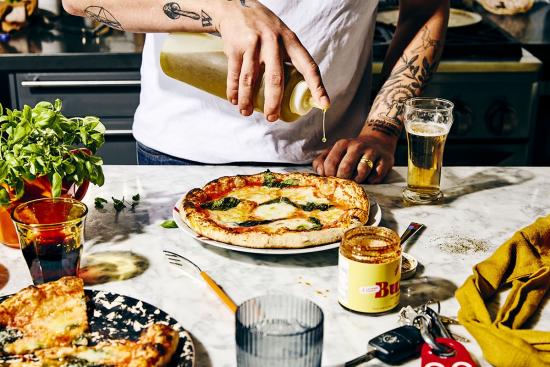 Toronto's best-kept secret has come to Ottawa: a revolutionary frozen pizza delivery service by General Assembly Pizza.
Read full story
The Mexico Tourism Board invited Ottawa to Experience Mexico this past weekend. The free and interactive exhibit was held at the Horticultural Building and attracted over 15,000 local residents who had the opportunity to explore Mexico's vibrant cultural mosaic.
Read full story
If you're going to name your restaurant after a place you have to catch a tornado to get to, it's on point to have a location that's a little hard to find. Oz Kafe is now two for two on that count.
Read full story
Comments (0)
*Please take note that upon submitting your comment the team at OLM will need to verify it before it shows up below.