Classic Canadian Television Comes to Comic Con
Ottawa Life's Festival City Series is back! We'll provide a unique look at some of your favourite events.
We'll go beyond the music with artist interviews, volunteer profiles, concert reviews and spotlights on
the tastes, sights and sounds of the festival season.

Your city! Your festivals!
Like a good sunscreen, Ottawa Life has you covered.
---
Feature photo by Andre Gagne: Cast of Degrassi Junoir High (Kristen Bourne, Stefan Brogren, Stacie Mistysyn and Pat Mastroianni)
---
If you were a Canuck growing up in the 80s you…
Actually, hold up. "Everybody wants something, they'll never give up!" Song now stuck in your head? Good. Now, as I was saying.
If you were a Canuck growing up in the 80s you might get all gushy kinda' nostalgic when thinking about that tune, The Zit Remedy, copious amounts of slime, Tickle Trunks, blue skies, Barfy Burgers, girls! One particular girl. Yes, you were Little Miss Perfect, Miss Goody-Two Shoes and even the Ice Princess but, Caitlin Ryan, you were the angel of my TV dreams. And Joey Jeremiah, Snake was wrongola. You weren't't Mr. All-Time-Loser. Man, everybody wished they rock a fedora like you.
And who could forget Creme de peanut, Barth's Burgery and the kindly old man with his trunk full of endless costumes? Really, I don't know.

AHHHH!!!!
I should have saw the slime coming. Anybody got any water?
AHHHHH!!!
Good times…good times, and it's that kind of nostalgia that Cliff Caporale and his Ottawa Comic Con crew were looking to bring when reuniting the casts of two iconic, but exceptionally dissimilar, Canadian television shows and showcasing a panel devoted to another show that help raise many of us. Just in time for Canada's 150th birthday, panels and Q&As for Degrassi Junior High, You Can't Do That on Television and the beloved Mr. Dressup all drew in big crowds of fans to share in the memories. It's something that still surprises those connected to shows now over 30 years old.
"It took about 30 years to get here," actor Pat Mastroianni, who played the loveable fedora wearing joker Joey Jeremiah, tells Ottawa Life. To him, even when acting in the show, it was unsure if what would go on to become so central to the Canadian identity would even be back each year.
Looking over the crowd of fans lining up for autographs, some dressed as characters from the show, Mastroianni feels Degrassi endured to be that integral part in the coming of age of so many 80s and 90s Canadian youths because it was a show that related to them. It was made very real by a cast that wasn't snazed up and gloss coated like their 90210 American counterparts.
"We were urban, we were street. We weren't necessarily the most attractive cast on television. But people related to use because we wore regular clothes. We weren't trying to be stylized, sharp and slick. It wasn't about the glam." he says, explaining that Degrassi was a story and character driven show that looked at what real youth were going through and dealt with it head on in a sometimes controversial fashion.
Premiering one Sunday afternoon in January of 1987, Degrassi Junior High's subjects dealt with teen pregnancy, divorce, drugs, AIDS, child abuse, and homosexuality, all heavy topics not being discussed in real 19080]s classrooms. Degrassi didn't sweep anything under the rug.
"When our show came out a lot of adults were watching it wondering how we were telling these stories," said Stefan Brogren (Archie "Snake" Simpson) during a 30th Anniversary cast reunion Q&A with Mastroianni, Stacie Mistysyn (Caitlin Ryan) and Kristen Bourne (Tessa Campanelli).
"We got a lot of hate mail about interracial relationships. Or the abortion episode. In the States there was a real sense that this was too hot to talk about."
That censorship didn't occur in Canada, however, where the show was allowed to tackle those tougher storylines unimpeded, something that wasn't lost on the kids who were watching. Mastroianni related how they would receive mail all the time for advice, as though the cast was looked upon as a sort of Kids Help Phone despite being kids themselves. The fiction walking the line of actual issues kids were facing made Degrassi much more then the average television to those watching it. So real, in fact, that cast members still get people walking up to them on the street asking if they went to school together.
"Our stories were simple but honest. We never talked down to our audience and it was always through the eyes of the kids, the students. It was about kids learning there were consequences for decisions that they made, good or bad, and I think our audience appreciated that," says Mastroianni.
Another show that pushed the envelope, albeit in a very different way, was Ottawa's own You Can't Do That on Television.
Debuting in early 1979 and shot in the CJOH studios, the show was a mashup of comedy skits, music videos and fake commercials that was like a mix of Saturday Night Live, Monty Python and SCTV all geared towards kids.
First airing on Saturday mornings alongside shows on other networks looking for the "teachable moments", YCDTOTV actually went out of its way to ensure it wasn't educational by being as wacky and irreverent as possible. The show featured firing squads, cannibal cooks and beer swigging, chain-smoking loudmouths. Not something you'd connect to your usual children's programming. It was funny, made adults look kind of dumb and was often really gross. Of course kids loved it!
Originally, the only "dumb adult" on the show was the late Les Lye. A class act comedian, he started his career as a CFRA radio announcer before joining CJOH in 1961 as a freelancer where he co-created Uncle Willy & Floyd. Though the show ran for over 20 years, Lye is probably best remembered as the multiple characters he played on YCDTOTV. Snake Eyes the bus driver, El Capitano the firing squad commander, a German jailer, Blip the arcade owner and, of course, the worst chef ever, Barth, were all standouts on a show where the veteran helped nurture the younger talent while simultaneously trying to gross them out.
He would be joined by actress Abby Hagyard as the show's other adult in 1982.
Hagyard would reunite with a group she still calls "her kids" for a Saturday Comic Con panel. Christine "Moose" McGlade, one of the series most memorable kids (outside of Alanis Morissette, of course), sat in with Douglas Ptolemy, Justin Cammy and Stephanie Bauder to share some of the gooey details on what it was like growing up on such a wild series.
"Every time I got slimed was fabulous," McGlade sarcastically joked with the fans. "I never knew what the put in the slime and if I did and I told you they'd have to kill me. It felt like papier-mâché in your hair. I'd be picking it out in class a week later. It was coming out of my ears."
McGlade touches upon how the kids on the show, unlike those who had on set tutors, had to attend regular school. The show would shoot after classes or on the weekends with some of the talent enjoying the added attention from classmates and some, well, not so much.
"They lived two lives. They had their regular lives and then this crazy life. They would transition from one to the other and that was pretty crazy, I think, for kids growing up," said Hagyard.
Much like Degrassi, the actors had no idea the show they were working on would become so cherished to those who grew up watching it nor how it would influence shows today that share a similar mentality of not pandering down to kids but taking their side.
"You Can't Do That on Television was the grandfather of a lot of those types of shows you see now. It wasn't didactic, it wasn't meant to raise children in terms of how to behave. It showed children how adults are foolish. In some ways the shows now owe something to the ground that You Can't Do That on Television Broke," explained Cammy who joined the show in 1983.
By the time Cammy's first scene hit the airwaves, one where he was playing a sitar while dressed in a diaper (don't ask), the show had been picked up by new youth-oriented network Nickelodeon. The American network partnered up with CJOH and oddly saw a ratings raise in the U.S. while the show declined in Canada. For many, this writer included, people didn't discover YCDTOTV until YTV picked up in 1989.
It may have taken a bit of time to get to know Barth, Moose and Motormouth Ruddy but everybody knew who Mr. Dressup was. Just thinking back to Alligator Al, the Wise Old Owl and, of course, Casey and Finnegan bring up cherished memories of childhoods by the television.
One of these fans was Del Roba who took a packed EY Centre room for a trip down memory lane with an informative presentation on the series and star Ernie Coombs. It was one that affected multiple generations as it ran on the CBC from 1967 to 1996 teaching kids how to sing, dance and use their imagination over a mammoth run of 4,000 episodes.
Coombs, shockingly not Canadian, we were informed, was originally and understudy to Mr. Rogers. Mr. Dressup certainly shares a lot of the DNA from that popular children's show while still developing its own cast of characters and guest stars.
Casey, we learned, was left gender ambiguous on purpose so the puppet could be relatable to both little girls and boys, something Coombs would leave a mystery. When asked a typical exchange went something like this:
"Is Casey a boy or a girl?"
"What do you think?"
No matter what gender the child would say, Coombs replied with a warm smile and said:

"You're right!"
While usually at the Con giving talks on her other childhood hero, Jim Henson, Roba decided to change it up because of the significance of the sesquicentennial. In a blog post, she shared that Mr. Dressup was "the reason many of us love costumes". Those gathered with handmade attires from every branch of fandom nodded in approval.
A cosplayer herself, Roba showed off what has quickly become one of her most loved articles of clothing. While looking on Kijiji she discovered t-shirt gold (ok, more like yellow) in an original Mr. Dressup shirt signed by the man himself!
"I had to have it," she beamed.
Seeing Roba's eyes light up talking about her childhood hero, hearing those share their favorite gross-out moment from You Can't Do That on Television or tear-filled Degrassi memories reinforced how shows like these go on to transcend the medium. They become more. They become ingratiated in our culture, part of our lives. We want a furry friend like Finnegan, we went through similar tribulations as the Degrassi kids and, yeah, secretly we all wanted to get slimed.
For Pat Mastroianni, being part of that experience, hearing about it so many years later makes him feel like much more than actor. Getting together once more with the cast was like being a 16 year old again. When something makes you feel that good there's nothing wrong with living in the past.
"This really is a thank you tour," says Mastroianni. "We get to meet those fans and say 'hey we made it through our teens. We survived!' We're all older now and I think we're all looking for a little nostalgia in our lives."
Thanks, Comic Con, for recognizing that too and, as Mr. Dressup said: "Keep your crayons sharp, your sticky tape untangled and always put the tops back on your marker."
Recommended Articles
When it comes to summing up the popular festival she created 14-years ago, Elaina Martin likes to keep it simple: "It means community."
Read full story
Come sun-down between Friday, July 28 to Sunday, July 30, Chinatown turned into a buzzing party, with all the greatest food vendors across Ontario filling the summer air with delicious scents.
Read full story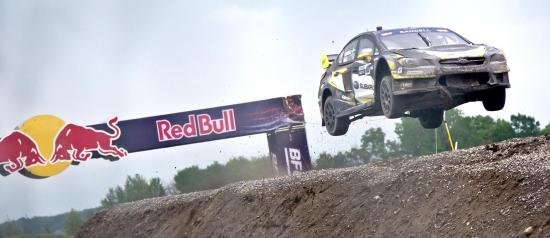 Red Bull may not really give you wings but it sure looked like it this past weekend when, for the first time in its seven-year history, Red Bull Global Rallycross took off in Ottawa.
Read full story
Comments (0)
*Please take note that upon submitting your comment the team at OLM will need to verify it before it shows up below.