Sports
Davis and Rhymes Lead Ottawa Redblacks over Roughriders in High-Scoring Home Opener, Start Season 2-0
Davis and Rhymes Lead Ottawa Redblacks over Roughriders in High-Scoring Home Opener, Start Season 2-0
Photo credit: Patrick Doyle (CFL)
---
Hamilton rock band Monster Truck rocked the TD Place crowd at halftime, while Dominique Davis rocked the Riders defence all game long.
Following a four-interception performance last week against Calgary, Davis could do no wrong against the Saskatchewan Roughriders defence in Ottawa's 2019 home opener. The Redblacks outdueled the Riders 44-41 in an offensive showcase at TD Place to push themselves to 2-0.
It was a shootout featuring two young quarterbacks turning it loose in a wild affair that included 39 points scored in the second quarter alone. It was back and forth for much of the game. Where last week the Ottawa defence stepped up, it was the offence this time around that to continued to deliver.
"Defence helped out last week and this time we had to help those guys out. It's good to go into the bye week 2-0 and get ready for Winnipeg," said Dominique Davis.
He took care of the ball and set career highs in both yards (354) and touchdowns (3). Nothing could shake Davis on this night. Not some early misthrows and not a late cheap shot on the Rider sideline after a play led him out of bounds in the second half.
He was confident in his reads and made precise throws throughout the game. His favourite target Thursday night coincidentally enough was the Redblacks' other Dominique.
Dominique Rhymes put forth a career performance as well, with 11 receptions for a jaw-dropping 168 yards. He beat single-man coverage throughout the game and exploited smaller defensive backs down along the sidelines on several occasions. Davis said that the reads were there to get it to Rhymes down field because Saskatchewan was playing a lot of press man coverage. Rhymes credited Davis and the preparation time spent over months with his quarterback.
"We had been working all offseason with our route timing and stuff like that so it's really starting to pay off. Like I said, Dom is an amazing quarterback and he puts the ball in the perfect places for me to make plays," said Rhymes.
The two Dominiques were on the same page all game long, making connection after connection whenever the Redblacks needed a big play down the field or a clutch second-down conversion. They needed two of those in fact in the dying minutes of the fourth quarter.
On consecutive second downs, Davis hit Rhymes to move the chains and chew more clock to help secure the victory.
.@D_DavisECU with another beautiful connection. After the play was challenged for offensive pass interference, the play stood as called. @REDBLACKS are rolling. #CFLGameDaypic.twitter.com/AJZiyEbzlS

— CFL on TSN (@CFLonTSN) June 21, 2019
The second reception set up a Lewis Ward field goal that made it a two-score game with less than two minutes remaining. That was Ward's sixth field goal make of the night, going a perfect 6/6.
On the other side of the quarterback duel was Saskatchewan's Cody Fajardo. Starting in place of the injured Zach Collaros, Fajardo was fantastic. He passed for 360 yards with two touchdowns and no interceptions while completing nearly 80% of his passes.
With Fajardo carving it up through the air, the Riders had a chance at the end if they could corral an onside kick attempt. The ball shot in the air and was fielded by Redblacks receiver Brad Sinopoli to quell any worry of a Saskatchewan comeback.
"I really like our group, I like our mindset," said Redblacks Head Coach Rick Campbell. "They really just kept plugging along and keep going and ride through the ups and downs of a football game."
Riders receivers Shaq Evans and Kyrian Moore had their first and second career 100-yard games respectively. Evans caught a 44-yard touchdown from Fajardo down the sideline with mere seconds remaining in the first half. The corner he beat on the play was Chris Randle.
Randle, playing in just his second game with the Redblacks, had a tough time in coverage. He was burned badly on several downfield plays in the first half and the early stages of the second half.
The Roughriders defence was helpless when it wasn't generating pressure. They racked up four quarterback sacks but could seldom get off the field without surrendering points. Now two games into the season, the defence has also yet to force a single turnover.
The Redblacks defence on the other hand gave up a ton of yards as well but crucially took the ball away twice. Antoine Pruneau forced a fumble on the special teams unit in the second quarter on a Rider punt return. Davis immediately cashed in on the very next play with a perfecttouchdown pass to fullback JC Beaulieu.
.@D_DavisECU threads another beautiful pass into the end zone and the @REDBLACKS strike again#CFLGameDaypic.twitter.com/ZOLFp2nb8l

— CFL on TSN (@CFLonTSN) June 21, 2019
It was far from the ideal return to Ottawa for William Powell. The running back spent four years with the Redblacks before departing for Saskatchewan this offseason. He had a solid first half (over 40 yards rushing and a touchdown) but was all but benched in the second half for Marcus Thigpen after a costly fumble. His fumble led directly to an Ottawa field goal.
The victory makes it four straight regular season wins for the Redblacks over the Roughriders.
Quick Notes:
It is the second year in a row that the Redblacks have hosted the Roughriders in their home opener, they won last year's matchup as well
Redblacks return man Ryan Lankford had a heck of a day, totaling 195 return yards
Lewis Ward's regular season field goal streak is still alive and well at 57 straight after his six field goals against Saskatchewan
The Redblacks tied the CFL record for most successful two-point conversion attempts in a single game with three
The 2-0 Redblacks will be off next week with their first of three bye weeks this season. Following the Canada Day weekend, they will host the Winnipeg Blue Bombers at TD Place on July 5th.
Recommended Articles
Jonathan Rose and Sherrod Baltimore are starting defensive backs for the Ottawa Redblacks as well as tight-knit friends.
Read full story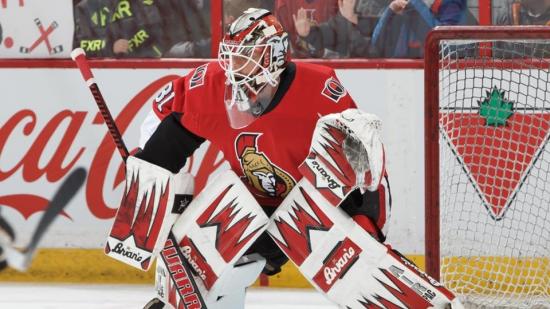 This Friday and Saturday the league hosts its annual pick 'em and (hopefully) please 'em festivities, aka the NHL entry draft.
Read full story
Dominique Davis led the Redblacks to victory in his first game as the bonafide number one quarterback.
Read full story
Comments (0)
*Please take note that upon submitting your comment the team at OLM will need to verify it before it shows up below.