Dialling Into the Divine Frequency of Santana
Photos by Dan Nawrocki
---
Dance with the unknown
Take a leap of faith
Go out on a limb
Stick your neck out
Face your fears
Reinvent yourself
-Carlos Santana-

Picture yourself in a boat on a river with tangerine… No, wait, somebody already took that trip. Envision yourself pulled by the psychedelic static, parched on the healing banks of a desert oasis where a man in shades holds a guitar in one hand while the other reaches towards you. Maybe...just maybe it's real or maybe it's the peyote you consumed three dunes ago but somewhere above it all there's a whisper that welcomes you. It says "you…you are divine".
Yeah, my friends, those who stepped into the Canadian Tire Centre last night would find themselves part of a nation, a divination, the trip-tastic tone set by psychotropic vibes and kissing colours on the screens revealing every 60s acid drip you wanted to have or wished you could remember. Beckoning you through the gateway was a shaman named Carlos Santana and while his guitar would do most of the talking (and some gentle weeping), the man had a message to share alongside the music.

"You are a frequency of divinity. You are divine. No matter what your fears say," Santana told his audience, one that applauded not just every song but every solo and pretty close to every sentence.
"I'm so grateful and honored to be in your presence. I'd love to say that we are a reflection of your life and this beautiful energy. You can feel the vibration and it's very divine. We're all divine. You can wield miracles and blessings. We are here on this planet to spread love and harmony and healing."
Santana's Ottawa stop on his Divination Tour began with the ultimate love-in as the screens above the stage showed clips of his iconic performance at Woodstock. A pioneer of fusing rock and Latin jazz, the man and his band haven't strayed far from the path blazed by his generation. Fear and negativity, be it in those times or the present, will not overrun peace and love. All you need do is dial into the frequency and change the world.
"It's a choice. Choose in your mind clarity and peace of mind," Santana said with tender conviction. "Love is heaven. Fear is hell. That's all it is. It's not complicated. You don't have to be a victim of a villain. You can will to heal all starting with yourself."
As clips of elated hippies slip sliding away in the muddy hills on Yasgur's Farm back in Bethel, New York in 1969 set to the Santana soundtrack of the past faded, the band stepped into the now by momentarily playing along with the Woodstock groove before breaking into a full-on performance of "Soul Sacrifice". Dressed all in white, the guitar God would not disappoint as one epic solo topped the previous in a 2-hour plus show that just made you want to close your eyes and drift between the realms of reality and dream. Yeah, some guitars are made for musicians. Santana was made for the guitar.
Keeping the love vibes of the 60s turned on a little longer, Santana's first wave included "Jingo" and "Evil Ways" from his first album as well as a melding of two experimental musical minds with a cover of Coltrane's "A Love Supreme". The "Black Magic Woman" wasn't far behind. Here were the tunes that lunched legions of lava lamp midnight toker travels.
"We could play until six o'clock in the morning," Santana shouted to the expected elation of a crowd that would have ridden that train all night long. With guitar solo time samplings bumping into double digits you had to believe the man when he proclaimed that "we're 70-years-old and we got the power!"
The band were given ample spots in the Santana skyway to shine on be it the frenzy fast drumming of Cindy Blackman, the keyboard meanderings of David Matthews, or the vocals by Ray Greene and Tommy Anthony. One lucky fan found himself part of the collective when a kid in a Superman shirt named Noah was pulled on stage to first shake some maracas and then get the strum Carlos' guitar itself during a performance of "Foo Foo" that was every bit as crazy as the song title suggests! It must have been what it was like to clutch Excalibur!
Of course, cuts from the group's most successful album, 1999's Suprnatural, were show highlights for many as "Maria Maria" and an extended performance of "Smooth" in the encore kept the crowd dancing. This was a frequency nobody was dialing away from.
"We are about raising the vibration because what we see on CNN and all the TV channels is a low vibration, a low frequency," Santana said before the journey reached its love-filled conclusion. "They sell you lies and fear and frustration. This band is not about that. We love you. "
The feeling was mutual.
Recommended Articles
Just in time for the national birthday, the National Arts Centre's renos have filled the once dim corridors and glazed extensions with some much-needed light. Along with it, tied to the massive Canada Scene festival, the NAC has provisioned the new spaces for multidisciplinary arts exhibits.
Read full story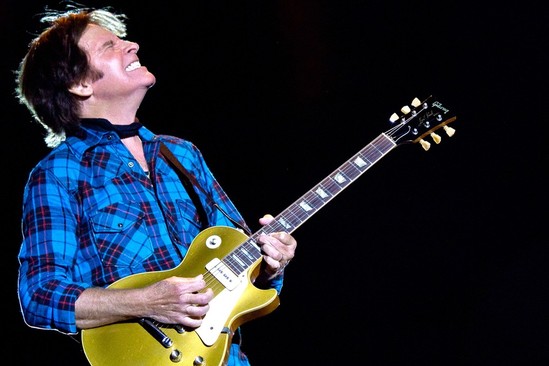 All photos by Andre Gagne. Note: Images are from John Fogerty's 2011 Bluesfest performance. "Who??...
Read full story
Ending the band before their cult classic album Odessey & Oracle hit its stride, The Zombies never even knew it had gained traction outside the UK before it was too late.
Read full story
Comments (0)
*Please take note that upon submitting your comment the team at OLM will need to verify it before it shows up below.