Restaurant
Discover Bistro Ristoro in Ottawa's ByWard Market
Discover Bistro Ristoro in Ottawa's ByWard Market
When Lidija and Vlado came to Canada three years ago, they planned to open a Mediterranean restaurant that would be unique, authentic, and refreshing. They have succeeded!
"We new we wanted to be somewhere central. When we found this space in Ottawa's ByWard Market, we already had an idea for the style, the food, even for the drinks, including the wine," says Lidija. Of course, getting a restaurant up and running was no easy job. It was a lot of hard work. "It took us a while to prepare this place," says Lidija. "It was completely different before we renovated!" After eight months of remodeling, the restaurant opened for business.
Bistro Ristoro's menu offers a wide variety of food and drink. "We serve Eastern and Western Mediterranean food" says Vlado, meaning Italian, French, Greek, and Balkan food. These culinary traditions inspire the menu at the bistro and are all well represented. One of their signatures is their pizza dough. It is made fresh daily according to a century-old recipe, and the pizzas are fired in a brick pizza oven visible at the back of the restaurant. Vlado and Lidija believe their dough is something special, and their customers do too.
"The people coming to our restaurant realize the difference between our pizza and other pizza offered here in the market," Vlado says proudly with a smile. "All things are made from scratch in our restaurant. We don't use anything frozen, artificial or semi-prepared. Everything is prepared by our hands," he promises.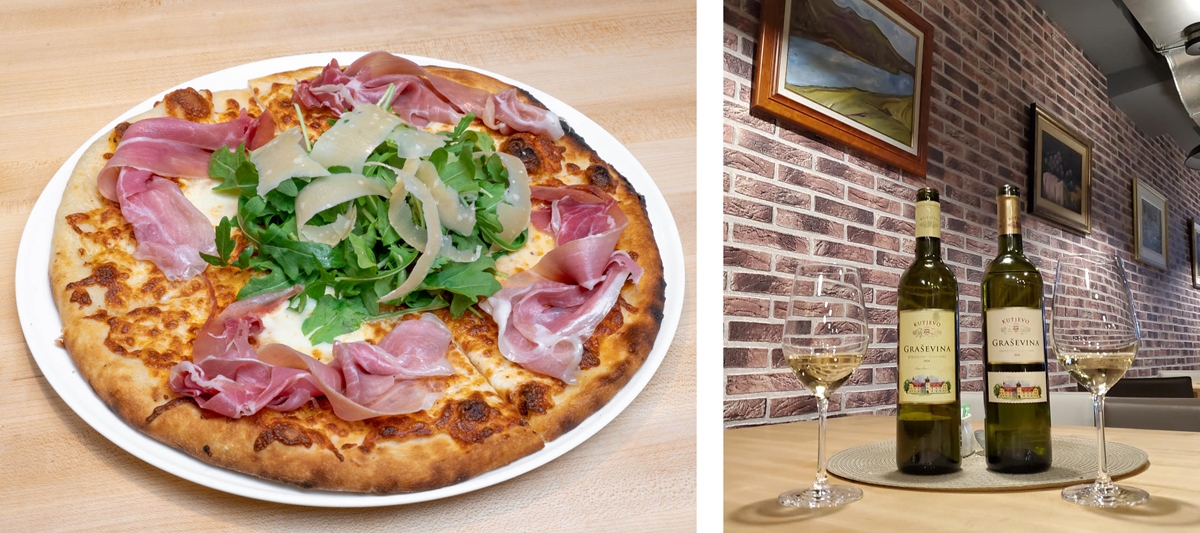 The bistro is fast becoming a wine destination within the market too. "We accompany our dishes with carefully selected wines from the European wine-making regions that match the food. Good food is to be paired with good wine," explains Vlado. The bistro proudly serves wine from Portugal, Spain, Italy, Croatia and France, to name a few. "We have wines from the most prosperous regions in Europe," says Vlado. "For example, from France, we have wines from the regions of Bordeaux and Alsace. From Italy we have wines from Tuscany and from Sicily. From Croatia — we have Dalmatian and Slavonian wines." The restaurant promises an abundance of unique wine flavours and aromas for all wine lovers, at a good price too. "The wine we have on offer is affordable. We'd like our customers to enjoy our flavourful and disarming wines."
The interior of the restaurant is also something to be applauded too. The spacious area is warm and friendly. Beautiful art from Canadian artists line the walls and when you come at the right time, you can even be entertained by live music: Ethno jazz, classic, Greek, French, Latin or Balkan. "From the beginning, we wanted our restaurant to be about comfort," says Vlado. "As you can see, the tables are well spaced from each other. We want to ensure that our patrons can enjoy a private discussion over our food and wine."
Bistro Ristoro promises that when you come, you will be greeted by "authentic savoury food, unusual and tasty wines, and a welcoming atmosphere." Be sure to stop by the next time you are in the ByWard market to explore unique food and enhance your wine experience.
Bistro Ristoro is located at 17 Clarence Street in the ByWard Market.
Recommended Articles
This is Carben Food + Drink, one of Hintonburg's newest choices for fine dining.
Read full story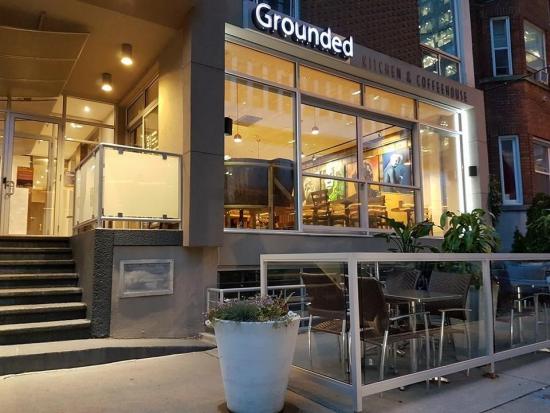 Starting any business puts a lot on the line, but restaurants and coffeehouses are another story altogether. Despite the fierce competition in the industry, opening an eatery is the dream for many, and is therefore worth the risk. Ottawa's Grounded Kitchen & Coffeehouse is one of the success stories, and an inspirational one at that.
Read full story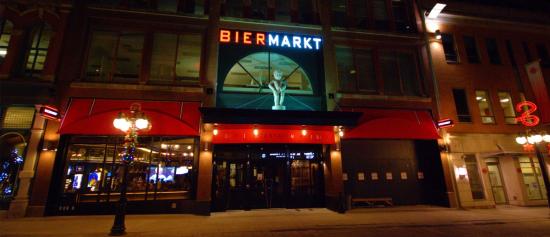 Bier Markt kicked off the holiday 2017 season in grand style with a dark winter pilsner that will keep you hoppy — if not happy!
Read full story
Comments (0)
*Please take note that upon submitting your comment the team at OLM will need to verify it before it shows up below.