Travel
Discover the beautiful Fjord-du-Saguenay
Discover the beautiful Fjord-du-Saguenay
ABOVE: Canada's oldest wooden church looks out over the Fjord. (Photo: iStock)
---
For those of us living in major cities, we often overlook Canada's diverse landscape of mountains, forests, and rivers when planning a getaway but a recent visit to Québec's Fjord-du-Saguenay region convinced me there is no better place for travel than here, particularly for urbanites anxious to recharge from post-pandemic burnout.
A Short History of Québec
The Saguenay River played a vital role in the history of our nation. During my stay in Tadoussac, a village of 800 people located at the meeting point of the Saguenay Fjord and the St. Lawrence Estuary, I had the pleasure of visiting the oldest wooden church in Canada as well as a replica of the Chauvin Trading Post. The chapel faces north towards the Rivière Saguenay and contains a small exhibit of artifacts dating back to its founding in 1747. Behind sits, a replica of the Chauvin Trading Post, originally built by the French navy under the command of Captain Pierre de Chauvin in 1600.
Shortly after reaching shore, the French captain chose Tadoussac as the place for the first permanent settlement in 'New France.' Thus, the trading post became a critical hub for the burgeoning fur trade between the French and Indigenous Peoples in North America.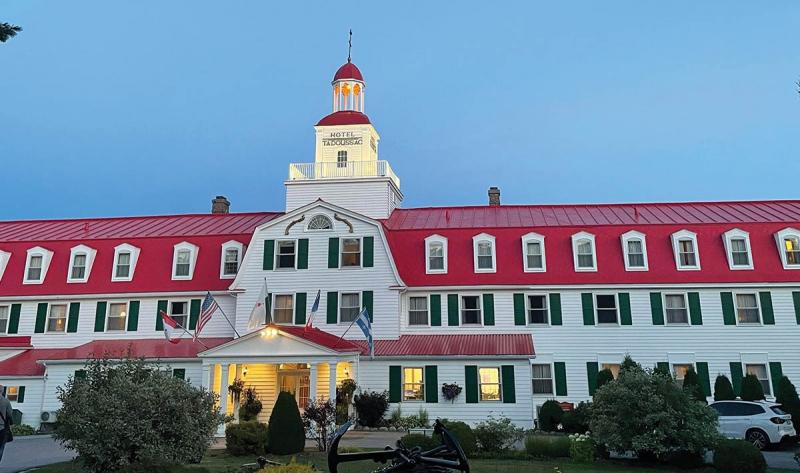 ABOVE: The historic Hotel Tadoussac faces out toward the beautiful bay.
I was taken aback by the charm of Hotel Tadoussac, originally built in 1864—and rebuilt by Canadian Steamship Lines President William Hugh in 1942. Tadoussac has cozy-small-village energy coupled with vintage architecture that makes it feel as if you are strolling through the grounds of an old movie set.
All about the whales
Residents in the surrounding villages of the Rivière Saguenay take immense pride in the whales that frequent the Saguenay-St. Lawrence Marine Park. We travelled from L'Anse-Saint-Jean to Tadoussac by zodiac with Saguenay Aventures, a trip that takes approximately 90 minutes. During the boat trip, we saw the most whales of our time in Saguenay. Moreover, the zodiac guides are incredibly cautious about maintaining a respectful distance between their vessels and the whales to avoid disrupting their ecosystem while ensuring guests get some sightseeing action.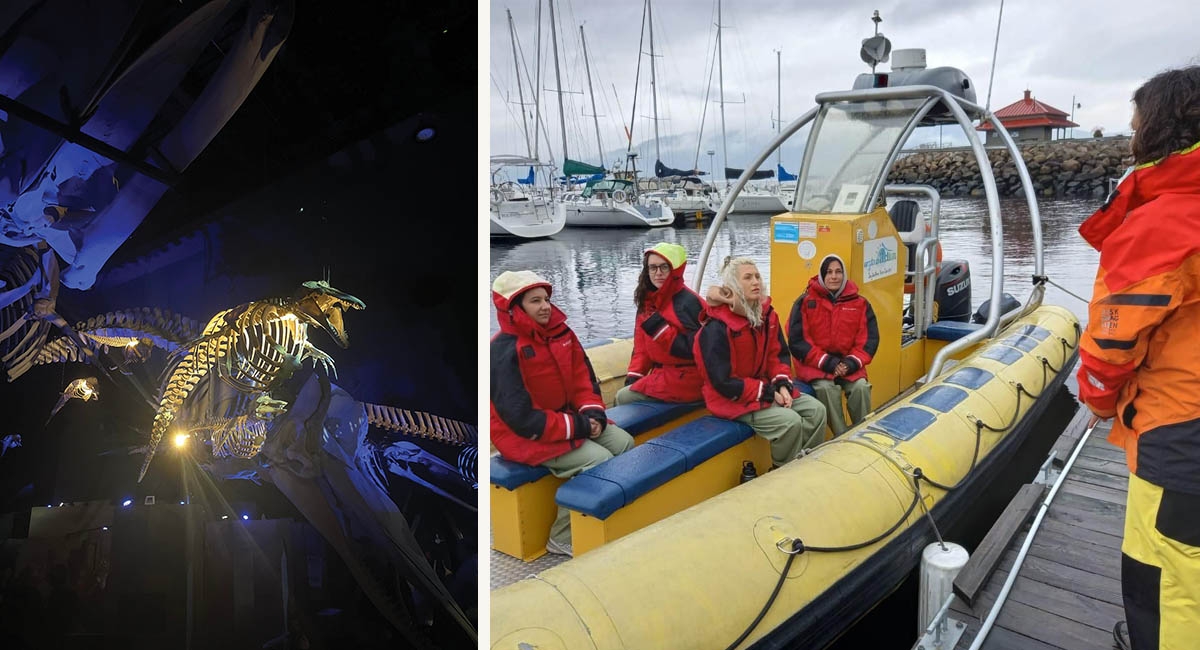 ABOVE: No matter your age, the CIMM is a great spot to learn about marine mammals. (RIGHT) A pre-trip briefing before our whale-watching tour with Saguenay Aventures.
In Tadoussac, the Centre of Interpretation on Marine Mammals (CIMM) contains an excellent exhibit on aquatic biology. There is so much to see and do at the exhibit for all ages. I was fascinated by the authentic whale skeletons suspended from the ceiling. The CIMM guides are incredibly knowledgeable and passionate about the work they do to protect whales and other aquatic mammals in Saguenay.
I was amazed at how little I knew about the whale population in Quebec—it is such an important part of the Maritime identity in this part of the country, and understandably so.
It takes less than ten minutes to walk from the CIMM to Tadoussac wharf, where Croisières AML runs two daily three-hour whale-watching excursions. The cruises offer a VIP section with gourmet lunch boxes and beverages so you can sit back and sip on a G&T made with Quebec gin while touring the Marine Park in the St. Lawrence Estuary. I was happily surprised to find out just how flavourful Quebec gin is and how expansive the industry is across the province.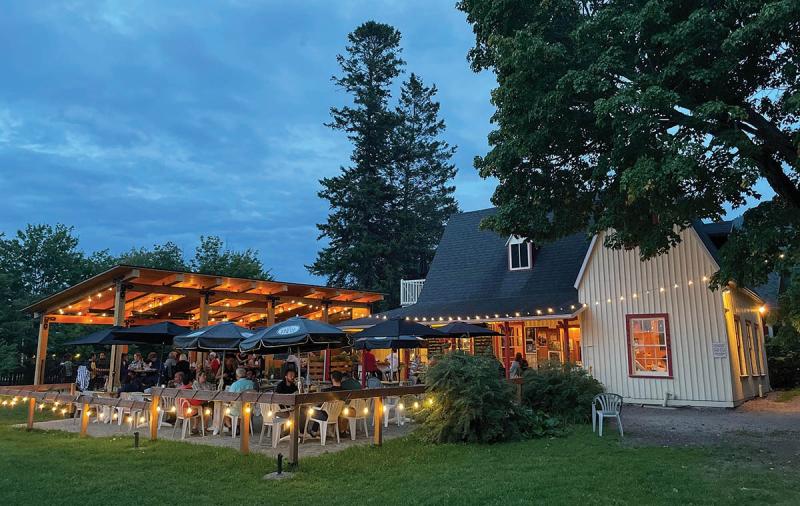 ABOVE: Microbrasserie Tadoussac is a great spot to unwind and enjoy a local brew.
If beer is your beverage of choice, make sure to stop at the quaint Microbrasserie Tadoussac. We stopped for a pint of Pale (Wh)ale post-cruise. The cute play on words is yet another example of the extraordinary pride of the locals in the marine mammals inhabiting the Saguenay-St. Lawrence River.
National Parks
Whales aside, the Saguenay is a dynamic destination with many activities for the outdoor enthusiast. At Okwari Le Fjord, we walked the trails and footbridges of the Rivière-a-Mars canyon. Our guide informed us that since 1870, the Saguenay-Lac-Saint-Jean area is the largest producer of blueberries in Quebec.
In the late 19th century, settlers deforesting land started a fire that quickly grew into a massive forest fire. The cleared land attracted farmers who subsequently developed a booming blueberry industry. The ubiquitous berries seem to have found their way into every dish in Saguenay. No complaints; they are absolutely delicious.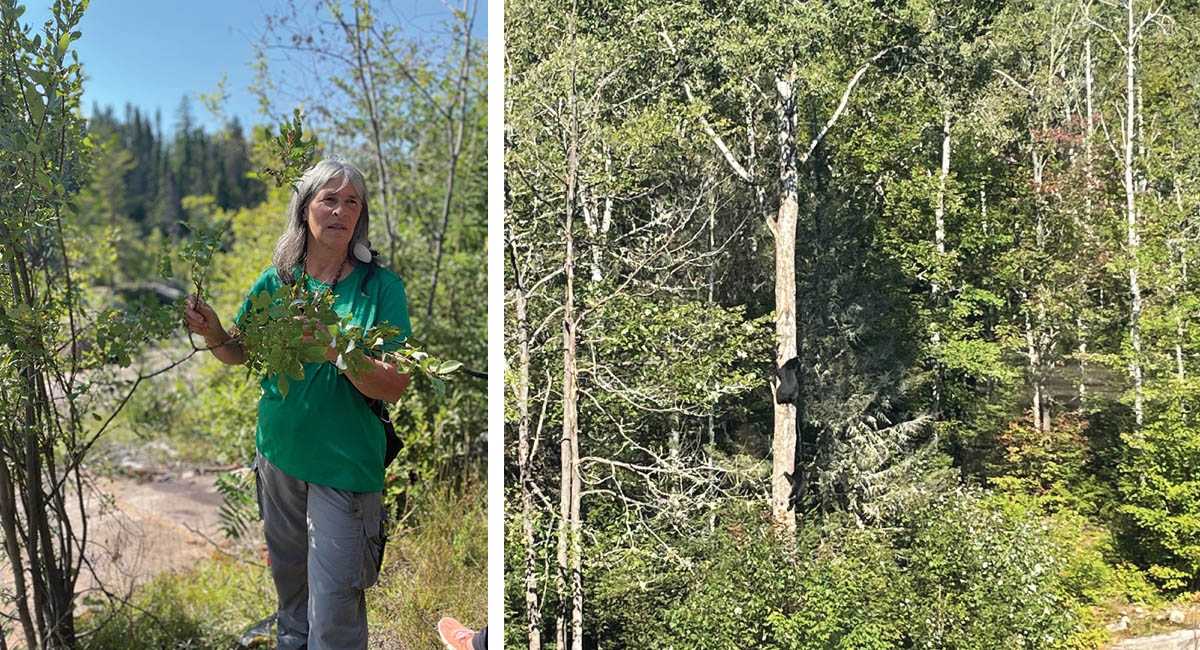 ABOVE: Our guide at Okwari Le Fjord was so interesting and informative. (RIGHT) Spotting a pair of young black bears was a trip highlight.
A personal highlight was spotting black bears. Our guide handed me her binoculars to get a closer look. Her gesture of Saguenay hospitality further enhanced an already impressive view of the creatures and made for a highly memorable experience.
At the Sépaq Parc national du Fjord-du-Saguenay, our naturalist/guide was equally as friendly. On our morning hike through the Rivière Éternité section of the park, he shared so much knowledge about the Fjord's diverse land and water ecosystems. It was thoroughly enjoyable. He told us about a species of deep-sea sharks in Rivière Saguenay that live up to 400 years—you could not pay me to swim in that water.
We did, however, get close to swimming during a three-hour sea kayaking tour with Fjord en Kayak. There is no better way to spend a sunny day in Saguenay than in a kayak on the Fjord. The scenery is majestic, and the guides are filled with such positive energy.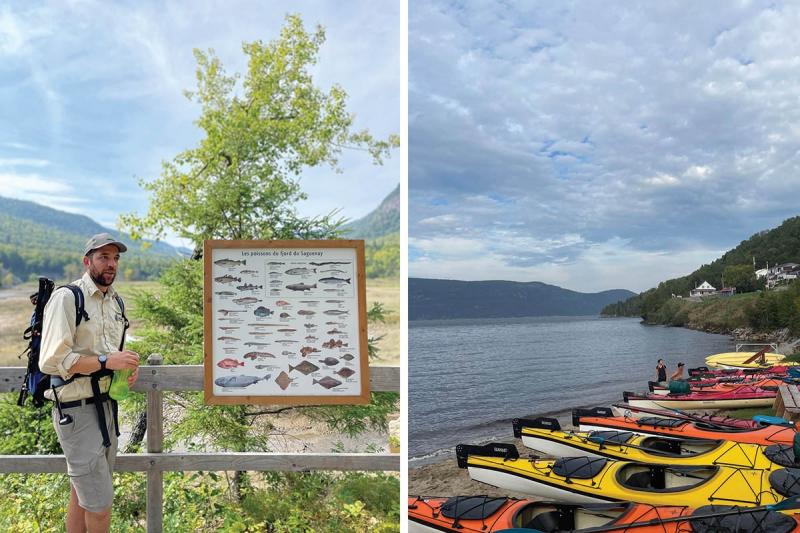 ABOVE: We learned so much about the land and sea ecosystem from our guide at Sépaq Parc national du Fjord-du-Saguenay.(RIGHT) We took a three-hour tour with Fjord en Kayak.
Our Saguenay trip concluded with an afternoon of mushroom picking and an evening of glamping at Parc Aventures Cap Jaseux. On our way to the campsite, we stopped at a tiny local food shop to pick up provisions for our dinner. The shop contains only locally grown and raised products. We decided on lamb and rice, which we later cooked using the campsite's sous-vide machine.
The meal was delicious and reinforced the importance Saguenay residents put on preserving nature. Everything from sightseeing to harvesting crops is done in a way that balances respect for the natural surroundings while simultaneously protecting and preserving the region's biodiversity.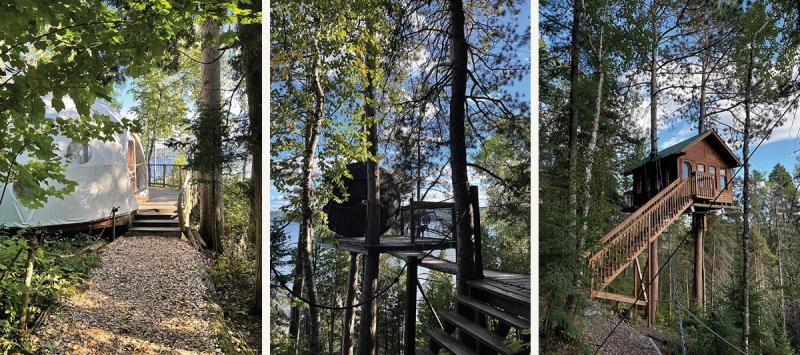 ABOVE: Glamping options at Parc Aventures Cap Jaseux.
Parc Aventures Cap Jaseux offers several alternative-style camping accommodations: tree houses, suspended spheres, domes, log cabins, and cool boxes. For anyone looking to further 'glampify' their glamping experience, I recommend the cool box. It is the only accommodation with running water. The treehouse and sphere boxes make for the most unique camping experience since they are far beyond ground level. I woke up extra early to watch the sunrise and breathe in the fresh forest air before heading off to Bagotville airport.

There is something special about life in Saguenay. The people are kind, the food is delicious, the whales are spectacular, and the natural environment is truly restorative.
If you are guilty of spending too much time in the city, consider a trip to the Saguenay Fjord and the St. Lawrence Estuary — you won't believe you are in the same country!
For more information on travel in the region, visit https://parcmarin.qc.ca/
---
Must-try food spots
Restaurant O'Batillage is a classical French-style restaurant that goes above and beyond by incorporating local Saguenay produce into all its dishes. My medium-rare steak with local potatoes and carrots was simply delicious.
Bistro La Chasse-Pinte: We tried the beef tartar at this quaint lakeside restaurant. It was packed with a rich smoky flavour which paired well with local Quebec cider. The bistro is popular among locals due to its extensive beer and cider list, a must-try microbrewery.
Pick-up Grillé: Quebec has some of the best tartar in Canada. I tried the salmon tartar served with fresh salad. There were so many layers of flavour. The restaurant is a must-try for the tartar alone!
La Galouine Restaurant is perfect for seafood lovers. The dishes incorporate fresh lobster and salmon and are to die for. The service also stood out. Our waiter was focused on every detail and provided an exceptional guest experience. Make sure to stop for a meal in Tadoussac, but be warned that your cocktails may have blueberries in them!
PHOTO: Haley Donovan, unless otherwise indicated.
Recommended Articles
Türkiye's Culture Route Festivals in Istanbul & Ankara are a treasure trove of arts and culture
Read full story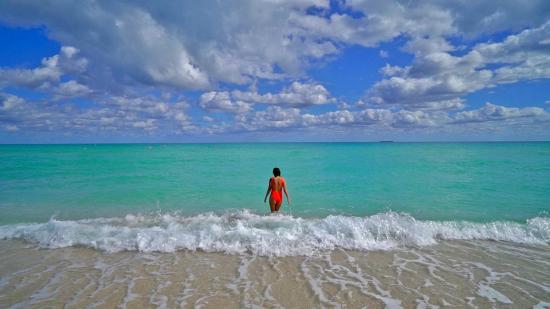 Miami, Martin County, and The Palm Beaches represent some of the best of Florida, whether you're young, old, travelling solo, or with friends and family.
Read full story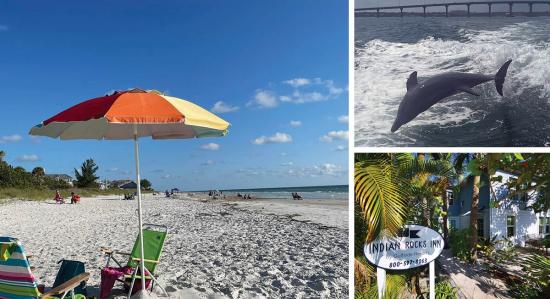 Seriously. After a few days, you just get into this Florida kind-of-groove where it's — dare I say it — always 5 o'clock somewhere.
Read full story
Comments (0)
*Please take note that upon submitting your comment the team at OLM will need to verify it before it shows up below.