Theatre
Fall in love with How Black Mothers Say I Love You
Fall in love with How Black Mothers Say I Love You
Photos by Andrew Alexander
---
There is a lot going on in How Black Mothers Say I Love You. Given it is the work of the incredibly talented playwright Trey Anthony, this is no surprise. It opened at the GCTC last night and it is, as was expected, phenomenal.
The basic plot is that Daphne, mother to Claudette and Valerie, is dying of cancer. Valerie has been the main caregiver but when she tells her semi-estranged sister Claudette, who left home years earlier for Montreal, about their mother, Claudette comes home to Toronto be with them.
Claudette is bitter from the past. Her mother had left the girls in Jamaica to come to Canada to build a new life for her daughters. She was gone six years before the girls followed her to Toronto and by that time Daphne had remarried and had another daughter, Chloe. We learn that Chloe took sick and died. Throughout the play, she haunts the stage, her presence always felt, trying to entice their mother to leave this earth and join her.
Claudette never forgave her mother for leaving her as a child and then having another family. Valerie just accepted it.
The conversations that ensue all deal with issues such as abandonment, of what a mother will do for love, the question of acceptance, women's strength and courage. As Claudette and Valerie deal with the question of love in today's world, we also hear about some of their struggles as women of colour and those of her mother growing up in Jamaica.
The main plot is heavy, of course, but there is lots of humour in this beautifully written play. We laugh as Daphne voices her strong opinions about everything, and even tries to turn Claudette (she is a lesbian). Her infatuation with hats and looking good for church, even managing to get Claudette to wear a dress, all these superficial things provide chuckles throughout.
However, underneath it all, in the end Daphne is in fact a strong, complicated woman with lots of depth that is revealed as the story progresses.
As Claudette's hard shell softens (no scene spoiling…I will leave it at that) the rapprochement between Daphne and Claudette is beautiful and yet we see the complicated beauty of relationships between mothers and daughters.
In fairness, the plot jump from Claudette and Daphne at each other's throats to their rapprochement feels a bit too quick, but then Daphne is dying. No time to waste.
This two-hour play leaves you with a lot to think about and it is powerful stuff. If your parents are still around, hug them.
As for the acting, it is stellar. Perfect.
Lucinda Davis as Daphne is breathtaking and captures her character flawlessly. Malube is stunning as complicated, strong and yet vulnerable Claudette. Samantha Walkes rounds out everything as Valerie who is there through thick and thin for her mother and yet is unhappy in her own life. Walkes is fabulous and any woman who feels trapped in her world will relate completely with Valerie. Walkes successfully makes you feel that pain.
This is definitely another 'do not miss' production at the GCTC. It runs until March 25.
Recommended Articles
Looking for something to do this weekend? Head to the NAC for a hit of hip hop and theatre.
Read full story
The GCTC unveiled its 2017-18 theatre season and it promises to be fantastic with a wide variety of theatrical offerings.
Read full story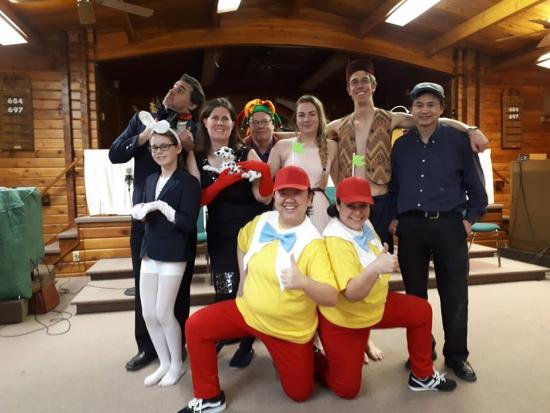 What happens when the fairy-tale gets fractured and characters like Aladdin, Elsa and Rapunzel don't find their happily ever after?
Read full story
Comments (0)
*Please take note that upon submitting your comment the team at OLM will need to verify it before it shows up below.