Restaurant
Feast + Revel's Fresh Take on the New Frontier
Feast + Revel's Fresh Take on the New Frontier
Photos by Ali Matthews
---
There is no doubt that, in the upcoming months leading up to Canada's 150th Celebration, that many Ottawa restaurants will attempt to rift on "Canadian" cuisine. However, I doubt as many will do it as successfully as Executive Chef Stephen La Salle and the staff at feast + revel in the ByWard Market. Having recently attended feast + revel's new summer menu showcase I can attest to the fact that not only has La Salle created a menu that is delicious and highlights local organic Ottawa Valley ingredients but that he has also done so with originality. La Salle calls it New Frontier Cuisine and there are no ill-conceived rifts on poutine here!
Feast + revel also has the added benefit of being centrally located in the heart of the action for all the Canada Day celebrations this year but, in décor, food and vibe sets itself apart many of the other restaurants and bars that surround it.
Immediately when you walk in, you know you've found a respite from other kitschy tourist traps in its environs. The interior design, by Mason Studios, perfectly sets the tone of the menu: modern and hip with a respectful nod to the traditional, with its plaid banquettes counterbalanced with clean lines and hip geometric prints.
But onto the FOOD! Actually, wait, first a DRINK. The cocktails here are stellar. While a summer favorite amongst the clientele is the refreshing Lavender Spritz, with lavender infused and on-trend Aperol, I personally enjoyed the Rose Dream, made with award winning Dillon's Rose Gin. If you're not into cocktails however, they have a well curated wine list and a good variety of Ontario craft beers.
Ok, NOW the food. The menu is well balanced in terms of offerings, with something to suit everyone's tastes or dietary restrictions, and, with what you expect from a summer menu with an emphasis on light, clean flavours, whether through the choice of herbs or the preparation. To wit, the oxtail with an Equator coffee BBQ rub, which one would normally think of as a typically heavier dish, is made light with a punch of lime and an unexpected and tasty addition of boiled peanuts. The perfect demonstration of the fresh feel of this menu is the Albacore Tuna: Cold-smoked albacore tuna, pea and watercress soup, mint and dill mingle together to create a combination of flavours which I can only describe as, and to quote my notes, "Fresh AF".
Another highlight was the Smoked Elk on "Beaver Dough" which was a perfect example of how Lasalle's menu takes quintessentially Canadian ingredients and prepares them in an inventive and new way. By pairing braised, smoked elk with PEI cheddar, Beau's beer pickled mustard seeds and putting it on top of the airy, flaky pastry which most of us are used to eating on the Rideau Canal or in the ByWard Market (wink wink) Lasalle makes flavours familiar to most Canadians deliciously unfamiliar.
Despite all of Feast + Revel's sharing plates, starters and mains, you still need to save room for dessert as the Backyard Rhubarb is a must-have. Nothing reminds me more of a Canadian summer than rhubarb, which grew wild in the backyard of most childhood homes and which I learned at an early age I could boil down with sugar and water to ladle over ice cream (my first compote?). Comprised of a rhubarb yogurt pop atop a rhubarb square, confited rhubarb, and, what Lasalle calls "Pink Lemonade" curd, this marvelous dessert captures my Canadian childhood memory perfectly but through the lens of the sophisticated adult palate of Lasalle.
And isn't that what exactly a Canadiana menu is supposed to do? Take the ingredients we Canadians know and love and present it to us and in an innovative way. Feast + Revel and Lasalle are clearly doing that with their summer menu and New Frontier Cuisine.
Recommended Articles
If you're going to name your restaurant after a place you have to catch a tornado to get to, it's on point to have a location that's a little hard to find. Oz Kafe is now two for two on that count.
Read full story
A gem of a restaurant on Clarence Street, near Sussex, Bistro Ristoro is a haven away from the hustle and bustle of the Market area.
Read full story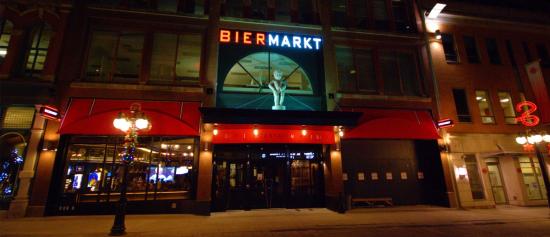 Bier Markt kicked off the holiday 2017 season in grand style with a dark winter pilsner that will keep you hoppy — if not happy!
Read full story
Comments (0)
*Please take note that upon submitting your comment the team at OLM will need to verify it before it shows up below.