Feed Me Gladstone!
There's a strange thing happening at the theatre and it's all because of one leafy green patron that was found, you know, stuck in among the zinnias. It may offer you fortune and fame, love and money and instant acclaim. But whatever it offers you DON'T feed the plant. That's just the lesson another Seymour Krelborn is going to have to learn the hard way when the Gladstone turns into a Little Shop of Horrors.
Presented by Theatre Kraken, the new production of a musical that became a 1986 cult film that spawned a Saturday morning cartoon utilizing elements of said Off-Off-Broadway musical inspired by a 1960 B Movie loosely based on a 1930s book is set to begin it's murderous horticulturalist romp for a series of shows between April 13-23.
If that break down is a little confusing, let's give it a bit more water, shall we?
You have two days before sets left in studio from a previous film are about to be torn down. What do you do? Well, if you're B Movie icon Roger Corman you find a way to rapidly direct a near complete film about a man, a gal, a sadistic dentist and a killer plant. Said to be loosely based on a 1932 John Collier tale called Green Thoughts, the flick would only cost $28,000 to make and would feature a young Jack Nicholson.?
??Though it's one of Corman's best known works today, Little Shop of Horrors would have languished in the shadows of Hollywood where most B movies ??
??go to die if not for an offbeat concept developed by a future musical powerhouse Disney duo.
Lyricist Alan Menken and composer Howard Ashman were seeing a flash of success in New York's theatre scene after their first musical and needed to keep the fire well stoked. Taking the plot of a seldom seen film from two decades prior and injecting it with songs in the style of classic rock and roll and doo-wop in the new wave dance-pop 80s was more than a little risky. Of course, one of the hottest shows going back then was about a bunch of singing junkyard Cats so what's the harm in fertilizing a stage with one man-eating plant from space, right?
That gamble became a garden of accolades and awards. Little Shop of Horrors ran for 2,209 performances, a record at the time as the third-longest running musical and boasted the highest-grossing production in Off-Broadway history. A year before closing the shop, Hollywood came calling to adapt the stage production into a film. This Little Shop of Horrors, directed by puppet master Frank Oz and starring a cavalcade of the decades funniest talents (including Rick Moranis, Steve Martin, Billy Murray and John Candy), grossed $38 million, became a smash hit on VHS, was nominated for two Oscars, and was called "the kind of movie that cults are made of," by Roger Ebert.
"I think people have a strange curiosity with the bizarre and the unknown," says Kodi Cannon on why such a campy concept became cult.?
??
?
??He's playing the quirky, clumsy and lovelorn Seymour in the Gladstone's run of the show, a role that wasn't a difficult one for him. He's been attached to the character since high school! Cast initially as one of the drunken people populating the skid row setting of the first song, the drama class liked his singing so much he was quickly transitioned into the feature roll. You could say he was suddenly Seymour!
"I have played many romantic leads over the years and what I really admire about Seymour is that there is so much vulnerability to him. He is not suave and confident but rather timid and unsure of himself. Pair (that) with the notion of the American dream and the lengths that someone would go to achieve it really gives full dimensions to (the) character."
Director Don Fex says the show remains so popular because it champions the underdog, a roll he kind of moved into himself when taken on this production. Not known for working on musicals, he cites the show's musical director, choreographer and strong cast as those who made the job an easy one. He admits there was a bit of pressure on him knowing how iconic the musical is for its fans. Still, he didn't want to parrot past revivals and found ways to put his own unique spin on the production.
"Design-wise, we have made some strong choices, including the design of the plant and set," he tells Ottawa Life.
?
??"The biggest way we are putting our own style on it is through the acting. I am as much as possible trying to let the actors put their own take on these iconic characters, play them in ?
??different ways, really explore them. In almost every bad production of Little Shop I have ever seen, the actors try and emulate the movie or some other stage version they have seen, resulting in a caricature of the character."
Andrea Black, the shows Audrey, decided to find a balance between the most memorable performance of her character –Ellen Greene in the film– and the softer tone set by Kerry Butler in the 2003 Broadway revival of the show. The merging made for a uniqueness in her portrayal.
""Somewhere That's Green" is my favourite moment of Audrey's," she says. "The audience really gets to see her and her simple dreams and not the act she puts on for everyone else. Even though she thinks she doesn't deserve everything she really desires, she still daydreams about it. It's sweet and sad at the same time and I really like playing with that juxtaposition."
While the character of Audrey has a difficult emotional character arch to portray –terror in facing her evil orthodontist boyfriend, sorrow over her dingy life in the slums, whimsy dreamer of a greener space, wide eyed lover of the hero– it is bringing to life her namesake nemesis that proved the be the productions hardest task.
??
Audrey II begins as a small potted plant that, due to a vile diet of flesh and blood, eventual grows to a massive size. The show's evil star needs two people to ensure it functions at ?
??its sinister best, one voice and one puppeteer, and they have to ensure they are totally in sync or else the character can quickly wilt.
"I'm functionally blind inside those plants, in a purple haze one might say," says Rachel Rumstein, the puppeteer behind all of Audrey II's working parts. "Luckily the voice talent is known for his metered consistent and predictable singing. As a result of a rigorous rehearsal process, I've become so accustomed to his characterization that it's almost muscle memory puppeteering the plant to match his voice."
Chris Lucas, the vocal chords of the all singing, all killing mean green mutha' from outer space, says what was key to him getting into such a character was not treating the roll as simply a voice box chirping out one liners like "Feed me!"
"There is, after all, an animated character speaking and singing the words I pronounce from offstage," explains Lucas. "To this end, I have treated the character as I would any other character I would inhabit in a traditional manner: thinking about the characters wants, desires, downfalls and vulnerabilities. In this case, it's trying to find a way to portray complex and often manipulative emotions."
?
??Lucas says a lot of the success of making the puppet seem real rests on the audiences suspension of disbelief.
"This is after all a talking plant," he says adding that it comes across so deliciously vile because it "eats people for no other reason than its hungry and eventually aspires to world ???domination. If that's not a comedic super villain then I don't know what is."
Rumstein has another take: "Deep down everyone hated eating vegetables as a kid. So having the vegetable turn around and eat you is a cruel ironic twist."
Fex says the smaller Gladstone Theatre was the perfect venue to house his Little Shop of Horrors. The theatre's 233 seats is roughly the same as the off-Broadway Orpheum Theatre where the musical first dug in its roots. The cramped quarters only means the audience gets more involved.
"You should always feel like the plant may just jump off the stage and come get you in the audience... so beware, front row people!"
Little Shop of Horrors
Book and lyrics by Howard Ashman
Music by Alan Menken

The Gladstone
April 13-23, 2017 (preview April 12)
Recommended Articles
Cast and Crew of CBC & Netflix Series Anne Hit the National Arts Centre for Special Screening
Read full story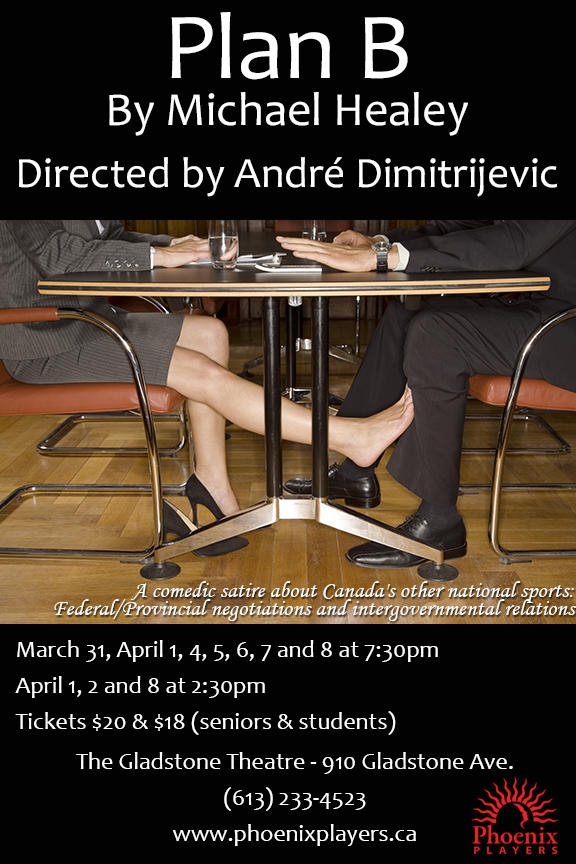 The issue of Quebecois separatism in Canada is no laughing matter. Unless we're talking about Michael Healey's award-winning play Plan B, that is.
Read full story
Photos and poster art supplied by production. There is always something magical that happens when yo...
Read full story
Comments (0)
*Please take note that upon submitting your comment the team at OLM will need to verify it before it shows up below.