Get Sidified at Ottawa's most fabulous fashion gala fundraiser
Feature photo credit: Sean Sisk (photography); Corey J. Stone (makeup); Mizrahi Development & 1451 Wellington (location)
---
Sid Cratzbarg's larger-than-life personality is a permanent fixture in Ottawa's fashion landscape.
For Sid, fashion transcends all ages.
"There's so much out there for young, small-size women but fashion designers needed to realize that women come in all shapes and sizes," said Sid.
That is why in 2007 he launched "Accessories by Sid," a line that caters to the niche market of mature women.
Sid has also continued to serve as a flamboyant leader in the industry, from hosting fashion segments on Rogers TV to launching exclusive scents for some of the top fragrance brands across Canada. As a result of his vibrant personality and notable expertise, Sid is no stranger to receiving requests for MC positions at local events.
Sid is many things — but most importantly, an ambassador for Crohn's and colitis.
Crohn's and colitis are inflammatory bowel diseases that affect nearly one in 150 Canadians by disrupting the body's ability to digest food, absorb nutrition and eliminate waste in a healthy manner. Sid's career in fashion was just starting out when he developed the disease.
"I just wasn't feeling right. For people who experience this disease, it is usually gradual. Everything came at once for me."
Diagnosed with ulcerative colitis in 2008, Sid was making constant trips to the hospital. The symptoms worsened and – in 2009 – he had an emergency operation followed by an additional four months of recovery in hospital.
For anyone who has heard Sid's story, you would know that he is quick to credit Dr. Robin Boushey, one of the top colorectal surgeons from the OGI Clinic and a medical director at Colorectal Cancer Assessment Centre, with saving his life. Dr. Boushey visited Sid nearly every day during his recovery — even on Christmas day. "His understanding and compassion helped me face the journey."
Sid is now using his personal connection to the disease and passion for fashion to help make a difference.
In collaboration with Dora Dalietos of Vis-à-Vis Events, Sid is proud to host the fourth annual Get Sidified Fashion Gala for Crohn's and Colitis Canada.
"This event wouldn't be possible without Dora's help."
During the past four years Sid has raised $50,000 for the cause. This year, he hopes to raise another $10,000 targeted for Crohn's and Colitis Canada's most recent research initiative, 'Make it stop. For life.'
The Get Sidified Fashion Gala returns to the Sala San Marco Banquet & Conference Centre on Oct. 12.
Gala attendees can expect food stations filled with hors d'oeuvres, signature cocktails, as well as a fabulous fashion show, a decadent dessert bar and a silent auction.
Four local vendors of Sid's choosing will showcase everything from jewelry, fragrance, hats and handbags.
Women walking the runway will be wearing fashions from The Outskirts, evidence of Sid's effort in supporting local fashion in Ottawa.
"I am a believer that everyone should experience a beautiful night that is affordable. Dora and I want to remain true to this belief and ensure that everyone can enjoy themselves. And, we won't change," said Sid.
Among those sponsoring the event are Dr. Tanya Bracanovich of Sparks Dental Clinic and Barrhaven's Educara Montessori daycare centre.
Sid has made it his mission to host this event to raise money for the disease that nearly took his life 12 years ago.
"That's why I do it — because of my story."
---
Gala Models:
Janet Wilson: Janet Wilson is a senior account director with Canada's leading strategic communications consultancy, Hill + Knowlton Strategies. A longtime volunteer and journalist, Janet is the former editor of Luxe magazine and the Ottawa Citizen's Style editor. She's a champion of Ottawa and loves to promote events throughout the capital, like Get Sidified on Oct. 12.
Tanya Bracanovich: Dr.Tanya Braconovich is the founder and owner of Ottawa's premier dental clinic, Sparks Dental. Her self-made success is the result of years of hard work and risk taking. She is the proud mother of 3 and is always looking for ways to give back to her community.
Nadia Amaral: Nadia Amaral is a proud mother, involved citizen and entrepreneur who is passionate about helping improve the quality of life of the elderly. Most recently, she completed her degree in Denturism and is dedicated to excelling in her field, as she has done in her former business ventures.
Manja Mackley: Former military vet, Manja Mackley, is no stranger when it comes to fashion. Following her career in the military, Manja became the producer and organizer of her own fashion series in Ottawa called "Let's Be Fabulous" which aims to promote local, women-led boutiques. Having modeled from a very young age, it has always been her philosophy to empower, encourage and support women to look and feel their very best.
Recommended Articles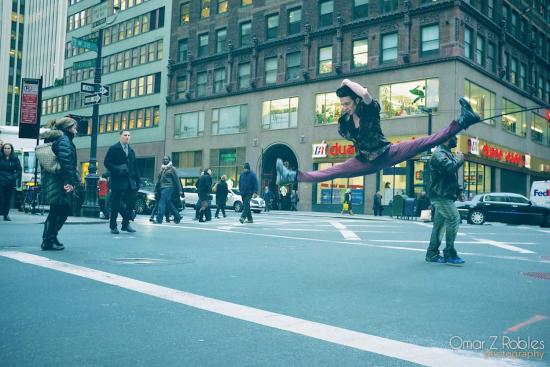 We caught up with Dillon during his latest stay in Ottawa to talk about his most recent projects and what's guided him towards more noble uses of his talents.
Read full story
Born and raised in Winnipeg, with an ancestry rooted in Britain and Switzerland, Lennard Taylor makes designs that belong at the Grand Palais catwalk. Every brushstroke blossoms into a work of art; every piece is individually crafted by the artist's hands.
Read full story
Figure out what makes you distinct and go for it. That is the advice Ottawa-based saxophone player Davina Pearl has followed as she made her way from musician to bandleader.
Read full story
Comments (0)
*Please take note that upon submitting your comment the team at OLM will need to verify it before it shows up below.