Theatre
Girl Power in 2017/18 at the GCTC
Girl Power in 2017/18 at the GCTC
The GCTC unveiled its 2017-18 theatre season and it promises to be fantastic with a wide variety of theatrical offerings.
Hometown favourites, an adult-only dating adventure, millennial comedies, and a full-blown musical are just a sample of what's being offered.
Here is the short version of the season:
Rebecca Northan's Blind Date is a fabulous take on improv. When Mimi's date for the evening fails to show up, one willing audience member is invited to step into his shoes. What happens next is a thrilling, unscripted theatrical adventure offering a unique experience for the artist and audience each night — you'll want to see it more than once! Adults only, please.
Hannah Moscovitch returns to GCTC with her brave exploration of love, sex and fertility in What A Young Wife Ought To Know; Set in Ottawa in the 1920s, this story takes us into the lives and bedrooms of women nearly a century ago, repressed by lack of sexual education and freedom.
Following up Da Kink in My Hair, (which is a phenomenal play), Trey Anthony's How Black Mothers Say I Love You is a poignant and hilarious examination of our desire for truth and understanding. Starting a better life in Canada is a dream for many immigrants, but for Daphne the decision presents an unthinkable sacrifice. This is a story of separation and reconciliation infused with a bold original score that blends gospel, reggae and R&B with classical music.
Take a journey into the largest polygamous community in Canada with Joan MacLeod's Gracie. Gracie's world is full of faith and family, but as a fifteen year-old in a polygamous community, she feels increasing pressure to conform. With deep empathy and compassion, the playwright takes us into young Gracie's world, where we discover what it's like to grow up in an uncommon environment.
A sister searches for her brother's potential wife by scouring grocery store aisles in Rébecca Déraspe's You Are Happy;
Life in the city that never sleeps has never sounded so great in the musical Ordinary Days by Adam Gwon;
It is refreshing to see an emphasis on female playwrights. "Five out of the six playwrights in our 2017/18 season are women," says Artistic Director Eric Coates. "This is partly due to our commitment to gender equity, but more so because these are the plays that arrested me. These plays stopped me in my tracks. There is a powerful movement to reflect the millennial experience in today's playwriting and I am very excited by it."
In addition to the mainstage shows, the 2017-18 season is introducing a Theatre for Young Audiences series with two Canadian works. This is particularly exciting news.
Two shows aimed squarely at young audiences will also be appearing in the winter and spring of the 2017-18 season. One Thing Leads to Another by Maja Ardal, Audrey Dwyer, Mary Francis Moore, and Julia Tribe, is an award-winning show for babies that will run from March 7-11, 2018 in the Studio Theatre. Toronto's Young People's Theatre brings this play that transforms everyday objects into fabulous, fanciful phenomena.
Still/Falling by Rachel Aberle from Greenthumb Theatre will run April 3-4, 2018 in the mainstage and will only be open to school groups. Still/Falling is a realistic, honest and bitingly funny look at the difference between 'teen angst' and mental illness, and the ways vulnerable kids can start to find their way out of the dark.

If you are foodie, then you will be happy to learn that the GCTC also is planning a second season of Chefs & Shows. Under the continued curatorship of Sheila Whyte from Thyme & Again and Chef Michael Moffatt, 2017-18 will bring six new chefs from Ottawa's top restaurants to showcase their culinary expertise at GCTC for one night only. Tim Stock from Play Wine Bar and Christopher Deraiche from Wellington Gastropub, among others, will be tasked to create unique menus inspired by a show in the 2017-18 season.
Recommended Articles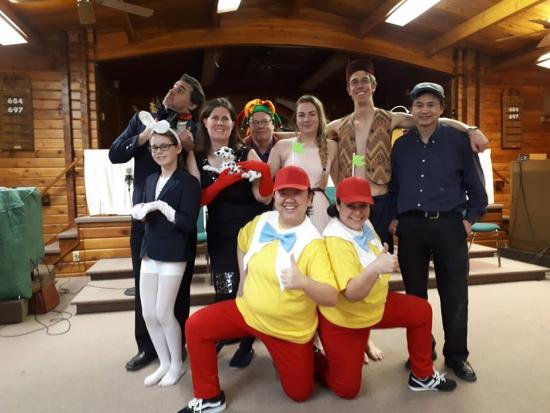 What happens when the fairy-tale gets fractured and characters like Aladdin, Elsa and Rapunzel don't find their happily ever after?
Read full story
There is a lot going on in How Black Mothers Say I Love You. Given it is the work of the incredibly talented playwright Trey Anthony, this is no surprise. It opened at the GCTC last night and it is, as was expected, phenomenal.
Read full story
Looking for something to do this weekend? Head to the NAC for a hit of hip hop and theatre.
Read full story
Comments (0)
*Please take note that upon submitting your comment the team at OLM will need to verify it before it shows up below.