GOOD2GO rock Ottawa for 20 years
Photo: Michelle Valberg
---
Whether it's through a poster or a marquee, a GOOD2GO show is something that's just been ever-present in Ottawa for two decades. In fact, the Ottawa punk legends are in their 20th year as a band, and by all accounts, they're as strong as ever. We caught up with founding member Reg Allen ahead of their 20th anniversary show that was scheduled for April 3 at Irene's Pub. The show is cancelled due to COVID-19 but we chatted anyway about their decades of rocking, writing about the O-Train and how they've kept the band tight over the years.
Ottawa Life: Just to give readers some perspective, how exactly did you and Maureen Hogan form this band back just before 2000?
Reg Allen:It started because Maureen, her boyfriend at the time, a couple others and I would go to shows at places like Dominion Tavern to see punk bands. So we started just going to shows together to hang out. I'd been playing since 1978/79 in bands, so I was a seasoned musician. I had played drums in those bands so I switched to bass because I'd played in a punk band doing that. I thought, "Maureen is always singing these Irish songs, so she's got to have a good memory for lyrics." So I tried to start a band. I talked to John Westhaver at Birdman Sound and he recommended Ron Lance and Dave Faught. Dave was in a few other bands, so after we recorded our first album/demo, he decided he didn't have time for us on top of that. So we got Gilles Mantha who I had known since I started. So we practiced in Gilles basement from then on. Gilles has been there for 20 years at this point, Dave was only there for the starting months.
I know Irene's has been a constant returning spot for the band live and I think Maureen has cited it as a favourite, what do you love about the different venues in Ottawa?
Reg Allen: Well for Irene's part of it was the sound in the club. But before we did Irene's on a regular basis we were doing that at Zaphod's, The Dominion Tavern, Bumpers. We also did a few four-day shows at Barrymore's too. But Zaphod's would be our constant venue to build a following, and we'd build these bills. We'd play up to three times a month there. Twelve or fifteen years ago we decided to branch out to the Glebe while playing at Zaphod's, and Irene's was just a good fit. The sound is always great, they have a great sound system. We don't do as many shows as we used to since you're always doing more when you start out.
Have there been any significant changes you've noticed in the band over 20 years?
Reg Allen: We've branched out a lot. We've been doing far more country and we've covered Harper Valley P.T.A.. Back at the start we never thought about country songs. But as the band matures you want to branch beyond three chord songs. We still have that Ramones and Rolling Stones core to us.
With this branching out, do you find writing is a matter of changing paces or finding new ways to explore your music?
Reg Allen: All of our songs get played live before we record them, so they're road tested for ages ahead of the studio. If we like playing them live, we record them. That's the bottom line. If it doesn't work out live, then we don't do it. We are sort of working on a record now, but we keep picking up and dropping songs we liked or didn't. We'll have songs that we bring out sounding really good and say "We thought a year ago that that one sucked." Gilles is the main songwriter, and he's always writing songs. He throws songs at us and if it doesn't thrive we can throw it on the backburner.
20 years deep for a band is long in general, so what's kept the tensions low for all that time?
Reg Allen: It's definitely a long time. But I think what helps us is that we're friends first. We get along and we're also mature. We know that sometimes you go to a practice and things don't work out, but that doesn't mean you break up the band. It's kind of like a marriage because you really have to understand each other's emotions. We're also not on tour for six months of the year. I think if we were on tour that often we wouldn't be able to do it. We spread it out too. We practice once a week and gig every six weeks or so. We generally try to respect each other. We used to play New Year's Eve all the time, but people want to relax at that time too. But we've been playing Halloween for 15 years in a row and that's still a big one for us.
You are all clearly balancing work lives with this band of 20 years, do you find it easier now to balance your band and day job life given that people know your band now?
Reg Allen: Our jobs are separate, and everyone's good at keeping it separate. People from work will come out and see it, but that's about it. I work in education but most of the kids don't care. I don't go around dressed up as a rock star at work either, I'm just Reg.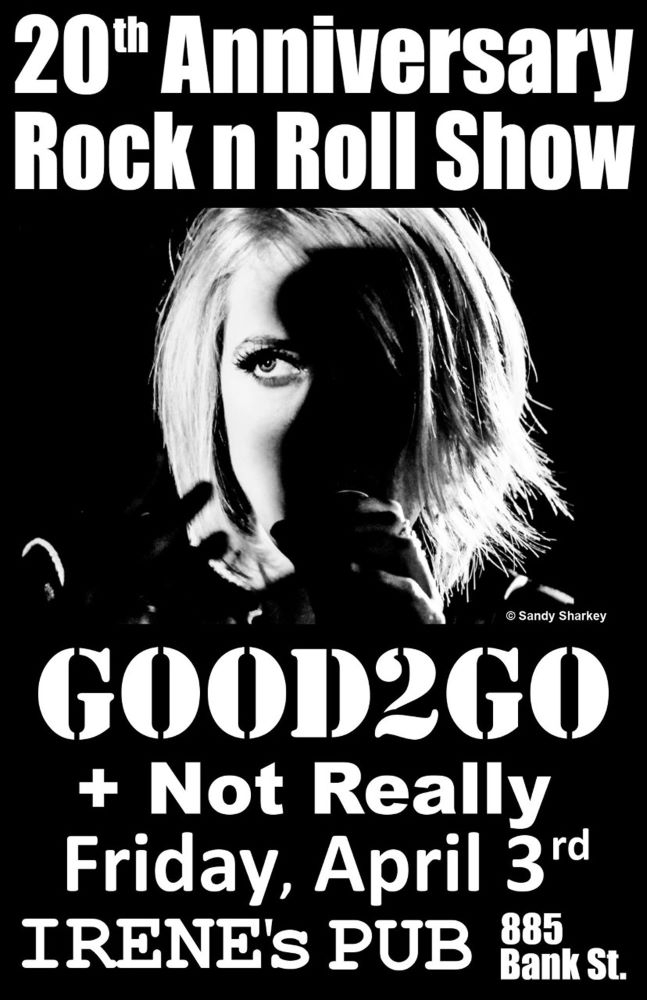 What can we expect from this 20th Anniversary gig?
Reg Allen: Going off of the practice last night it will be really great. The older we get, the better we sound. (Editors Note: All shows at Irene's Pub are cancelled due to COVID-19. Please visit their website for any updates.)
Any memorable shows?
Reg Allen: Our first Bluesfest and Westfest shows were great. Our New Year's Eve shows at Zaphod's were always amazing, and the crowds were really good. Maureen goes out into the audience too for those, so she's really great at interacting. We've never had a really bad show where we leave disappointed. Though we did have a show in London, Ontario at one in the morning with no one there because we were so late on the bill. Local shows have been pretty good to us though.
Looking back on "O-Train" years later, I was curious if you've tried adapting the lyrics to changing busses in the song?
Reg Allen: "O-Train" has definitely sped up and slowed down over the years. As far as lyrics, that's more Maureen's department, but I know the 95 no longer runs through there. But really we haven't looked to changing the lyrics for now.
Is there and LRT related sequel to "O-Train" in the works?
Reg Allen: We actually have a song we were messing with a working title "Train, Train, Train" for now. It wasn't progressing as well as it should have. It's probably gonna come along since it's a pretty big fiasco. It's a good idea though, and we've definitely thought about it.
Recommended Articles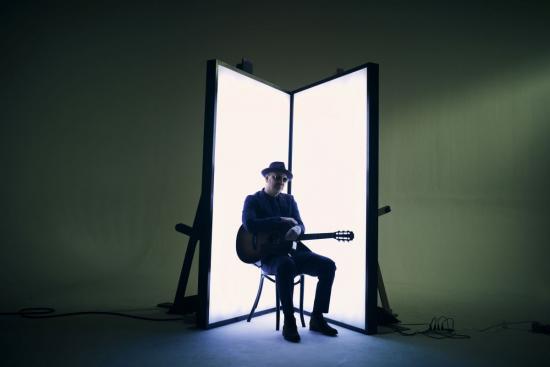 We caught up with Good ahead of his two night run at the Bronson Centre that was postponed. Check out what he says about working with friends and how life shaped his latest record.
Read full story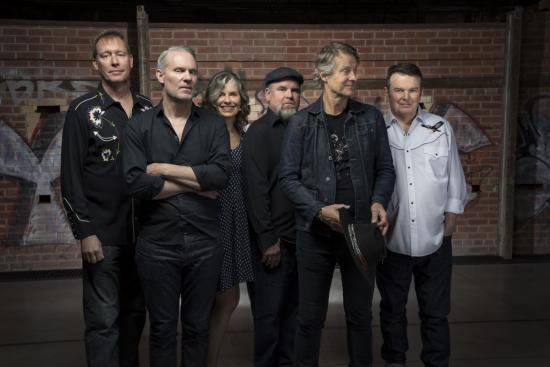 We caught up with Jim Cuddy before his band rolls into town for their January 31, 2020 performance with special guest, The Devin Cuddy Band.
Read full story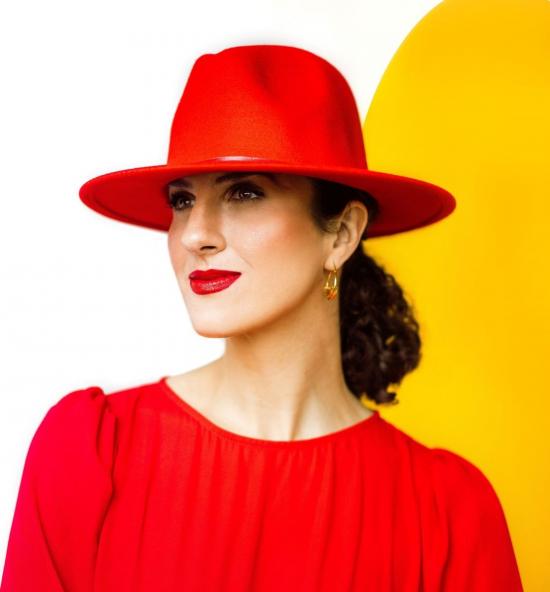 We caught up with singer Biali ahead of her March 21 show at the National Arts Centre.
Read full story
Comments (0)
*Please take note that upon submitting your comment the team at OLM will need to verify it before it shows up below.