Goodwill Hunting
Walking through Goodwillis much like perusing a well-organized local garage sale or flea market. With a keen eye, a great find could quite possibly be on your radar. However, it's just as likely that you'll depart empty-handed. That being said, Goodwill is still a spot to add to your used clothing circuit.
The Goodwill thrift store is just part of the overall Goodwill organization. Far beyond the realm of affordable fashion, the goal of Goodwill is to assist individuals facing barriers to employment through the creation of work opportunities and skills training. The sales from the stores enable them to do so in conjunction with individual and corporate donations.
Currently, the organization boasts over 600 employees and has 17 stores across Ontario. Ninety per cent of its operational funds are covered by the organization, and they are also supported by PepsiCo Canada. Recently, Goodwill was given some star power when Beyoncé encouraged fans on the North American leg of her Mrs. Carter World Tour to donate to the organization and even invited Goodwill to operate a donation centre at all 24 concert dates.
A very volunteer-oriented organization, Goodwill has 135 Ontario volunteers alone. On top of that, the board of directors is completely volunteer-driven. While there are positions in the stores, the opportunities extend to front desk work, community outreach research and volunteer training. If any of these positions interest you, make sure to check out Goodwill's online volunteer listingsregularly for openings.
Unique to Ottawa's Goodwill store branch is the Store Merchandising and Retail Training (SMART) Program. The SMART Program rallies employment in the retail sector by offering practical experience to program participants. With 63 per cent of its participants finding employment after completion of the program, it is evident the program is an asset to the community and an excellent resource for students.
During my visit, I concluded Goodwill's filtering process of clothing is on the more lackadaisical side, as the ratio of items you'll actually wear to items you wouldn't be caught dead in is slightly less remarkable than the previous visits to Value Village andThe Clothes Secret. It is important to keep in mind the differences in the missions, resources and merchandise collection process as this indeed affects the level of quality seen in their products.
What Goodwill can't offer in consistency of product quality, it makes up for in organization and convenience. Not only did it possess multiple signs informing the shopper of the section of the store and item description, it organized the garments by colour as well as size. This was surprisingly handy, and would be particularly helpful if you are hunting for a specific item. A number of dressing rooms were also located at the back of the store, so do take advantage of them before purchasing an item to find out how it fits.
Prior research indicated some displeasure with the cost of merchandise sold at Goodwill. However, I found the prices appeared to be quite comparable to other used clothing stores. A good-as-new formal dress coat from Club Monaco was listed at $20, undoubtedly a steep fall from its original price. Even so, the store regularly touts sales with prices sometimes up to 50 per cent off. In addition, outdated or slightly damaged items, as well as pieces by unknown or lower-quality designers, appear to have prices adjusted downward.
Holding a vast collection of women's wear, notably jackets, blouses, jeans and accessories, one has many items to consider during a shopping trip.
The key to fashion triumph at Goodwill is repetition and perseverance. Forget about the visit where all you were met with were bad reject pieces from the '80s; stop by again and reassess the stock. Goodwill constantly adds new merchandise and there are many gorgeous items just waiting for a new closet to call home.
Recommended Articles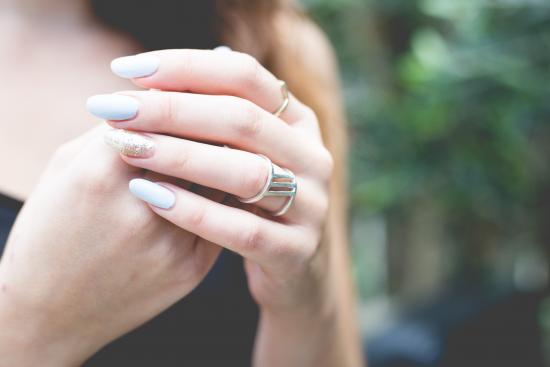 With spring and summer approaching, many of you may want to get your nails ready for mitten-shedding season. From the east end to the west end, here are 5 spots to check out before the warm weather hits.
Read full story
These five 80's trends have been reimagined to modern simplicity and have been tailored to flatter different body types and enhance your best feature all the while retaining its true ideological structure.
Read full story
Comments (0)
*Please take note that upon submitting your comment the team at OLM will need to verify it before it shows up below.