Arts & Events
Hope is on the Programme for Thirteen Strings' Concert for Peace
Hope is on the Programme for Thirteen Strings' Concert for Peace
Thirteen Strings' "Concert for Peace" is a concert for a cause and it is happening Friday January 27th, 2017 at Dominion Chalmers United Church. This special musical event t bridges cultures, languages, musical traditions and times while ushering in the New Year on a hopeful note.
Thirteen Strings, together with soprano Miriam Khalil, under the baton of Kevin Mallon, will premiere "Recall the Eden", a commissioned work for String Orchestra, Solo Soprano, Persian instruments the Tar and Tombak, and Narrator; it was composed collectively by Iranian-Canadian Composers of Toronto. The piece is based on 13th Century Persian poet Saadi's poem "Bani Adam", the Children of Adam. The famous poem is a plea to remove barriers between people. The sentiment of the poem is enduring and the poem itself is referenced widely; for example, it adorns the entrance to the United Nations Building in New York City.
These three couplets from the poem were translated into English by M. Aryanpoor:
Human beings are members of a whole,
In creation of one essence and soul.
If one member is afflicted with pain,
Other members uneasy will remain.
If you've no sympathy for human pain,
The name of human you cannot retain!
Additionally, Iranian and Syrian musicians, a small choir of Syrian refugees and Junior Thirteen Strings will also be performing.
The concert programme also includes iconic works such as Barber's reflective "Adagio for Strings," one of the few pieces to be played in the Soviet Union during the Cold War and often performed during memorial and remembrance ceremonies; Mozart's cheery "Eine kleine Nachtmusik," and Vaughan Williams' popular "Fantasia on a Theme by Thomas Tallis."
Jean-Nicolas Beuze, the representative of the United Nations High Commission for Refugees in Canada has agreed to be a patron of the concert. In my interview with him, he emphasizes that countries taking in refugees do benefit from their presence. Through the music being performed by the choir of refugees during this concert, Canada is receiving as well as giving which is a beautiful thing.
German Ambassador to Canada Werner Wnendt and his wife, Dr. Eleonore Wnendt-Juber; Counsellor and Chargé D'Affaires of the Embassy of Lebanon, Sami Haddad; Chief Justice Beverley McLachlin; and Andrew McArdle will be attending the concert.
The concert is funded in part by the Community Fund for Canada's 150th, as well as through a collaboration between the Community Foundation of Ottawa and the Government of Canada.
The tickets for refugees are fully subsidized by a grant from the Canada Council for the Arts. Those interested in these tickets are asked to email info@thirteenstrings.ca or call 613-738-7888.
Concert For Peace
When: Jan. 27, 7:30 p.m.
Where: Dominion-Chalmers United Church, 255 Cooper St.
Tickets: Refugees receive free tickets, email info@thirteenstrings.ca or call 613-738-7888. Others: $40, $35 for seniors, $10 for students, tickets available at www.thirteenstrings.ca.
Recommended Articles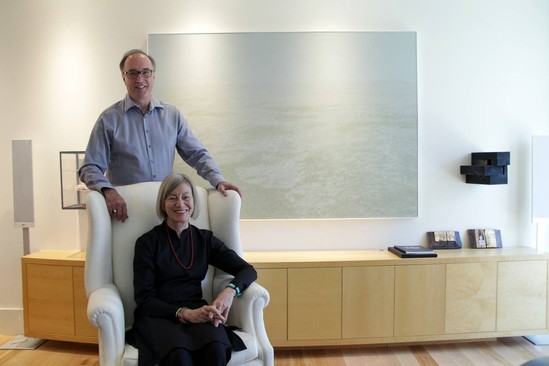 Glen Bloom and wife Deborah Duffy with Leslie Reid's 'Cape Pine: The Barrens,' 2012, Oil on canvas...
Read full story
Live in-person theatre is back at the GCTC with Daisy, on stage until December 17.
Read full story
The NAC Orchestra is turning the clock back this week to showcase the music of 80s. Those looking for composers like Strauss, Tchaikovsky and Brahms, however, should turn their time machine ahead by a century.
Read full story
Comments (0)
*Please take note that upon submitting your comment the team at OLM will need to verify it before it shows up below.