Top Stories
Hydro executives debrief City Council on last months' outages
Hydro executives debrief City Council on last months' outages
The presence of Jim Durrell, the chair of Hydro Ottawa Holding Inc., and Bryce Conrad, the company's president and chief executive officer, was the most anticipated part of Wednesday's Ottawa City Council meeting.
During his review of the 2021 fiscal year, Durrell said Hydro Ottawa was best in class for the fifth year in a row regarding the number of outages and their length. However, that is likely to decline with next year's report due to the storm that blew through Ottawa on May 21, 2022. Durrell stated that the Premier's office was in touch with Conrad daily during the power outages and said the province would be picking up the associated costs of the storm.
Durrell discussed the plans for a new five-year-long initiative that will make Ottawa a net-zero city for electricity by 2030, aiming to become the first municipality in Canada to hit this target.
Durrell then shifted his attention from the report and addressed the storm. According to the presentation, "no corner of our service (Hydro Ottawa) was left untouched." Durrell noted that the ice storm of 1998 and the tornado of 2018 paled compared to what hit the city last month.
By any metric, it was the most significant service disruption in the city's history, with 50 per cent of customers affected. When the power first went out, the Hydro Ottawa executives stated that their strategy was to restore power to the critical infrastructure in the city: hospitals, water purification plants, and the airport.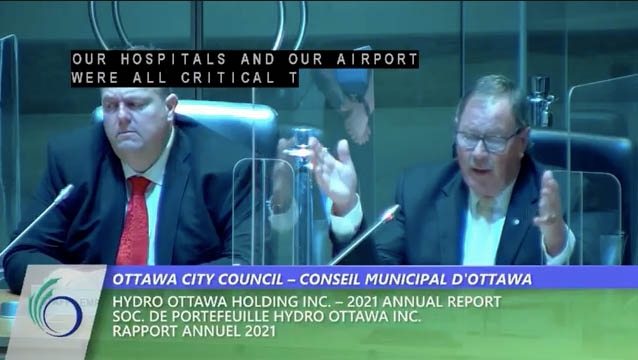 Durrell stated that he was without power for six days and understood citizens' frustration, but that service restoration took so long because it takes, on average, close to six hours to repair or install a hydro pole, and the city lost 410 of them; "nearly a year's work," Durrell said. The cumulative damage to infrastructure was between $25 million and $30 million.
Durrell stated that the city still uses wooden poles because they are "cost-effective" and last up to 50 years. Durrell said that "wooden poles are not the problem" and "a storm of that magnitude will always be a problem." Conrad then commended the workers at Hydro One, stating, "effectively, we rebuilt half the grid in the better part of eight days."
Responding to why lines are not buried, Durrell stated that lines are buried when major infrastructure work is done, such as the 2018-2020 revitalization of Elgin Street. Durrell explained that the process is time-consuming and costly: it would take 90 years to bury the grid and cost roughly $10 billion. Ottawa Hydro consumers would have to pay for the change would mean monthly hydro bills would go up.
Councillor Rawlson King asked the executives what measures Hydro Ottawa was taking to address grid resilience. Conrad responded that the company is investing $130 million a year in storm hardening and increasing the "telecommunications capacity" so that outages are dealt with promptly through a central office rather than sending teams to fix them. Conrad stated that Hydro Ottawa can generally handle most outages remotely unless there is infrastructure damage, such as a tree falling on lines.
Councillor Catherine Kitts asked if, as part of Hydro Ottawa's review, there would be consideration taken to prioritize residents with separate septic and well systems that require electricity to work. Kitts' ward includes the villages like Carlsbad Springs, where many residents rely on this form of infrastructure in their households; Carlsbad Springs faced longer than average power loss after the storm. While there was no solid plan, Conrad said he sympathizes with these residents and will look at a contingency plan for the future.
Councillor Shawn Menard raised concerns about emergency alert systems and having a possible email from Hydro Ottawa, similar to the parking ban emails sent out in the event of snowstorms. Conrad responded that residents would have received emergency messages via text message, but if there is an opportunity to integrate with city communications or email messaging, "they are happy to do so."
Deputy Mayor Laura Dudas critiqued the communications aspect stating that relying on electronic communication was not sensible because residents could not charge their devices. This left the communications aspect to city staff, who "did not have the information." Dudas went on to say that councillors and city resources shouldn't be the providers of information on behalf of Hydro Ottawa.
City Council is scheduled to meet again on July 6th.
Header photo: @KatherineDines
Recommended Articles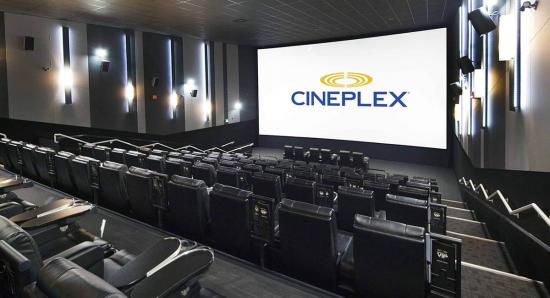 Movie reviewer Keith Whittier comments on the latest booking fee surcharge being levied on Cineplex customers who purchase tickets online.
Read full story
Conservative party members must decide if they are going to present an idea based, thoughtful, respectful, and civil alternative to the governing Liberals
Read full story
Ade Olumide is calling for a120-Day Police Complaints Bill of Rights Accountability & Transparency Bylaw
Read full story
Comments (0)
*Please take note that upon submitting your comment the team at OLM will need to verify it before it shows up below.