It's time to drink pink
Enjoy every moment of sunshine this summer on your deck or dock with a glass of rosé wine in hand. Most winemakers around the world dabble with making a rosé wine to quench their thirst with grapes from last year's harvest. "Grapes are grown throughout the year specifically to make rosé wine", explains Derek Barnett who makes wine in Prince Edward County for Karlo Estates and in Niagara at his own virtual winery, Meldville Wines.
Our Rosé Report
Our team of sommeliers have done the hard work of tasting countless rosé wines from across Ontario and have picked the most dry, crisp and refreshing ones to feature in our variety six packs. Our sommeliers share their tasting notes along with food pairing tips when you uncork a rosé wines to clink and drink pink. Here are just a handful of the rosé wines that we have featured so far this summer in our 'Savvy Deck Party Packs'.
Closson Chase Winery Rosé VQA 2018
$21.95 • Prince Edward County
Closson Chase is one of the first wineries to break ground in 'The County' when farmers fields were transforming into vineyards. Focused on creating the best pinot noir & chardonnay wines with County grown grapes, our sommeliers were super keen to showcase the newly released wine with you.
Winemaker's Tasting Notes: Delightful aromas of floral, cedar and red fruit fill the glass. The mouth is round and soft with hints of dried herbs and underripe strawberry. This fresh acidity has a slight salty taste that leads to a long finish.
Suggested Food Pairing: Pair with young cheeses, cured meats and lightly pickled vegetables . . . in other words, a picnic.
Huff Estates Rosé VQA 2018
$20 • Prince Edward County
This is one of Huff Estates' signature and most popular wines. Rosé and County wine fans clamor for it every year – Savvy Team included! Always crafted with 100 per cent cabernet franc grapes grown on the estate, there is the regional characteristic of minerality and crisp acidity that makes this a class act wine.
TIP: If you are heading to Prince Edward County this summer, plan to visit Huff on Sunday when they have live jazz performers playing on the El fresco patio overlooking the vineyard.
Savvy Sommelier's Tasting Notes: This refreshing wine is bone dry with a light pink hue that resembles classic rosé wines from Tavel, France. Fresh strawberry and rhubarb notes with a splash of pomegranate creates a well-crafted refreshing balanced rosé wine with refreshing acidity.
Meldville Wines by Derek Barnett Rosé VQA 2018
$20 • Niagara
Derek Barnett was the first winemaker that we hosted a winemaker's dinner for when we started Savvy Company over 15 years ago. We were tickled pink when he told us that he planned to release his newest wine creation – this rosé – at our spring pop-up wine shop in April. The crowd was WOWed and we wanted to make sure that you got a bottle before it is all gone. Derek only made a small batch.
Winemaker's Notes: A pale cherry skin colour with orange hues, the aromas and flavours are of wild strawberry and raspberry, a dry wine with a rich texture on the mid palate, a balanced acidity brings a mouth-watering finish with a red citrus note.
Suggested Food Pairing: Derek says it best: "This wine can also be enjoyed just by itself with good friends."
Queenston Mile Vineyard Pinot Noir Rosé VQA 2017
$30 • Niagara
Opened in January 2019, this is the sister winery to Creekside Estates Winery. Chris MacDonald is the winemaker at both wineries showing his talent with different styles and grape varieties.
Savvy Sommelier's Tasting Notes: This is the first rosé made under the Queenston Mile Vineyard label. A premium rosé that has outstanding aromas of strawberries, citrus (a hint of mandarin?) with some acidity that 'tastes like more' remarked Savvy Sommelier Debbie.
Suggested Food Pairing: This is delicious with BBQed salmon, shrimp or spinach & strawberry salad.
Always have refreshing rosé wines on hand this summer. Call on our Savvy Sommeliers to receive next month's Deck Party Packs!
---
Debbie Trenholm is a sommelier and the founder of Savvy Company. Call 613-SAVVYCO (728-8926) or visit them online at savvycompany.ca.
Recommended Articles
The holidays are fast approaching and OLM wants to make sure that you're prepared for the gift-giving season! Got someone in your life who lives for food? We've got you covered with a roundup of some amazing foodie products that they're bound to love!
Read full story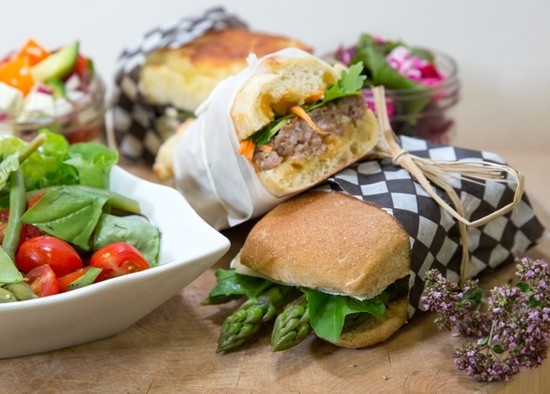 One year after the opening of Café Urban at Saint Paul University, the kitchen is busier than ever....
Read full story
Comments (0)
*Please take note that upon submitting your comment the team at OLM will need to verify it before it shows up below.