J & J's Gibberish: Wonderful Insight from Spectrum Insights
J & J's Gibberish: Wonderful Insight from Spectrum Insights
Photos by John Anderson
---
As a parent of an autistic kid, I am always looking for new ways to help my son integrate better into society and to learn important life skills he will need to survive. Parents can't do it alone. While nobody else knows our kids like we do, having outside assistance from professionals is critical. They say it takes a village to raise a kid, but it takes a lot more than that to raise a special needs kid.
It is in fact a daunting task and while the CHEO Autism program is fantastic, the problem is there is a huge gap in services, especially if your child is older when diagnosed. There is a lot of support for kids who get the label young, but when you have a kid like Jacob who is complicated, diagnosed later in life and has a lot going on other than just autism, he is starting out of the gate late, especially when it comes to socialization skills. It is entirely sad and heartbreaking.
One man, John Anderson is changing the social landscape for autistic kids in Ottawa. He is the founder and Program Director of Spectrum Insights. In short, Spectrum Insights is an organization that provides one-on-one coaching and social integration training for autistic youth and adults alike. John is a caring, empathetic man who has been working with people on the spectrum since 1996.
He has worked with Jacob one-on-one for approximately two years, helping us work through certain behaviours, encouraging healthy social ones.
John will work with kids after school in a classroom-type setting, however, it is his excursions that are particularly helpful. "During my time working with youth, I found there were life skills that I was not able to teach during a personal coaching session in a classroom but could only be taught in the real world. I began to take my clients on social outings to better learn life skills."
These are special times for Jacob, no question. John and Jacob have been to museums, malls, out for walks and doing great things. John has been very helpful especially because Jacob has not been in school.
Once a month, John hosts a social group for kids on the spectrum, where they can hang out, grab some grub (potluck), play games and talk to each other. As you might imagine, being a kid on the spectrum can be isolating. It is a safe environment for them, there are skilled, experienced staff on hand and organized activities. Jacob loves it and feels accepted among the group. It is a highlight of his month.
In addition to one-on-one and social group, John organizes summer camps. "I started a summer camp for my clients in 2012. The main focus is life skills and social skills. The goal is to teach them how to be more independent and how to interact socially in the world and with each other."
Some of these skills he works on include things we all take for granted:
Taking the bus/Light rail – Learning bus schedules, using the OC Transpo Website And Google maps
Time management – Planning our day trips, telling time, wearing a watch ( I am learning that from Jacob and I could sure use help with that one!!! Ask anyone who knows me.)
How to use money – where to keep your wallet, how to talk to a cashier, counting change, social skills in a line
Social etiquette – on the bus, in theaters, shopping etc
How to shop for yourself – Buying your own groceries, Buying personal effects like Deodorant, tooth brushes etc.
Planning socials - Learning how to connect with friends and plan activities
Using Social Media, texting and emails to stay in touch
Ordering food/restaurant etiquette
Small talk
How to make a good first impression
How to keep friends
The summer camp is phenomenal and Jacob has gone for two summers for week-long day camps. He is around other kids doing normal things.
Spectrum Insights also has programs specifically for girls, organizes movie nights and even has hooked up with the Superstore in Orleans to offer cooking classes (another huge hit in my house) for youth.
John says that: "My current vision is to reach out to more teens, as I find many of them reach an age where there are fewer and fewer programs available for them. As they near adulthood, they outgrow school or are not able to attend due to their personal limitations and don't have the social interaction other kids have."
Spectrum Insights offers autistic teens a chance to be in a social group and social setting where they are among peers again and as Jacob meets other kids, it is evident that John is providing the chance to build lasting bonds of friendship.
That too is golden.
Recommended Articles
A wonderful thing happened last week. At a town hall meeting Prime Minister Trudeau hosted in Nova Scotia, a mother stood up and shared her struggles of trying to raise an autistic child. While it was immensely sad to hear how she had to give up her job to care for her child, she raised important issues that must be addressed.
Read full story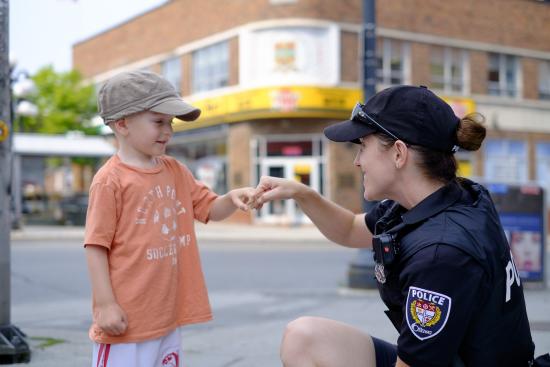 One mother's weekly journey in raising her special needs children.
Read full story
Forget resolutions, forget self-improvement projects this year. Focus on you. Focus on happiness, on your family's happiness… on peace.
Read full story
Comments (0)
*Please take note that upon submitting your comment the team at OLM will need to verify it before it shows up below.