Travel
Kissimmee Florida has more to see and do than you've ever imagineered!
Kissimmee Florida has more to see and do than you've ever imagineered!
ABOVE: In Kissimmee, the back door leads to the best theme parks, entertainment, shopping, and dining in Central Florida, while out front, nature lovers find a whole world of outdoor adventures.
(Photo: Wild Florida Airboats via experiencekissimmee.com)
---
Kissimmee, Florida, is located just a golfball's drive south of the greatest theme parks on Earth, which is why it may surprise you to learn that it is a terrific destination for nature lovers and a real hub for sports and outdoor activities with a laidback, almost rural vibe of its own. The city is situated on the northernmost headwaters of the Everglades and is home to beautiful lakes, wetlands, and nature reserves that offer endless opportunities for hiking, biking, kayaking, and other outdoor adventures.
I stayed at Magic Village Views, a very well-managed gated community that is part of the Trademark Collection by Wyndham. The property features three and four-bedroom furnished luxury villas that come with a fully-equipped, spacious kitchen and a sprawling living room with two seating areas off of a great patio with a hot tub and BBQ. Every bedroom has a complete bathroom, plus there's a powder room and a laundry room on the ground floor. Parking is right at your door.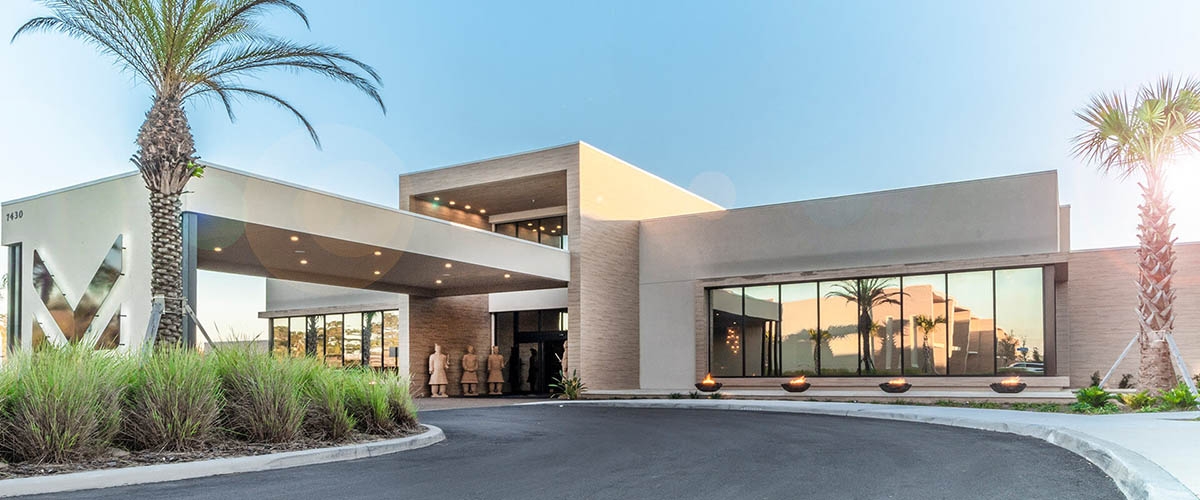 ABOVE: The Clubhouse at Magic Village Views. (Photo: Courtesy MVV)
Magic Village Views feels like a home away from home with all of the amenities of a resort hotel. You'll arrive to a warm greeting at the clubhouse/front desk, where you'll learn about concierge and housekeeping services, a really good fitness room, a terrific on-site restaurant called the Meating Place, where the wonderful staff recommended what was possibly the best hamburger, fries, and key lime pie I've ever had, which I enjoyed by the pool, hot tub, tennis court, and volleyball court. Magic Village is located on a quiet cul-de-sac across from a huge conservation area and a short drive to groceries, Starbucks, and endless restaurant options along Highway 192. And, it puts you in what is pretty much the centre of everything Kissimmee has to offer, and by that, I mean plenty!
ESPN Wide World of Sports opened in 1997 and has since become one of the top indoor/outdoor venues for amateur and professional athletes from around the world. It covers over 220 acres (89 hectares), features multiple fields, courts, and tracks for baseball, basketball, football, soccer, and more, and hosts a variety of tournaments and events throughout the year. Hey, I was so impressed by the turf I almost lay down on it to take a selfie.

ABOVE: The impressive ESPN Centre covers 89 hectares or 890,000 square metres.
In the summer months, ESPN is home to the AAU Junior National Volleyball Championships, which brings thousands of young players and their families to the area. In the fall, it hosts the Disney Cross Country Classic, drawing high school and college cross-country teams from around the US. The Disney Soccer Showcase takes place in late December and attracts over 600 teams from around the world. Probably the biggest annual event is the Walt Disney World Marathon Weekend which takes place every January and features a full marathon, a half marathon, a 10K, and a 5K. Runners come from around the globe to experience the scenic course that winds through all four Walt Disney World theme parks.
Being located in the Walt Disney World Resort, visitors will find a touch of Disney magic throughout the complex and at the events. MLB fans at the spectacular baseball diamond, that recently hosted grapefruit league teams, may see Goofy throwing out the first pitch. What could be more fun than that? While exploring the interior facilities, I asked about who the gang of guys was in one of the many classrooms. Turns out it was the Tampa Bay Rays! Had it not been poor diplomacy, I was tempted to barge in and rally them to move to Montréal.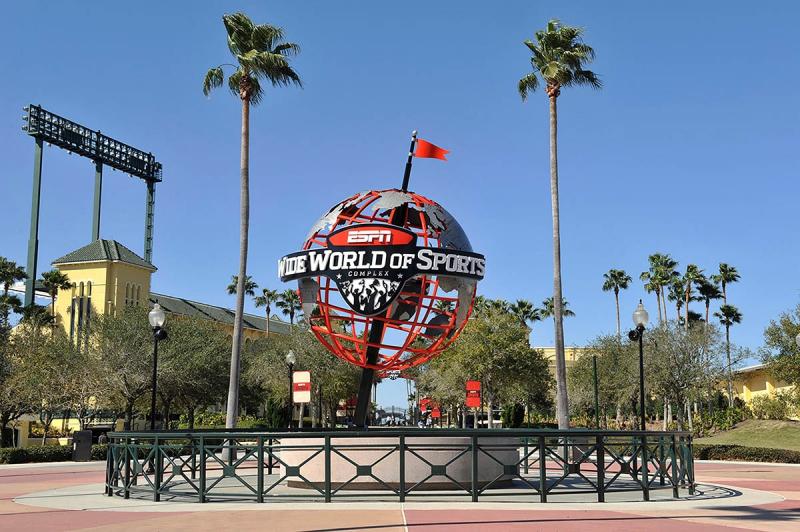 ABOVE: The entrance to the ESPN ballpark.
Visitors to ESPN can also enjoy interactive exhibits, live performances, and character meet-and-greets throughout the site. There are also plenty of dining options, from quick-service restaurants to sit-down meals with a view of the sports fields. The ESPN Club is a super popular spot for fans to watch their favourite games on big-screen TVs.
Attention golfers! The Bay Hill Club and Lodge is a luxurious resort with world-class golf, accommodations, and amenities. The course, designed by Arnold Palmer himself, a long-time resident of the area, features 18 challenging holes that wind through the lush Florida landscape. The resort also has a spa, multiple dining options, and a fitness center.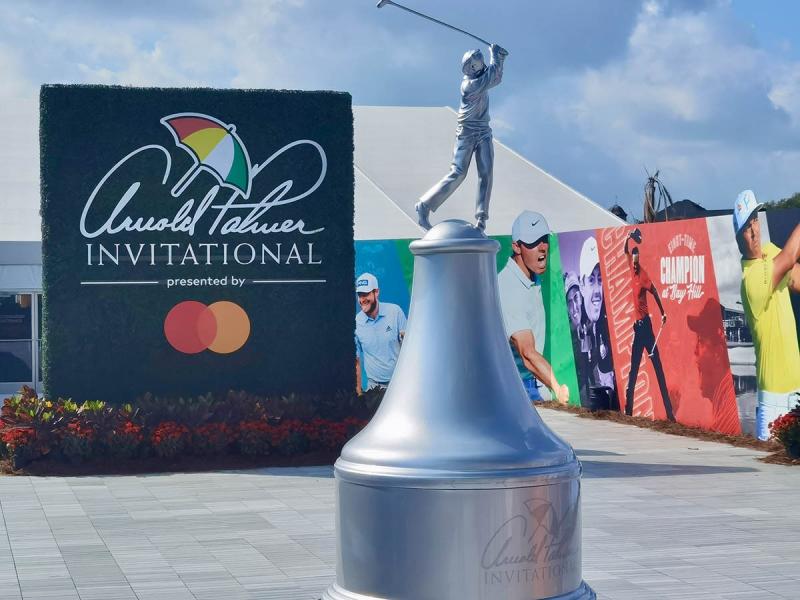 ABOVE: Arnold Palmer Invitational is more than just a golf tournament.
The Arnold Palmer Invitational is more than just a golf tournament. It is also a celebration of the life and legacy of one of the game's all-time greats. The tournament was first held in 1966 and has since become one of the most prestigious events on the PGA Tour. It includes various events and activities, from a junior clinic to a charity auction. One of the highlights of the Arnold Palmer Invitational is the Wednesday Pro-Am, where amateurs have the opportunity to play with some of the top golfers in the world. It is a unique chance to get close to the pros and experience the thrill of playing on a world-class course. This was my first time attending a tournament. It was a relaxing, pleasant experience to follow pairs along the course and to park myself under a shade tree to watch the near-perfect drop of a ball on the green. Fresh air, sunshine, a good long walk, and some really impressive play made for an enjoyable day.
ABOVE: Will Gordon on the green at the Arnold Palmer Invitational. (PHOTO: Keri Burns) Trey Mullinax putting on the course at the Arnold Palmer Invitational.
After a full day in the sun, it's great to find an oasis where fine food and drinks can be had in a Mediterranean-style setting. The luxurious Meliá Orlando Celebration features stunning architecture and top-tier amenities and services. The atmosphere around the beautiful pool is conducive to lounging in the warm afternoon shade or in cabanas. The hotel's Wilson restaurant is a seaside-inspired poolside bistro and bar offering a fresh and delicious selection of American and international cuisines, with plenty of gluten-free and vegetarian options available. And if you're in the mood for a drink, the bar serves up a variety of craft cocktails, beer, and wine. I had a refreshing Mojito and a very tasty Broccoli Caesar salad that was listed as a starter, but that could have been portioned out for a table of four.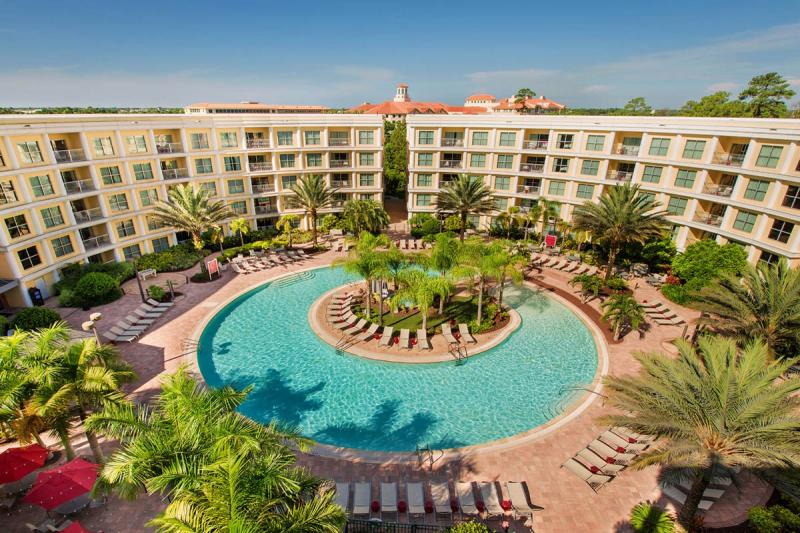 ABOVE: Melia Orlando Celebration is well situated and offers complimentary shuttles to major attractions.
The hotel offers spacious suites with separate living areas and balconies overlooking the inner court or the picturesque Celebration Town Center. It's perfect for couples and families and, like all good Disney neighbours, offers a courtesy shuttle to all the parks, so no parking or traffic hassles. The fitness center is well-equipped with cardio, weight machines, a sauna, and a steam room to unwind in afterward. And if you're in the mood for a little pampering, the hotel's spa offers a variety of treatments to help you relax and recharge.
Now, many places boast of outlet malls, but none can compete with Orlando Vineland Premium Outlets. It's an unmatched shopping experience that is sure to satisfy any shopper looking for high-quality designer brands at deep-discounted prices. You'll find popular labels like Coach, Michael Kors, and Kate Spade, plus sportswear giants like Adidas and Nike, but things move up a notch with the likes of Prada, Versace, Jimmy Choo, and Brunello Cucinelli. And more importantly, and this is the big difference, one does not get the impression that these outlets are dumping stock and oddball sizes that nobody else wants. My fellow shoppers and I all acquired great finds at up to 70% off, even in the top-end European stores.

The Orlando Vineland Premium Outlets requires an entire day to explore the 160+ boutiques among the palm trees and vibrant flowers lining the walkways. There are plenty of seating areas and umbrellas to provide shade and a variety of dining options ranging from fast food to sit-down restaurants. The food court is much better than most, with variety and plenty of vegetarian options.
Universal Studios Orlando is a massive movie-themed park that features all of your cinema and TV franchise favourites. The Wizarding World of Harry Potter is an immersive experience that takes visitors to Hogwarts Castle, the Forbidden Journey Ride, and the Flight of the Hippogriff roller coaster. The Jurassic Park River Adventure and the Raptor Encounter dig into dinosaurs, while Marvel Super Hero Island features rides and attractions based on the infinitely-huge Marvel Comics universe. You get the idea, but there's something equally impressive: the entertainment and retail districts located adjacent to the Studios known as Universal City Walk.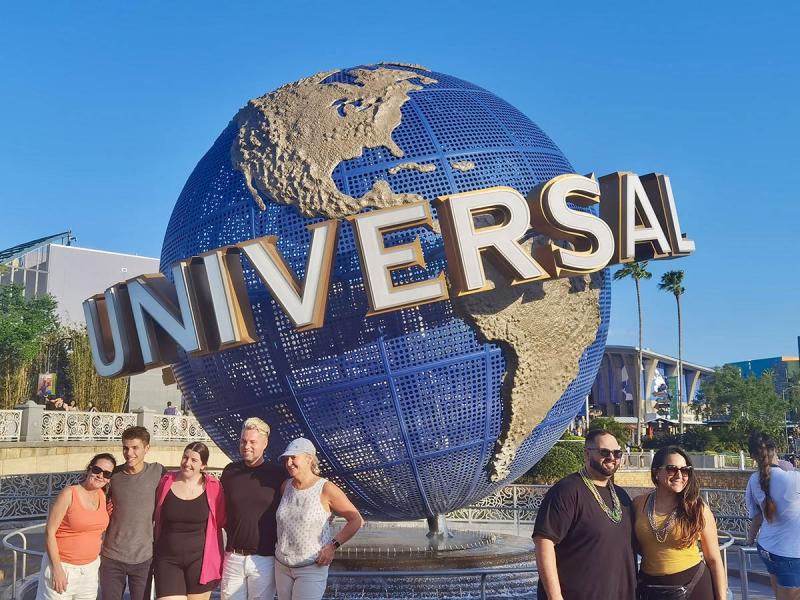 We arrived by George Jetson-style (totally different franchise, I know) moving sidewalks that swiftly carries visitors from the incredibly well-marked parking and drop-off zones on the opposite side of the highway to the entrance. Once inside, it's impossible not to be struck by the sheer perfection of it all. Not a scrap of paper, not a burnt lightbulb (and there are millions), not a trip hazard anywhere, just brightness and colour and a carefree feeling of being on a street like no other found in the outside world. The mechanized fantasy architecture made the entire place feel like a movie set on the backlot of Hollywood's greatest studio.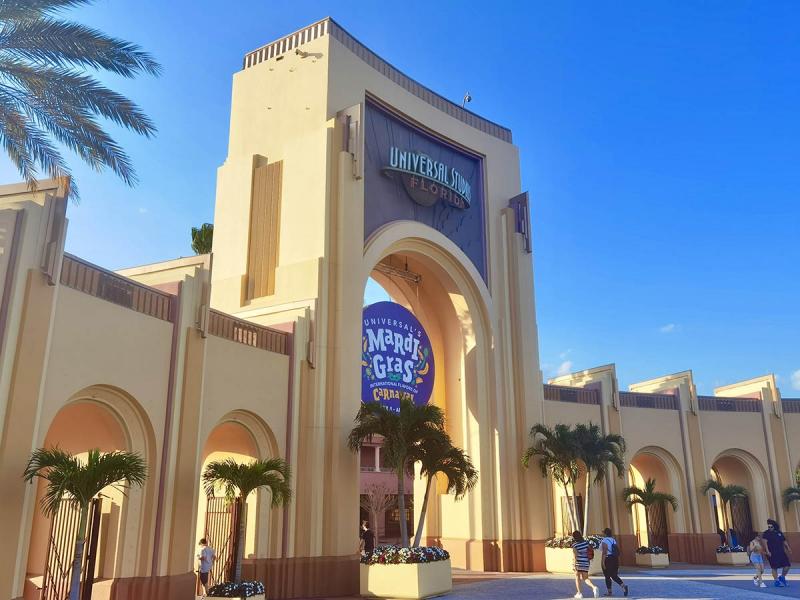 We dined at NBC Sports Grill & Brew, a sports bar on steroids with nearly 100 HD TVs playing a constant stream of games, including on jumbo outdoor screens. The beer offerings match the screens in quantity, and the menu was a really interesting mélange of homegrown and international favourites. Everybody around the table reported a delicious evening of dining. The really nice thing is that the music is not deafening as is often the case but be forewarned that the plates come loaded with what we call 'American portions,' so pace yourself accordingly. I had a very tasty and lightly grilled aubergine and pasta. Greeters and servers were like old friends.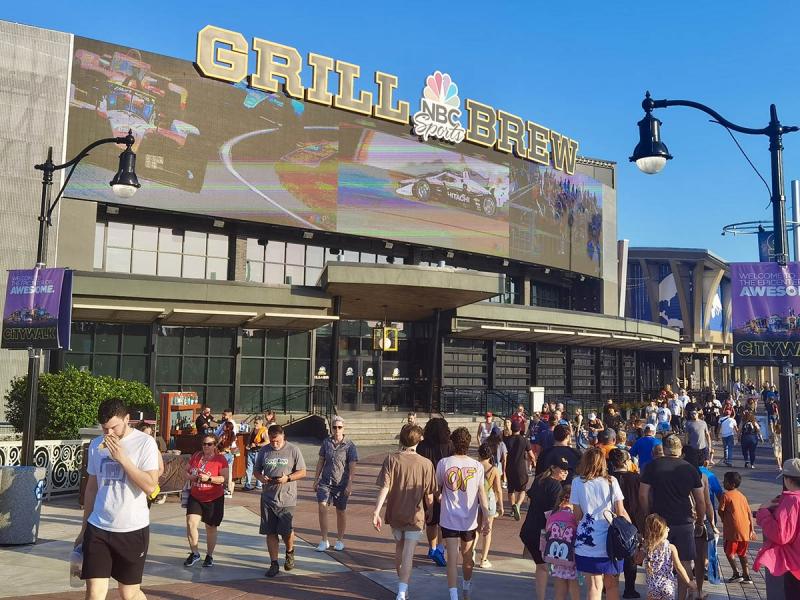 Kissimmee is a region of great contrasts, thanks to the preservation of massive natural spaces in close proximity to the hyper-real creations of human imagineering. I'm a devoted outdoor and wilderness adventure seeker, so Revolution Adventures provided a thrilling way to explore a new landscape, by ATV no less. A friendly staff makes you feel welcome and safe, and thoroughly prepares visitors for the off-road driving experience, with helmet, eye goggles, and all. Following a safety briefing and operational basics, me and the gang, dressed for mud and dirt, climbed aboard for a short circuit before speeding out. Carefully avoid snakes, we were told, because running over one would flip it into the face of the next person in line.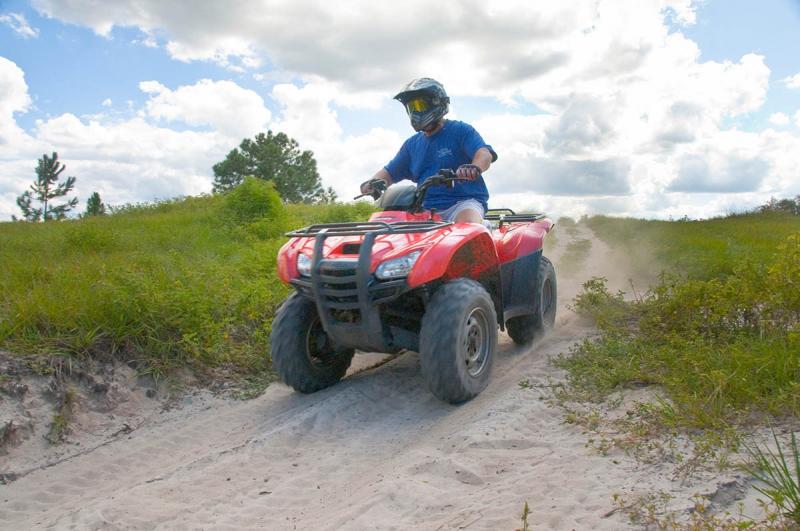 ABOVE:Revolution Adventures ATV course.
The course was intense, with steep hills, tight turns, and deep muddy pools that, if you hit them just right, gush like a geyser and coat you head to tail. You want to scream like a kid, but it's best to keep your mouth shut. I could feel the adrenaline as I navigated the obstacles with the help of skilled instructors, one in the front and one at the rear. After a short break, we did another course with even more scenery. Wildlife, including alligators, can be spotted along the way.

ABOVE: Revolution Adventures course completion and the "Dirty half-Dozen." (Photo: Nicole Servinis)
If you're not into getting down and dirty, you can try your hand at shooting with a variety of firearms or take an archery lesson. If you do the ATV course, be prepared for at least two hot showers to un-cake yourself. We didn't have the chance and arrived at our lunch destination, looking like we all fell off the hobo train. Nobody seemed to mind when we walked into Portillo's, a popular Chicago restaurant chain famous for its hot dogs, Italian beef sandwiches, hamburgers, chicken, and the most angelic chocolate cake south of dessert heaven.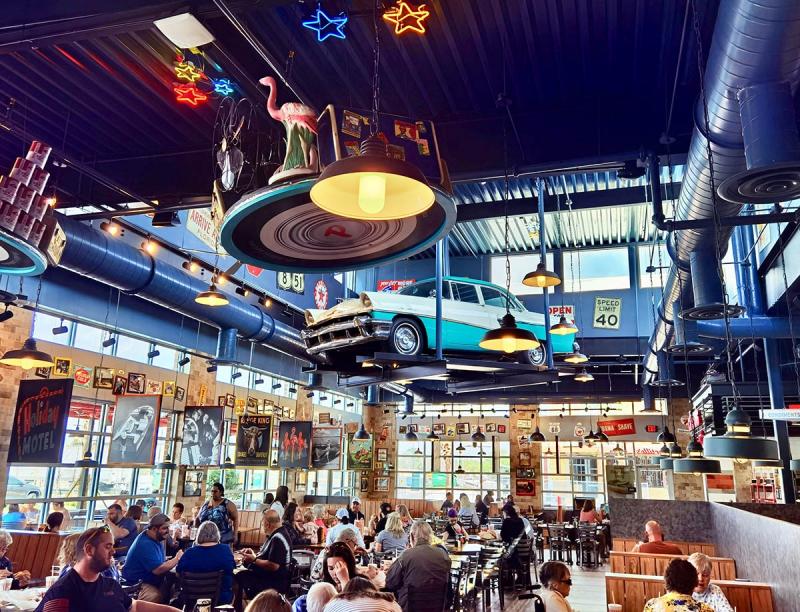 ABOVE: Lunch at the famous Chicago chain, Portillos.
You're greeted by the mouth-watering smell of grilled onions and the sound of orders being called out by the kitchen staff. The whole operation is visible to diners, right down to the talented performer who calls out names and orders with the gusto of a sportscaster. We dug into hot dogs piled high with bright green relish, onions, and mustard, Italian beef dripping with savoury-au-jus, sausage served on a poppy seed bun with mustard and grilled onions, and a cheeseburger that was a work of art. And yes, of course, I purchased a slice of cake, and the six-spoon consensus around the table was that it was almost a religious experience! Seriously, I'm still dreaming about it. So just remember you're on vacation and ignore the calorie count.
Once the sugar buzz passed and I scraped the crud off using more water and soap than a car wash, we headed to downtown Orlando and a Magic game at the Amway arena. The great advantage that any pro sports have in a southern climate is the opportunity to get the crowd pumped outside the venue with live music, DJs, and activities for the kids. There's no doing that here in blizzard country, but the Magic do it up big time.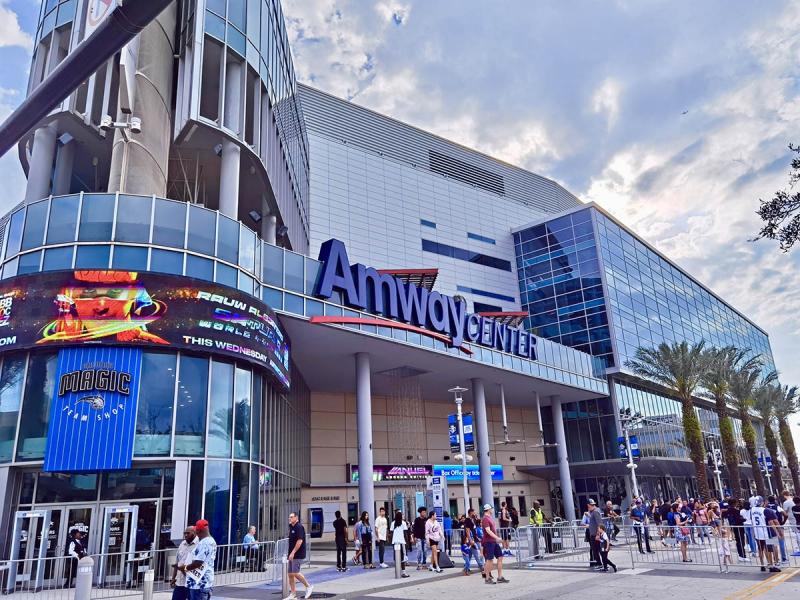 Photo:The Amway Center is a sports arena and entertainment venue is located in the downtown area of Orlando, FL.
The arena's outer perimeter is filled with windows and city views, exhibits, and plenty of great food options. I dug into a Cuban sandwich and fried plantain. You can't miss, and I mean that literally, the Hall of Fame display featuring, among many Magic players, Shaquille O'Neal and a glass display case containing the man's Size 23 court shoes! Actually, they look like a costume from a Disney movie, but I checked and they're real. He was 7-foot-1-inch (2.16 m) and 325-pounds (147 kg), after all. And naturally, it was NBA, so the game was exciting and came with on-court amusements like the competition of mascots celebrating Stuff's (the Magic's dragon) birthday. The crowd loved every minute of it [American readers, what is the Ottawa area's historical basketball connection? Learn about Dr. James Naismith's humble beginnings here].
ABOVE: Courtside at the Amway Centre.
I've just mentioned a few of the many stunning golf courses, luxurious spas, and excellent shopping and dining options that Kissimmee has to offer. By the way, nearby Celebration is actually a fascinating experiment in community planning built by Disney in the 1960s and well worth a visit. It looks like it was plucked straight out of a movie set and, like the parks themselves, there's really no other place quite like it.
For more information and trip planning, start at https://www.experiencekissimmee.com/. There are plenty of direct flights from Ottawa to Orlando and in only three hours you'll be feeling the warmth that this wonderful destination has to offer.
---
And many thanks to Sharon Kong-Perring (Thetravel.com), Nicole Servinis (Travel Life Magazine), Steven Branco (Swagger/View the Vibe), and our hosts Keri Burns and Samantha Carreira for a truly excellent time!
Photos: Unless credited otherwise, all photos by Michael Bussière
Recommended Articles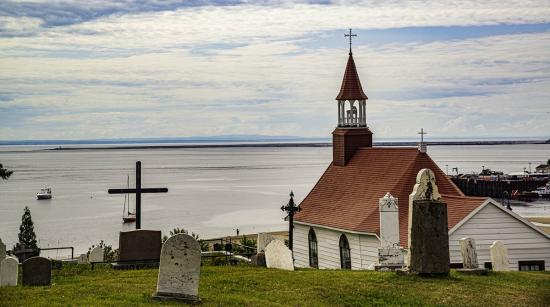 If you are guilty of spending too much time in the city, consider a trip to the Saguenay Fjord and the St. Lawrence Estuary — you won't believe you are in the same country!
Read full story
Nashville has so much to offer that one trip is not enough. You'll go . . . and I guarantee, you'll be going back!
Read full story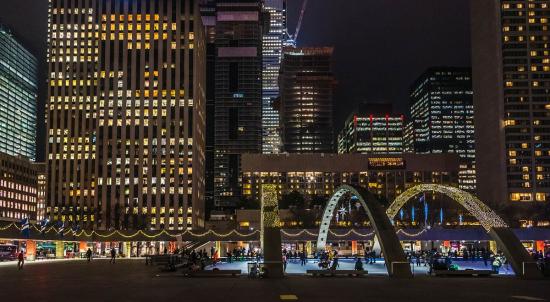 Breaking news! There is no snow on Toronto sidewalks. There was no slush, no ice during the 11 days in February I spent exploring the city, and I never once had to wear clunky boots.
Read full story
Comments (0)
*Please take note that upon submitting your comment the team at OLM will need to verify it before it shows up below.