Arts & Events
Local artist Andrea Stokes uses the magic of colour to create utopias
Local artist Andrea Stokes uses the magic of colour to create utopias
ABOVE: Ottawa artist Andrea Stokes. (PHOTO: Chloe Hayes)
---
The shapes and colours swimming around Andrea Stokes' closed eyelids take the physical form of her unique, dreamy paintings.
Stokes is an abstract artist, painter, and surface pattern designer based in Ottawa. Her paintings are an adventure into the significance of colour in any composition, inspired by the emotive retention of sensation and imagery. She uses paint to recreate dreamscapes of the various landscapes she has seen. From Ontario to Nova Scotia, recreating forests, oceans, and more, her paintings are an ethereal blend of all the places she has been.
The artist has always been obsessed with colour. "I see colours, shapes, and forms behind my eyelids before I fall asleep. It can be hard even to fall asleep because I have to get the images out of my head and onto something," Stokes said.
Stokes' pathway to finding her artistic voice was not linear. "I tried to quit it, but it won't quit me!" As a baby, her mother would find her repeatedly colouring on the walls from her crib, never putting the crayons down.
Once old enough to experiment with different paints, Stokes joined her mother on forest adventures to paint autumn scenes. Her mother's artistic ability inspired her, though very different from her own style.
Throughout her young life, Stokes experimented with all different forms of art. She was introduced to music in elementary school, briefly splitting her from her artistic path. Under the pressure of school, there was only time for one art form; she fell in love with the clarinet, and music became her refuge.
In her final year of high school, Stokes decided to give drama a try, missing the deadline for band. Her perspective shifted as she discovered the creativity behind set design and eventually enrolled in theatre school. "This part of my life was very exciting but did not feel exactly right," Stokes explains, leading into the next chapter of her life.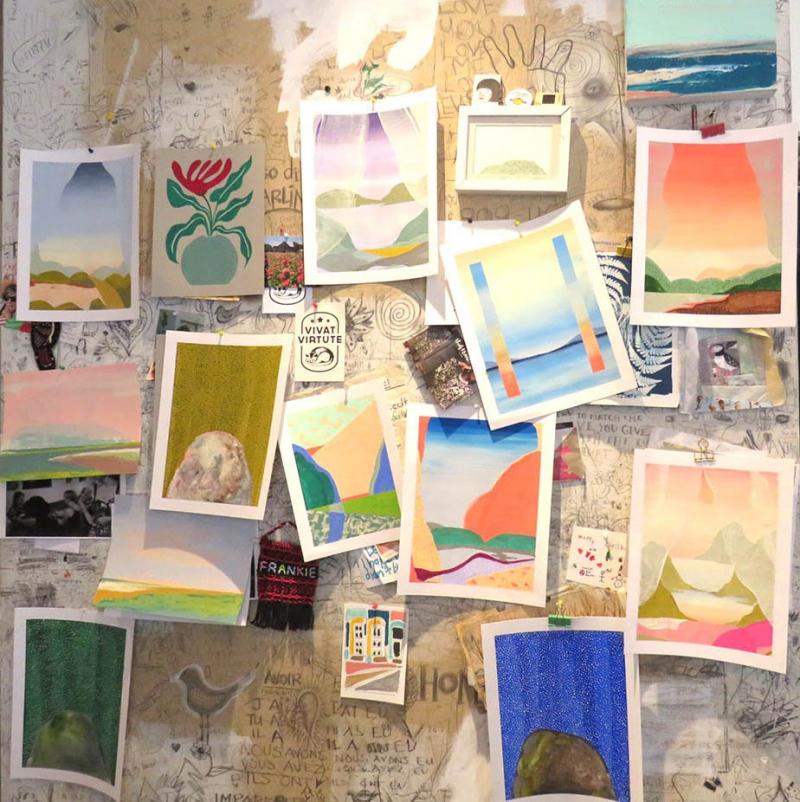 ABOVE: An inspiration wall in the Stokes' family kitchen. (PHOTO: Chloe Hayes)
After college, Stokes felt that visual art was still at her core. To 'finish the job,' she applied to the Nova Scotia College of Art and Design (NSCAD University), where she achieved her Bachelor of Fine Arts. Stokes' time in Nova Scotia became an internalized influence for her artistic creations.
For artists, there is significant pressure to choose other careers, as art is not always sustainable. Stokes started out screen-printing, and working with other commercial methods of art, until she came across the abstract genre. "Before abstract art, I don't think I was really finding my voice," she said, describing her niche.
Becoming comfortable and confident in her style, Stokes began to work for Lipman Art Publishing, creating works to satisfy a wide variety of customers while selling canvases, tote bags, room décor, and more on her website andreastokesart.com.
Stokes's creative process is a journey in itself. She describes it as sometimes frantic, "I sometimes think: I have to get these colours out of me! I have to make this colour so I can truly see it. Or else I'm walking around with too many colours inside me!" Her love for colours, especially pink, is evident in everything she creates, from her paintings to how she decorates her house.
Nature is Stokes' most important inspiration. She loves to travel, admire the ocean, and go on forest walks with her dog. She describes her love for nature as an obsession. "I become very obsessed with the things I see in nature. I think it's a standard artist thing to have these obsessions," she said.
Stokes' current nature obsession is lichens, a common life form seen in Canada's forests covering tree bark and rocks. "They're hardcore survivors, always there just being beautiful and colourful. I love how you have to look closely to see them," she said.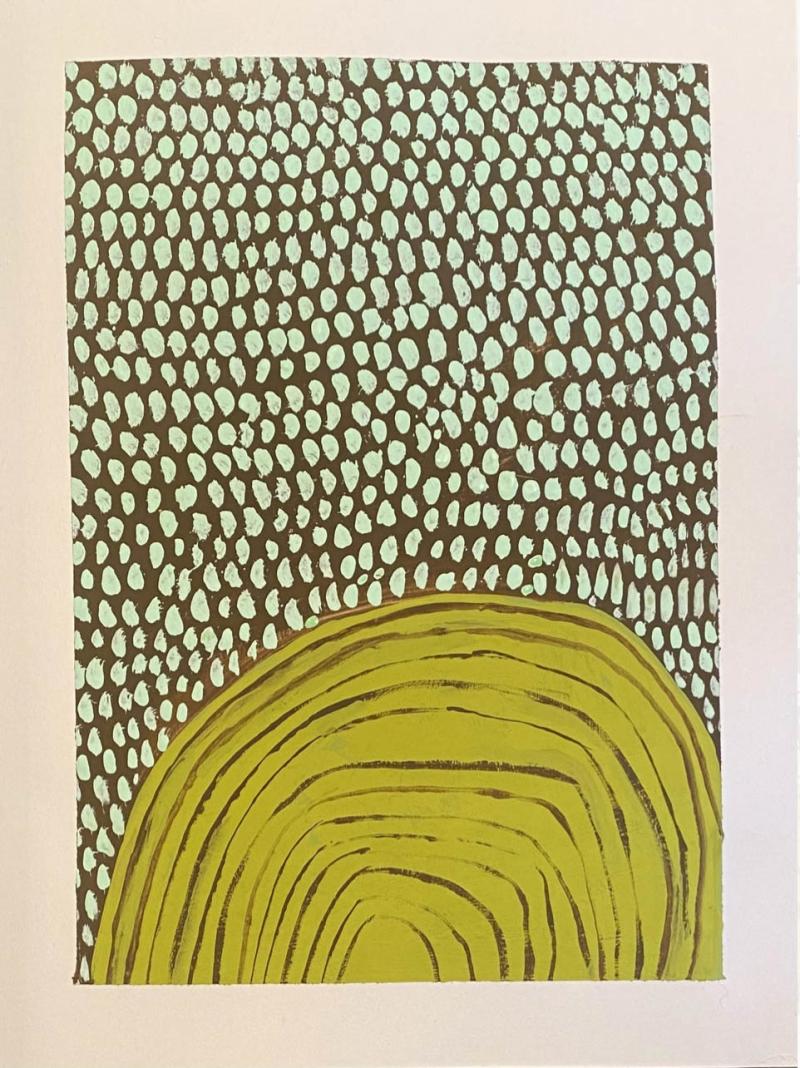 ABOVE:Lichen by Andrea Stokes.
A finished painting or sculpture is Stokes' own reinterpretation and reimagination of the sensations she feels when observing literal objects and settings. She takes something like a rock in a forest at night and explores the colours and sensations that come with such a sight. Her paintings turn into her dream landscapes, often idealized and utopian. "I paint things that make me think, wow, I'd really love to see this."
Moving forward, Stokes hopes to experiment with using her love for colour in new ways, using muted colours to convey emotion or fewer colours in one painting. She also uses her art for philanthropic purposes, often having a different feel. She has used printmaking to raise money for causes such as Residential School survivors after the uncovering of mass graves in 2021 and those affected by the war in Ukraine.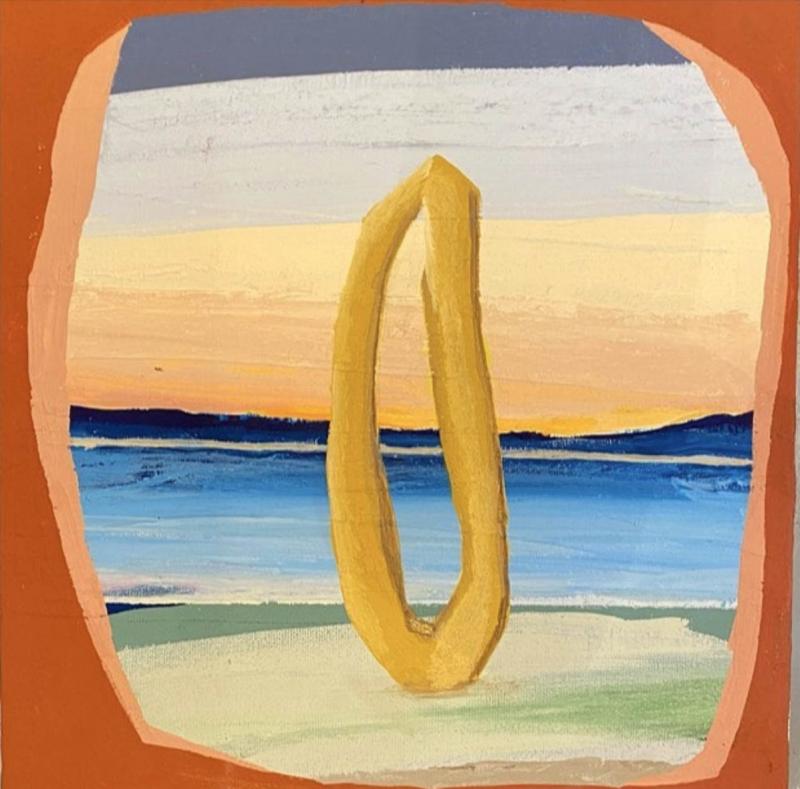 ABOVE:Apparition IV by Andrea Stokes.
To those struggling to find their artistic voice or facing judgement for pursuing their art, Stokes is a prime example of why art cannot be kept inside. "I am happy that I wake up every day and still have the ability to smear paint around. I get antsy if I go too long without doing it."
Support a very special local artist by visiting andreastokesart.com. You just might find the perfect piece to brighten your space.
Find Andrea Stokes' art on Instagram at Andrea Stokes (@andreastokesart) • Instagram photos and videos
Recommended Articles
The Embassy of Mexico is excited to announce the exhibitions of photographer Álvaro Alejandro López and you are invited!
Read full story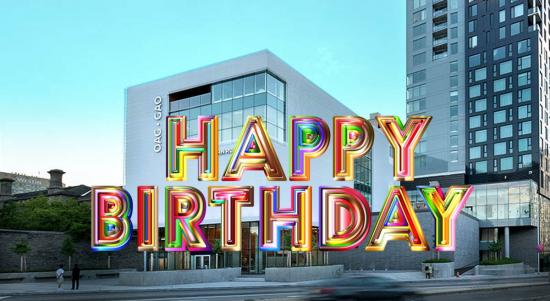 The Ottawa Art Gallery is turning five, and to celebrate, some big things are in the works!
Read full story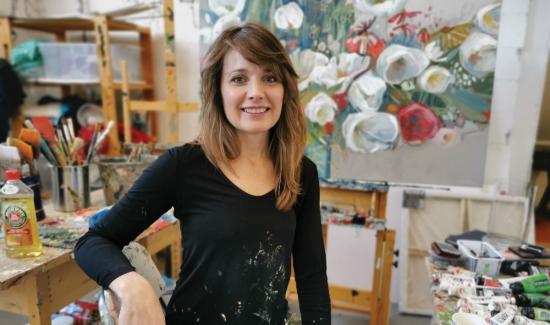 Nicole Allen shows her art in shows across Ontario as well as in galleries in Ottawa, Toronto and Oakville, but she calls Ottawa home.
Read full story
Comments (0)
*Please take note that upon submitting your comment the team at OLM will need to verify it before it shows up below.