Sports
Locked On Senators: A podcast for fans, by the fans
Locked On Senators: A podcast for fans, by the fans
ABOVE: Ross Levitan and Brandon Piller co-host the Locked On SenatorsPodcast.
It was an after-class downtown Toronto subway ride in 2016 that brought two future broadcasters together.
Brandon Piller and Ross Levitan, both students at the College of Sports Media, were headed home when Piller took a seat next to Levitan and struck up a conversation.
"You're from Ottawa, are you a Sens fan?" asked Piller.
"Obviously," replied Levitan.
Levitan wasn't just a fan, he lived and breathed Senators hockey.
At nine years old, he played some road hockey with two Senators players in his neighbour's driveway in Manor Park. The neighbour was the Slovakian ambassador, the two NHL stars? Marian Hossa and a "mammoth man": Zdeno Chara.
Levitan's fandom has been dyed in the wool ever since, and even he recognizes it's reached a level many might deem unhealthy.
"I have like 27 jerseys," said Levitan. "It's disgusting how many."
What he didn't realize right then is he'd met his match in Piller.
Despite growing up in Guelph, Ont., Piller, also known as "Pillzy," has been a diehard Ottawa Senators fan since his childhood hero Dominik Hasek joined the team in 2005.
"I followed Hasek from Buffalo to Detroit, then he landed in Ottawa," said Piller. "I just decided, 'you know what, this is my team,' and I've pretty much signed a contract."
As they rode the subway, the two students dove into a discussion about the Mika Zibanejad-Derrick Brassard trade – a hotly debated topic among fans at the time. Little did they know then, hundreds of hours of discussing the Sens lay ahead.
Today, those conversations are shared with thousands of fans almost daily as Levitan and Piller co-host the Locked On SenatorsPodcast.
An unlikely pairing in some respects, they've combined their opposite styles to complement each other – while Levitan brings energy, ambition and ideas to the podcast, Piller provides in-depth knowledge and preparation.
Think Erik Karlsson-Marc Methot as a defensive pairing or Jason Spezza and Dany Heatley on a line.
"You need one riverboat gambler, one stay-at-home defenceman," said Levitan. "I'd probably be the offensive defenceman who sometimes gets a little too caught up the ice, Pillz is the guy saying 'no dude, D-to-D and out off the glass.'"
Their first podcast kicked off in 2017 before they joined Locked On. Piller, Levitan and two classmates at the College of Sports Media, Chris Parliament and Jeremy Hughson, began a weekly show called Making Sense of the Sens.
Before the 2019-20 season, they jumped at the opportunity to start a Senators podcast with the Locked On Podcast Network.
They started slowly, with a small number of listeners and approximately three episodes per week. Once the pandemic hit, they ramped up the operation – more episodes and more guests, despite the fact the Senators weren't on the ice. It was a hectic pace, in all they recorded 179 episodes during the 310 days between Senators games.
The vast array of guests included esteemed media members such as Craig Button, Jamie MacLennan and Ian Mendes, and players like Joey Daccord and Christoph Schubert.
But one guest in particular stood out. On November 23, they released an interview with phenom Tim Stützle, his first exclusive interview after the Senators drafted him third overall.
Although many guests helped them build credibility, Stützle was the "TSN Turning Point."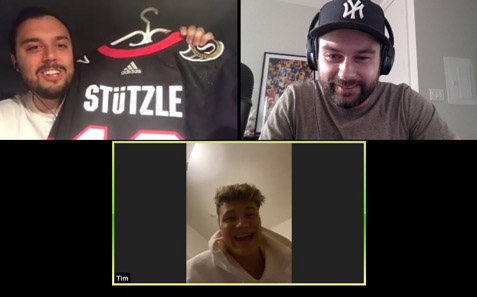 ABOVE: Piller (left) and Levitan (right) show Tim Stützle the first Senators jersey of his with an umlaut.
By the time the 2020-21 season started, the train was off and running, culminating in 30.8K total episode downloads for January 2021.
One might think this opportunity with Locked On is a stepping stone for the talented young podcasters – an audition of sorts before they ply their trade on a major network – but the truth is, they're invested in the growth of the company and thrive in its fan-driven approach.
LOSP is a podcast for fans by the fans – they're what Piller calls "the people's pod," and that's how they've moulded a loyal group of listeners in such a short time.
They even have a segment dedicated to Sens Army faithful. Every week Piller and Levitan host a 'SensCentral Citizen' to highlight a fan in the Senators community and give them a chance to share their opinion and story.
In a Canadian hockey media landscape heavily focused on historic franchises like the Toronto Maple Leafs and Montreal Canadiens, the Senators are often on the backburner. Part of Piller and Levitan's objective was to put Senators fans on a pedestal.
"We wanted to create a setting where Sens fans can have their voice heard," said Piller. "You watchSportsnet's half-hour show: 20 minutes is on whether Auston Matthews sneezed and Mitch Marner said 'gesundheit' or not. It's absolutely ridiculous the coverage that these teams are getting when there's such a void for Sens fans."
Being part of the Locked On network allows them to be upfront with their biases to give listeners an authentic and unfiltered experience, which is hard to come by in the mainstream media.
"I think the days of being an unbiased observer are gone, the best part about sports is the passion," said Levitan. "I love the aspect that we don't have to pretend we're this third party — like I grew up loving the Ottawa Senators."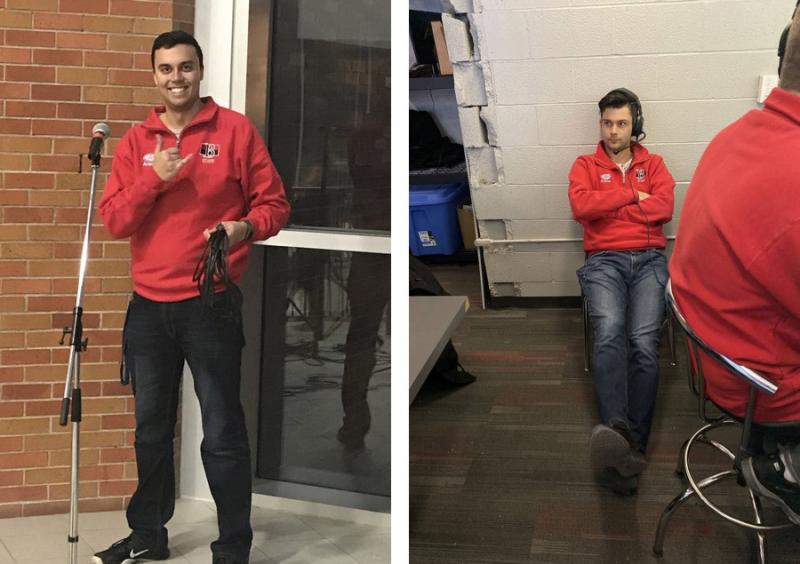 ABOVE: Brandon Piller and Ross Levitan covered the Belleville Senators' season (2018).
Growing with the Baby Sens
In 2018, they seized an opportunity to join the Belleville Senators (Ottawa's AHL affiliate) video production crew.
When they applied, the person hiring had trouble understanding: would they really drive the nearly 400 kilometres roundtrip to each home game just for a few hours of work?
Of course, they did. It's just another testament to the passionate fans they are.
During the 2018-19 and 2019-20 AHL seasons, Piller and Levitan carpooled to and from Belleville. Levitan did camera work while Piller usually handled the replays - but once filled in as "Belly," the team mascot, for a promo video.
Not only did that experience offer unique opportunities for two diehard fans, it also gave the duo a chance to build rapport with some of the team's future stars, including Daccord and Drake Batherson.
When the Senators start up next season, hopefully with fans in the stands, you can bet they'll drive the extra 200-plus kilometres past Belleville to take in the home opener.
And you won't catch the two co-hosts hiding in the press box — they'll be in the stands celebrating the new season with thousands of Sens 'Sickos.' Exactly where they belong.
"Book it right now. We'll be there," said Piller.
"We'll even be at the pre-season home opener," added Levitan.
---
Follow the Locked On Senators Podcast at @SensCentral on Twitter and catch every episode on Apple, Spotify or Google Podcasts.
Recommended Articles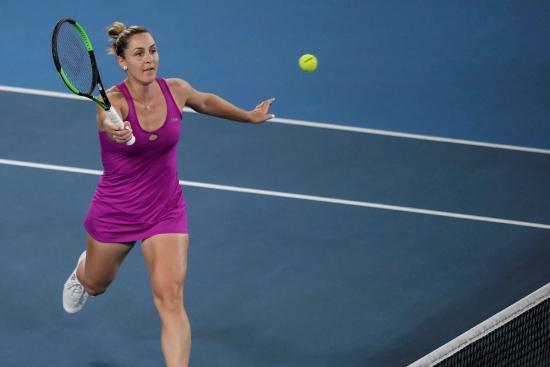 Dabrowski became the first Canadian female grand-slam champion in 2017 when she and teammate Rohan Bopanna won the French Open in mixed-doubles.
Read full story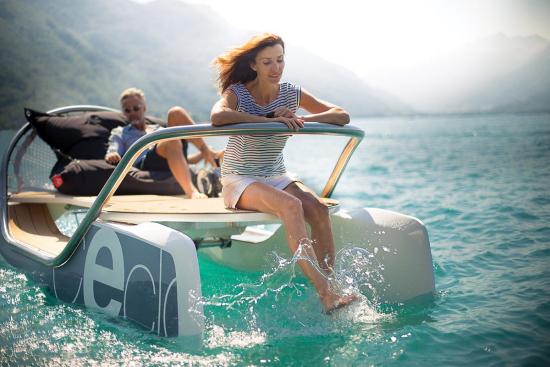 E-Catamaran boats are all as green as can be, very cleverly designed, and easy to operate.
Read full story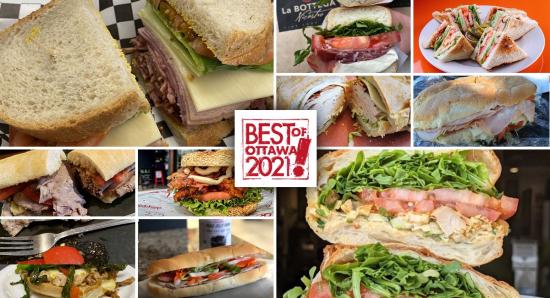 After over 20-years writing about life in Ottawa, we think we have a pretty good idea of the best of what this city has to offer. Check, share and discuss #OLMBest every week!
Read full story
Comments (0)
*Please take note that upon submitting your comment the team at OLM will need to verify it before it shows up below.