Lotus Aroma: so pure, so green, so chic
Lotus Aroma was born in 1991 in the nearly bicentennial bucolic village of Saint-Joseph-du-Lac. Some 40 km north-west of Montreal in an area bequeathed in 1717 by the King of France to Sulpicians and that later became the Deux-Montagnes County Seigneury, Saint-Joseph-du-Lac was the birthplace of the Patriots during the 19th century. This area is now known for its generous land, agriculture and orchards.
This is where Lotus Aroma products are brought to life using traditional methods inspired by Ayurvedic medicine which dates back over 5000 years. Its acquisition in 2006 by Dermolab Pharma — a renowned pharmaceutical laboratory in the Montreal area — steered Lotus Aroma steadfastly towards the future.
Today Lotus Aroma is an eco-friendly industry leader who promotes sustainability with unparalleled integrity backed by a rigorous manufacturing process under the highest standards – GMP.
The inspiration for the name and colours of Lotus Aroma is the Lotus, a sacred flower that celebrates life and beauty, and that holds fascinating and mysterious powers.
Velvet Body Lotions (citrus and floral): moisturizing, nourishing, restorative
Velvet Body Lotion nurtures, mends and protects all skin types from dry to very dry, including the most sensitive. This non-greasy, exceptionally natural care penetrates instantly to wrap the body in a light protective film.
Velvet Body Lotion abounds in essential oils and botanical extracts whose invigorating power brings freshness and exquisitely sweet scent to the skin. Rich in Vitamin E, Shea Butter, and precious and noble non GMO vegetable oils such as Moringa, Sea Buckthorn and Inca Inchi, this highly nutritious emulsion maintains the natural hydration and elasticity of the skin. Non-comedogenic. Non-greasy.
Gently massage Velvet Body Lotion on the skin daily, morning and/or night.
Features:
100% Plant-derived Active Ingredients
47.5% Organic Ingredients
99.5% Natural Formula
64.6% Active Ingredients
pH 5
The Verbena & Citrus has pure Exotic Verbena, Orange and Lemon essential oil, Shea Butter, Moringa, Sea Buckthorn, and Inca Inchi oils, while the Light Floral has pure essential oils and botanical extracts, Shea Butter, Moringa, Sea Buckthorn & Inca Inchi oils.
Exfoliating Cream for the Body with pure Lime essential oil, Crushed Olive Kernels & Indian Bamboo detoxifying, radiant, smoothing
Lotus Aroma Exfoliating Cream for the Body is non-comedogenic and infinitely natural. It refines the grain of the epidermis by polishing off superficial roughness, impurities and dead skin cells. Micro-beads of crushed olive pits and Indian Bamboo thoroughly and gently scale the skin, stimulating its micro-circulation and accelerating the removal of toxins. The warming and toning effect of pure lime essential oil deeply warms, tones and relaxes the skin. The epidermis can finally breathe freely again, while maximizing its strength, firmness, elasticity and permeability.
Moisten body skin. Apply a small amount of LOTUS AROMA Exfoliating Cream for the Body in the palm of one hand and gently but generously massage the skin in circular motions for about 2 minutes, more on rougher areas (knees, elbows, thighs). Add water and emulsify. Rinse thoroughly. Use once or twice a week.
Features:
100% Plant-derived Active Ingredients
40% Organic Ingredients
99.5% Natural Formula
57.2% Active Ingredients
Recommended Articles
After just one year in Canada, the British skincare brand is launching new packaging and new products to Canada, including a bamboo razor, shave gel and an age defense eye roll-on.
Read full story
Vichy Canada is proud to officially launch its latest and revolutionary skincare products, the new Liftactiv Collagen Specialist, and the new Liftactiv Hyalu Mask.
Read full story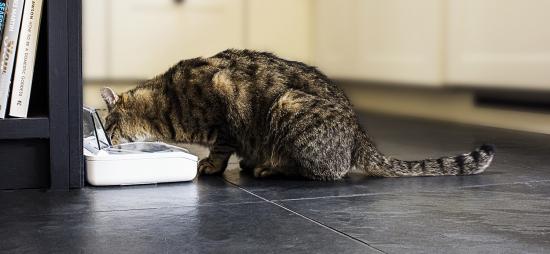 Let's face it, pet food is not always the best smelling stuff. While there is no way to completely avoid the smells, there is a way to keep them out of your home when your pet isn't eating.
Read full story
Comments (0)
*Please take note that upon submitting your comment the team at OLM will need to verify it before it shows up below.